So, here's the deal.  Last August I posted about my DIY dilemma and got so many great responses.  Basically, I asked you guys a few questions and you responded with some answers and more questions of your own.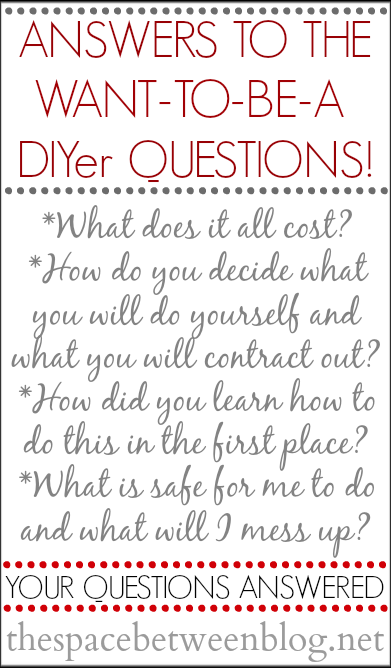 One thing many of you mentioned is that you'd like to see more photos in and around Key West and I plan to focus on that in 2014.  I totally failed on that idea around Christmas, there were so many decorated houses with fun lights, like a fishing Santa complete with moving fishing pole and swimming dolphins, and I just never got around to heading out on the town at night with my camera.  This year, I swear.
And then there was this great comment that Kim left on the post:
"I love your blog.  I always wonder: What do you do for meals and how you manage the pets and kids when you are knee-deep in renovations?  How do you do your day job with all this work?  Where do you sleep and eat and get some clean space? What does it all cost? How do you decide what you will do yourself and what you will contract out? How did you learn how to do this in the first place? What is safe for me to do and what will I mess up?  How would I be able to finish/apply this project at home?"
And I responded:
"I think I'll actually write up a post to address all of these questions … because they're all really good ones and deserve a thorough answer!!!"
So, 5 months later, here it is, wicked sorry for the delay!
What do you do for meals?  I'm no chef but we do seem to manage to eat well in spite of the renovation madness.  So far we've had a fully functioning kitchen so that hasn't been an issue, but that will change this year so we'll have to tackle the "we can only eat microwave meals" stage when we get there.  We did try to keep a barrier up between the main living areas and the kitchen just to try to keep out as much construction dust as possible. Luckily we can still access the bedrooms in the back of the house without having to go through the kitchen.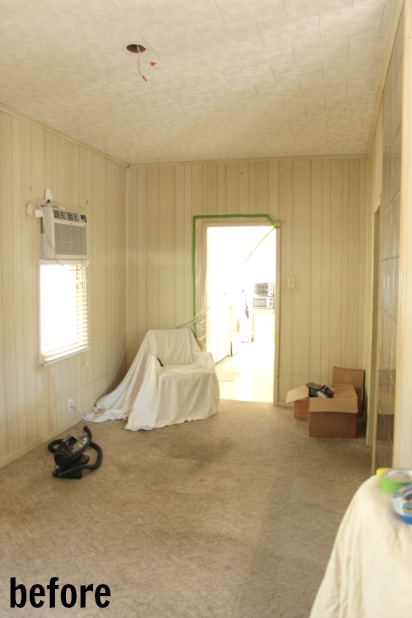 As for specific meals, I've become a huge fan of my crock pot that I bought when we moved here.  It is really handy to get dinner going in the crock pot at the same time I take a break for lunch and then it's magically ready at dinnertime.  I just buy whatever hunks of meat or packages of chicken are on sale and then come home and google a recipe, or I buy spice packs from the sale rack that is conveniently located right by the check out counter at our grocery store.  Smart idea, Publix, very smart!  We just tried the McCormick's crock pot stroganoff and really liked it.
And Joel loves to grill so he'll often handle dinner while I wrap up a project or get together a few microwave baked potatoes and a salad.  But it's not out of the question that we just toss a frozen lasagna in the oven and call it a night.
I haven't posted any full meals but I've shared a few of my favorite recipes here, here and use this tip quite a bit.
How do you manage the pets and kids when you are knee-deep in renovations?  We don't have any kids and we definitely realize that would create a whole new level of complications as it relates to this renovation, if any of you have any tips on that front please share them in the comments.  As for the pets, the girls are never far away. We take special precautions when it comes to loud projects (compressor for the nail gun, power saws, etc) since a dogs' hearing is very sensitive.  We tend to keep them barricaded in a bedroom if we're working with the power saws to prevent them from sneaking up on us and getting hurt.  But, for the most part, they are right in the middle of the action.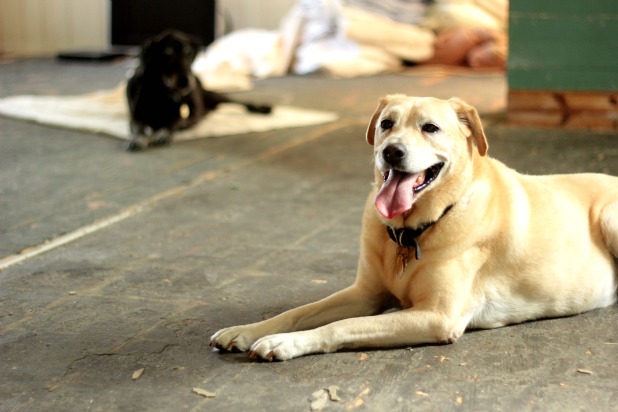 The truth for us is that we know they are happiest with us so many a project has been prolonged due to an overly interested pup.  We try to take all the extra dog hair in the paint or paw prints treading construction dust around the house in stride.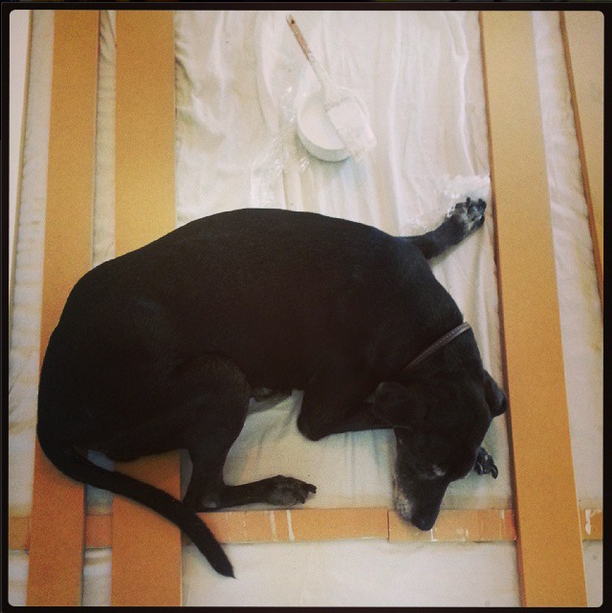 How do you do your day job with all this work?  Lucky for me, this is my day job. I blog full-time and since the blog content surrounds around the projects we are doing around the home, the more projects I complete the faster I can whip up blog posts about it.  My biggest struggle is probably finding that balance between projects and blogging.  I can really get into a rhythm with one or another and have to really tell myself to take a little bit of time for every aspect of it all.  Who knew there were so many behind the scenes tasks that come along with blogging?  Balance, I'm sure, is a big part of the day for anyone juggling multiple priorities, I wrote up a whole post about how I organize my time here.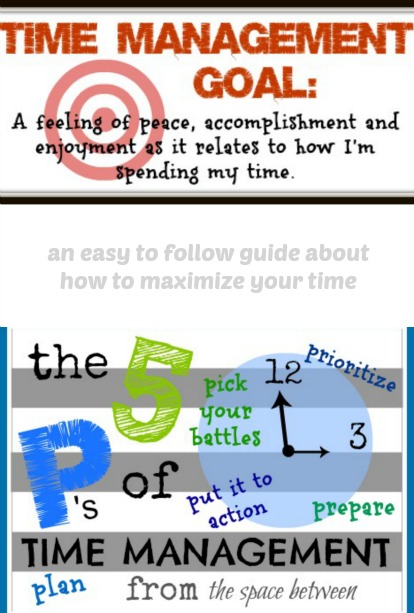 Where do you sleep and eat and get some clean space?  Truth be told, "clean" space was hard to come by around here for many months.  Yes, we still have our mattress on the floor in our master bedroom, that is still covered in drop ceiling, paneling and old carpet.  And until we recently brought our furniture into our living room we were eating in our bedroom when we weren't on the back patio.
We tend to be big picture thinkers so instead of focusing on the aspects of this journey that are definitely not awesome we try very hard to keep our eye on the prize.  And our home successes seem to be sweeter when we reminisce about the times that weren't so sweet.  "This reminds me of the days when all of our furniture was in our side yard, for months" or "We're sitting on a sofa, in our living room, with newly finished floors … it feels so luxurious."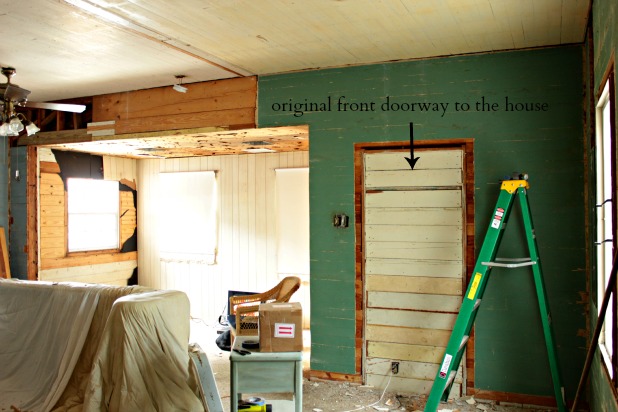 I guess when you've lived through that picture a simple sofa is luxurious.  But, that's not to say that some days I don't just want to curl up in a ball and say on repeat "let it be over, let it be over, let it be over".  One day at a time, remember the objective, enjoy the journey, savor all of the small victories and don't stress about eating dinner from your mattress on the floor.  Those are a few of our current mantras.  🙂
And I shared 3 simple ways to organize in chaos here.  I'm a huge advocate of "everything has a place and everything in its place", even if the place isn't pretty and is temporary.  That one tip alone helps create a lot of order amidst it all.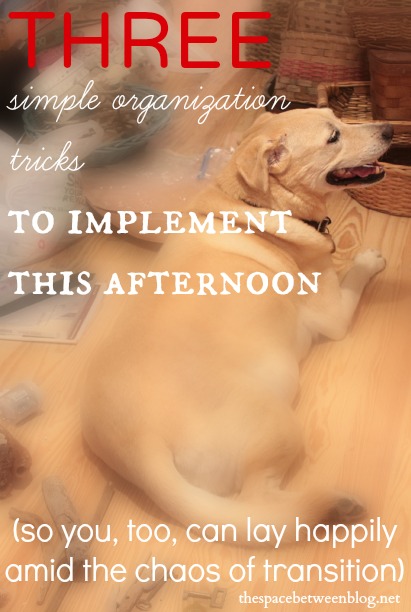 Pin that post for future reference, I just re-read the tips myself and it's a good reminder for anyone in the midst of projects that are taking over the home.
What does it all cost?  We're an open book on that here.
How do you decide what you will do yourself and what you will contract out?  Our internal dialogue on that goes something like:
Do we know how to do it?  

Can we easily learn how to do it?
Can we ruin the structure of the house if we try?
Can we injure or kill ourselves if we try?
Do we want to do it ourselves?
Can we afford to hire it out?
We've been at this whole DIY thing since we bought our first house in 2001.  So the answers to those questions have evolved over time and we know a lot more now than we did at the beginning.  An additional question we used as a guide in the beginning is "Can my dad do it?".
A shadow-box privacy fence and three-tier deck with built-in seating area and fire pit, built around two trees to hang our hammock for our first house?  Yes he can!  Thanks dad!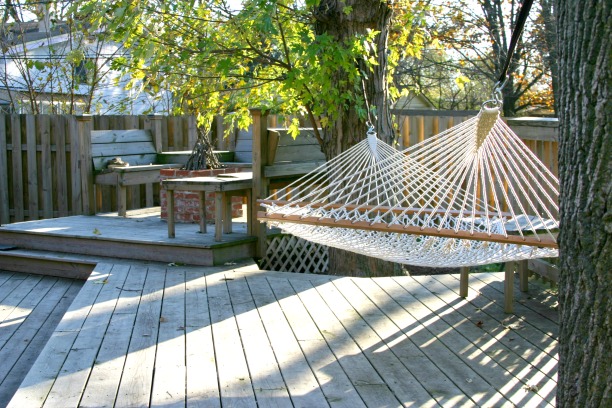 We tend to hire out anything that affects the overall structure of the house, like the roof project and calling in professional help to show us how to replace our patio posts. And electrical work is something we take very seriously and even though we do tackle many electrical upgrades on our own, we don't hesitate to call a professional for any wiring that doesn't seem right, or make sense, to us.  Our big rule is that the main circuit breaker is our friend.  If you shut that off you have no power going through any of the wires in your house, but a simple electrical tester kit like this one (affiliate link) always help ensure your wires aren't carrying any electrical current.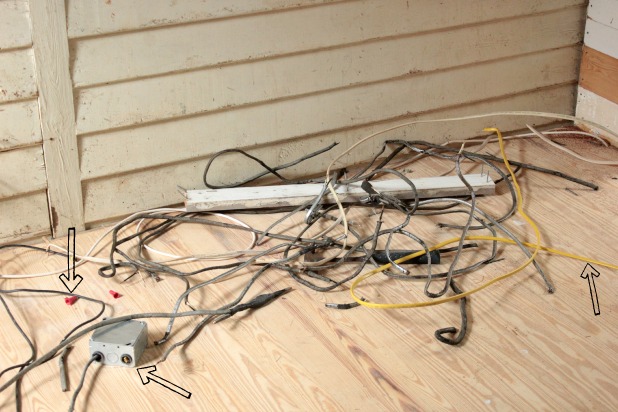 One thing that we gravitated toward naturally over the years is to befriend the professionals.  It's kind of like my building inspector strategy.  I am genuinely interested in learning new skills and we've found that professionals respect that.  For things we hire out we try to stick with one expert in each area, even if they aren't the least expensive. The knowledge you can gain from someone you trust is invaluable.  The electrician we use here has even offered to let me job shadow him to learn the trade entirely, in his words our "desire to do everything the right way is impressive and not indicative of many do it yourselfers".  We patted ourselves on the back for that one.  🙂
As for the last two questions (do we want to do it and can we afford to hire it out), those are new with this house. We pinch our pennies so we can pay to have people install our new windows and HVAC system. Those are projects we have done before and really just didn't want to do ourselves again.  Yay for frugality!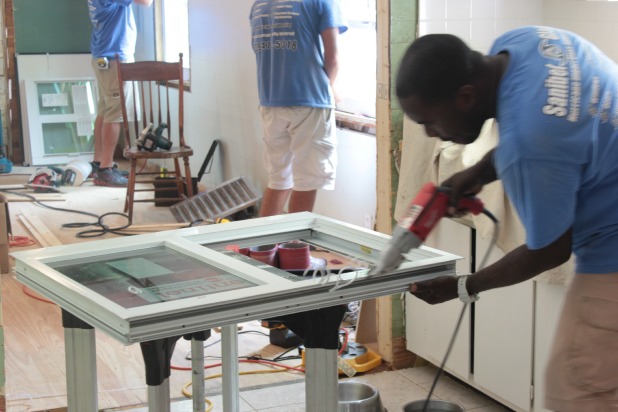 How did you learn how to do this in the first place?  The easy answer is my dad, the asterisk to that answer is trial and error (Like the time we tried to upgrade the water pipes in our bathroom with drain pipe grade PVC … don't do it, just don't do it.) and the rest of the story is what I said above about a genuine interest and really paying attention when we get help so we can tackle that same project on our own the next time.
Have we tackled projects we didn't really know how to do with a bit of a "we'll just see how it goes" attitude? Sure!  As long as the project isn't detrimental to our health or the health of our house our idea of a good time really is tackling a new project and chalking it up as a lesson learned if we mess it up.
What is safe for me to do and what will I mess up?  That definitely depends on your skill level and experience, but those "will this effect the structure of the house" and "can I kill myself" questions are relevant here.  Beyond that, unless you can't handle the possibility that you might need to redo something you don't do right the first time, give it a go.  The perfect example of something we ended up doing on our own, because my dad was here, that you might want to call a professional for is the day we found out our porch roof wasn't attached to our house.  If my dad hadn't been here you know we would have been calling in some professional help.  Thanks again dad!
Power tools are a common stumbling block for people, but if you take the necessary safety precautions people have survived using power tools for years.  😉  And check-in with your local home improvement store, they sometimes offer informative sessions or might just be able to answer your questions about specific tools.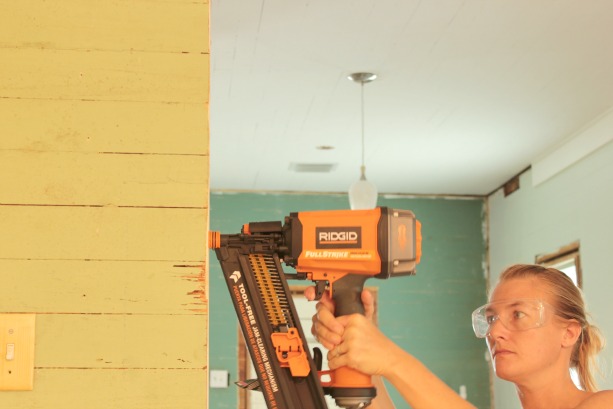 How would I be able to finish/apply this project at home?  This is the question I hope everyone who reads this blog can answer.  Sure, you might not have the space to build the exact same wall-to-wall closet but the concepts in the post can help you solve your own closet problems.  And, chances are, you don't have the exact same curb appeal issues we started with, but many of our solutions and ideas could work for a variety of different homes in need.  Hopefully we're sharing a good mix of practical skills like insulating, drywalling and painting over cracked paint combined with a few unique ideas that you can adapt to your own space, like the bed frame, wall art and a wooden mailbox.
So, that's the hope anyway, that there some nugget of info that everyone can take away from each post to implement into your own DIY.  Even if it's just that curling up in a ball and chanting isn't going to do anything to help us work towards getting our mattress off the floor.
I hope that covers it for you.  Now it's your turn, what makes you interested in DIY?  How did you learn some of your tricks? Have any special go-to when it comes to deciding what to DIY and what to hire out?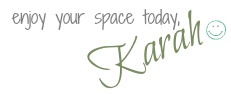 And, I'm super excited to be contributing over at Remodelaholic.com this year.  I met Cassity at the blog conference last August she and her husband write a blog all about, well, remodeling and DIY.  I am going to be posting once a month on her blog with seasonal ideas.  I thought it would be a fun way for me to keep in touch with that kind of project since sometimes the seasons fly right by me without even noticing since I'm covered in drywall dust or on my hands and knees staining a floor.  Head on over there today to see how I made this winter wreath.