Have you ever been known to do something?  Something that seemed weird to others?  Or may not even really seem like a good idea to some?  Something that you yourself even question at times?
No, I'm not talking about frequenting strip clubs.  Get your mind out of the gutter.
I'm talking about spackling over cracked paint.  I will admit that this is a technique I've used since we bought our first house and has always seemed just a bit … I don't know … like more of a shortcut than a real solution.  Even though it always works.
Don't feel like stripping that cracked paint?  Just spackle it.
Don't feel like working out to get rid of that extra inch around the waist line?  Just put a sweater on.
Those two solutions seem like a similar approach.  You know?!?!
So when I recently went into our local home improvement store to inquire about the best way to paint over cracked paint (not chipping or peeling) on our newly uncovered Dade County Pine ceilings I was flabbergasted to hear the suggestion.
Just spackle the crackle.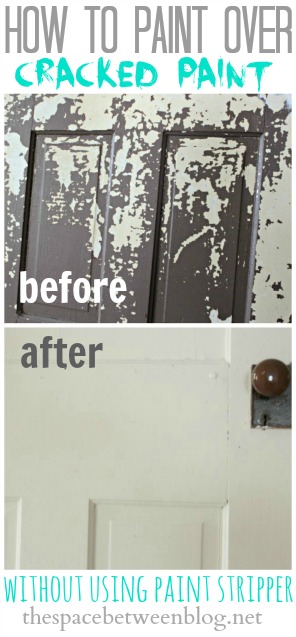 Seriously?!?!  What I've been doing all this time is actually a good idea.  That's not always the case.
Oh, yeah, and that picture isn't of a wood slat ceiling … I know.
It was really hard to get a good shot of the cracks in the ceiling since it was white paint cracked over off-white paint.  This is the best I got, those little vein like lines are the cracks.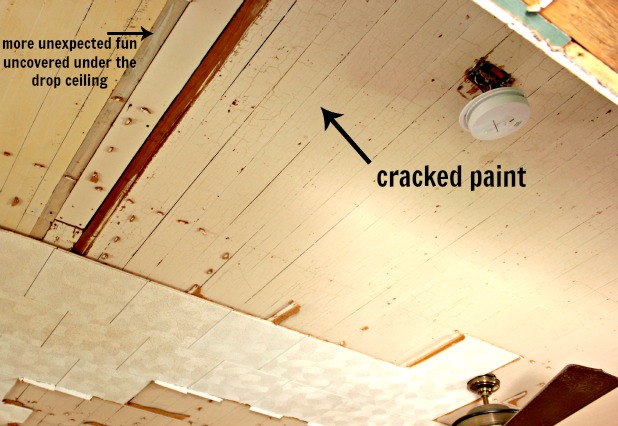 Oh, and that other mess is what used to be a wall.  We're actually finding it fun to try to piece together the original floor plan of the house.  And figure out how to make those uncovered imperfections work.  🙂
We were really lucky to discover that it was only the paint in the living room that had cracked, the longer section of ceiling in the dining room just got a little sanding with a palm sander to prep it for the primer.
Update:  I've mentioned it a number of times but it warrants mentioning again here, always test for lead paint when working with paint in older homes and discuss with a professional how to proceed if you're unsure.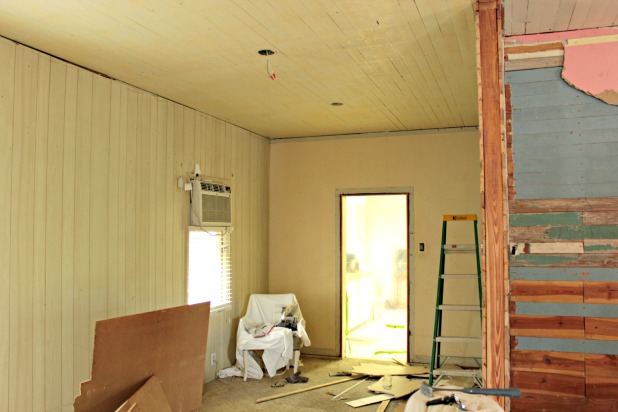 Not to digress, but isn't primer the best invention ever?!?!  For us it marks the official first step in starting to put the room back together after all of the demolition and tedious prep work.  When the primer goes on it feels like such a dramatic turning point to me.
Getting to that primer stage was really what got me through all of this ceiling work.  I'm ready for a massage.  🙂
Now, for anyone in need of a solution to the old how to paint over cracked paint dilemma, here's the how-to.
Supplies: (linked to affiliate links)
*spackle knife (or two)
*spackle
*palm sander or sanding block
Step 1 – Using a spackle knife, apply a thin coat of spackle to fill in any cracks.  You may need to do a few coats depending on how deep your cracks are.  And, when working on the ceiling from the ladder, I like to work with two spackle knives.  I would load a larger knife with spackle and hold it in my left hand and then just take small amounts of that spackle with the smaller knife in my right hand to apply to the ceiling.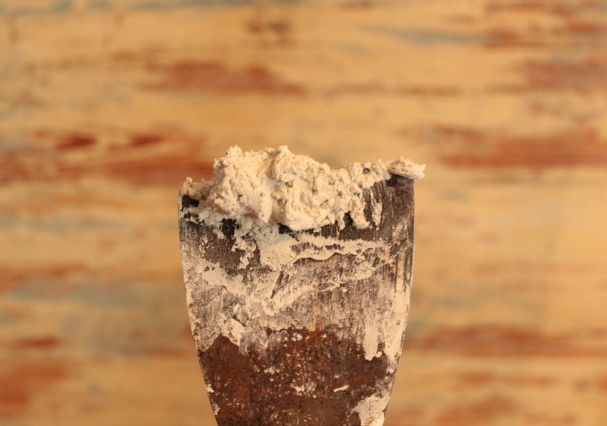 Note: For the door pictured above, and any other flat surfaces, applying the spackle all over in a haphazard fashion will work.
Update:  Here is a picture of the spackling process for the door.  It actually took a couple of coats to fully fill in the cracks and be able to sand it smooth.

For the ceiling, I didn't want to lose the wood slat look so my strategy was to apply a section of spackle along one slat of wood at a time.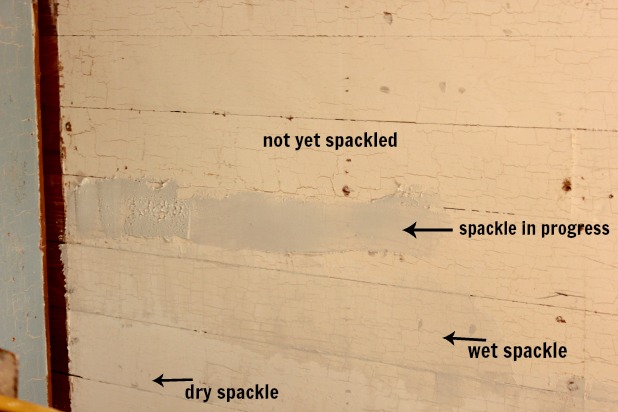 Then I would use the spackle knife to smooth the spackle out in the opposite direction I had applied it.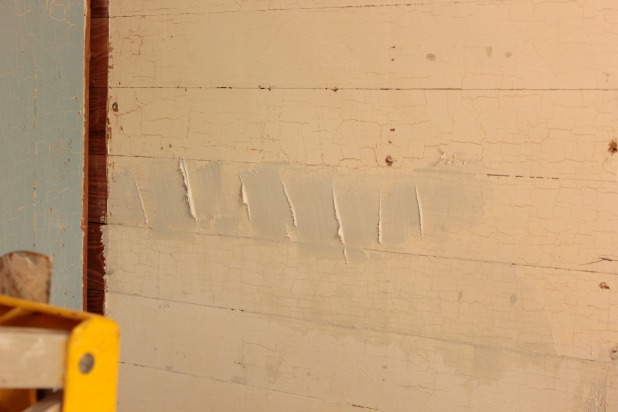 And then continue to smooth it out without covering up the lines between the wood slats.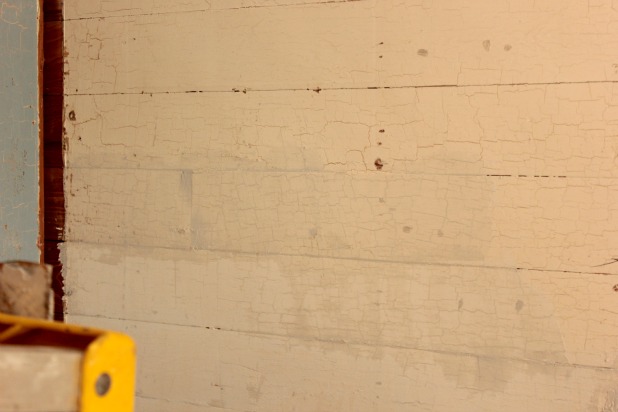 Step 2 – Sand. My biggest tip for this step is that it is much more important how it feels than how it looks at this stage.  This is all in preparation for painting, so any color differences will be covered up in the end, but any texture differences in spackle will only be emphasized by paint, paint will not help camouflage spackle imperfections.  Darn it!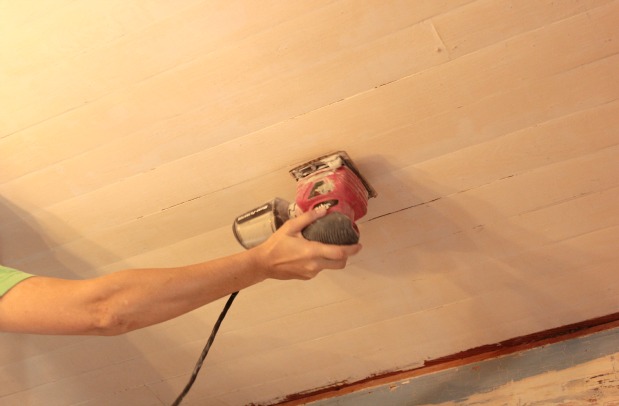 That's it!
Pretty easy, really.  Except the whole arms above your head the whole time part.  And that's after the whole arms above my head to remove the drop ceiling.
Guess who's been officially nominated to prime and paint the ceiling …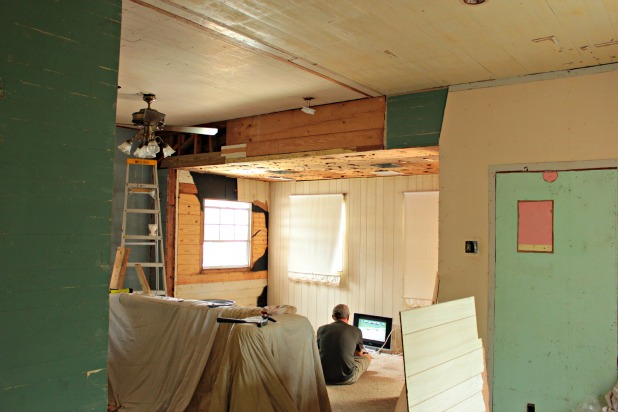 That guy!  🙂
But we are now so ready to get some priming and painting going on around here!  Now just to pick a color!
Update:  Check out the DIY lesson we learned the hard way and our first finished wall (board and batten baby!).
So tell me, do you have any so easy tips they seem like they're not really the right thing to do?  Been spackling any cracks of your own lately?  Agree that priming is the beginning of the put-it-back-together phase of remodeling?
And, in case you missed it, check out the other progress we've made around here on the home improvement page.