Oh yeah!  We've actually "finished" a wall around here.  🙂  And it's a feature wall with board & batten even.  And the feeling is … well, awesome!
Week one of our home renovation project saw a lot of demolition.  And things changed pretty quickly and it was easy to get giddy excited about seeing it all come together.  Buh bye paneling, helloooo beautiful Dade County Pine walls and ceiling.  (Did you see the "before" version of the house tour video?)
But then after days of removing the drop ceiling, spackling the cracked paint and then sanding and prepping it all … all on the ceiling, above my head with only daytime television to keep me company (Can we all agree that Ellen is the best?) it was beginning to feel like I wasn't making any progress other than giving myself a pretty significant crick in the neck … and uncovering walls that just needed more work.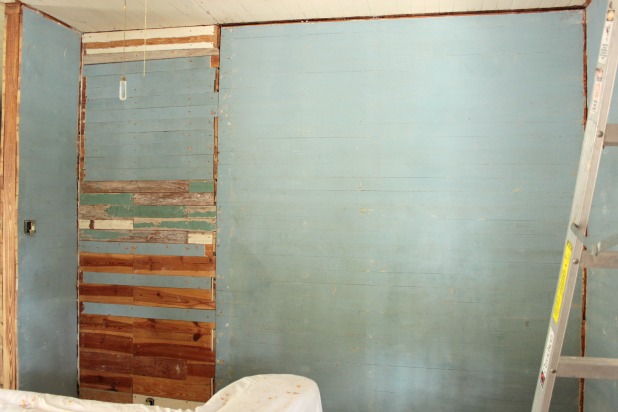 Part of that wall used to be a hallway.  We didn't see that coming.  🙂
So we decided a high board and batten treatment, with a little something extra to cover the existing imperfections would do the trick.
The original plan was to buy sheets of MDF and have them cut at Home Depot.  But, we learned that they now have a policy that they won't cut anything less than 12 inches.  And since I didn't want my battens 12 inches wide, I convinced Joel that the only solution in the whole wide world was that I needed a table saw.
In the long run buying the table saw will actually be more economical than going with a more expensive pre-cut wood for this project.  There are ideas down this home renovation road that include built-ins and cabinets and closets … those projects will all use the table saw so I'm pretty stoked to add this little tool to our repertoire. (Nope, definitely didn't spell that right the first or second try.)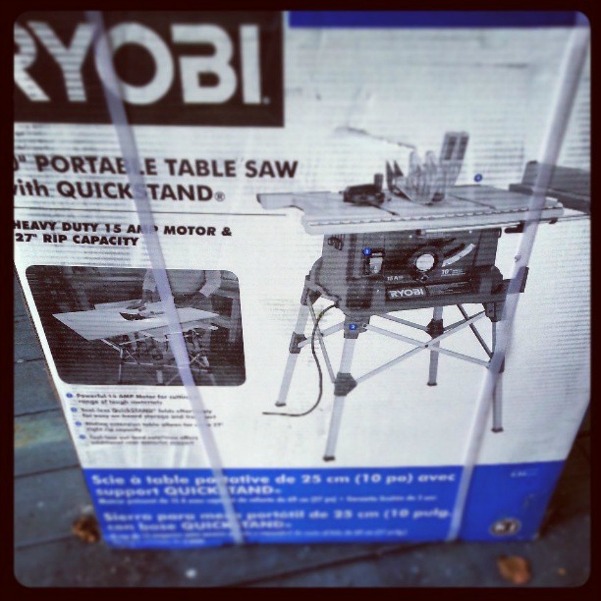 So, while Joel primed and painted the ceiling in the living room I got to know my new saw.  And then he and I worked together to cut the 4 x 8 foot sheets of MDF down to size.  Since I already had the cut measurements planned out, other than learning the different knobs and gauges on the new saw, this step is pretty straight forward.
I knew we wanted a high board & batten because of what we had uncovered on this particular wall.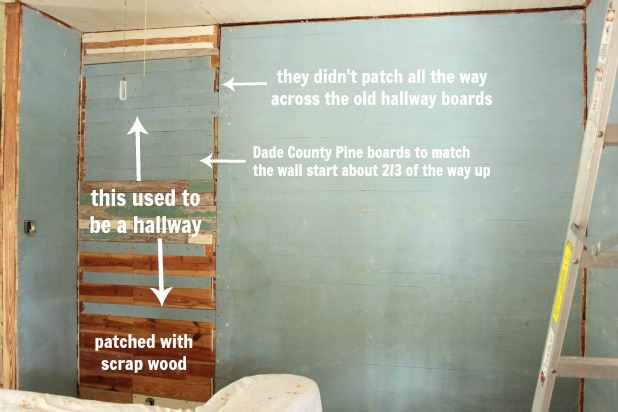 When we removed the paneling, and then the drywall, we discovered that this wall actually used to be a hallway.  Womp, womp. We had been thinking a beautifully stripped, wood slat wall behind the sofa.  But what is a home renovation without a little improvisation every once in a while.  🙂
There were two main issues we needed to cover up. 1) the wood they used on the bottom two-thirds of the old hallway entrance was not the same width as the Dade County Pine boards we have on the rest of the wall, and 2) the vertical line that used to be the edge of the old hallway entrance was visible all the way up to the ceiling.
(We used our favorite primer to get this great base coverage over that bright blue.)

But, we also want to keep as much of the Dade County Pine exposed as possible, so I wasn't in love with the idea of just drywalling the whole wall.  Luckily, there is this thing called the internet and this site called Pinterest where I pinned a great article from The Nester about her board & batten that goes two-thirds of the way up her wall.  And then the Spring Pinterest Challenge was announced and I was on it!
The challenge is not sponsored by Pinterest at all, it was thought up by Katie from Bower Power and is co-hosted by Sherry from Young House Love and this time around by Emily from Sparkle Meets Pop and Renee from Red Bird Blue.


My very first blog post was actually a Pinterest Challenge project so I have a hard time not participating in these fun little events.
So, with The Nester's wall in mind I actually sketched up a little (not-to-scale) plan that would cover the scrap wood on the lower part of the wall and the old seam between the old wall and hallway.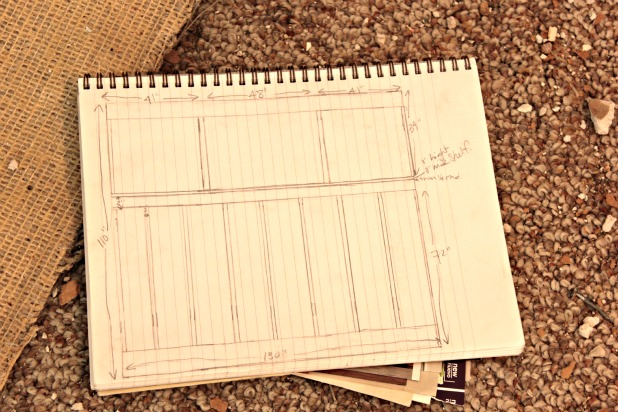 The idea was to do a basic board and batten that would extend two-thirds of the way up the wall with a shelf at the top.  And then, use another batten above the shelf up to the crown molding (we also needed to install) to cover up the section of the wall that used be the side of the hallway.  Then, measure how far that batten is from the side of the wall and extend another batten the same distance from the wall on the other side to even it out.  Make sense?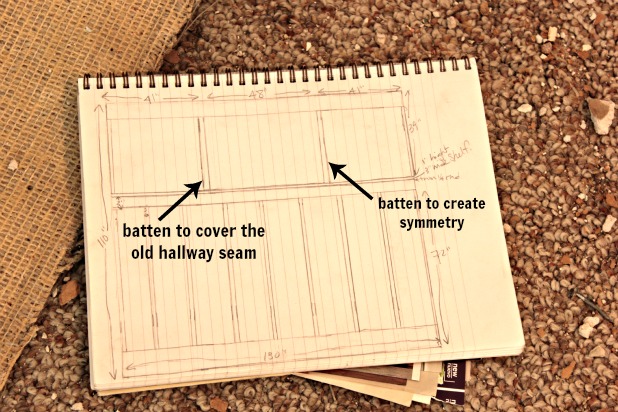 Since we were starting with a random-width-wood-slat-wall (say that 5 times fast) we needed to first add a drywall base to the bottom two-thirds of the wall.  With a little forethought (and luck) I was able to put the drywall seams and screws at the same distance I wanted my battens (16 inches on center), so I didn't need to do any spackling.  Booyah!!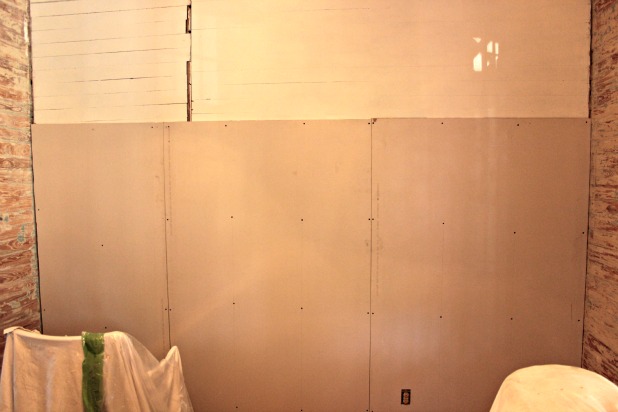 Do you know they have 1/4 inch drywall now?  We considered it because we really only needed the smooth surface, but we were worried it would break on the ride home since we didn't have a truck bed big enough to lay it flat in … and it was $1 more expensive than the 1/2 inch sheet we ended up going with.
And, see how the slats that were added to cover the old hallway aren't level?  That would mess with me the entire project.  They drove me a little batty, and made me question all of our  measurements, and the level.  In the end, we just accepted that this is an old, not level, a little wonky, but totally cool old house.  We think these little imperfections just add character and history.
I actually painted the wall above the drywall at this stage, twice.  And ended up painting it a third time after the board and batten was all installed.  Long story.  😉
If you have decided on your paint color, painting above the board and batten now will actually save you time.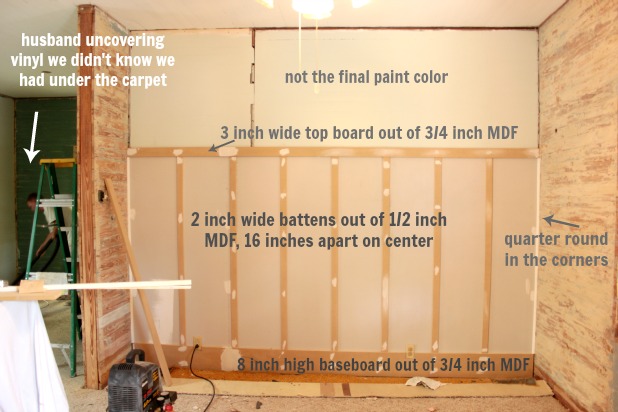 It took the better part of an afternoon to get to this stage.  Then progress came to a screeching halt when I realized I had bought the wrong length board for the shelf.  Boooo.
I thought one piece of pine board would look best for the shelf in case I wasn't able to effectively cover the seam when butting together a couple of pieces of cut MDF.  And Joel likes the idea of the added strength of one whole piece.  He seems to think I'm going to actually put things on the shelf that are probably too heavy for it.  I have no idea why he would think that.  😉
But I'm going to have to give you the step-by-step of how exactly we put our wall together next time.  And the numbers geek in me is going to totally have fun tracking our spending as we tackle all of the projects around here.  Although the budget for this project is going to be a bit wonky since we bought a 5 gallon jug of trim paint.  But it'll be nice to have that accounted for as we become trim cutting, sanding, priming and painting fanatics.
And one more look at our one and only finished wall.  AKA – our favorite wall so far.  🙂
Update: Follow 'the rest of the story' (who's thinking Paul Harvey?), the full board & batten tutorial here.

What do you say, do you remember the first wall you completed in your house? Was it an accent wall, or a fun color, or were you just happy to get some paint up?  What about the Pinterest Challenge, are you in?