You guys!
We bought all new appliances!!
I own a dishwasher again.
By "own" I mean "paid for but Home Depot is holding it because we really don't have a kitchen renovation on any immediate plans and our current kitchen doesn't have the space for a dishwasher".
Which kind of takes all of the fun out of actually owning a dishwasher.
But it means I can see the light at the end of the 4-years-without-a-dishwasher tunnel.
If I had to pick my least favorite task it would be doing dishes, hands down.  I'll clean a toilet any day of week. Seriously people, that takes like 3 seconds.  And do it right before you get in the shower to wash off any skeeve factor.  Doing dishes takes an eternity!  I have lost years off of my life I can never get back standing in front of the sink doing dishes.
Ok, that's an exaggeration, but you know what I mean.  I must mean that I have no real problems in life if my biggest one is doing dishes.  So, I'll concede to that fact.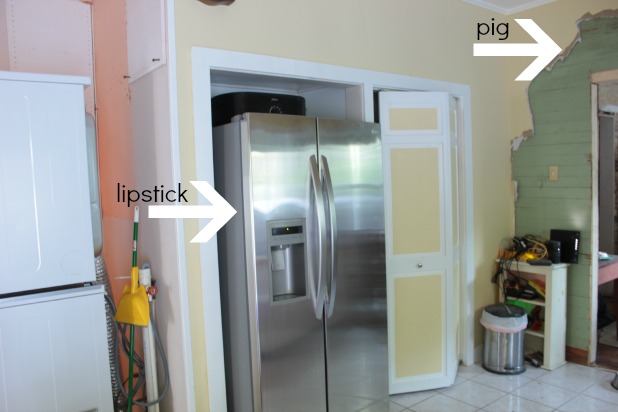 But in December Home Depot was having an appliance sale we just couldn't turn down. And even though it doesn't really seem to make sense, timing-wise, we went for it.  You know, 'cause we don't live in a perfect home improvement world.
And, because Joel and I don't really exchange gifts I may have sent him an email with our order confirmation that said "Merry Christmas to us".  Making this a big Christmas year since I already got the floor plan program.  I'm also the girl who asked for an Oreck for Christmas one year and may have stalked a silent auction table at a charity event to actually get said vacuum for about half off regular price.  My idea of a good time for sure.  🙂
So, new appliances, have you guys ever shopped for all new appliances at one time?  It's hard.  I mean, the reviews.  Everyone has an opinion about something and there isn't one appliance out there with 100% positive feedback that doesn't cost more than $2500.  Yes, I can filter through the comments from the people you can tell are just complainers, to the legitimate "the ice maker spits out ice like it's trying to shoot bullets from the front line".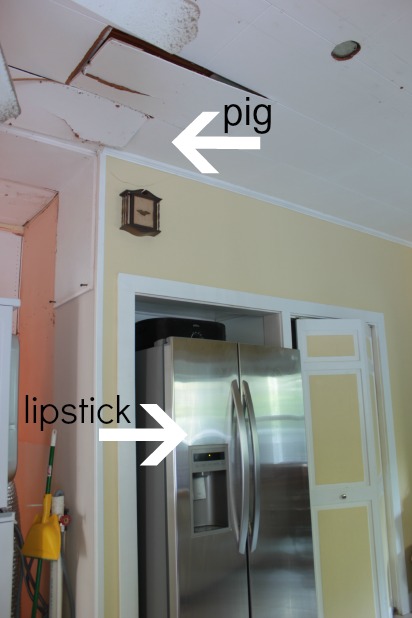 And on a side-note, when asked, Joel's one request of any feature of any of the appliances we were going to get … ice and water in the door.  Man, he's so needy.  😉
He actually said, in the middle of Home Depot, while I was oogling over french door style options "I just really think water and ice in the door would be nice".  It sounded very similar to my desperate plea for a dishwasher. We're dreaming big here people.
So, with our must-haves itemized, I started my online research of every single option Home Depot had.  And I got a little analysis paralysis.  We wanted to go all one brand for a cohesive look, this will also be a first for us, and as soon as I found a fridge I loved I would find the stove in that same line to be ridiculously expensive.  Then I would pick a quiet, clean-looking dishwasher and her big sister refrigerator was the one shooting ice bullets.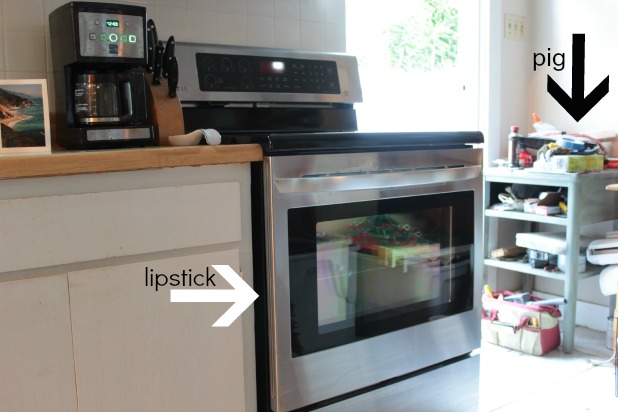 I ended up deferring to the feedback from the Home Depot employees, the claim, from the entire appliance department was that they get the least amount of service calls on their LG options.  That seems legit, I guess, I really have no idea.  So here's what we ended up with, click the appliance name to go to affiliate links to current deals I found online.
Refrigerator, Range, Microwave, Dishwasher, Washing Machine, Dryer.
And here is what you can buy them for at Home Depot right this second, technically the second I am typing this and not the second you are reading this.  And our washer and dryer are white, but they seem to be only available in red right now, which now seems like a pretty cool option, too.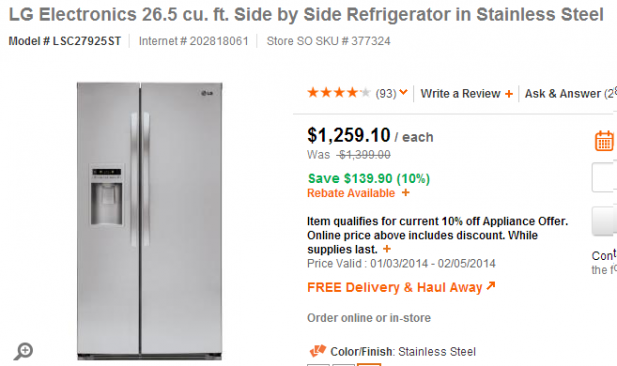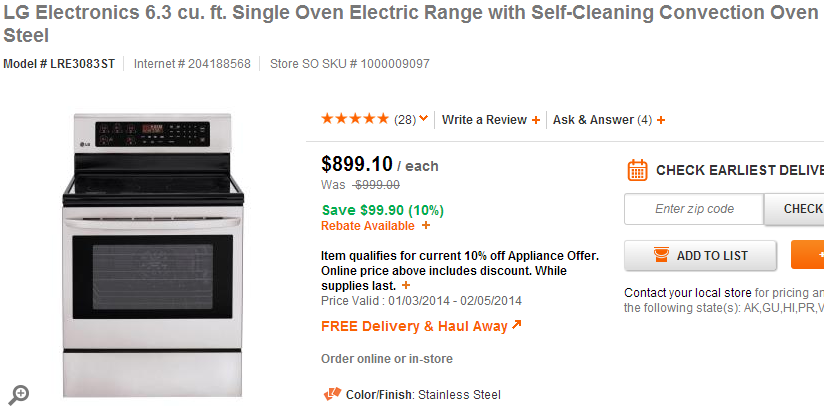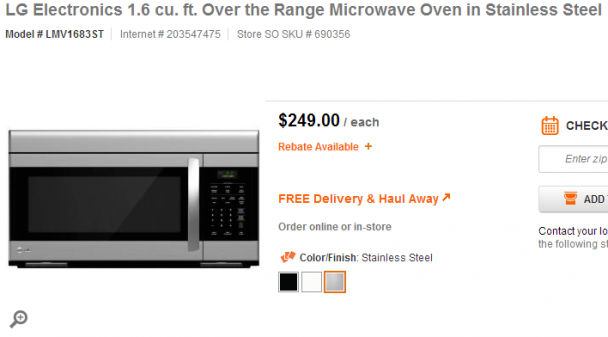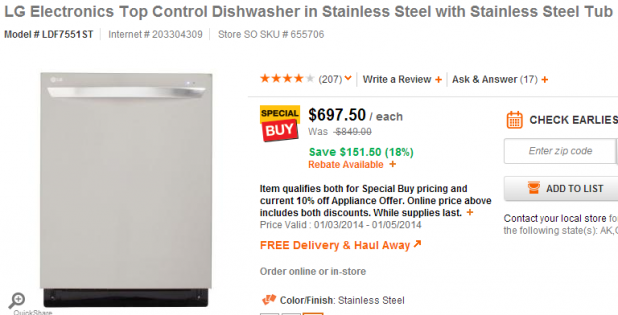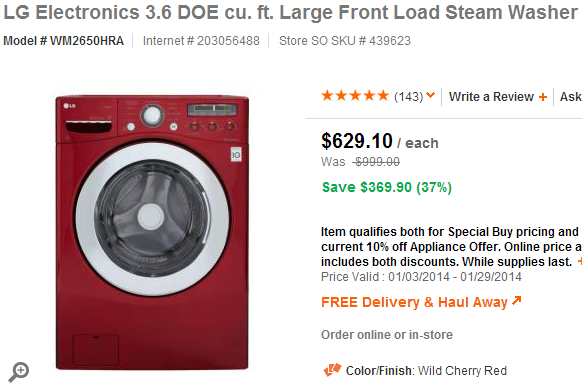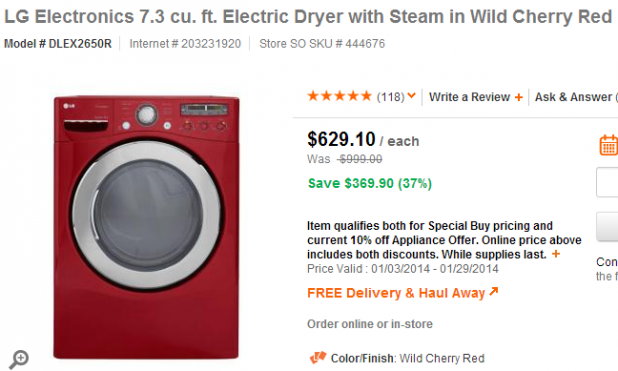 So, here's the money breakdown.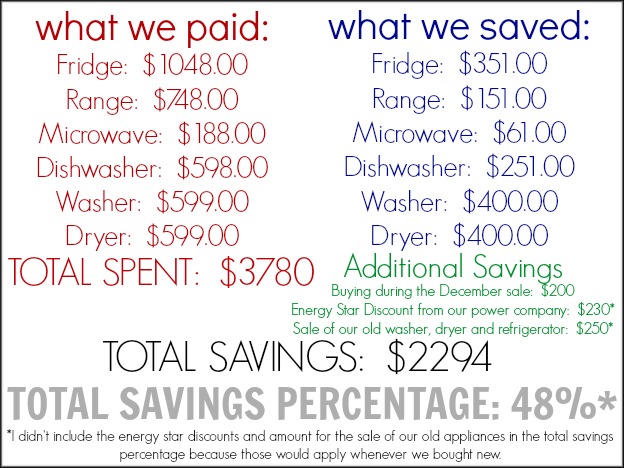 Buying all of our major appliances for almost half off regular price is just the kind of thing we love.  It frees up some extra cash for other upcoming projects like finishing the siding (FINALLY!!) and repainting the entire exterior of the house.  Why does that idea make me feel like I need a nap?
So, we had the fridge, range and washer/dryer set delivered right away and we sold our old fridge and w/d and Home Depot hauled away our old range for free.  I had listed it for sale but right before our new one was delivered the dang thing actually stopped working properly.  It would work fine but then when you shut the oven off, it said it was off, but it wasn't.  Kind of crazy, thankfully we hadn't sold it.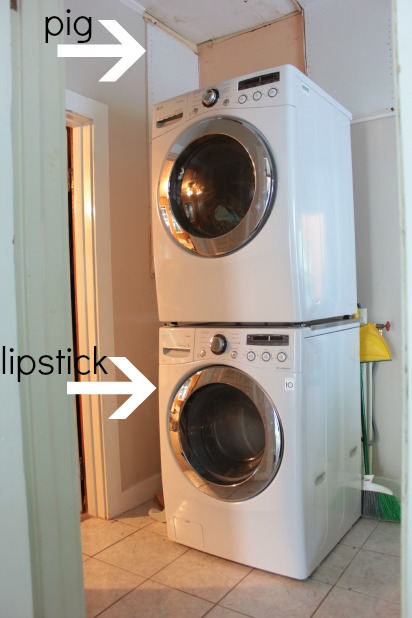 And we went with the stackable option for the washer and dryer to save space, check out the whole floor plan here.  But, whoops, the 6 foot cord that came with the dryer wasn't long enough to reach our outlet, by no more than 6 inches.  And let's just agree now that it is not fair to judge people based on what it looks like behind their washer and dryer.  🙂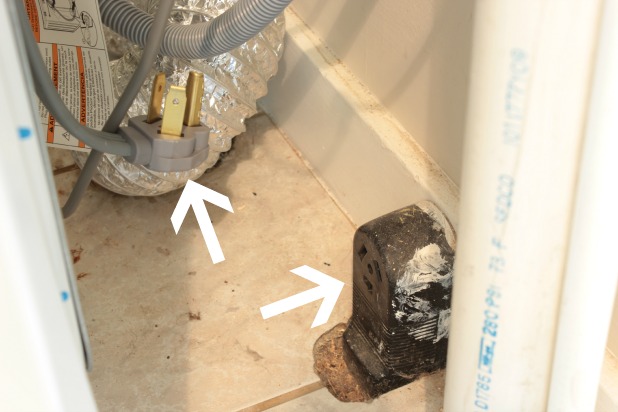 I found a 10 foot cord on Amazon (I couldn't find an 8 foot option anywhere) and once it was delivered it was a pretty easy upgrade.
Here's the low down if you need to change out your own cord.
Oh, first, let's look at a little demo project.   First there were two upper cabinets (left), and then there were not (right).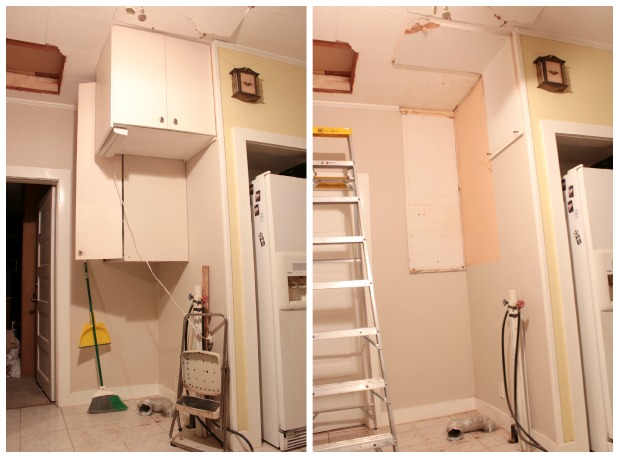 This was one of those evening projects that we try to tick off the list a few nights every week.  It started with a little finesse, a screwdriver and me on the ladder delicately  passing pieces of wood shelving to Joel to take outside.  And it ended with us both whacking the thing down with hammers.  I don't know what the deal was with the cabinets but they were a unique combination of wood, particle board, bada$$ anchors in spots (that are still in the wall) and an overall mishmash that we were just happy to demolish.  This entire corner will be addressed more thoroughly during the kitchen renovation in 2018.
Ok, now the dryer cord.  I think this kind of project sounds intimidating but in reality it is really straight forward. And, since the dryer isn't connected to any sort of power source it is not like you're working with live wires.  So, yeah, be sure you dryer isn't plugged in before you do this.  Although, I'm not sure why you would need to replace your dryer cord unless it didn't reach your outlet, so the "not plugged in" thing would be inevitable.  But whatev.
And sorry for the its-a-tight-corner weird angle photos.
First, use a screwdriver to remove the brackets holding the cord tightly into the back of your dryer.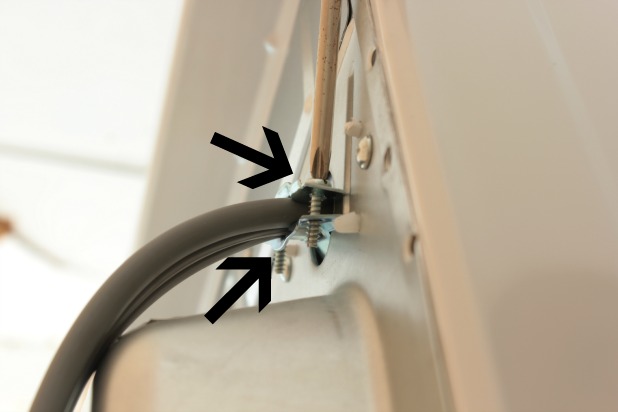 Then remove the plate that is actually covering where the wires of the cord connect to the dryer.  Sorry for the wrong focal point on this one.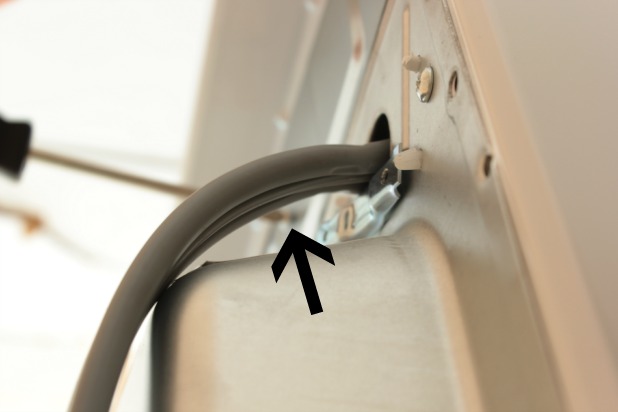 I actually pulled out the big guns for this next step, in the form of my impact driver, and moved the camera so I could wedge my body up into that tight corner spot to loosen the screws that were securing the cord wires to the machine.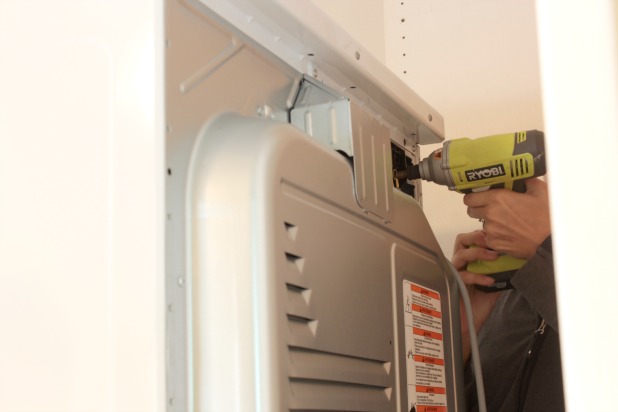 I didn't have a good angle on the screws (Yes, that's the excuse I'm going with.) so I ended up stripping a couple of them.  Luckily they were the hexagon shape kind on the outside so I found the right bit in our set and used that to remove them instead of the phillips bit.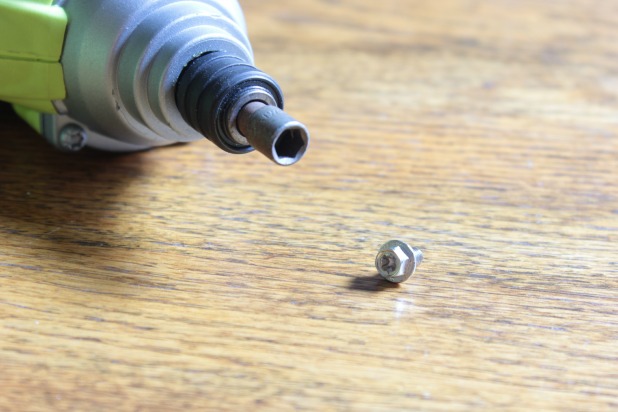 Then it's just a matter of replacing the old wire with the new one, resecuring the brackets that hold the cord securely in place.  Make sure you have fished enough of the cord into the machine to have enough slack to attach the wires.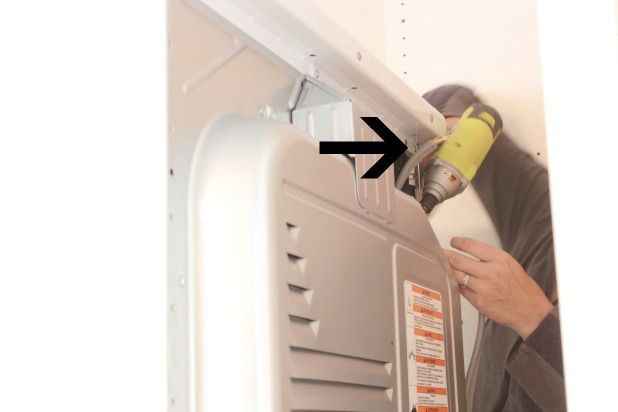 Then reattach the three wires to the three screws in the machine.  I looked high and low and called the LG factory and every resource said it didn't matter which wire went with which screw.  I was nervous about it, but it works.  🙂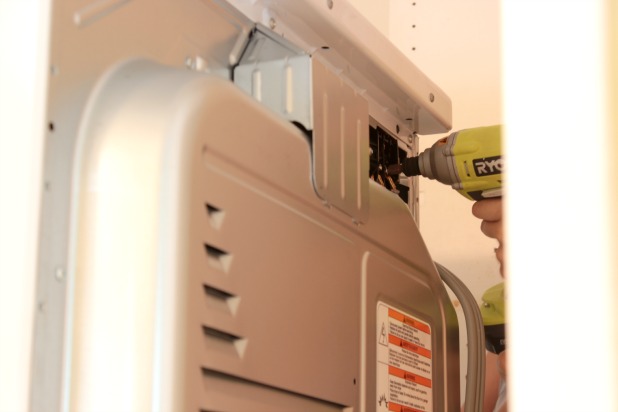 Then replace the plate that covers the wires.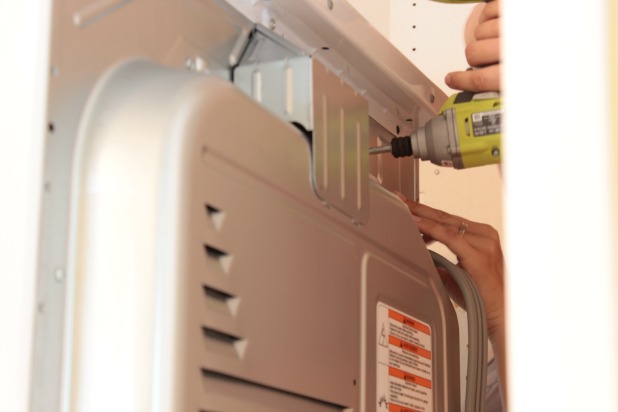 And then I actually shut the breaker to the dryer off before plugging it in, just incase the whole "connect any wire to any screw" strategy wasn't a good one.  Once I plugged it in and turned the breaker back on, and it didn't trip, I knew we were good to go.
And for sure the washer and dryer are our favorite new acquisitions so far.  Quiet, quick, energy-efficient, and the dryer has a rack in it for items like sneakers and bath mats that tend to jostle around and jack up a dryer when tumbled around.
So much better than the washer we had in Curacao that I may have kept breaking and finally the service guy came and said "QUATRO PANTALONES".  Meaning it could only take 4 pairs of pants at one time.  I'm practically begging our neighbors to do their laundry so I will have a full load now.
But I'm definitely not begging to do their dishes.
And, incase you didn't deduct this on your own, I just picked one random thing to point to in each picture for the pig, please feel free to count the number of things in each picture that will need updating.  It's like where's Waldo.  Only much easier.  And those may or may not have been Christmas bins waiting to go up to the attic you saw in the reflection of the oven door, our Christmas clean-up fairy is really slacking off this year.