It's like one of those back to school essays about how you spent your summer vacation.  Only different.
Completely different.
I gushed a bit Tuesday about all that is our new roof and vaulted ceiling.
I may be spending an inappropriate amount of time just sitting on the dirty floor in there and staring up at it.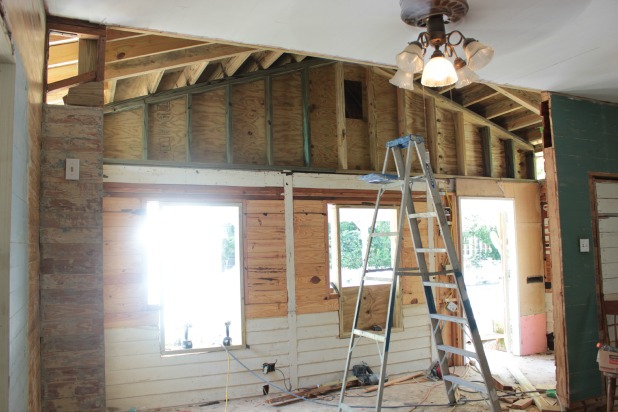 The excitement over the new potential in that space literally has a physical effect on me.  Goose bumps, chills, you name it.  I know … this makes me sound crazy, but it is what it is.  🙂
And we are so many bajillion steps away from it being a finished living space I should definitely be spending less time staring and more time actually helping the new space out, but I just can't help it.
Do you see it?  The potential.  What are your ideas?  What would you do?  How would you make it extra cool?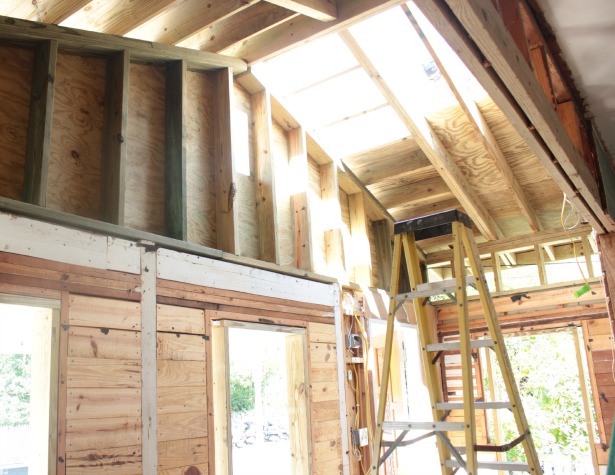 And since we couldn't have done this without professional help today I thought it would be fun to talk about how it actually all went down while Joel and I tried to be helpful and stay out-of-the-way at the same time while 4 professionals manhandled our roof.
Let's take a look at where we started.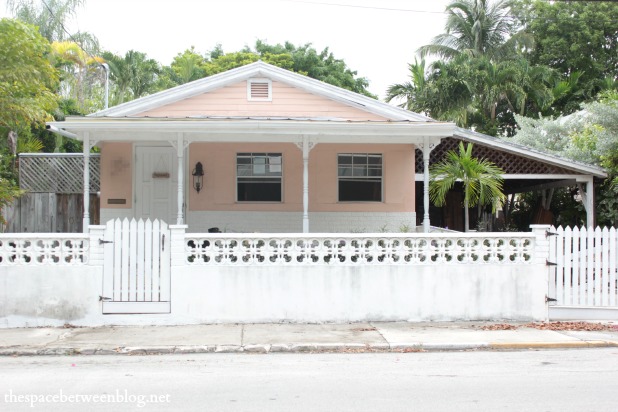 Yep.  That's our beauty.  🙂
Peach paint, faux brick, an abundance of lattice and all.
It's hard to tell from this straight on angle, but the front wall of the house with the faux brick and those practically square windows was actually the original porch of the house.
And for as much as we love the added little bit of square footage, we were not fans of the weird ceiling height it created inside (more on that here) and we were less than enthused about the 3-roof-line issue it created on the outside.
Here's a little better angle of our tiered roof.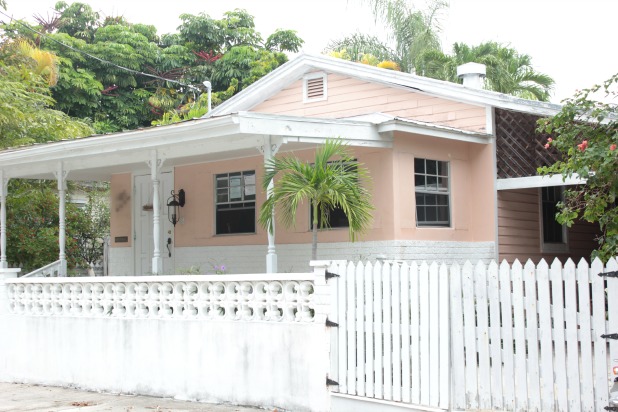 We actually thought it would be really cute to extend the gable of the house all the way over the porch with just one cohesive roof.  But, unfortunately, due to permitting regulations in Key West we weren't able to.  And honestly, we've discussed trying to tackle that again with the city after our array of current projects are complete, but now that we have just the old porch roof raised … we're debating if it's even necessary for amazing curb appeal.
Only time will tell, that's for sure.  But you can get a full run down of the changes we are looking forward to making here in the next few months to improve our baby's curb appeal right here.
But, when the city gave us the go ahead to update this little section of roof we decided to just go for it and hope for the best.  And with an awesome contractor and crew of 3 guys looking for a little overtime over Labor Day weekend we raised the roof, baby!!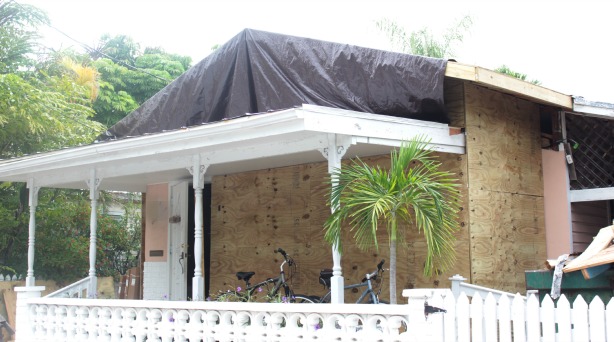 I know, it doesn't look all that fabulous right. this. second.  But it will!!!
The two-day whirlwind project started with the demolition of the old porch roof.  And as with everything, it took longer than everyone expected.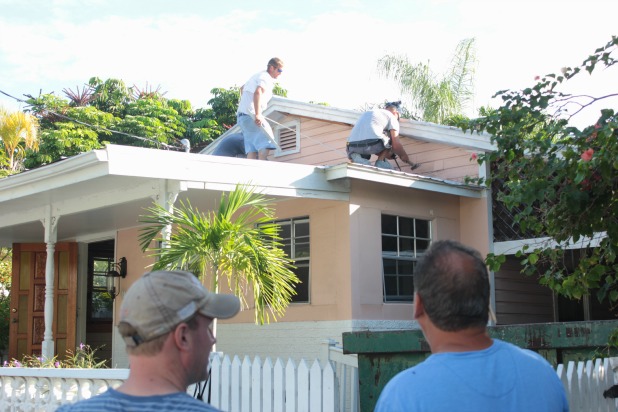 Those guys poked and prodded and pried and cut and scraped for the whole morning.  And after Joel headed to work and Contractor Mike decided his guys had everything under control on the roof, we got started on the new openings for the windows.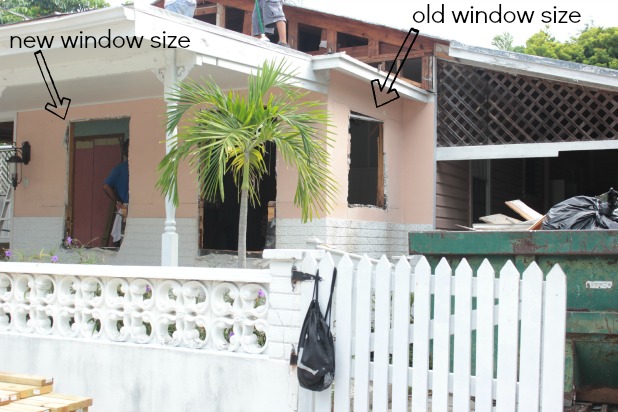 Part of the grand plan is to get rid of that faux brick, which we think is what prevented the previous owners from installing normal sized windows.
Isn't it funny to look at design decisions from years' past and think "what were they thinking?".  I actually bet that faux brick was pretty avant-garde when it was installed … but we're not into it, so it's not staying.  🙂
We think one cohesive look with siding from the porch deck to the roof and longer, narrower windows will work wonders for the overall look of this house.  With all of those awkward horizontal lines breaking up any visual continuity, right now she really has no hope.
So Mike set me free with a hammer to whack around each window to release the stucco that was holding each window in place.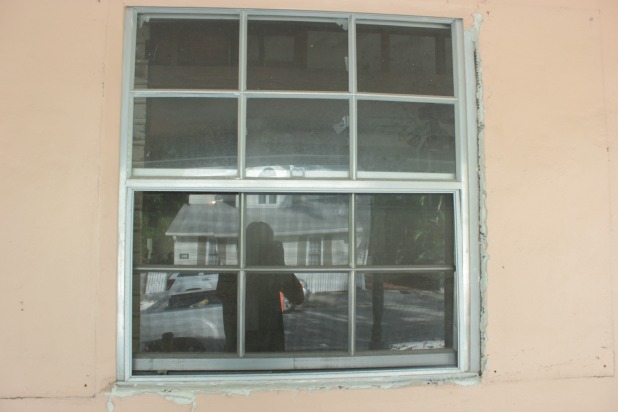 And after removing any screws securing the window frames to the studs and prying a little here and there it didn't take long for us to get the 4 windows removed.
Well hello there board and batten wall.  🙂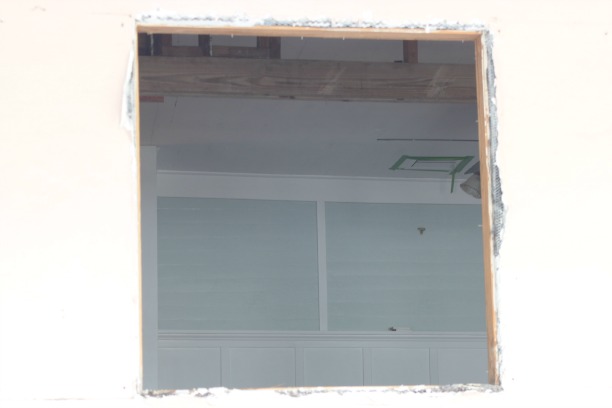 I watched Mike measure for one of the new openings and then he left me alone with the tape measure, pencil and level.  I did my best to hide my math inabilities and pretended like I was totally confident working alone on this task.
I'm happy to report I did not screw it up.  🙂
And I was also happy to release any control over this process and let the professionals pretty much take over from there.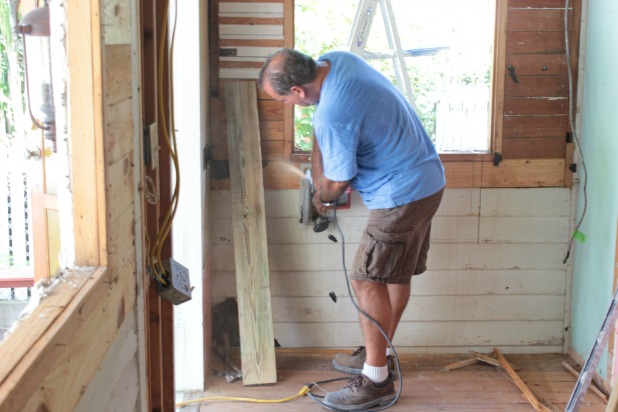 Cutting through that faux brick and stucco is no joke.
And I thought it was one thing to have a contractor willing to let us do as much as we could on our own time … it felt a bit over the top to also expect that they would hold up their progress to teach me new techniques and get a carpentry lesson along the way.
So, while most of my time was spent taking pictures and just admiring their work and progress, here are a few things we did learn throughout the weekend that could be helpful if you find yourself working with professional help.
Keep them fed and hydrated – Not only is it a nice gesture, but it benefits everyone.  We all know we are at our best when we're nourished and hydrated. And, they could keep working while I went to pick up more water and lunch. Win-win.  (We also provided donuts in the morning and beer when all was said and done … more for "nice gesture" than any real nutritional value.)
Help out by cleaning up – But don't move their tools!  I felt useful and it seemed to help move things along if I got started on sweeping, tossing scraps in the dumpster and other random clean up tasks while they finished up before lunch and the end of the day.  But I did learn quickly that even though a random tool seemed to be in a random spot, "organizing" it didn't help anyone.  🙂
Feel free to chime in for big picture questions/comments ("that outlet is supposed to be outside, not inside") but resist the urge to suggest how to do something.   Maybe it's just me, but I found myself thinking "maybe they could do it this way" or "why don't they just try this?".  But I was smart enough to also remember that they were the professionals and knew what they were doing and my "suggestions" were unnecessary.
Make yourself available – While staying out-of-the-way.  I never wandered too far off so I was sure to hear when they were in need of more water or more supplies. Joel and I made a handful of trips throughout the weekend to the hardware store to pick up extra supplies.  Just a better use of our time than theirs when they could keep at it while we were running errands.
Be nice and complimentary – Seriously.  It seems like a no-brainer.  But the work that they did was so impressive to us we couldn't help but gush a little bit, and it seemed to be genuinely appreciated.  And I'm not talking about the contractor, I mean the laborers.  They probably don't interact with the homeowners too often. We felt like we had made new friends by the time the weekend was over.
Friends who had removed a big house eye sore.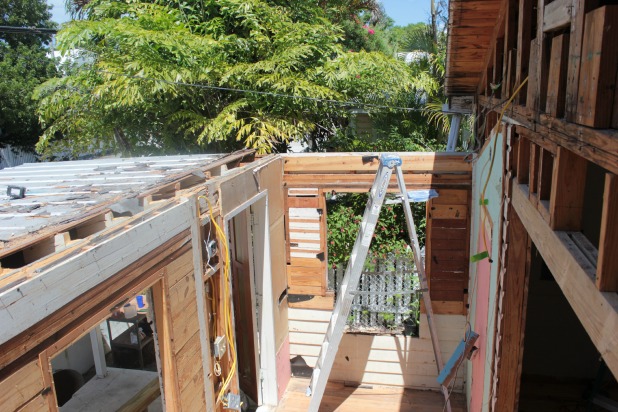 And given us a base to build on.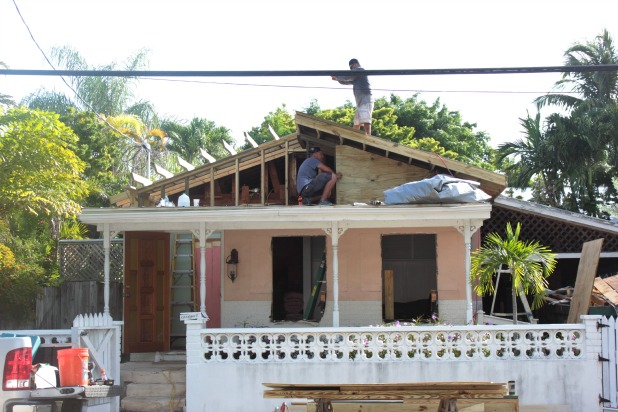 Obviously, even though such a big task was taken care of, we are left with a whole new slew of projects that either we are going to tackle or they are going to come back on nights or a weekend to keep us moving forward.
A few projects that are on our immediate radar are:
new windows – scheduled for next week
new roof – waiting on the roofer
new siding – windows need to be installed and trimmed out first
new porch posts
frame out a new french door
And then of course there's the interior, but we don't want to get any of the pretty done until we know the house is water tight from the outside.
And we have to make sure all of the electrical wires are run before we even get to the pretty.  So we're trying to decide on lighting right now.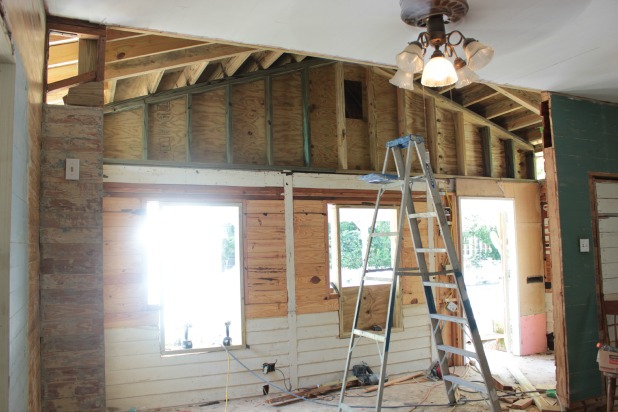 What would you do in that vaulted space?  Recessed lights?  A statement chandelier?  Helllllllp.  🙂