So, remember how I said it felt like it took my dad and I forever to get to the actual siding of the house phase?
Well, that definitely had something to do with the fact that on the day we got started we discovered this.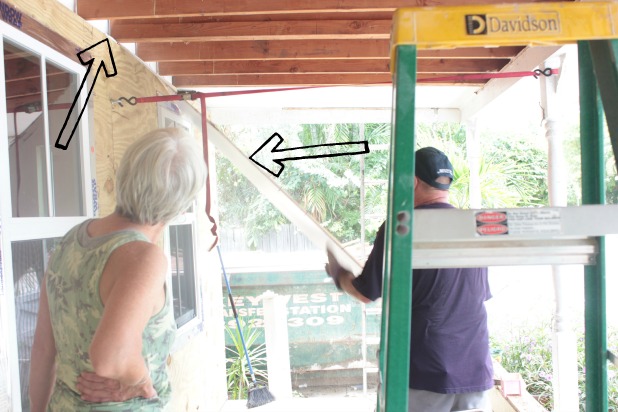 That's my dad removing the last sheet of luaun (1/4 inch plywood) from the underside of the porch roof after we had already secured the roof to the house after we discovered the roof rafters weren't each individually attached to the house.
But let's back up for a second.  🙂
See, since we were going to be adding siding up the front wall of the house to that roof and Joel and I had it in our minds that we wanted to remove that plywood to either add bead board or leave the porch ceiling joists exposed, or both, it seemed perfectly logical to remove the plywood first then all of our options would be left open.
Seems so smart, right?!?!
But it was when we got to the second sheet of plywood that we noticed that the joists had inched to about 3 inches away from the house.
Now, I'll apologize for the lack of pictures of this step, but I tend to not reach for the camera when I'm standing under a roof I'm thinking is going to topple onto me.
It looks like the joists are resting on the plywood build out in the picture above, but they're not.
There were a measly 4 nails kind of holding the whole deal into place and it was clearly unstable.
You'll also notice in that picture above that we already have it strapped in secure to the house by the time I did grab the camera.  That was my dad's quick thinking.
I ran out and bought a heavy-duty eye bolt like this one (affiliate links), and using a ratchet strap (like this one) we already had dad screwed the bolt into the front wall of the house and we hoisted in the front porch posts.
We definitely had a little heave-ho action going on.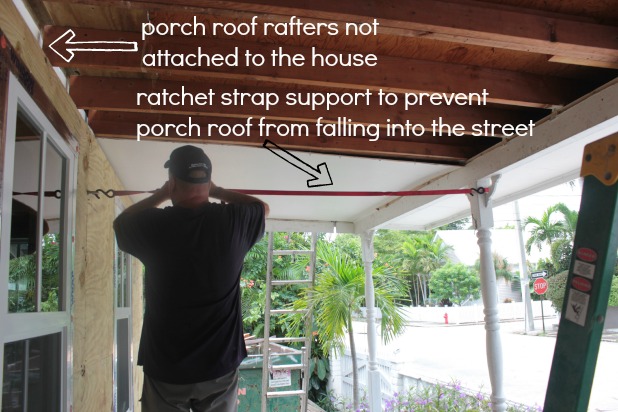 Our ratchet strap had seen better days and was a bit corroded and rusty, but Catharine used a bit of WD-40 and somehow worked her magic to get it functional … I won't even show you the rope contraption we tried while she was working on it.
My smartie dad just drilled a pilot hole right through the plywood and then used the handle end of a wrench to screw in the large bolt.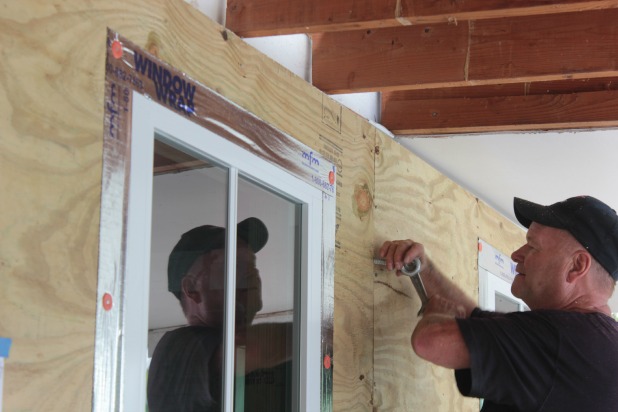 The guy at the hardware store said the bolt was strong enough to carry the load of 2000 pounds.
He said "You could tie your elephant up to that".
I said "I feel like I'm about to".
Get it?  Unsupported roof equals elephant in the room …
Once the roof was secure and dad got busy removing the rest of the plywood and trim pieces we didn't want I headed back out to the hardware store to buys joist hangers, like these.
And because of the kind of tight quarters between each joist dad actually nailed them all up by hand using 3 inch nails.
Sure does make you appreciate a good power tool.  🙂
And this picture shows how high above the plywood build out the roof was supposed to be.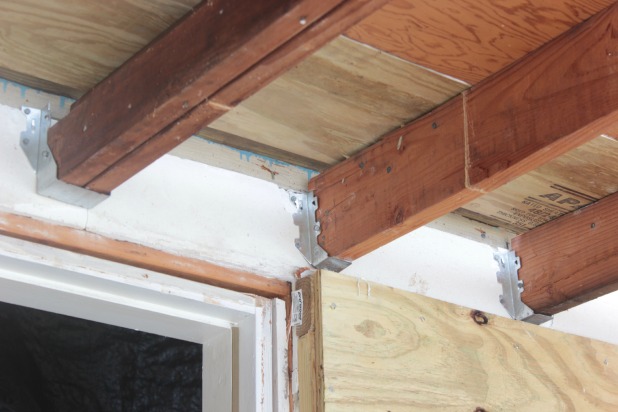 We actually used the jack out of my SUV and a 2 x 4 to jack up joists that had fallen.  We did use a level but it wasn't that scientific of a process, I may have said "close enough" a couple of times.  🙂
I bet it's more level than it was when we started.
And I can't believe it didn't fall when this was going on.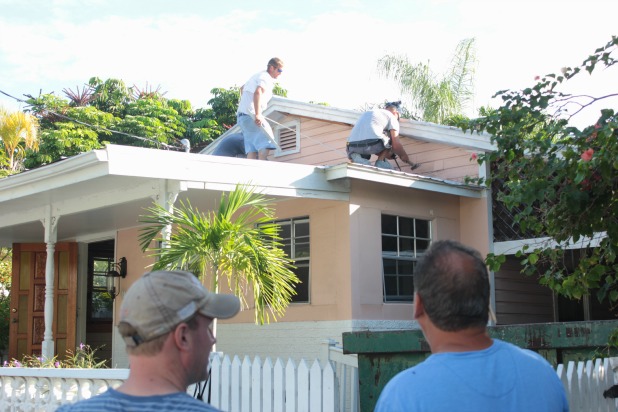 It is the roof right above the palm tree that we needed to secure.  And the guys were up, on it all day during demo.  That definitely would have ruined the best weekend ever!
By the end of that first day of work with my dad we were counting our blessings and coming down from the bit of adrenaline high that hit us when we knew we needed to hop into action to prevent very bad things from happening, so we called it a day.
And I may have said "So much for making progress on the siding today" to which dad may have replied "So much for a relaxing vacation".
Touche, touche.