To say we are living in the a state of crazy would be an understatement.
For the most part I like to focus on the pretty things we are getting done. Did you see I made a sign?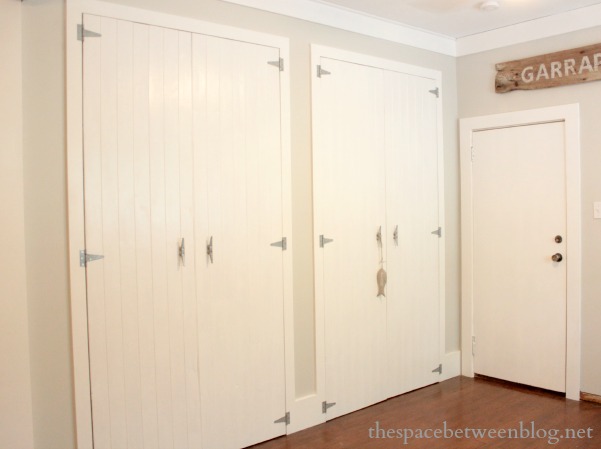 As opposed to everything else.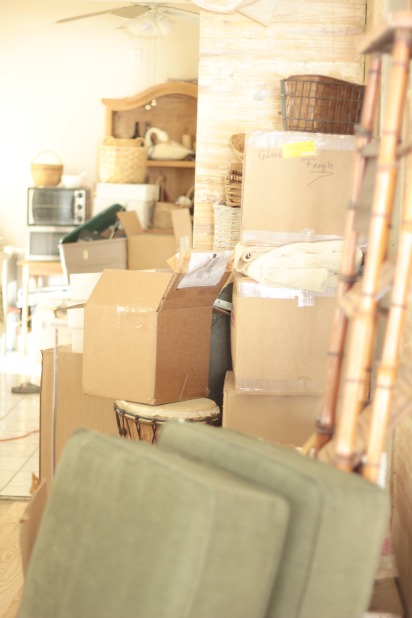 Yikes!
But, it is what it is, and I'm not gonna whine about it on the blog.
Instead, I'm going to write really simply, like it happened in a split second in real life, the super simple organization tricks I used just in time to prevent this transitional period in life, that has me feeling a little more like I'm just surviving than actually living like the masses, from taking me over. (How's that for a run on, grammatically incorrect I'm sure, sentence?)
#1 – Take the time to tackle the little things or they will add up and take over your mind and counter.
Those little things that create piles and collect dust on your washing machine and counter tops and floors.
It's true, we have a lot of big things going on around here so when the little ones come up they tend to get brushed aside like Kris Humphries. (Boom, Kim Kardashian reference right there.)
But after a few months of brushing we ran out of counter space and I ran out of the mental ability to block it all out anymore so I actually just took an afternoon to tackle the small stuff.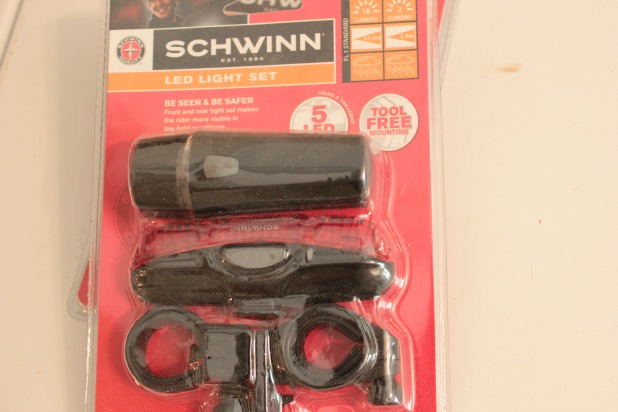 Bike lights (required in Key West), bought over a month ago are finally on the bikes.
Batteries are finally put in the smoke detectors that were installed right when we moved in. I can't even tell you how many times I've moved to stinkin' batteries around the counter.
And the last of the boxes were unpacked. Why, yes, we have lived here almost 5 months, but I had stashed them in a corner, out-of-the-way, so it was no problem … until I kept adding so many items to the little pile I started to trip over it.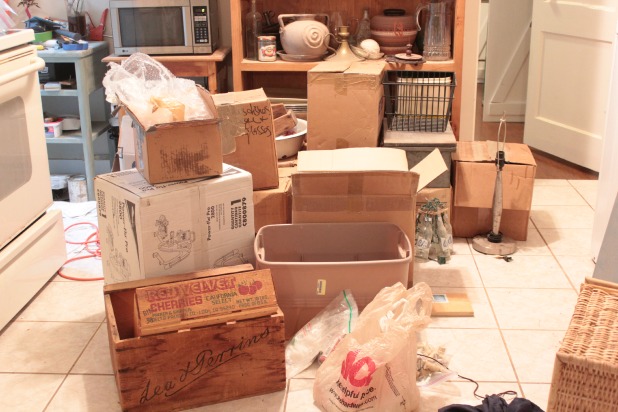 I swear, there used to be a path around there. It's hard to cook dinner when you can't get to the stove.
Or at least that's what I've been telling Joel. 😉
#2 – Give everything a home, even if the home isn't permanent, or pretty.
Everyone deserves a junk drawer. I have 2. Junk baskets actually. All those little things that need to happen at some point just not right now get tossed in there and when a basket gets full, I take the time to go through it and throw out the coupons that expired in June.
And our new closet now looks like this …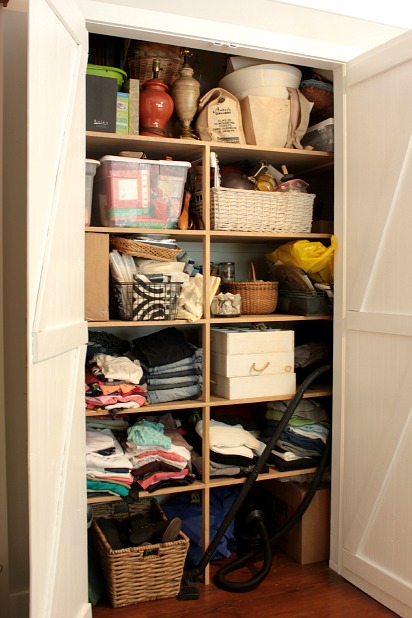 And everything has a designated spot.
Let's take a moment to say a prayer that these are not the long-term, final destinations for these items.
But I know exactly where to find everything and it is stashed out-of-the-way. We're getting creative here while we make the most of living in only about half of a 1300 square foot house.
My clothes are in there because we emptied out the master closet and bathroom so we could get started on demo in there.
"There's never enough going on around here" seems to be our motto. 🙂
#3 – Make it a game.
I know, I might be 12. But plan a little organization during your favorite tv hour.
Fold all the laundry, or dust every nook and cranny of that room or organize that ever-growing pile of papers while half-heartedly watching the show segments. And then like a crazy woman run around the house putting everything away during the commercials. It's fun, really. 🙂 And it really is amazing how much we really can accomplish when we make it a goal.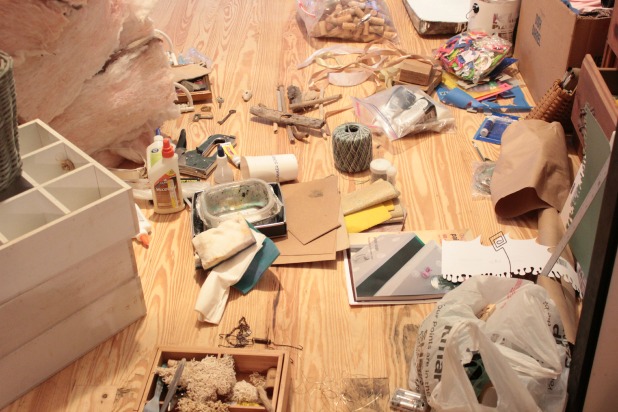 I organized 3 boxes of craft/project supplies in "game mode" by making piles for all like items (adhesives, ribbon, scraps, stencils, paint brushes, fabric, driftwood, projects-in-progress, etc) while sitting on the floor watching Days of Our Lives (don't judge) and then fit them all puzzle-style into the new closet in baskets and bins that made the best use of the space.
And the bonus tip that I keep reminding myself – it's just for right now.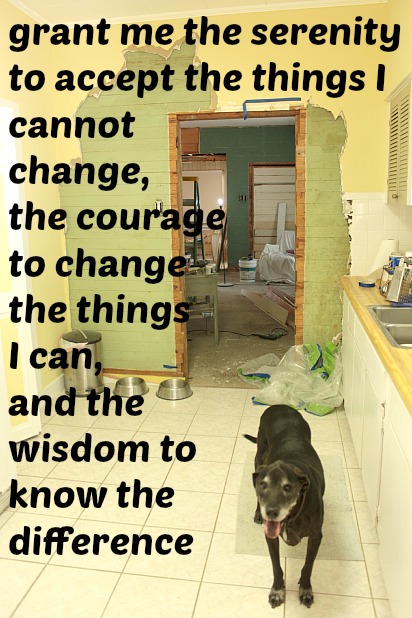 So right now I can stop stressing about those little piles every time I move them or trip over them and I can clear my little brain for the big stuff.
Every so often getting a good handle on all of the little stuff really makes the biggest difference.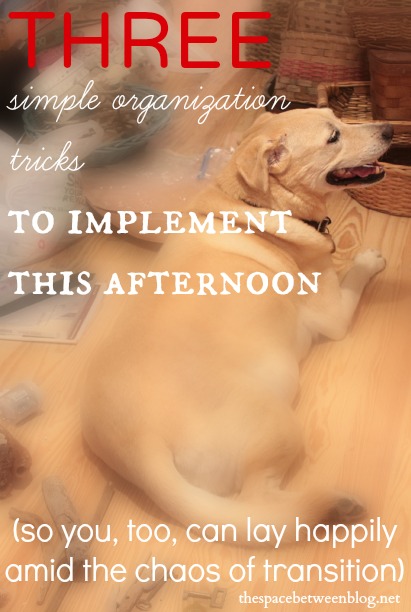 Please tell me I'm not the only one who has a pile of coupons that expired in June?
Oh, and it's official … our roof is taking on a new shape this weekend. Who's nervous excited with me?!?! Today I'm tackling the final demo that I can do on my own and I can't wait to see myself, and share with you, the difference a few feet of ceiling will make in the entry and living room. If you follow me on Instagram (thespacebetweenblog) you've seen some sneak peeks of my demo.
Have a wonderful Labor Day Weekend, there really is nothing we'd rather be doing than giving this old gal some hope of curb appeal, hopefully you get to do exactly what you'd like to be doing as well. 🙂