I am definitely having more fun than seems normal researching bathrooms and searching products online and fantasizing about what our new master bathroom will be all about.   Let's hope the entire master bathroom remodel process will be this fun.  Because really, could it get any worse?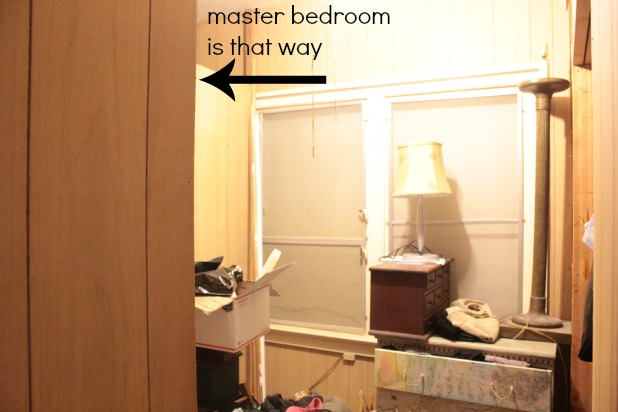 No.  The answer to that question is no.  🙂
And something else fun is the realization that I've never designed a complete room from scratch like this.  Since we're turning a closet into a bathroom it's not like we're working with any existing plumbing or fixtures or anything that we need to work around.  I am still waiting on pricing for the new plumbing but we also are now considering moving the washer and dryer into the guest bathroom, since we're going the professional plumber route anyway.  But we'll say, the money will help determine a lot of things.
And who doesn't want to have this in their kitchen anyway?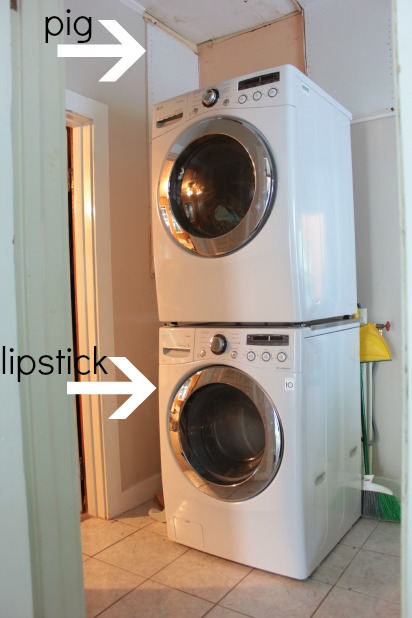 (No one.  The answer is no one.)  😉
So let's look at what the space looks like now from a floor plan stand point.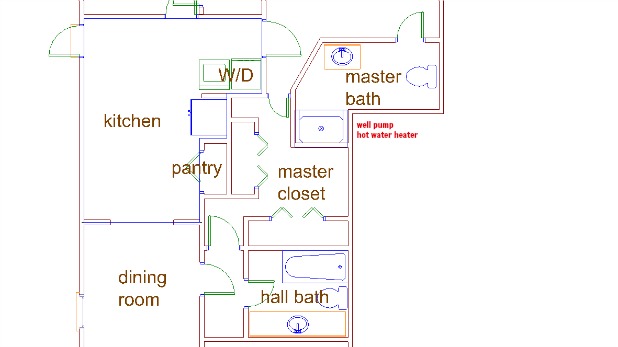 The idea is to take what is the master bath and the master closet and kind of flip it.  A few months ago I shared this floor plan idea for what we thought was going to happen.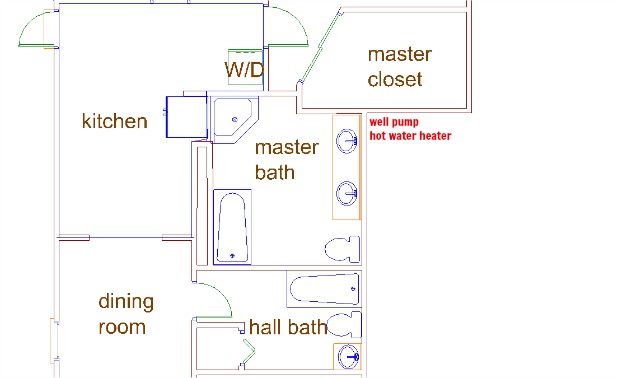 But on that outside wall in front of the double vanity is an old window.  We were going to remove it until I realized that there were other floor plan options that enabled us to keep the window and all of the great natural light it will bring.  So here's the latest idea as far as floor plan goes.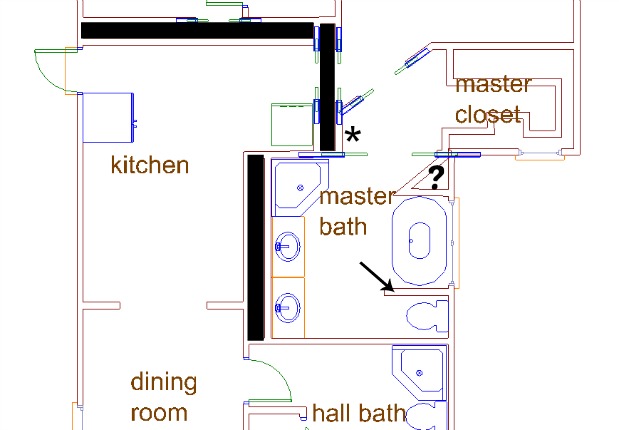 A couple of things:
Just pretend those black rectangles aren't there.  I ran into some trouble with the overall measurements of the house and since the exterior walls are the first step in making a floor plan in the program I just created some blackout space that doesn't really exist instead of starting over. #efficientnotlazy
The question mark and asterisk kind of go together.  Joel and I both really want a built-in tilt-out hamper and I'm not sure if it will be best where the question mark is or the asterisk.  We'll probably decide as it all comes together.
Which camp are you in?  Camp half wall or camp separate enclosed space for the toilet area?  We're up in the air and that may also be a "let's see how tight the space feels" decision.
In this new floor plan the tub will be under/in front of the window so we can keep it.  Score!
Here are a couple of things that have been helpful so far:
Decide how the space needs to function, that will be a little different for everyone.  I found this Better Homes and Gardens Bathroom Planning Guide helpful.
It has been beneficial to be working on the bathroom and closet design at the same time so we can be sure to fit in the functionality that is important to us into at least one of the two spaces.  Like the built-in hamper, it was only after I tried to fit all of the clothes/shoe/bag/hat/etc storage into the new master closet that I realized the built-in hamper feature might need to go in the bathroom somewhere.
And something else that has been discussed at length is to go open bathroom and closet or to have a door to separate the two?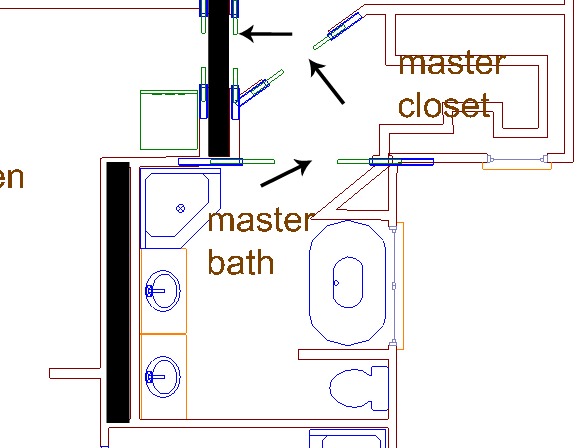 After an informal Facebook poll we're going to add a pocket door that we will probably keep open most of the time.  Surprisingly we heard from a few that the open concept was a deterrent at resale.  And them are fighting words to people like us who move a lot.  I wasn't really worried about a moisture issue since there will be a window in both the closet and the bath areas (but Joel was), but talk to me about a negative impact on resale and I'm no longer interested in the idea.  🙂
So we're looking at a bit of a row of pocket doors.  Changing our bedroom entry to a pocket door, another to enter the closet and then another to enter the bathroom area.  Joel isn't sure he likes the enter the closet first set up, but I kind of like the "hidden" feel it gives the master bathroom.  Hopefully it implements well and doesn't just become weird.
And now I'm just spending a lot of time in stores and online trying to find the right items at the right price and the right size for the space.  It's actually pretty fun.  And wemight have piles that look like this in the living room.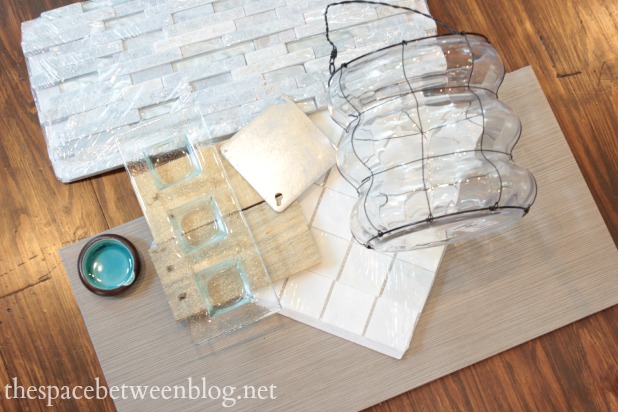 And I might have taped out the proposed shower shape to make sure it was big enough.  🙂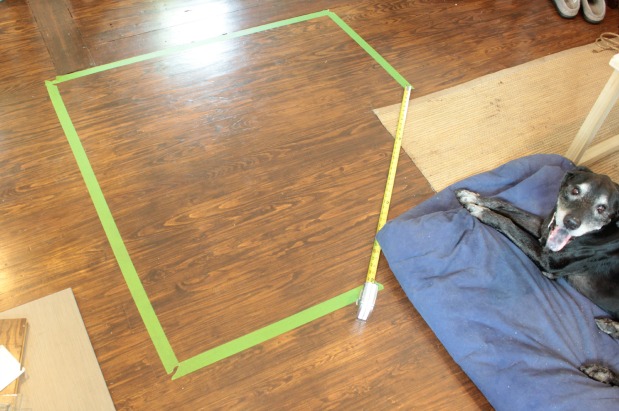 Things I think I want that I'm looking into – vessel sinks, separate tub and shower, combinations of tile (meaning not all the same on the floor and in the shower and maybe part way up the walls), double vanity, storage space – open shelving is fine but some closed storage would be ideal, counter to ceiling mirrors above vanity maybe?
Things I think we need – freestanding soaking tub instead jacuzzi, built-in hamper, new window for natural light, door between bathroom and closet, DIY wooden vanity built custom to fit the space maybe?
But so many ideas are swirling it's still up in the air how this will all end up.  A few other resources I've found helpful include this article on vessel sinks and this tub buying guide.
Tell me, have you ever built a bathroom from scratch?  What are your tips?  What areas of your house are you looking to revamp soon?  Any toilet insights, am I missing out on a major features by going with a standard style?  Are you camp half wall or separate room?  Have any thoughts on having to enter the closet to get to the bathroom?  Spill it.