Well, it happened. My first bath here. And it was glorious.  And no, I haven't been in the tub for the last two weeks.  We've been having a lot of fun with family visiting (7 people over 10 days to be exact) and then the week that was Fantasy Fest here in Key West.  If you don't know Fantasy Fest, google it, and don't blame me if you see things you can never unsee.  I'd show you pictures but, well, this isn't that kind of blog.  🙂
Truth be told, we were home every night far too early to see many of the things we hear about, but it is still fun to meander around in town and see Key West turn into one big street festival for a whole week straight.
But now that our company is gone and the most famous week of the year for this island is behind us I need to get back to work.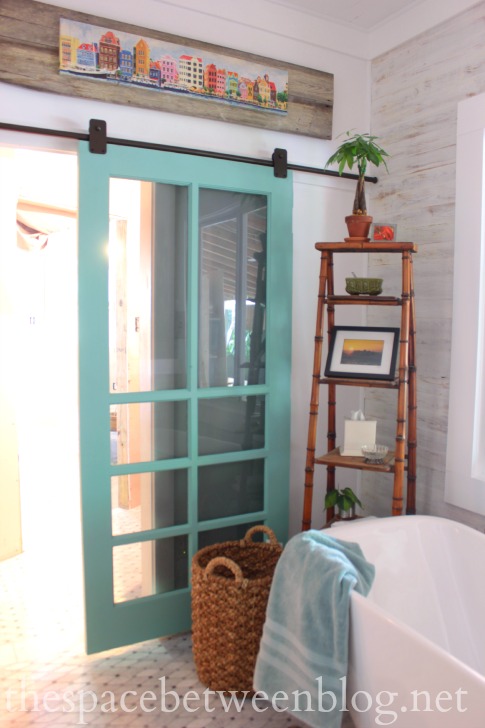 The oh-so-close-to-being-finished-master-bathroom was a big hit with the fam and I've been finishing up things like window trim, the half wall by the tub and installing a door … and the shower glass arrived!
We scored that door for free and I know glass panels in a bathroom door aren't for everyone, but we love it.  All the details on the super easy to install rolling door hardware are coming up soon, and I'm still on the look out for some kind of door handle.  I'd really love to find something cool that will work, even though it might not technically be a door handle.  For us, the door stays open all the time anyway so the wait for just the right thing isn't a big deal.
Actually nothing is a big deal, because the tub is installed rendering my world complete.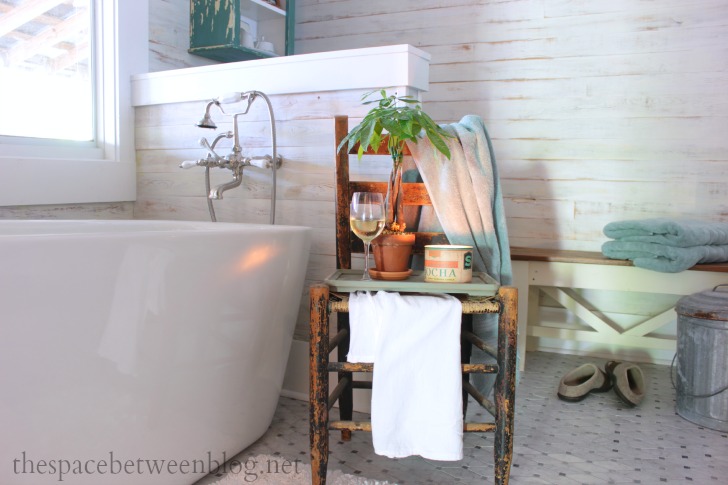 I seriously could end every day with a bath and a glass of wine or three.  My sister-in-law prefers to refer to it as "sitting in her own funk", so, like the glass door panels, I realize a tub isn't for anyone … but it is totally for me.
I did a ton of research because I didn't want the tub to feel too big for the space but I also didn't want it too small to really enjoy.  #FirstWorldConcerns
I settled on the 60″ Erion Acrylic Slipper Tub in part for its asymmetrical shape.  I worried a symmetrically shaped tub would look wrong if it didn't end up centered directly under the window, you know me my measuring skilz.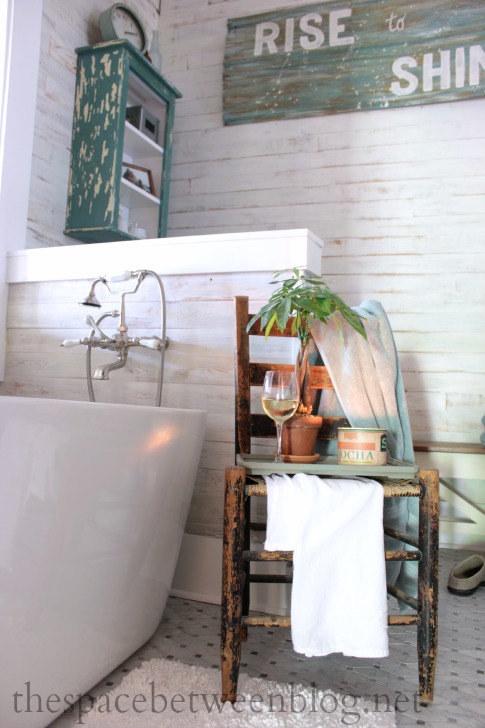 It's worked out to be perfect, it is centered under the window (because even I get lucky with the tape measure every now and again) and the higher back is perfect for leaning back and relaxing the evening away.
And we've even installed a new tv and just need to get it hooked up to the cable.  Hopefully before Thursday so I can turn into a prune while watching #TGIT.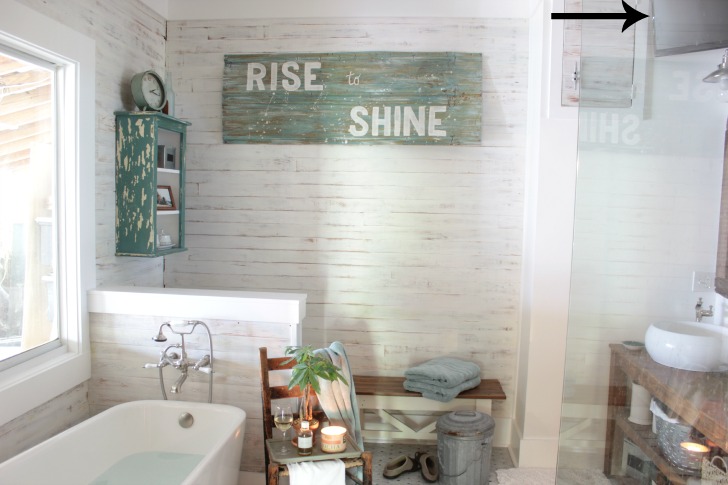 I ordered the tub with the overflow and drain included in a brushed nickel finish, the overflow came attached but we needed to install the tub drain ourselves.  I kind of messed that up the first time, but it all worked out.  Even though the faucet weighs about 20 pounds and came with instructions to "hook it up to the water supply lines".  Ha.
We installed extra 2 x 4s right in the wall and there may have even been some zip ties involved in helping to secure everything completely.  We tugged and prodded and tightened to be very sure there was literally no wiggle room in any of the pipes before we closed in the back of the wall.  We're like MacGyver, except we didn't use duct tape this time.  Even though I balked at the price for weeks we purchased this Wall Mount Telephone Faucet and Hand Shower in a brushed nickel finish. These were our big splurge items for the room and Joel was all for it knowing how much use they would get.
And like we did with the new sink faucets and shower head, it bares reminding to run water through your new pipes for a minute straight to clear your lines of any built up debris so it doesn't get stuck in the screens in your new fixtures.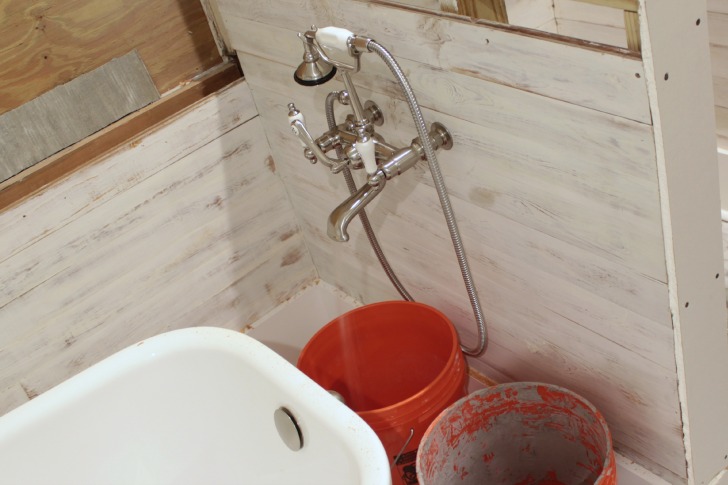 I'm now thinking a full length mirror is in order where that bench is so the Rise to Shine sign might not have a long future ahead of it, I can see Joel smiling as I type that.  And we're way over-thinking the whole towel hook placement.  Who knows, we may end up with those suction cup hook things right on the shower glass.  For now the chair is working just fine for my towel and the floor has consistently worked splendidly for Joel throughout his entire life.  😉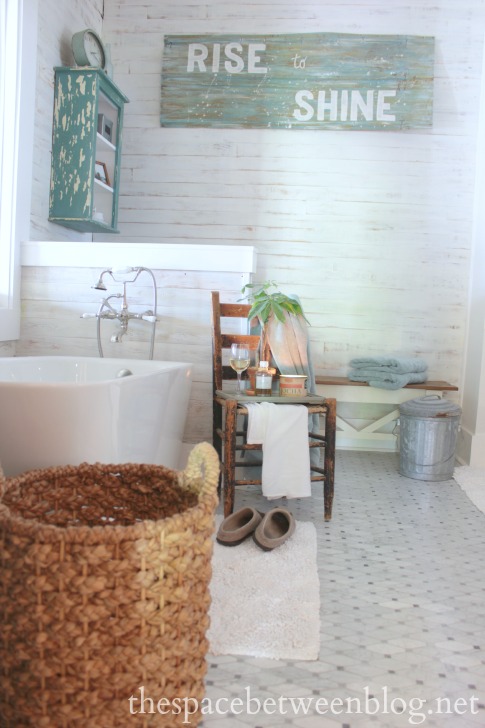 All-in-all we are soclose to finished that we've already moved on to a new room instead of finishing up in here.  🙂  Here's hoping the master bedroom is a fairly quick fix so we can move on to the guest bathroom and finally the kitchen.  And the master closet has to get built some time in there, too, but I'm just waiting for the layout to "come to me".  That sort of thing will happen, right?!?!
And on the senior pictures in Key West front, check out these beautiful people who I got to photograph while they were visiting.  We have both a niece and a nephew graduating from high school in the spring and we had fun playing around with some photos around town.
We loved that some of the brick had a gray patina that matched Colin's shirt.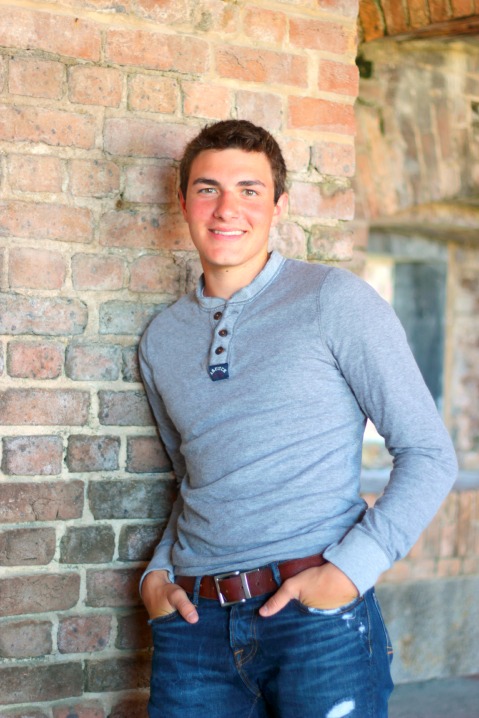 And Olivia came up with the brilliant idea to do a shot by a street of the same name.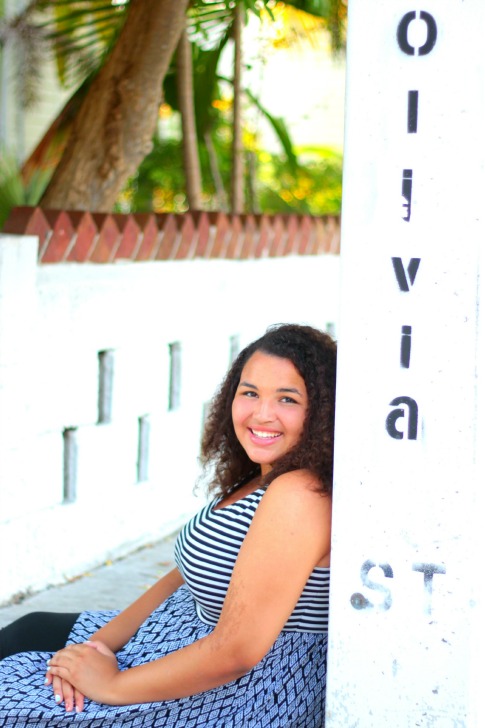 And we couldn't pass on getting a photo of all 6 "grand kids" together on our front porch.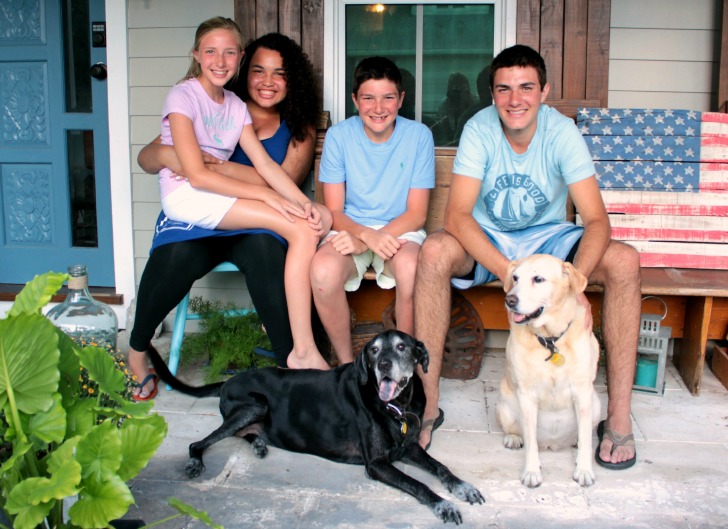 I guess this is my way of saying we've been all over the board these last few weeks but now I'm in action mode and motivated to finally move our mattress off the floor in our master bedroom for good. 🙂