I'm just going to have start with an apology here.  The photos you are about to see might scare you.  They may induce a headache.  Or they may just make you laugh uncontrollably.  It's really hard to know exactly.  I'm just sorry.  🙂
The topic of "our next big project" has been coming up around here a lot lately.  And let's clarify the current situation with the following disclaimer:
Any project that Joel isn't a part of (the entire exterior repainting of the house, for example) basically doesn't exist.
This is a fact that my dear Joel recently admitted.  So after a good ol' happy hour discussion regarding the big project we were currently in the midst of, even though Joel was not an active participant, we kind of decided to hire it out.  Even though one side of the exterior of our house looks like this.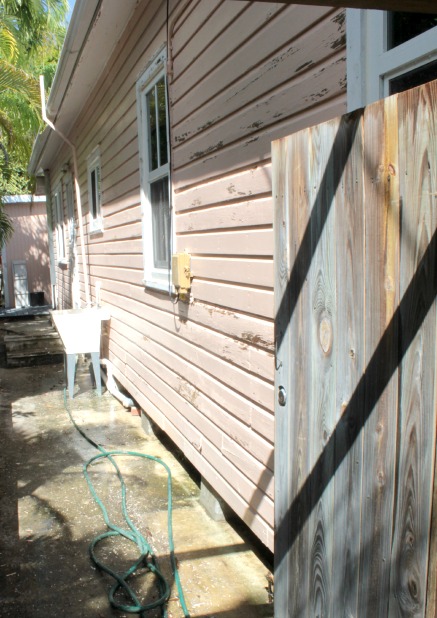 Beyond the afternoon with the power washer that got us to this point Joel didn't have any interest in being a part of the whole exterior updating.  And after about an hour of scraping the old, chipping paint I basically decided that it would be more fun to scrape my own eyes out with razor.  But I was mentally gearing up for it until Joel said "why don't we just pay someone to do it?"  And I couldn't think of a good reason not to.  🙂
We've been stashing cash, as we can, all along the way so when the amount of time and energy it was going to take me to muster up the woman hours to tackle the entire repainting project compared with a quote we got from a highly recommended professional (who is willing to work one side of the house at a time so we didn't have to commit to one large lump sum and do the entire house in one shot) just reinforced to us that hiring it out was the way to go.
Which immediately cleared up our plates to start planning the master bathroom remodel, which is actually an entire master bedroom, bathroom and closet remodel.  Which we are going to tackle all at once. And is approximately 100 times more fun to think about than scraping and sanding and caulking and priming and painting a chippy, 60-year-old house.  🙂
But here's where the photos come in.  This, my friends, is the space we are starting with that we plan to turn into our master bathroom.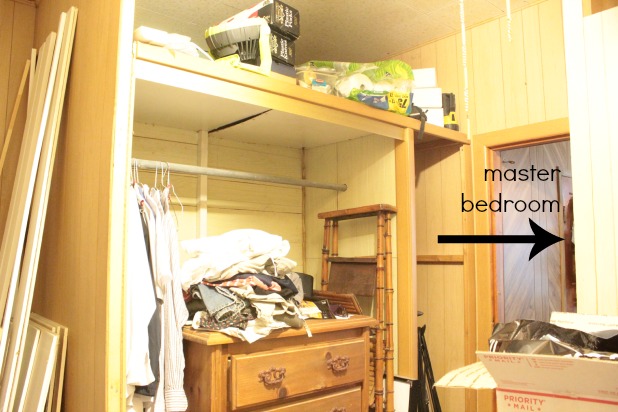 What is that even a picture of?
I know it's incredibly hard to visualize underneath our mess combined with the weird layout of the after-the-fact closet "built-ins".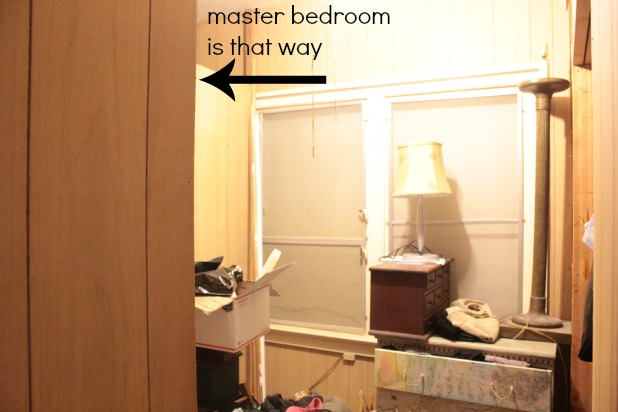 Right now this room is a bit of a catch-all with two dressers (in use), a night stand, most of Joel's clothes, two large bags of clothes we would wear if we had room to store them in a way that didn't include a large garbage bag, and apparently piles of hangers.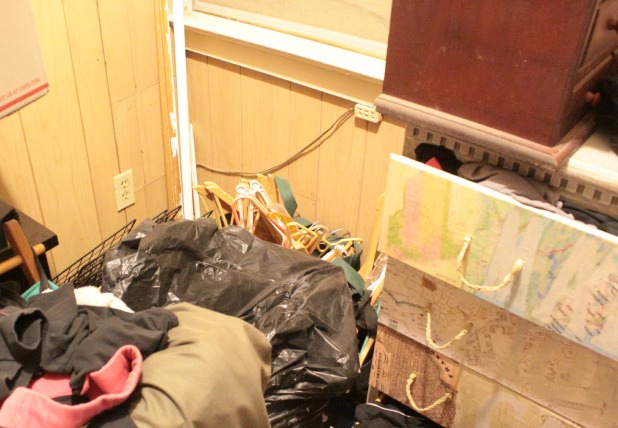 Here is the view as you look in from the master bedroom now.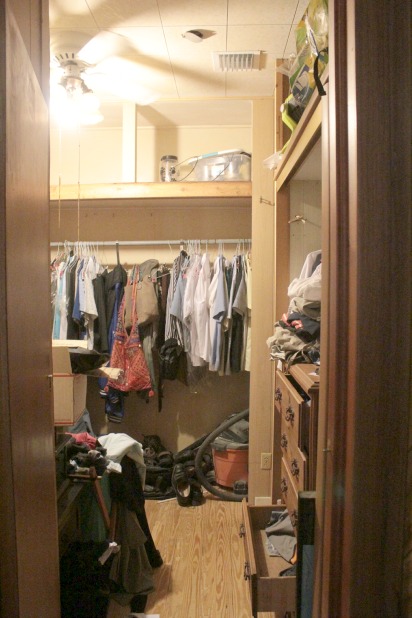 If you take a few steps back you can see where the current "master bath" is, which will become a long and narrow master closet.  The blue painter's tape you see on the floor is where the new entrance to the space will be.  We're stealing a little square footage from the master bedroom to try to fit everything we want into the closet and bathroom spaces.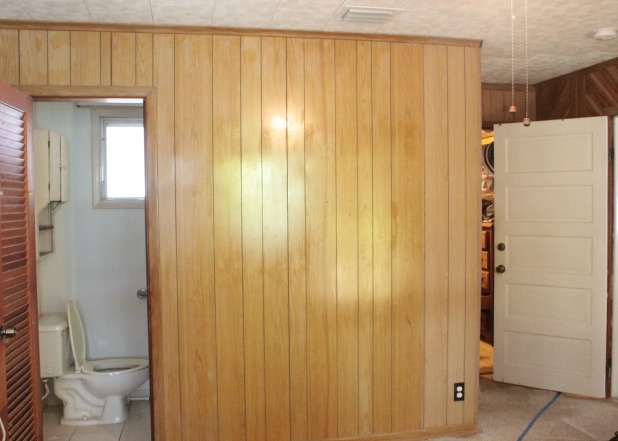 But you guys … I've never done this before.  Swap floor plans like that.  We've updated bathrooms and installed toilets and new tile … and I'm having way too much fun trying to decide on a layout and fixtures and finishes.  But I'm also just kind of winging in.  🙂
Even though the plan is to demo all three spaces at the same time the new bathroom is occupying most of my planning time right now just because there are so many decisions to be made.  And I met with a plumber yesterday because we're pretty sure we'd like to hire that out so now we're just waiting to hear a proposal and start planning that into a budget.
So tell me, what are you master bathroom must haves?  What feature do you wish you had?  What do I need to know that I just don't know I don't know yet?  It's a little daunting to think that I have to think of everything ahead of time … when all I have to work with is this.  :/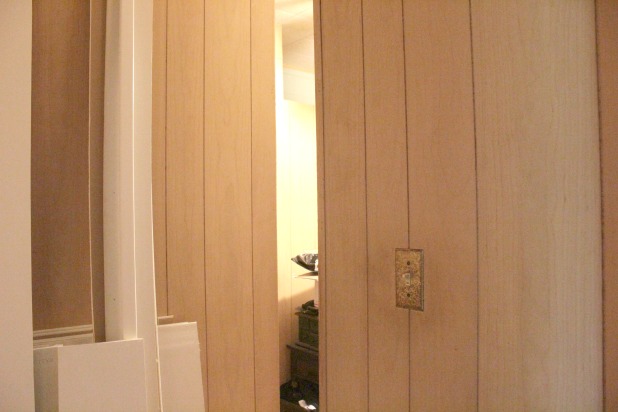 I'm really hoping the "after" shot from this same spot will be a lot different.  🙂
And in between planning and shopping and getting organized to start a three-spaces-at-once renovation I'm hanging window and door trim and crown and baseboard throughout the living and dining room … finally!  Those last final details are really going to go a long way to making the main living areas feel for the most part complete.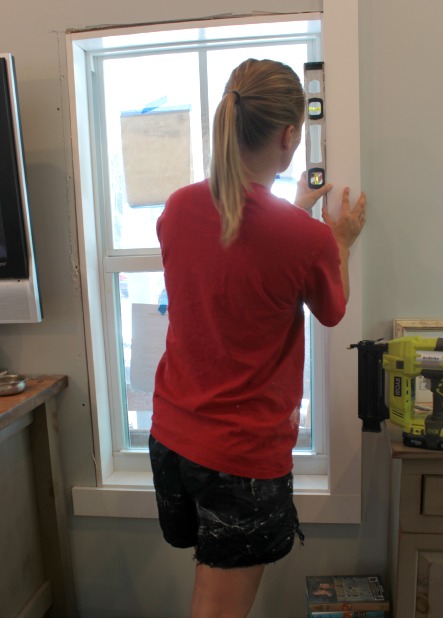 And don't miss our rope and wood accent wall, another major home improvement decision we made over happy hour.
**************************************************