You know what I learned about myself during this specific renovation?
And I don't know why I didn't know it before.  I've never really put too much thought into what my personal style was I guess.  I know I've just always veered toward the rustic and collected versus the contemporary and trendy.  But I never really knew exactly how I would define how I pull it all together. And now that I'm typing that, I still don't know how I would define it … so that's not what I learned.  🙂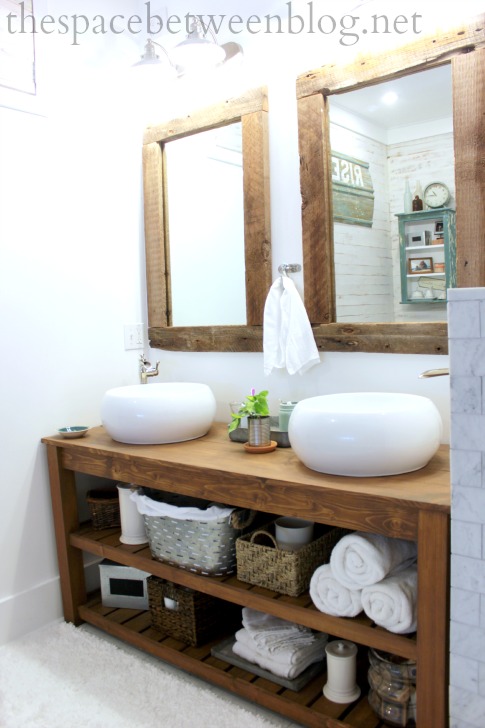 Turns out I do like a little bit of trendy, because I think that Carrara marble is all the rage right now, but I also think it's got a classic look about it and for anyone who likes a white, light, bright or neutral color palette it is potentially the perfect backdrop to build on.  If if you want to build on it with a chair and galvanized bin found on the side of the road.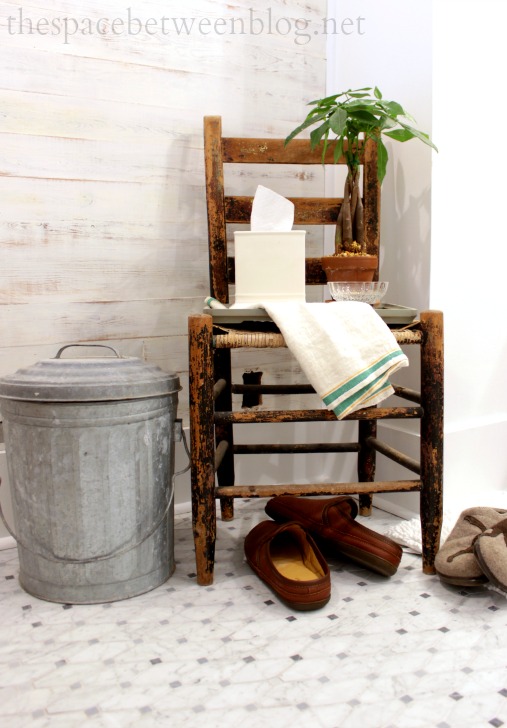 And even the sinks I picked are described as "modern style".  Here's an aff link to the the exact sinks I bought.  So I like more modern elements than I thought I did.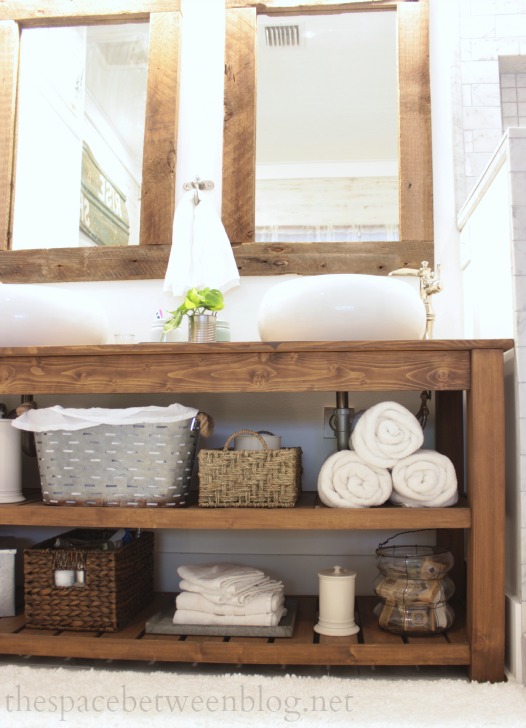 But me and rustic, we're besties.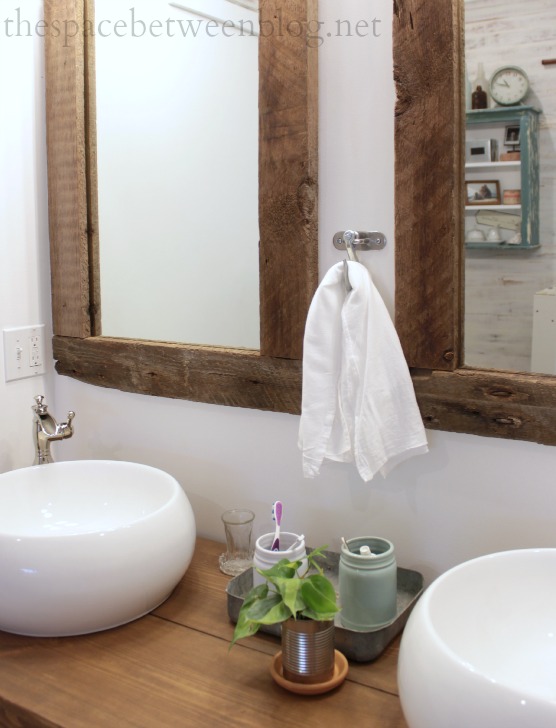 We stay up at night giggling and I find myself staring lovingly into her eyes.  Seriously, I was just standing in the entry to the new bathroom yesterday and Joel walked by and said "Are you just staring at it all again?".  Ummmm, maybe.  😉
Turns out I like a lot of rustic in small doses, if that even makes sense.
All the way down to using a simple, cleaned out dog food can as a plant pot and an old galvanized metal tray that was in our shed when we bought this house to hold the everyday bathroom necessities.  Here's an old post about ways to use things you have around the house in new ways, you know, upcycling ideas.
This chippy old cabinet is something my mom was giving away.  It had chipping white paint on it already, looked like someone had maybe used oil based paint and then latex paint and they didn't mix.
Instead of working hard to make it perfect, I worked much less hard to make it more imperfect.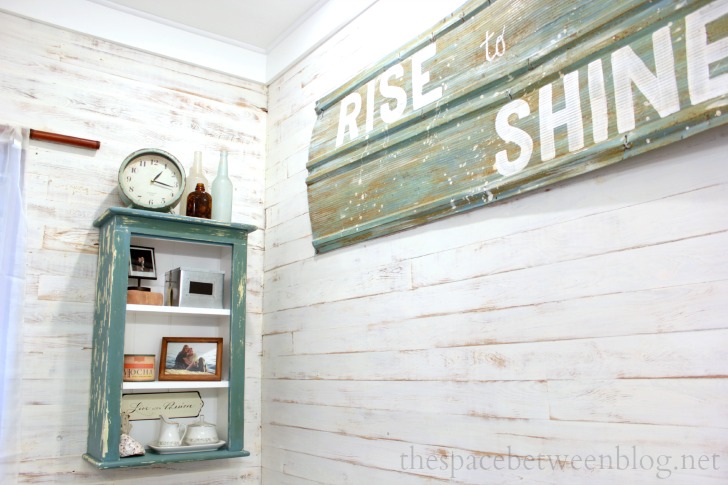 And that sign … well there's some household controversy over the sign right now (read: Joel doesn't like it because apparently he has something against cheerful sayings on old pieces of metal) … but that old piece of V crimp roofing metal came out of our crawl space.  I kind of love it.  Joel kind of hates it. We'll see what happens.  🙂
And those reclaimed wood mirror frames are my new favorite thing for now.  I love when I can take an old post out of my neighbor's garbage (Yep, it was with these old planks I turned into art for the guest bedroom.) and actually use it for something functional.  Spoiler alert – those frames are super easy to make so keep your eyes peeled for old wood in your neighbor's garbage.
I have a complete source list coming your way when all is said and done, we haven't even discussed the most amazing faucets known to man (and how seriously easy it is to install a faucet) and no bathroom is complete with a toilet … which we still don't have.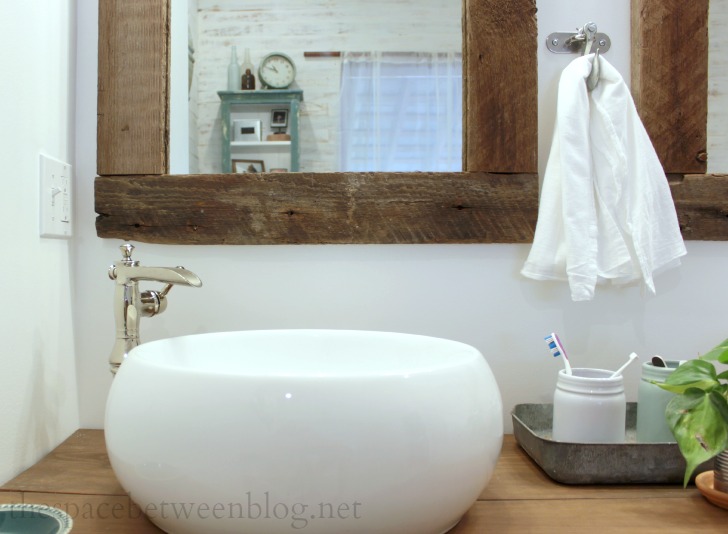 But I couldn't resist sharing a bit of what the bathroom is looking like these days in between the more meaty posts about tiling a bathroom.
And that sheer curtain you may have spotted is just an effort to deflect your eyes from what is really going on out there.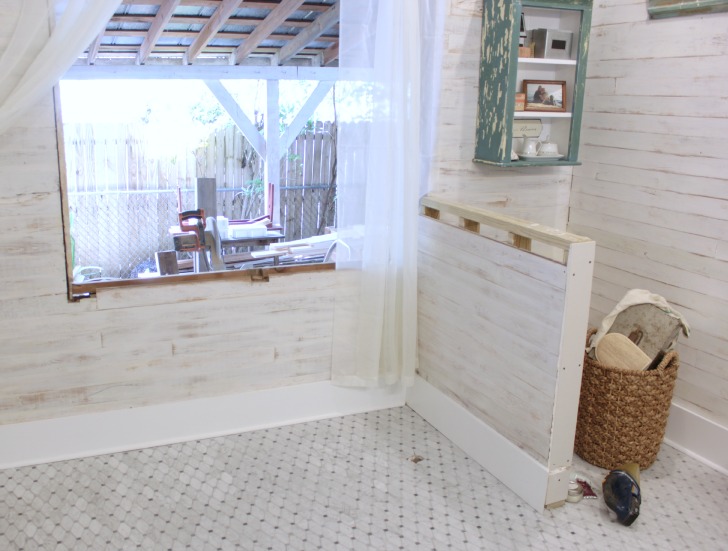 That is a tub and plumbing that still needs to be installed, a few extra accessories waiting for their time to shine and cleaning supplies where there should be a toilet, an unfinished half wall and a side yard that functions as a work shop and storage for furniture not yet in use.  Oh yeah, and a big hole where a new window should be.
But, do you remember what that spot looked like before?  Here is the same window before demolition.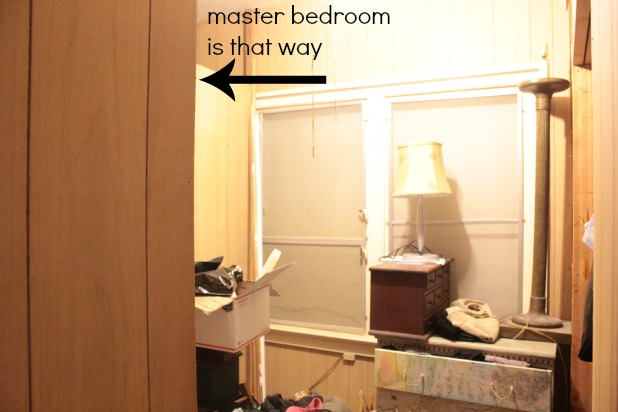 And the wall where the vanity is now …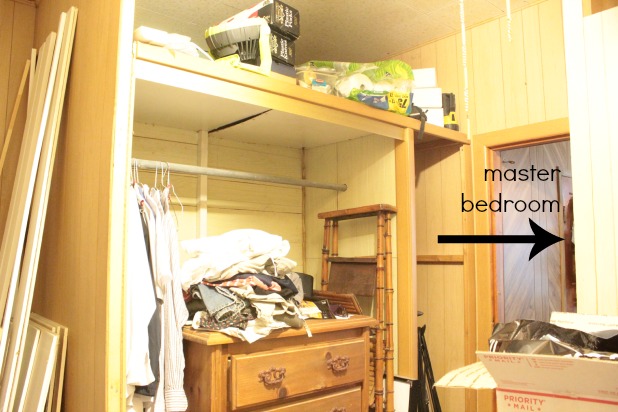 Amazing how quickly I can erase these images from my memory.  🙂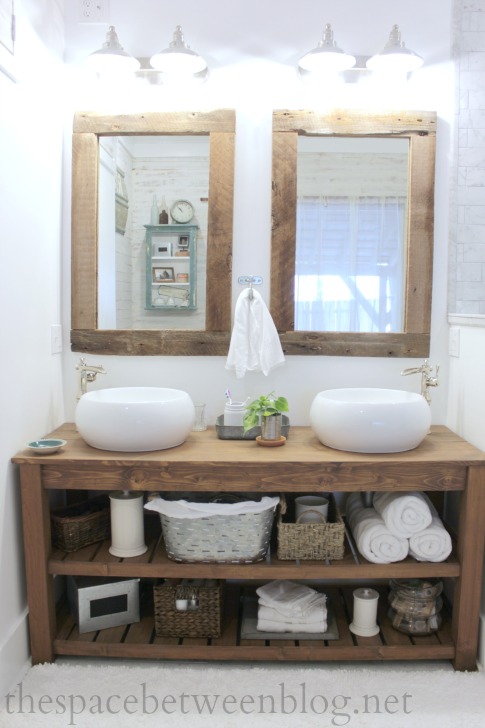 So, yeah, I learned that if loving rustic is wrong I don't want to be right … but I also like balance.  I am so much more well-rounded than I gave myself credit for.  (Hopefully you can hear the sarcasm there.)
Update:  You can now read the tutorials for installing rolling door hardware, making the reclaimed wood mirror frames and the DIY wooden vanity.
What about you?  Do you have a defined style?  Love rustic or hate it?  Want to come hang out with me and stare at the bathroom?