This post is part of a complete series explaining how to diy a shower pan from start to finish. Including the framing and prep work, installing the shower liner, building the pan, preslope, installing the drain and tile.
If you missed all of the preparation and planning steps, stop on over here first to get started.
Now, in prep for this I may have watched every You Tube video and read every tutorial known to man on the topic of how to DIY a shower pan preslope.  I even asked some questions on the Sakrete blog, spent an entire afternoon in Home Depot getting some tips and gathering my supplies … and I still messed it up twice.
Here are a couple of disclaimers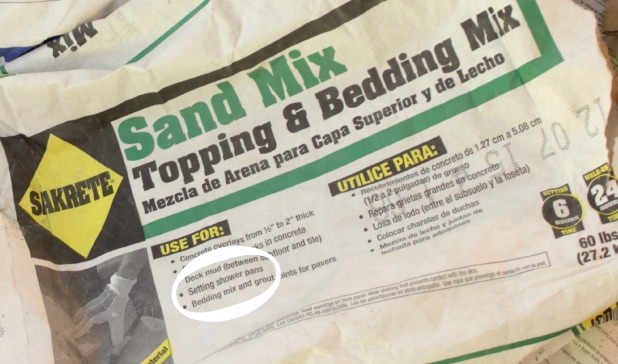 Save yourself the heartache, and the time, and the heavy drinking.  And seriously, if you choose to skip the preslope all together I will not judge.  I mean, the DIY Network instructions don't even include a preslope … and they are a whole TV network … about DIY.  Here's a little diagram care of Oatey (the company who makes the PVC liner) that helps illustrate where we are going to end up.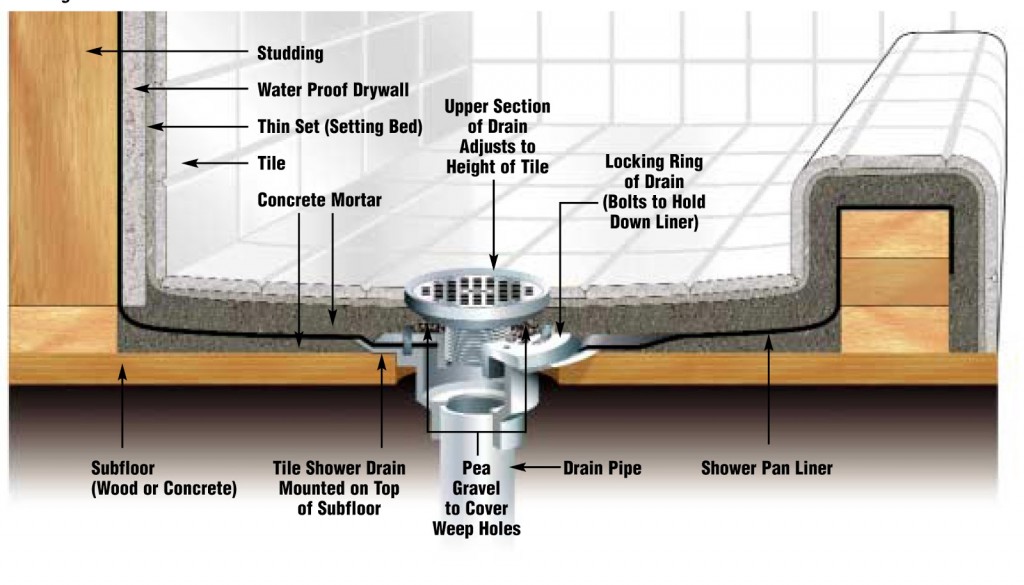 The purpose of the slope in a shower pan is to encourage all water toward the drain.  Under the tile and thin set is a sloped mortar base that creates the slope for you to lay your tile.  Under that slope is the PVC liner which is on top of your preslope.  Seriously, if you've got water getting under all that tile and cement and PVC lining you've got bigger issues than a little preslope.  🙂
But if you are going to start with a preslope, here is the how-to.
1.  Start with a solid, clean and properly supported shower floor.  And be sure to tackle all of the prep steps first.
2. Gather your supplies.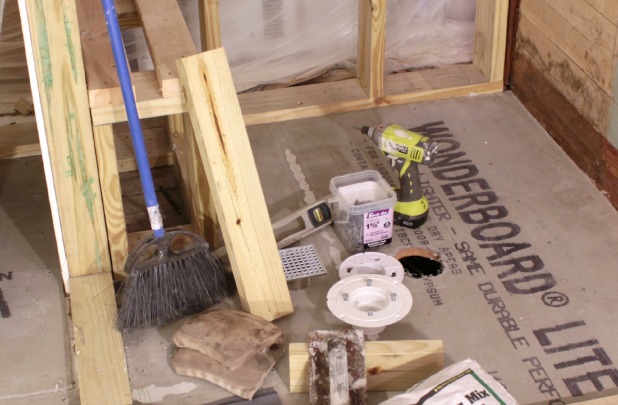 3. Mix 1 part Mortar to about 3 parts Sand Mix.  This is where I failed miserably the first two attempts.  Sand Mix alone did not work for me.  I know the packaging says it will, and their blog says it does, and maybe I just mixed it too dry (which is why I tried it twice, to mix it wetter the second time) but it didn't work.  It didn't work so much that it literally only took me about 5 minutes with my hammer to break it all up to get back to my subfloor.  That photo is here.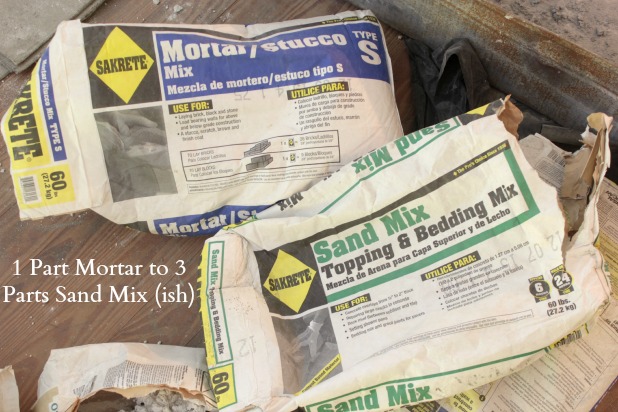 The plumber I consulted with over 20 years experience said it's like mixing cake ingredients without a recipe. Knowing my skilz in the kitchen I knew I was doomed.  But, it worked out.  I liked using this rake thing to mix, so much easier than a shovel because it didn't try to move all of the heavy mixture, but I would make sure to scoop up any dry mix from the bottom of the mix with a regular spade shovel, too.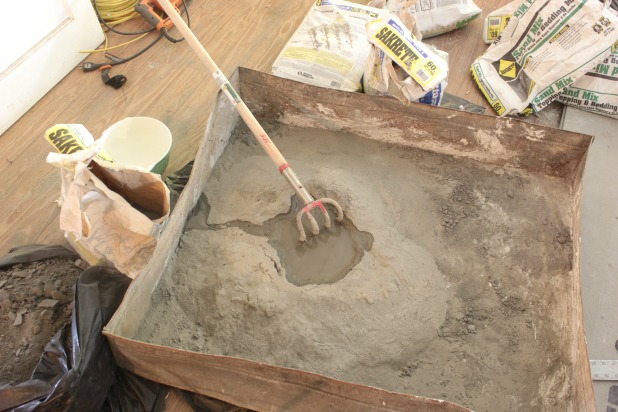 The packaging says to use about 5 1/2 quarts per bag, but knowing that I wanted my mixture to form a ball without crumbling in my hand I just winged the water thing.  So many tutorials say to not add too much water and make it soupy, and that is right but the plumber said a more detrimental problem is not enough water because it won't bind.  It kind of looks like wet beach sand when it's ready.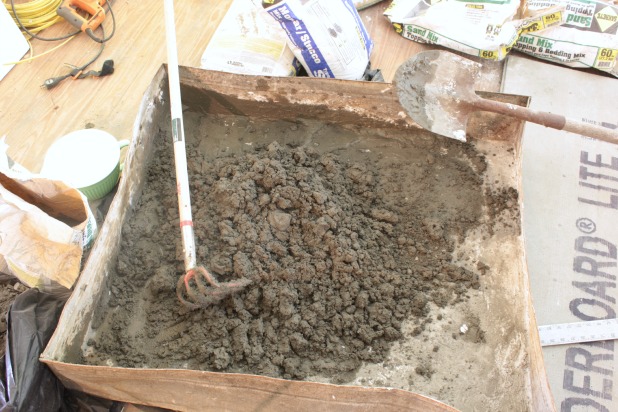 4.  Shovel a few scoops of the mixture into the shower area and get to work.  I used the shorter 2 x 4 and my hands most of the time to get the mixture into the right position and pack it tight.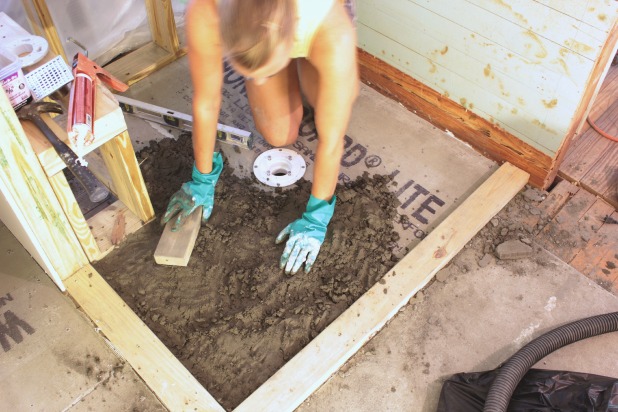 From this starting corner I just worked my way clockwise around the shower.  I found it easiest to pack the outside edges (which will be the thickest because of the slope) by placing the 2 x 4 right up against the curb and hitting it a few times with a hammer.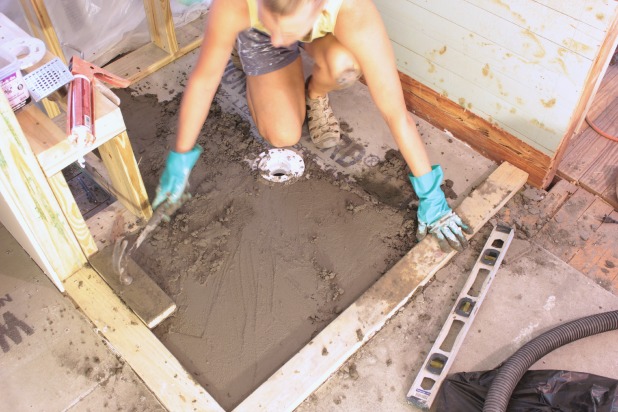 It took me a minute to remember to put those knee pads on, but I suggest just doing it first.  🙂
If you get to any areas that, when packed down tight, are dips in the preslope …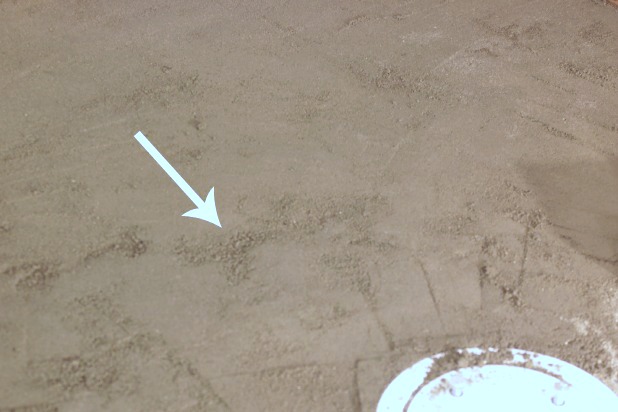 Just crumble some more mixture right over it and tap it in tight with the 2 x 4.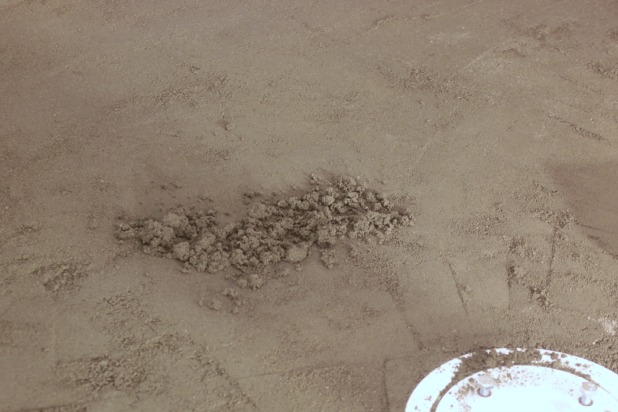 And you can see there that the idea is to bring the preslope down to match the height of the drain flange that you've installed.
Tip!!!  Be sure to clear those bolts on that drain flange of any mortar mixture when you are done, screw and unscrew them a bit so you are sure they are still functioning properly and don't get covered in mortar.
5. Check your slope as you go.  If you have a corner where your 2 x 4 won't fit, set it on your short 2 x 4 piece to check the slope.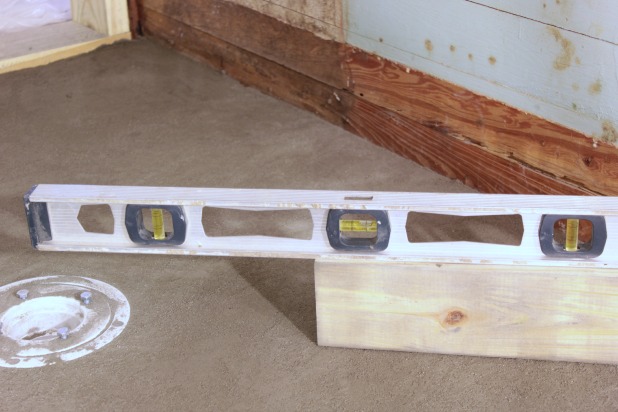 You're goal is about a quarter bubble out of the center line … feel free to attempt perfection, I was happy with a varying scale really.  🙂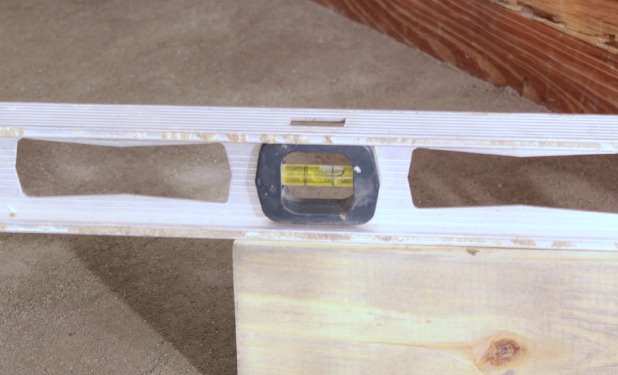 6.  For areas that need to be shaved down a bit the 2 x 4 works surprisingly well.  You don't really want any peaks or valleys in this layer, as straight of a surface from point A to point B.  And here is where the empty bucket comes in.  If your large mixture bin is not within reach, as mine wasn't, it was handy to have an empty bucket (I actually used an old rusty paint tray) to just dump excess mix.
Imagine I'm sitting on the bottom right of this picture and pulling the 2 x 4 toward me.
And then dumping the extra bits here.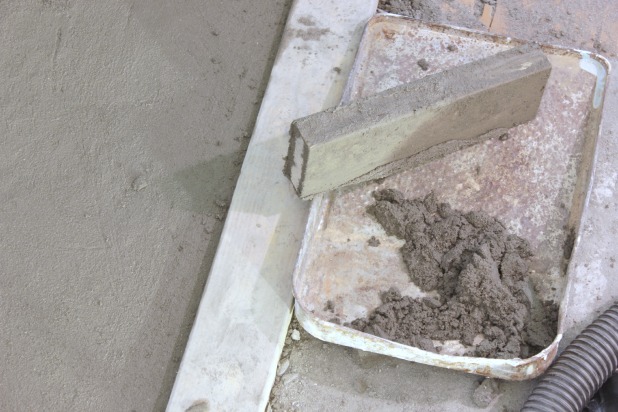 This whole process, from mixing the mortar and sand mix to the final tap of it in place in my shower took about an hour and half for our 16 square foot shower.  And I used 1 1/2 bags of sand mix and 1/2 bag of mortar.
7.  Let dry overnight.
8.  This is totally an ad lib step.  When I went to check on it about 17 hours after I completed it, so not fully cured but good and hard, I noticed the little specs of mix that had dried around some parts of the shower pan. So I took the flat edge of a metal trowel and just scraped it across the entire thing.  Since it was cured I could even scrape out a few areas that weren't exactly flat.  Definitely not any major changes, but it felt nice to be able to smooth it out even more.
In this picture I'm scraping the trowel away from me.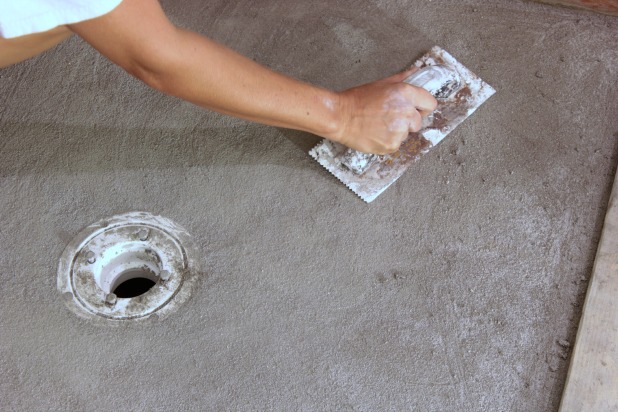 And then I used our shop vac to clean it up and I was thrilled to be officially done with this step a full week later than I had expected.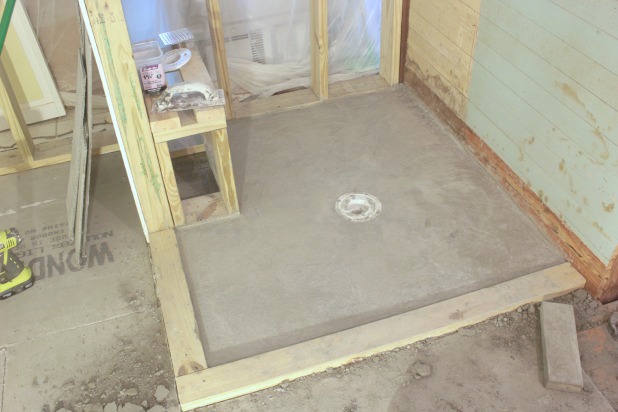 Next up comes the PVC liner and then the mortar base and we'll be ready for the tile.  Which is on schedule to arrive next week!
Update:  The shower pan series is complete.  Here are the other posts that might come in handy if you're making your own shower pan.
And we're installing Carrera Marble Subway Tile in the shower with a matching long octagon tile (that I had never seen before and am totally in love with) on the floor, just click here to check it out.
I am soooo excited for that step.  But we still need to:
Update – That bathroom is complete, check the rolling door (with windows!) we installed here, the DIY wood vanity and the reclaimed wood framed mirrors.
I know that's just a partial list, but it's all the brain can put together right now.  🙂  It's hard to believe this all started about 2 month ago!  We feel like progress is steady but things just take time.  And we try hard to fit in a fair share of fun and not pressure ourselves to work on this old house project every second of down time we have.  Lately that has meant me getting out of the house sometimes, just to get out … it's hard to really relax when you're sitting amid the madness.
Here's the supplies list again so you can get started!
this post contains affiliate links