Hey guys!!
Today is a little break from the master bathroom renovation project to share an actual tutorial from the book!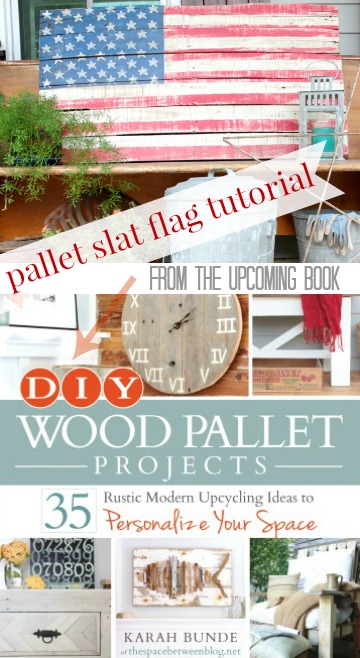 This is not like the pallet project fail I shared already.  This is one of those upcycling ideas for a pallet that is simple to assemble, requires remedial painting skills (so I can do it!) and makes a huge statement.  I love the rustic, aged feel of it, like it has weathered many a storm.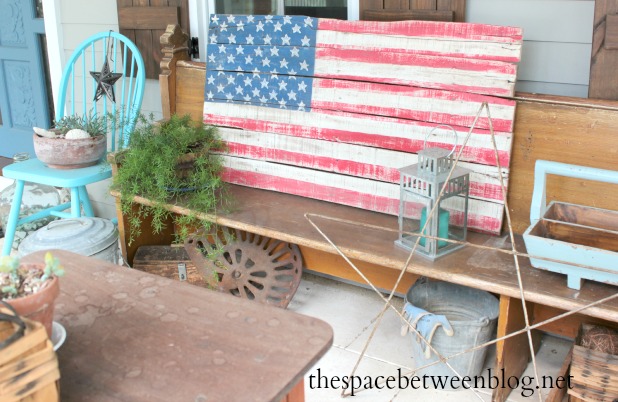 I couldn't resist taking it outside to the front porch.  You might remember work on the exterior siding, trim, painting and our new blue front door all happened in between my mad dash to create 35+ pallet projects for the book.  Available for pre-order now here.
I would now like to draw your attention to the still alive plants on the porch!  That succulent on the table (that needs to be refinished since random rain sprays are creating water spots) is holding on for dear life.  But two of the three others that are in the pot on the aqua chair are thriving!  Let's not talk about the third one.  🙂  And that viney thing on the church pew must be impossible to kill.  Hearty little guy.  If you know what it's called please let me know because clearly I need more of them.
The pallet slat flag is the perfect addition to the front porch just in time for Labor Day.
As part of my contributor series on Remodelaholic.com I'm actually sharing the tutorial over there today.  So hope on over to the post and check it out here.
And if you're looking for a renovation update, click on over here to get caught up.  If you want to pre-order, the book is now available here.