Happy Friday everyone!  How about that soccer game yesterday?!?!  U-S-A!  It wasn't a win but it was enough to advance.  Who wants to watch with me Tuesday at 4 (eastern time) when we play Belgium?  🙂
We are all consumed with the World Cup, we just can't quit it.  Luckily master renovation prep work like ripping up floors and stripping paint off wood slat walls seems to go by a little quicker with a soccer game playing in the background.  I'm putting together a big update on where we are with everything, hopefully for Monday.  Unfortunately we're at the all out ugly stage, not one single thing is appealing to look at just yet.  But progress is progress, and I distract myself with images of pretty faucets and tile.  🙂
But today let's talk about one huge project fail (with affiliate links) that happened when I was working on projects for the book.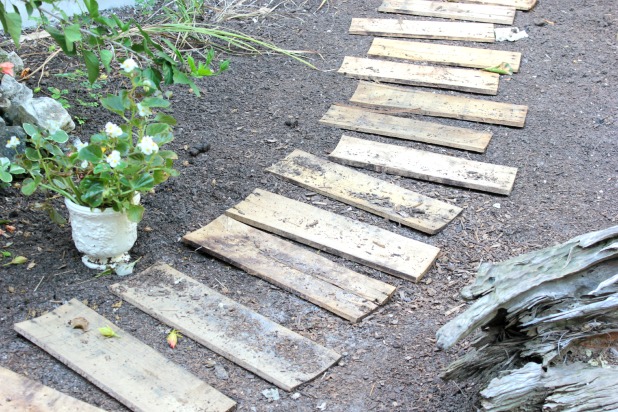 That is not exactly a functional pallet walkway.  Womp womp.
Making projects for a DIY tutorial book is like compacting a year's worth of projects into a 2 month period. And I sourced, brought home and disassembled each pallet slat that was used for all of the projects in the book.  It took some serious time.  Unfortunately, I didn't have the time to wait for the "perfect" pallets and we just didn't have the supply of pallets on this little island for me to pick and choose exactly what kind of pallet wood I really wanted for each and every project.
But I really wanted a pallet walkway.  Not only for the book, but it would be the perfect addition to our small back yard.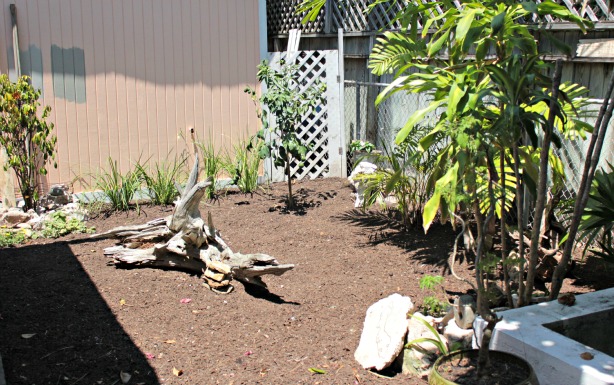 That lattice gate actually blocks a lot of random items (corn hole boards (similar to these, but I DIYed ours for Joel's 40th brithday), dog pooper scooper (we have this one and love not having to bend over for that crappy job – ba dum bum) and extra landscape bricks) that we need access to even though we stash them behind the shed.  So we're often trekking across the mulch, not really a big deal but a defined path would be nice.
And I thought I had found the solution.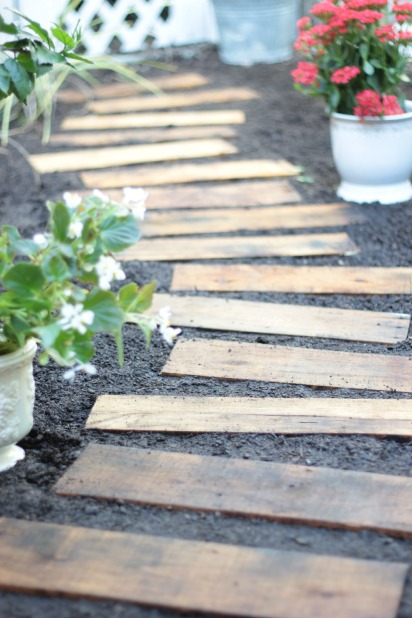 Not bad.  I was really happy with how it turned out.  But I was also really happy that it went bad so quickly that I knew not include it in the book.  Only a few days later that walkway was looking more like this.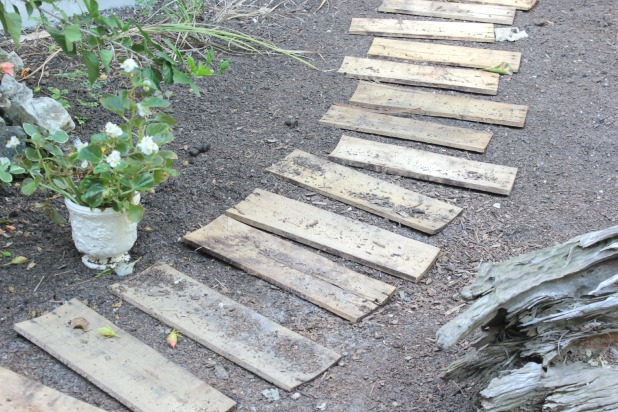 I don't know if it was just the perfect storm of pallet walkway killing events.  We had a rain storm pretty much immediately after I finished it.  Then the sun shone so hot and bright I could almost see the pallet slats warping before my eyes.  They even cracked when we stepped on them.
Total DIY fail.
If I were to try this project again I would:
Use what I call pallet support boards, they are not pallets slats, they are the boards that hold the pallet slats together. And they are thicker, similar in size to a 2 x 4.  Maybe with that thickness the boards wouldn't warp?
Stain or seal the wood to prevent water absorption.  Always a good idea for any wood project outside, but not always necessary.  Probably with the added moisture soaked up right from the ground this would help.
I wanted the walkway to be flush with the ground so I actually laid the pallet slats and then dumped a new load of mulch right on them and leveled it all out with a metal rake.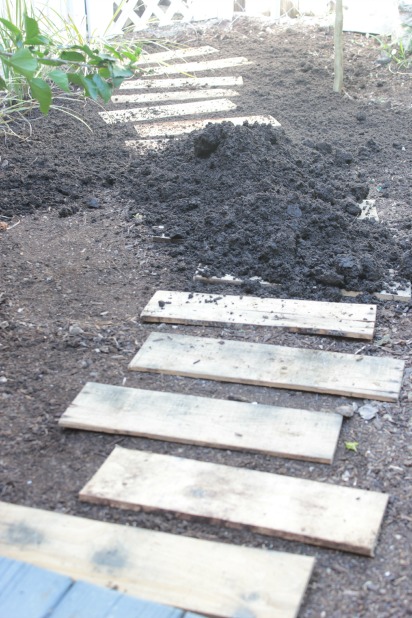 Using the back of the rake to remove the mulch from the pallet slats and keep the mulch on the ground flush with the slats.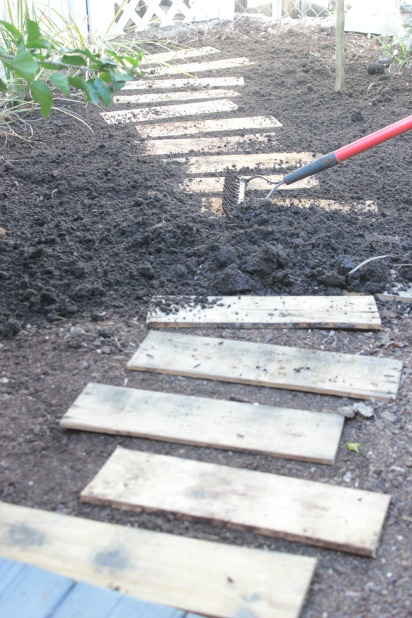 I think that strategy worked pretty good, and would do it that way again.  But, in an ironic twist of fate, we have since decided (almost 100%, which means our minds will change 16 more times before we know for sure) to install a pool.  It's hard to believe I'm even saying that.  We're not pool people.  But if we've learned one thing during our weekend adventures checking out open houses here in Key West it is the great impact of resale value a pool has in these parts.  It is definitely an "after everything else is done" project, but also basically eliminates any need for that little walkway.  And a quick dip in a pool has proven therapeutic after a long day's work thanks to our lovely neighbor Katharine!!
Just a reminder, the book is available for pre-order and is set for publication on September 18th.  If you like making projects with the rustic pallet wood you will love the variety of projects included in the book.  There are 35 tutorials plus bonus information about making new wood look old and how to incorporate some of my favorite accessories to help your projects really come to life.  And you know I didn't include any project that I don't absolutely love … I only share the bad and ugly here on the blog apparently.  🙂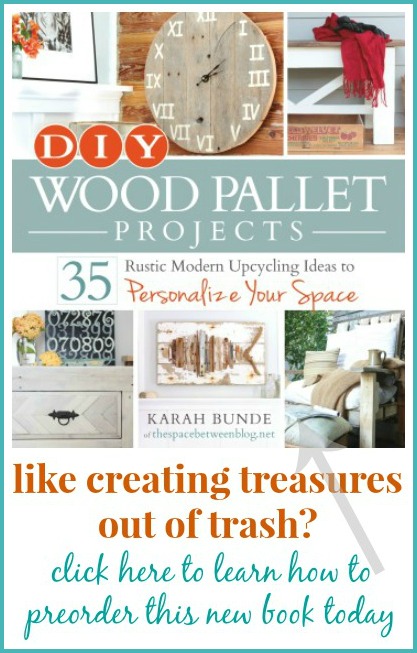 Do you have any project fail stories to share?  Or have you made your own pallet walkway with better success?
Happy weekend everyone!  Get out there and enjoy some summer!