I don't know about you, but I definitely don't need all of the options that we have available to us.  That's a general statement and not really specific to our master renovation.  We actually confirmed this while living on the island of Curacao.  Some move down to the islands and don't find all of the usual products and brands we're used to in the US and quickly declare that they can't find "anything" and that the grocery store has "nothing".  We'll give them a gratuitous picture of some Curacao water.  🙂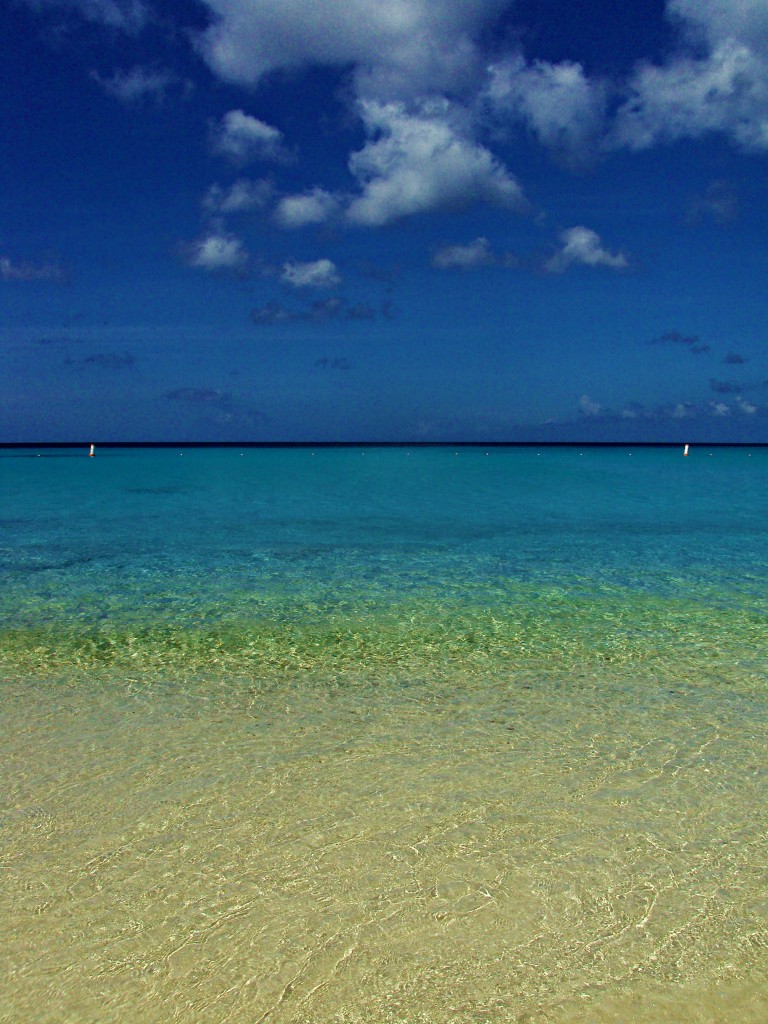 But we move down and discover that we actually really like broccoli and chicken and don't mind eating it on the regular.  Now don't even get me started on my first trip to a US grocery store after over 3 years on a Caribbean island.  Two hours later my cart was full and I'd only been down 3 aisles and didn't even have any essentials.  I had forgotten that we literally have a whole aisle of cracker options.  🙂
Anyway, when I started looking into picking the finishes and fixtures for the master bathroom remodel it immediately made me feel like I was back on that first visit back to the US grocery store.  #TooManyOptions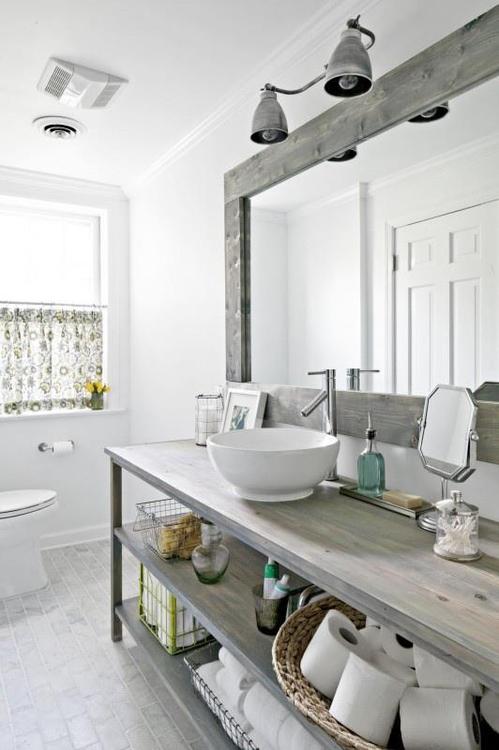 Like the grocery store, at first it was so fun.  And then it just didn't end.  How could I decide before sticking my head in the sand and calling it a day?
Did someone say sand?  😉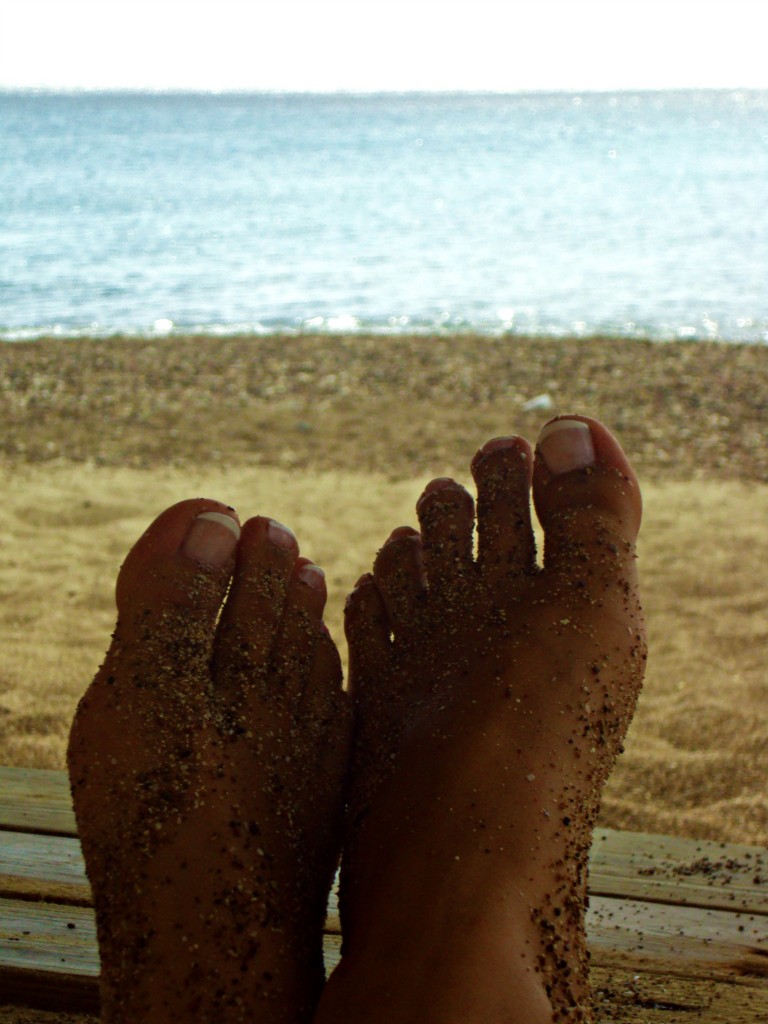 What I'm about to tell you might sound like crazytalk to some, but this little strategy helped me move forward with decisions and will hopefully help anyone who also suffers from a little aversion to too many options.
1 – Decide on a floor plan.  Your final floor plan may shift a bit as you go, but really getting a solid understanding of spacing will make it clear up front what features you have room for and will actually work for your space.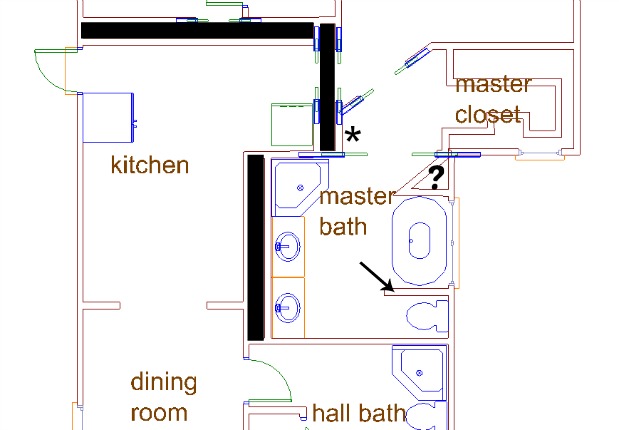 2 – Head out to a few local stores and take a look at all of the showroom options, this will help you determine what things are important to you.  I guess you could do this online, too, but for me it's easier to visualize with 20 different toilets lined up in a row right in front of me.  Checking out the aisles of tile made it easy to quickly pick out what I like and what I don't like.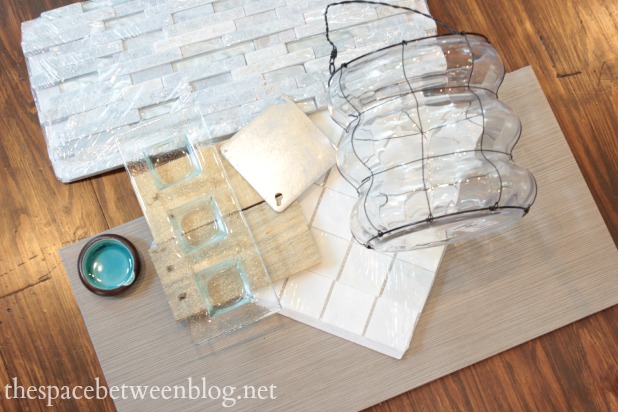 What you're looking at:
fixtures (faucets, shower heads, etc)
finishes (brushed nickel, oil rubbed bronze, brass, etc)
tile (large-scale, mosaic, natural stone, etc)
flooring (wood, carpet, if not tile, etc)
tubs (free-standing, built-in, etc)
toilets (how long, how tall, etc)
sinks (under-counter, vessel, etc)
vanities (color, size, closed cabinet vs open shelving, etc)
What you're deciding is what "style" you like.  You're not committing to any specific item, unless you find the perfect thing then of course grab it.  But you're figuring out what you want the room to "feel" like.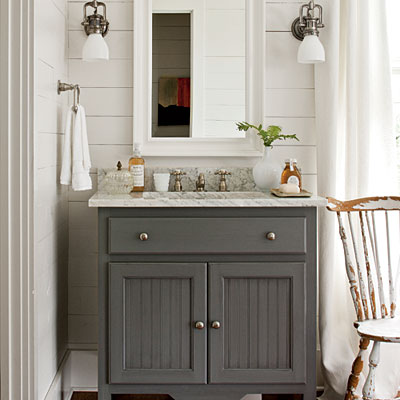 Buy a couple of samples of tiles you like and live with them for a few days.
Tip!!!  When tiling a floor we like to try to stick with a tile we can grout with a gray or darker color, because who really wants to deal with cleaning white grout on the floor?
3 – If you've found some things you like now is a good time to head back out into the world wide web and price check similar items.  Trust me, it will be a little easier now that you have a bit of direction.  I mean, just imagine the difference in the amount of search results you'll get for "bathroom tile" versus "2 x 2 marble mosaic tile" or "toilets" versus "dual flush toilet".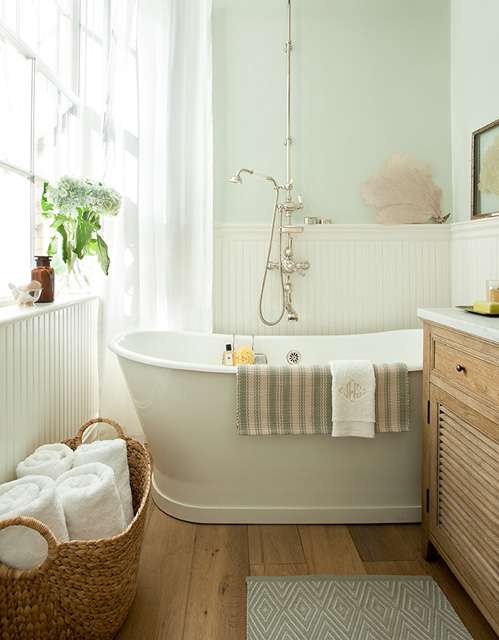 (photo source)
With this plan I quickly found a site that I have since spent a lot of time scouring.  The Builder Depot has the largest selection of Carrara marble in the world and they have been incredibly responsive regarding all of my questions about the need to seal marble and matching colors when using different styles of marble throughout one bathroom project.
I didn't start this master bathroom project thinking that I was going to install marble, but the more bathroom inspiration pictures I pin (to my bathroom board), the more I realize that I really like light floors, but didn't want to go pure white.  Marble is kind of the best of both worlds, it is very light in color, but has plenty of gray in it, and I can grout it with gray.  And it is the perfect complement to the airy, breezy, greenish/grayish/bluish colors I'm gravitating to for the walls.
I think it's big to nail down the tile choices first since they cover so much of the space and can really dictate the direction to go with the other finishes.  It definitely feels like big progress.  🙂
My inspiration pictures also have me thinking:
stained wood vanity with open shelves
white vessel sinks
polished nickel finishes
gray/green/blue walls
whitewashed wood slat walls
free-standing soaker tub
a rolling style door would be super fun!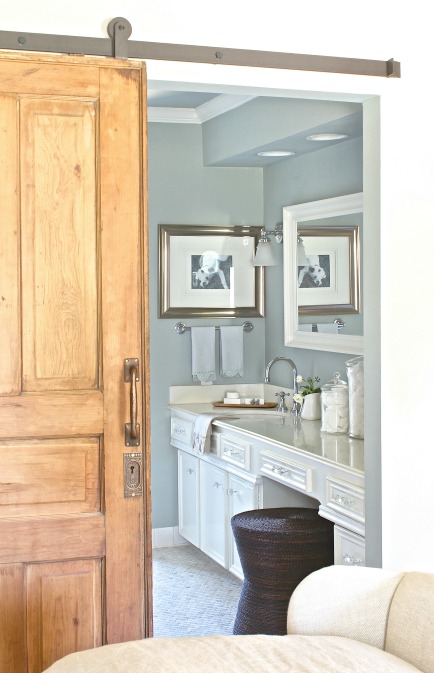 (photo source)
What about you, how do you narrow down all of the choices?  What do you think of deciding on the tile first in the bathroom remodel?  Would you do it different?
Only after hours of research did I reach out to The Builder Depot and inquire about a partnership.  I am thrilled that they have agreed to provide the tile for this master bathroom renovation.