You know, when this master renovation project began I had visions of creating these all-inclusive checklists of what to do and in what order if you, too, want to tackle this project.  But the reality is that my mind just does not work that way.  In the way that is clear and concise and orderly.  Its rhythm is more of a roller coaster ride combined with bumper cars that all take place while you're going down the part of the log flume where you get soaked no matter what.
Even still, somehow we've managed to get to this point, complete with Mico at her perch just inside the kitchen because she's still afraid of the madness, but too curious to ever be too far away.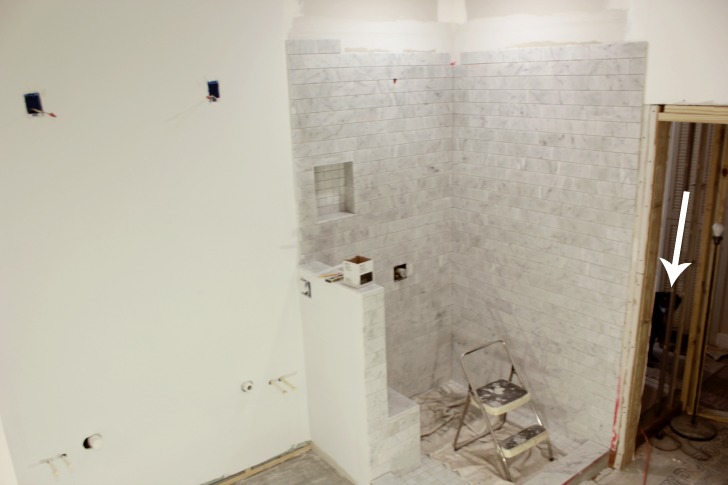 The tile is happening!  And it is quite the process that we will discuss another time.  After the shower is complete there is still the whole floor to tile and then all of the grouting.  I might be done by the new year.  😉
I find around here we work well when we work on multiple things at one time.  I like to be able to mix it up on a daily basis to avoid monotony.  I like the ability to take a break from a not-so-fun task and shift gears to something entirely different while keeping the forward progress moving.  Where it becomes inconvenient is when I try to put it all into words and share it all with you guys.  Cause we are all over the place right now!
One of the really exciting parts of this whole deal is watching the finishing touches arrive.  While our dining room has served as a closet since we demo'ed what was our master closet, our living room has quickly become a landing zone for all different kinds of things.  And I find myself pretending the toilet is a sink to gauge how the new faucets will look against the white.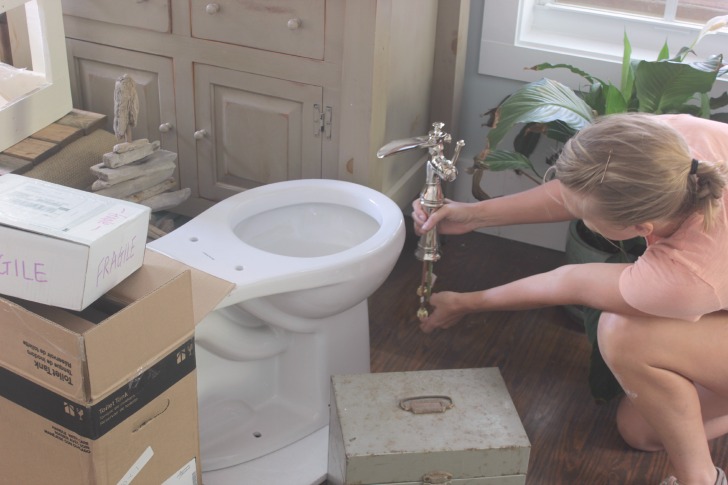 Or would clear glass sinks be better?  (Spoiler: I went with white.)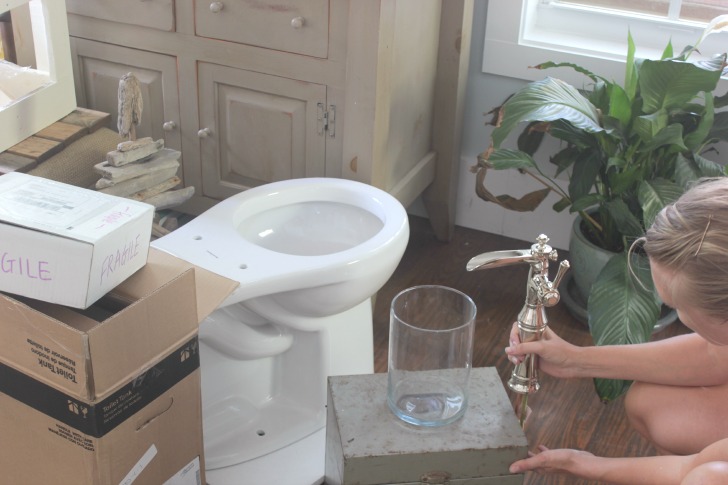 Again with all of the choices.
I knew I wanted light tile (based on the bathroom images I have been drawn to) and with tile styles in mind I had a couple of ideas for wall paint color swirling pretty consistently in my mind.  I even tried one here.  But I quickly realized I needed to pick a vanity first.  Having the vanity style, color, shape, etc defined here seems important because we're going with a double vanity so it will essentially be the largest (and possibly only) piece of furniture in the room.
I spent some time on Pinterest and Google Image Search (yes, I still do that, I think it has great results), I actually opened one of my Pinterest boards, aptly titled "bathrooms", and checked out my pins.
And it jumped right out at me that a rustic, wooden, open-shelves-underneath type of vanity was what I was really drawn to.  So I'm going to try to make one, but that is for sure a discussion for another time.  I haven't even come close to starting to build it so if it is an epic fail I might need a hug.  But here's a console table that vaguely resembles the idea in my head.  Minus all of the living room-esque tchotchkes, of course.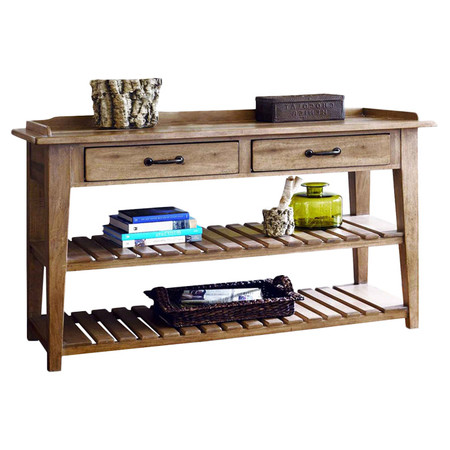 (source)
The other accessories and details have come together piece by piece, pretty much as the vision for the room became more clear in my head.  And true to form, in no real particular order.  Light finishes (polished and brushed nickel), white fixtures (sinks, tub and toilet), with accents of wood tones (the vanity will be stained) and sea inspired colors.  Although, after I tried a Vintage Teal color on the wall it became crystal clear the greens and blues I love so much-needed to be more in the accessory and accent realm than a full on dominating feature.  While all of the beautifully colorful walls catch my eye, what I'm really craving is crisp and clean and white.
And marble.
Throughout this whole process I really couldn't shake it.  The thought of marble.  It is light without being white.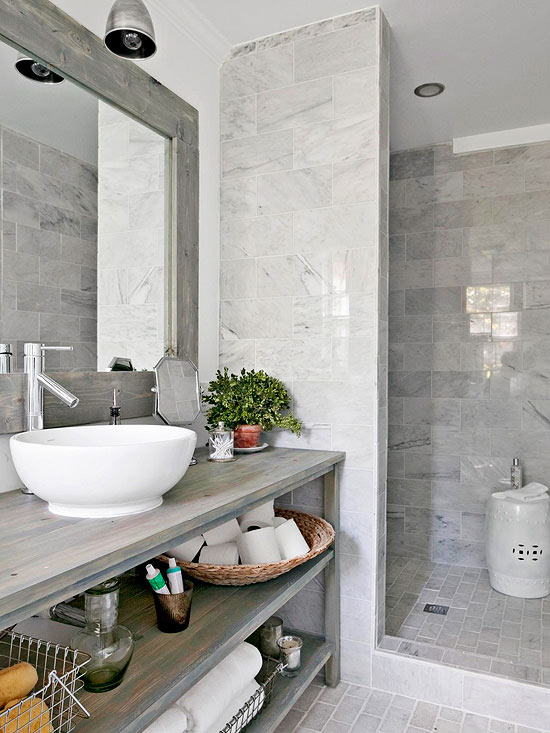 And it is luxurious without being over the top.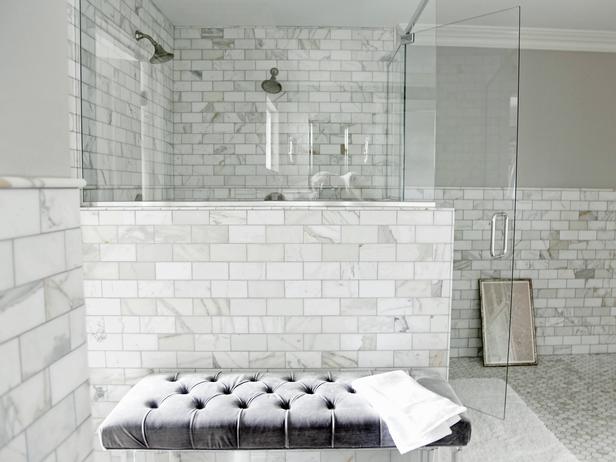 It felt like just the right pop of fancy to mix in with the otherwise rustic and casual feel we wanted.
So I spent hours researching and debating.  Would the natural stone be too high maintenance?  Would I find a good combination of tile to cover the shower pan, walls and the bathroom floor without it feeling all … marble-y?
And then I found it, the Long Octagon.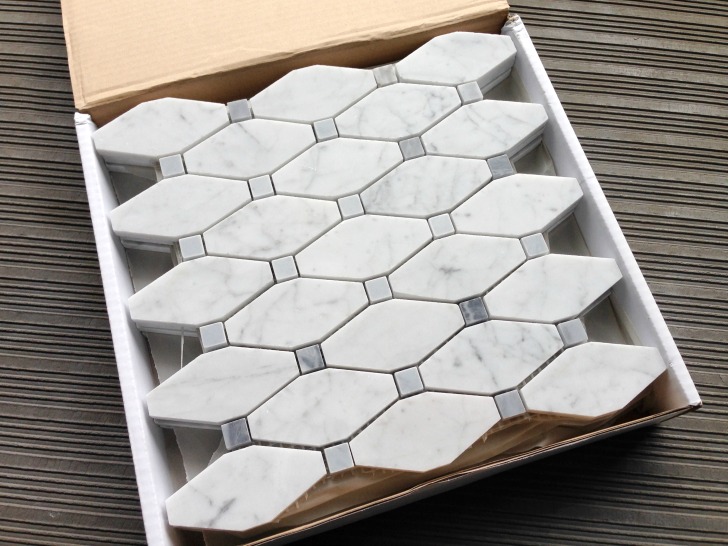 It has movement and color variation and I had never seen it before.  And since we like to use gray grout on tiled floors (yes, for dirt hiding purposes) the added gray dot in the tile felt like the perfect accent.
And in an email discussion with my contact at The Builder Depot here is what I learned about sealing marble.
"… all marble is porous and it allows water to soak through it.  A sealer from a company like DuPont Stonetech series, maybe their new bullet proof sealer would do a good job.  Then follow the instructions of re-application. However in the shower pan, I would double up and make sure it was covered.
So now you have to decide is sealing what you are willing to do every 2-3 years?  Some are 5 years.  But again in a shower pan, I would do that every 12 months, it would only take 2 minutes to coat it with a sponge."
Which immediately answered the "is marble too high maintenance for me in a bathroom", I can definitely handle a few minutes of sealing once a year.
So the deal with me and our marble tiled bathroom was sealed.
Ba dum bum.  😉
What about you … would you use a natural stone in a shower?
PS:  I reached out to The Builder Depot after doing my online research for bathroom tile and I am stoked that they have provided me with the tile for this renovation.