Who's sick of hearing about the DIY shower pan?  :/
There's not even one lonely comment on the last post about the pvc shower liner.  Yeah, I realize this is a bit much for information about one project but I really did want to create a resource where people could follow from start to finish about the project since I had trouble finding one like that online.  So thanks for bearing with me.  And you can use the red pin it button (you might need to click over to read the post online to see the pin it button) to pin this image and it will link back to the first post about preparation so anyone looking to tackle this can do just that.  Follow along from the beginning that is … in case anyone was thinking something more along the lines of "suffer through these blog posts".  😉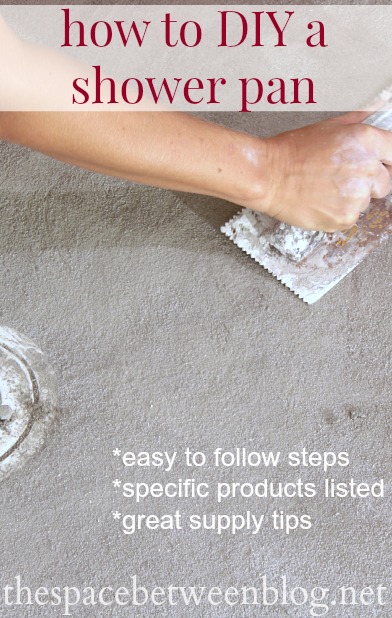 And let's celebrate another big step completed!!  I'm so excited to get to tiling and really see this room come together … we're so close.  And I'm always a little bit nervous that what I envision in my little brain will actually translate to reality.
Now, for this whole shower pan deal, I think one of the main reasons why I didn't find any one series of tips for this project that really worked for me is because there really are so many different techniques and processes that you can follow.  The minute I found a useful tip and then researched it more became the minute someone else was saying not to do it that way.  I read forums where people who were claiming to be professionals debated every aspect of creating a diy shower pan.  So I decided to do it how it made most sense to me and seemed to be the most practical use of time and resources.
If you're starting with your wall studs you can get started with this project by checking out our preparation and planning steps, and then creating a preslope and then laying the pvc shower liner.  Now we're tackling the final step which is the mortar bed over the liner.
Oh, and one more thing … I did every aspect of this project solo.  As in, while I was home alone so I didn't even have the option to get help if I needed it in a crisis.  One brain of average capacity, two girl hands and three plus hours of an upbeat playlist to keep me going.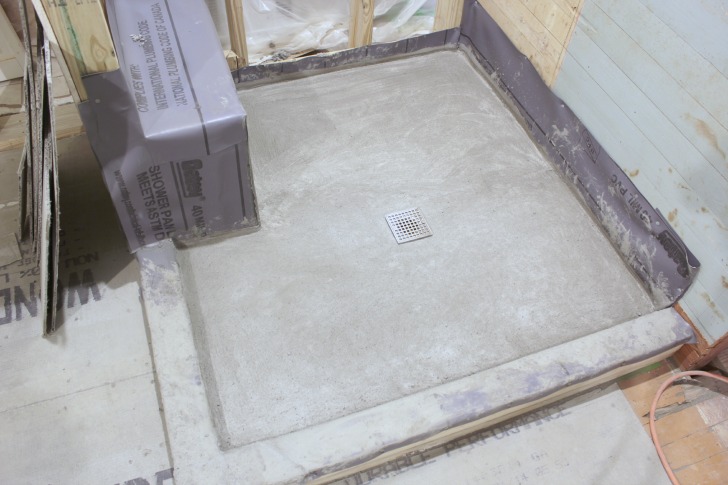 Now for the how-to:
Step 1 – Gather you supplies (affiliate links to products we use)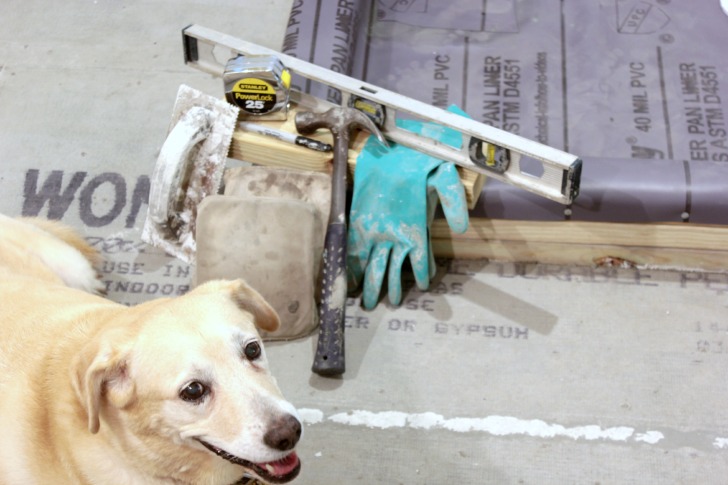 tape measure
hammer
marker
two pieces of 2 x 4, one about 12″ long and one about 18″ long (you could use a trowel also)
knee pads, we bought a cheap volleyball pair at Walmart a number of years ago and they still work great
an empty bucket
puppy, optional
Step 2 – Install the screen piece of your three-part adjustable drain and measure the distance from the edge of the drain screen to the wall of your shower that is farthest away.  This is because you are going to want to try to create a level line where you shower pan meets your wall and the longest distance from your drain to your wall will need to have the most amount of slope.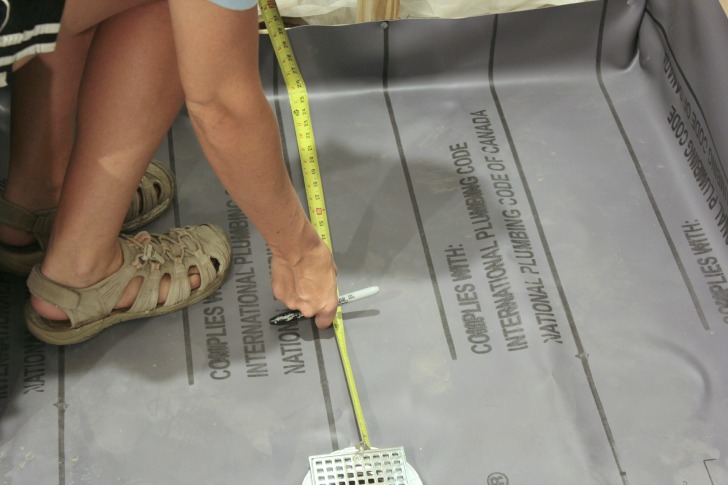 Also measure how high the top of your drain sits up from the shower liner you have installed.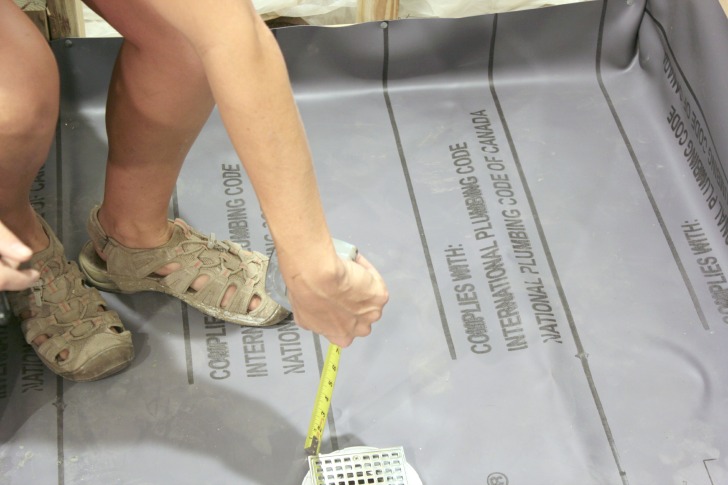 Now, I am super sorry, but there is some math involved here.  The height of your drain is your starting point and the distance to that far wall determines how much of a slope you need, standard is 1/4″ for every foot.  My drain was about 1/2″ high and my distance was about 2 feet.  So I needed to bring my slope to meet the wall about an inch higher than the liner and then angle it down so the depth of my slope came to meet the shower drain.
Step 3 – Determine your slope based on step two and use a marker and your level to indicate a level line around each wall of your shower.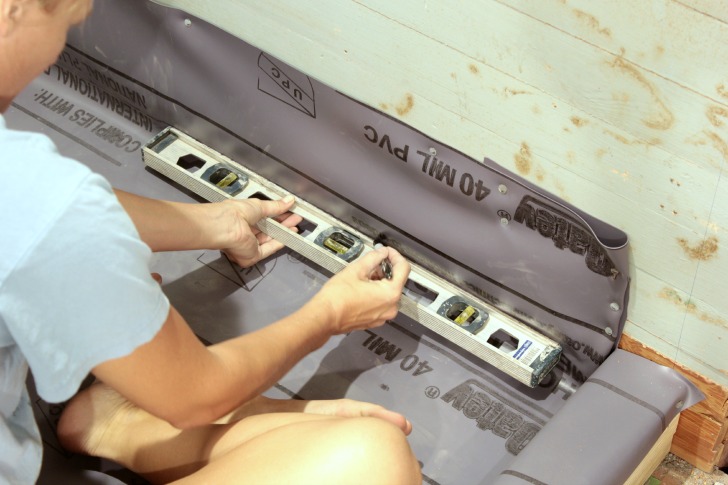 What you want is your line to be level but your slope toward the drain isn't necessarily going to be the same on each side.  
For the sides that aren't as far away from the drain the slope is going to be a little more severe.  But better too much slope than not enough.  And the reason you want to aim for a level line is to make tiling easier, if all goes well, we should be able to start our tiling on the wall with our first row of full tiles right on top of the floor tiles.  If we tried to get an even slope and not worry about level we would need to make angled cuts on that first row of tile so they could sit flush to the floor tile.
I vote for more mortar work up front and less tile cutting in the end.  Let's just hope it works out that way.  🙂
Note of opinion:  Ok, so here is where many professionals differed in opinion.
What comes first the cement board on the walls or the final layer of mortar in the shower pan?
I opted for shower pan first and cement board second.  It was a pretty easy decision because one thing that pretty much every professional agrees on is to tile the shower floor first and then the walls so the water runs down the walls and onto the floor tile and not down the side of the floor tile with potential to creep behind the tile.  With that same theory in mind I opted to complete the shower pan mortar bed first and then hang the cement board so any water that found its way behind my tile and onto my cement board would then trickle down to the top layer of mortar.  If the cement board was installed first then the water would find its way down the liner, which is below the mortar.  All of this is really in preparation for the worst case scenario, a leaky shower, so let's hope we don't ever have to test these theories in real life.  🙂
Step 4 – Mix your mortar, 1 part Cement to about 5 parts Sand Mix.  We're using the exact same products we used here except in a different ratio.  The idea behind this is that this mortar bed will be somewhat porous so if water does creep under your tile it can seep down to your liner and then will head toward your drain thanks to your preslope.  Again, we're planning for, and hopefully working to prevent, worst case scenario.
Step 5 – Remove your drain screen and make sure you don't cover up your weep holes while you create your mortar bed.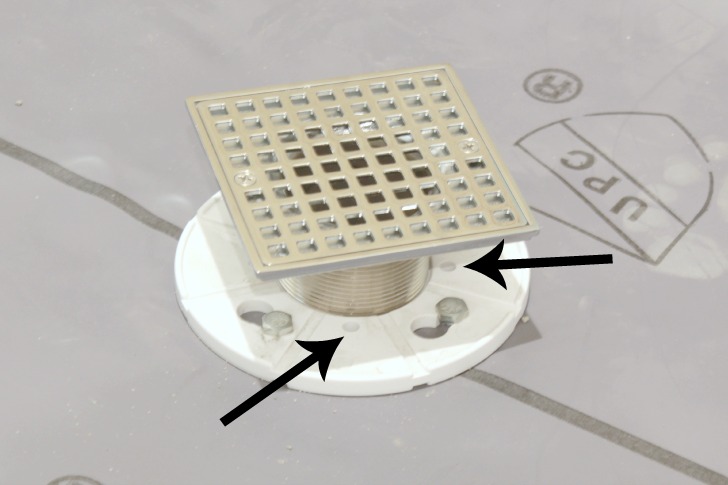 The arrows are pointing to two of the four weep holes that need to be left open in your drain.  Again with worst case scenario, but if any water finds its way to this point those little weep holes will give it a place to drain.  I found that the innards of a pen worked great to clear our any mortar that had found its way into those weep holes during the process.  I used the exact same process to install this mortar bed as I did to make the preslope.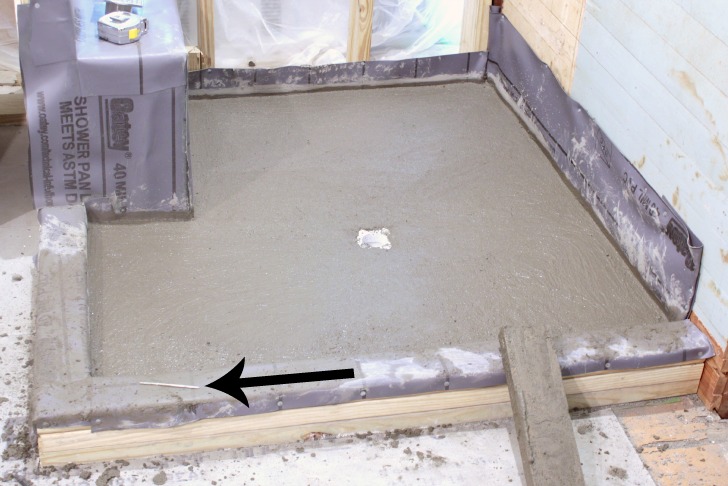 You can see from the picture that the mortar does kind of muddy up the liner, covering up your level line, so I kept my level close during the whole process and double checked level along the perimeter of the shower pan where I couldn't see my mark.
I also ran into a little bit of too wet mortar in the end (I hadn't mixed it well enough) and I was worried that it was so soupy that it would shift before drying … so I did something that would probably make a professional cry … and I just sprinkled on more dry Sand Mix and it absorbed right into the wet mixture.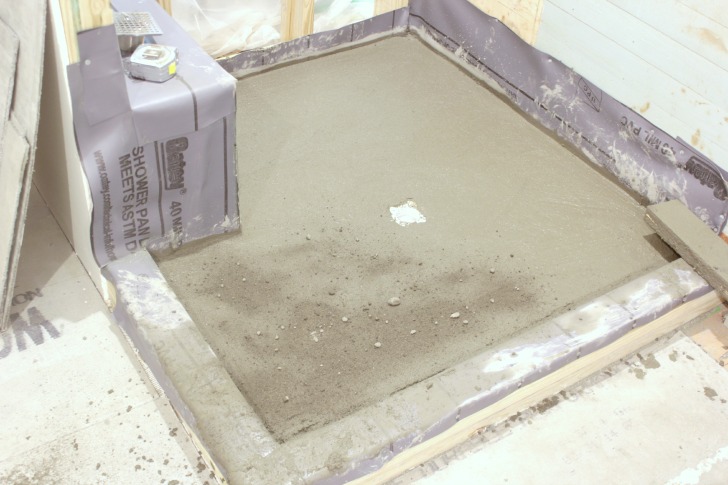 We're also getting into the evening with zero natural light so the photo lighting gets a bit wonky.  🙂
Here it is all dry the next day.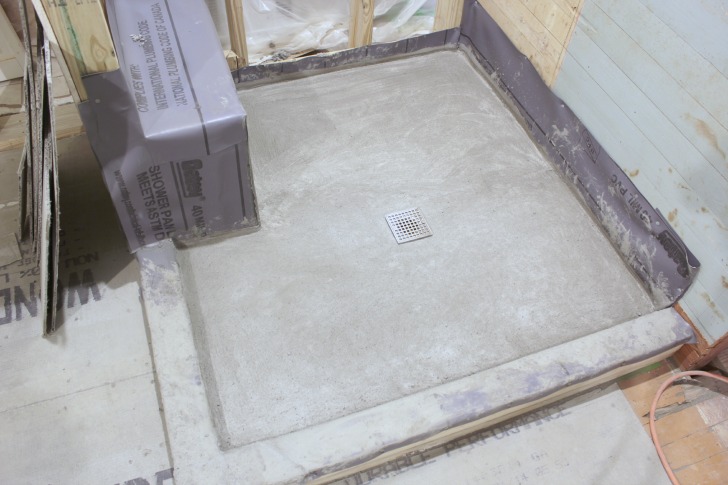 And I just took the flat edge of a trowel and scraped it over the top to remove any loose particles or bits that stuck out, just like I did with the preslope.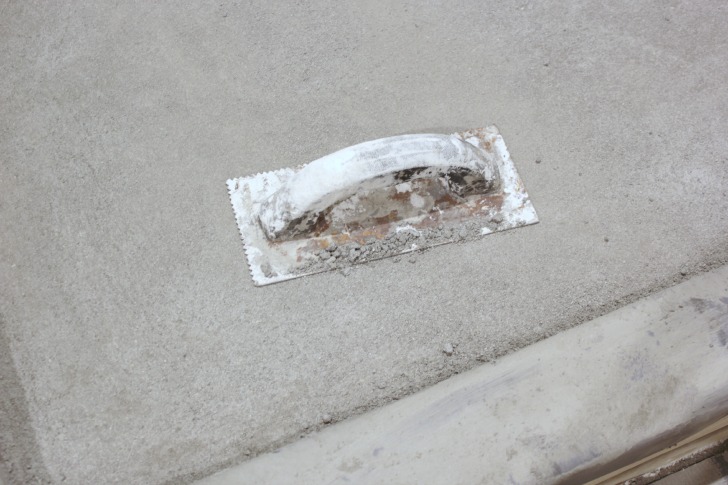 And we're finally done with that project!!
Update:  Now that your shower pan is complete check out these master bathroom renovation posts that might come in handy.
A few sheets of cement board, a little extra waterproofing and some detail work and we are going to be ready to tile!
Which is a far cry from where this room started.  This is what used to sit in the exact spot where the shower is now.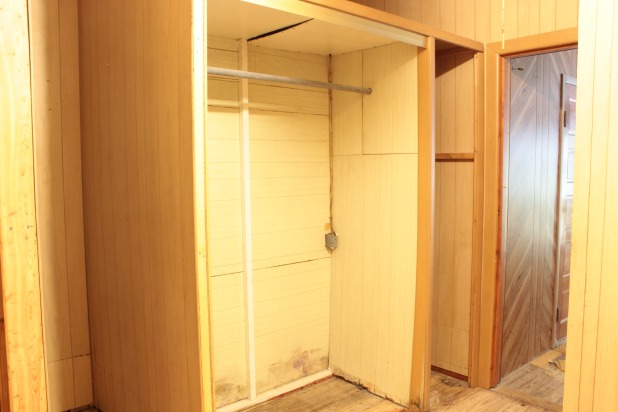 Paneling … Nevermore.  🙂