You guys!  This weekend was the most exciting weekend in the master bathroom renovation so far.
By far.
I can't really explain it all, but the moment the finishing touches start happening is the same moment a renovation starts to feel like a real room.  And ghost face and I installed the vanity lights!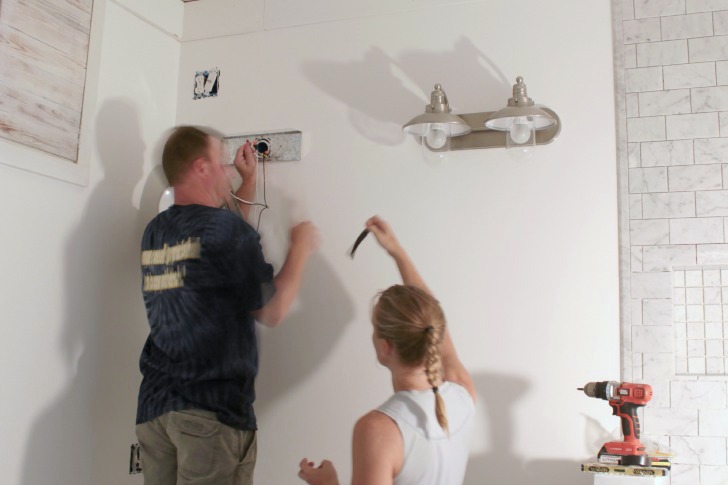 Actually, ghost face did it all, I just handed him electrical tape so I took a picture of that hard work in action.  🙂  And if you weighed in on our vanity light dilemma you remember the big debate (OK, maybe it wasn't all that big) about what kind of vanity lighting to choose.  And then once we decided on a two light vanity light I showed you all kinds of options we were considering.  And here they are.  We picked #8 on the list.
And I love them.  "This is so exciting!"  That's what I said on repeat every time I've looked at them since they've gone up.  There may also be some shoulder shaking involved of that dear husband of mine to show him just how exciting it is!  I'm still not sure he gets it.
But this happened, too.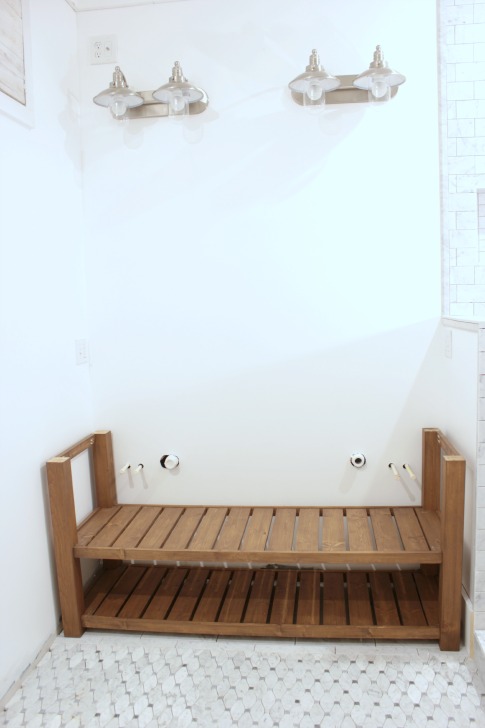 I made a vanity.  And the most exciting part … it actually fits into the nook!  It's no secret that me and measuring don't always see eye to eye so I made Joel help me bring it in there just to make sure it really fit.  And there were a few sighs of relief.
Up until now most of what we've been working on are things that really aren't seen by anyone.  I mean no one is going to walk into this bathroom in the end and be like "My, what a nice shower pan you have." These new details make demolition feel like the distant past, that stage when everything is just hard … did that really even happen?
Now we're adding in the pretty, and it is so inspiring.  And motivating.  And makes the whole process feel so worthwhile.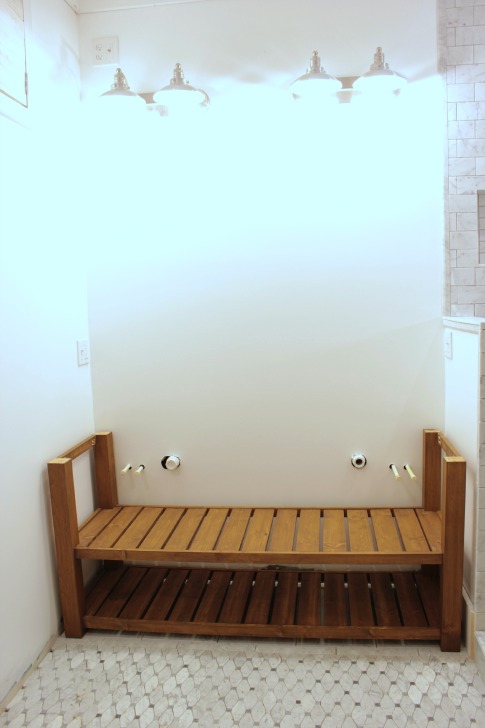 There are still so many little details I need to tackle like finishing the molding and baseboards and door trim and a door would be nice.  And there is a tub in our side yard because we continue to be awesome neighbors that needs to find a permanent home.  And the vanity in the bathroom was short-lived because Sunday was slated for grouting.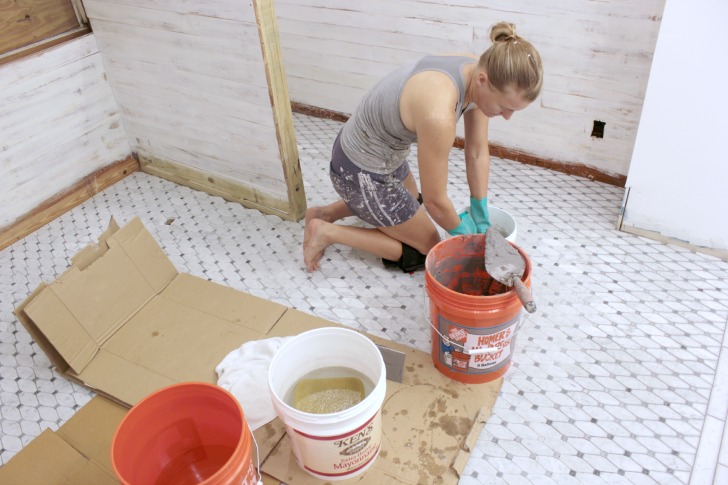 Which is another big and exciting step!  Grout somehow just brings tile to life.  And true to form Marley made herself right at home on it while I finished up grouting the shower.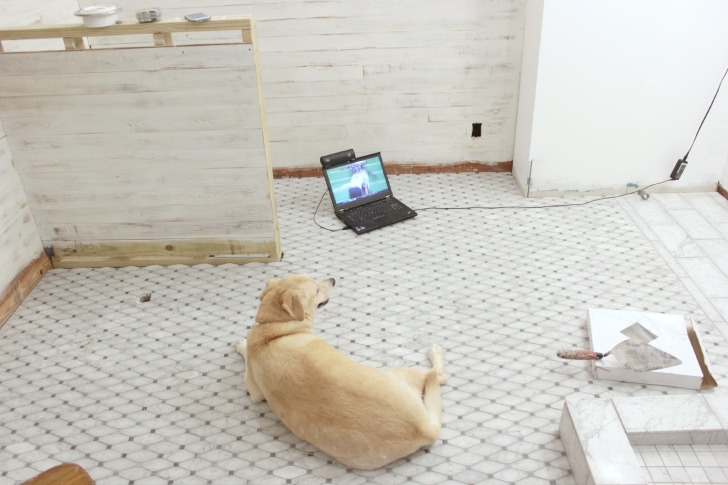 Mico still has yet to summon the nerve to venture into the new room, but she gets at least a half-inch closer to the door everyday.  🙂
And if I were to make one suggestion for anyone getting ready to tackle a 5 hour grouting extravaganza, having a husband who will stream your favorite team's football game is kind of the best way to go.  I have all kinds of tips to share on the grouting and the tiling, coming soon for sure.  And it will involve the suggestion of having a "bucket b!tch", I'm just saying.  Game.  Changer.  Much more to come on that.
It may seem weird that I did the floor before the shower but I was worried the gray grout was going to be too dark for the shower so we started with the floor and gave it an hour to dry to make sure it was going to dry lighter … and it did.  And it's exciting to have the grouting behind us.  Some trim has started to go up and I'm pretty excited at how the rustic wood slat walls work with the long octagon marble tile.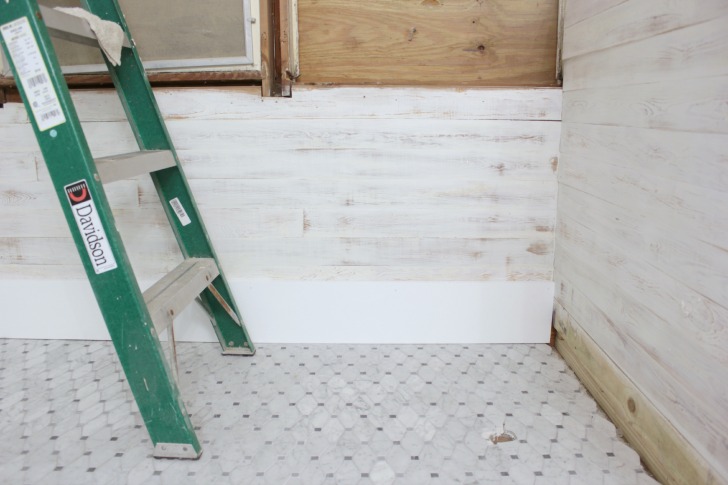 It's starting to really come together!
Here's a look at what still needs to happen for me to just take a bubble bath already:
seal newly grouted tile (need to wait 3 days)
baseboard, molding, door trim and shoe molding all around – hang, caulk and touch-up paint
finish and install vanity
install two sinks
install two sink faucets
install shower valve and rain shower head
make and hang vanity mirrors
remove old window
install new tub (it will be coming through the window opening)  🙂
install new window (by professionals)
install tub faucet
make/find chandelier for above tub
install toilet
install glass shower walls (by professionals)
prep, prime and paint bathroom door
hang door on rolling door hardware
install towel hooks and other necessities
shelving of some kind maybe over the toilet?
accessorize and organize
I'm sure I'm forgetting something
TAKE A BATH!
Ok, I've rambled on enough.  Time to get back at it, and I have some totally-not-bathroom-related posts coming to you later this week but just know while you are reading them I am in the bathroom ticking some things off the list while exclaiming "This is so exciting!" and shaking Joel's shoulders as he tries to elude the inevitable.
Is there any stage of a renovation that really feels like a turning point to you?  Is it freshly primed drywall maybe?  Something different?  Or beginning of the real pretties, too?