Hey hey!  Things are trucking right along in the bathroom department … I may have just sent Joel this text saying "I know, I know … I'm getting a little ahead of myself".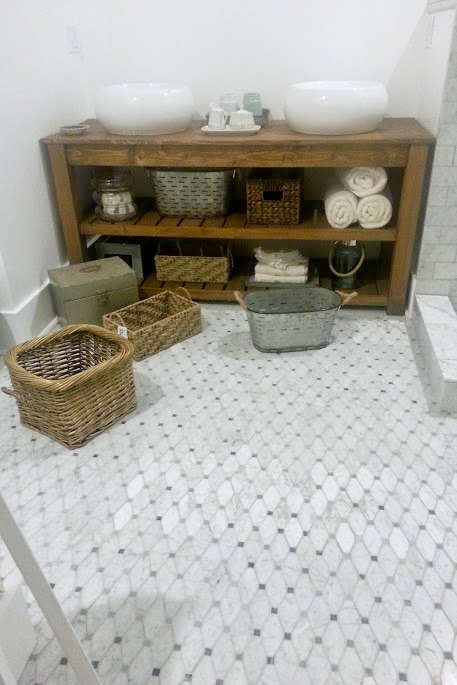 Yep, I'm already messing around with decorating and organizing … but the sinks aren't even hooked up yet … and you might notice there aren't any faucets.
I couldn't help it.  🙂
While I continue to mess around with baskets and pretty things make progress I wanted to share a project that I get asked about a lot … the DIY wood shutters we added to our front windows.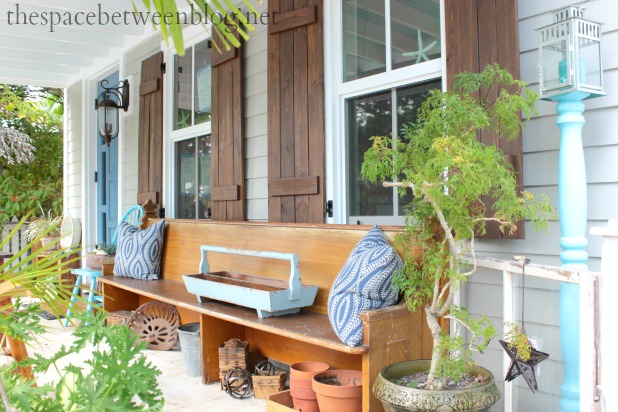 If you're curious, the other project I get asked about a lot are the old DIY canvas silhouettes.  And I didn't share the tutorial when I first photographed them because they were a project I made for the book. And in a full circle moment, for all you Oprah fans, the release date for the book is today.  When I received my copies in the mail it was just so surreal to see that all of the time and effort really did turn into a tangible thing.
And the funny thing about the shutters is that they aren't even made out of pallets.  Here's the thing about the book.  I didn't really have a dream to write a book but when the opportunity presented itself I knew it was something I couldn't turn down.  If I hadn't taken on the experience I am the type of person who would have always wondered what it would have been like.  But I also wanted the book to be about so much more than just making projects out of pallet wood.  I wanted there to be a message of "ability". Like you have the ability to create things you love for not a lot of money.  You don't have to buy the latest trends or be close to a lot of shopping (thank goodness for that!) to surround yourself and fill your home with things that you love.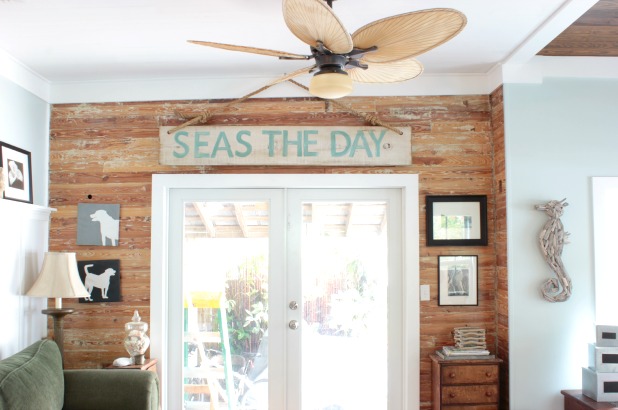 And you also don't even have to lug a pallet home and take it apart to get the look of pallet wood.  I know that kind of thing isn't for everyone.  So I also tried to show in the book that you have the ability to take pallet wood and create items that don't look all worn and rustic.  Or, you can take brand new wood and create something that looks like it was made out of pallet wood.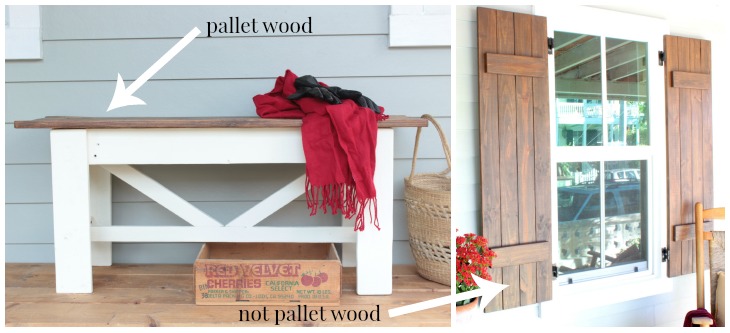 I like working with pallet wood because its free (!!), but I also like the rustic look of it and the versatility. But sometimes you just don't have a pallet on hand or for whatever reason pallet wood won't work for your project.  That's what I ran into with the shutters, I knew what look we wanted, but our windows are 54″ tall and I didn't have the patience to wait around to gather enough extra long pallets.
So I just used pressure treated 1 x 4s and cut them the same length as the height of our windows, sanded them down a bit and gave them a dark stain.  The two slats going horizontally across the front not only add a decorative detail but they hold the whole shutter together.  I screwed each slat into the little brace piece from the back so you couldn't see the screws.
It really is one of the more simple projects, but something that nearly every person who meanders by our house (it is Key West, people meander everywhere after all) comments on.  One of our neighbors even sent her contractor over to take a look at them so he could make her a similar set.  Also proving that a project doesn't have to be complex or difficult to be awesome.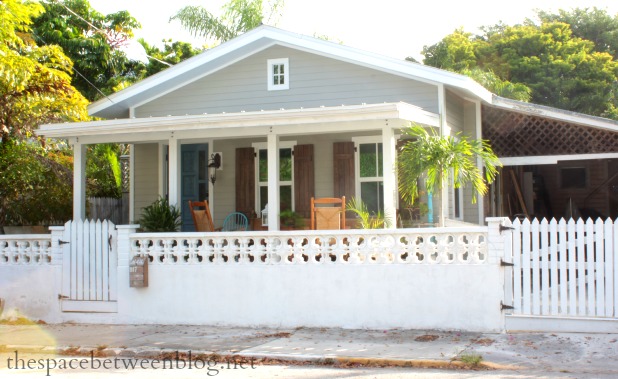 And speaking of awesome.  I wrote a little thank you to you guys …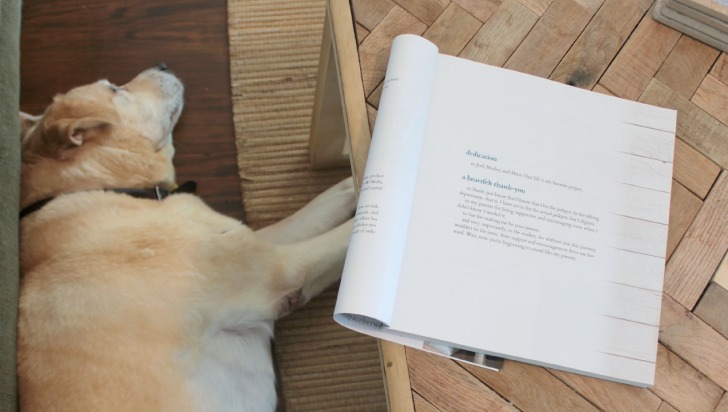 Yeah, this very quickly went from being about you to being about my adorable 13-year-old puppy.  Ok, back to you …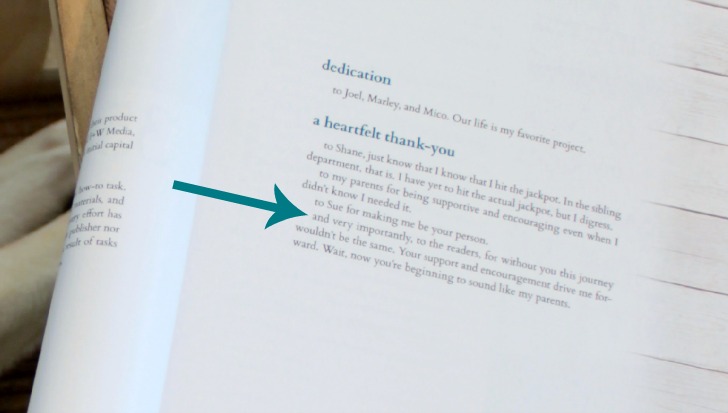 If it were not for this blog and you guys that book would never even have been.  And I know that.  And want you to know that I know that.  Now, I'm not going to go getting all sappy now.  Like someone I know. Apparently you can't blame someone for forcing me to be their friend without them getting all gushy about it.  And if you don't know about the concept of having a person, you might find this amusing.
So thanks.  You really are the best of all time.
And just so this isn't all about you and Marley I have to include the spunky 12-year-old, too.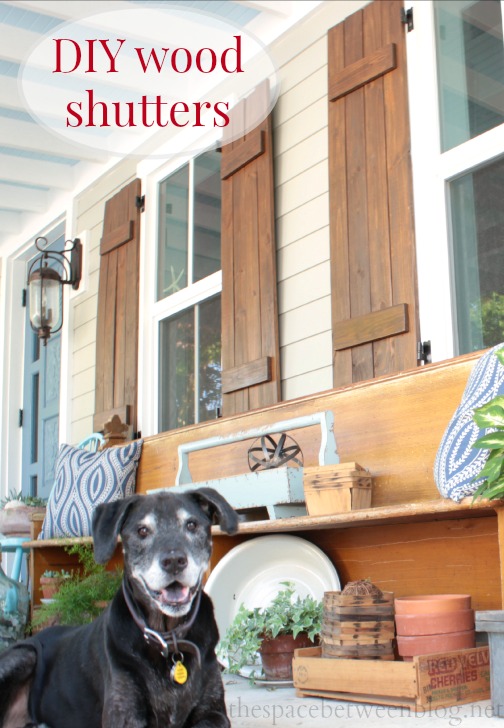 xo
PS.  My buddy Shirley is offering a giveaway of the book on her blog and you can order a copy right here.