Bow wow wow … yippie yo, yippie yay … Snoop Dog in the motha …
That's probably enough of those lyrics.  😉
Any Snoop Dog fans out there?
I love ALL things music.  I don't know music, like people in the know know music.  I just love it in all shapes and sizes.  Fo shizzle. 🙂
And who doesn't love a puppy?  Or a silhouette art of a big dog?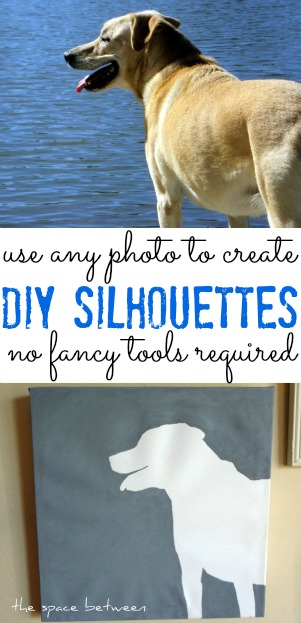 I got so many great comments on these guys (thanks to you for that!) when I revealed the gallery wall and here's how you, too, can make canvas silhouettes of really anything you have a photo of.
It's easy as 1-2-3 (4-5-6-7).  😉
You may remember that my canvases were a couple of Goodwill finds that I flipped back to front?
They are the two on the right.  The one on the left got painted black and turned into number art.
You could easily just buy new white canvases but I rarely take the sensible easy way. These are 12 x 12 inch squares and only cost me $2 a piece.  That ended up being the only money spent on this project.  Booyah!
Since these canvases didn't have any backing I just had to flip them over and, using a mini pry bar and hammer, remove all of the staples.
I do recommend not stabilizing the canvas with your knee unless you're ok with this happening.
I'm happy to report I will survive.  🙂
TIP!!!  After you remove all of the staples I recommend ironing the creases in the canvas to bend the other way so you're not fighting with the canvas when trying to restaple it inside out.  Make sense?
Then you really just have to line up your seams and restaple the canvas back on the frame.
OK, so now you have your blank slate, er, canvas.
One of the funnest (Yes, I know it's not a word, but I like the non word so choose to use it.) parts of this project was scouring all of our photos for good profile pics of the girls.
I mean, who doesn't love to lay their head on a pillow?
Thank goodness this wasn't a snapper.  (We have very few picture of Mico even remotely looking in the direction of the camera.)
And look at this wicked cool pic my brother took of his border collie out in the field on the farm.  RIP Capadoo.  :*(
But, back to the silhouettes, I was looking for profile pictures, so I picked these.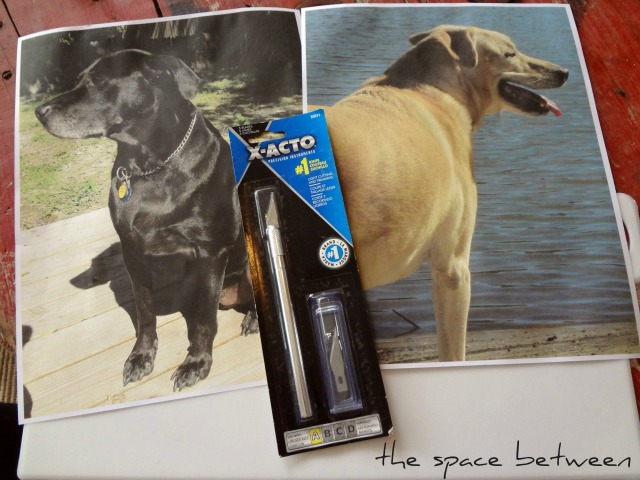 *I ended up using a different picture of black dog because once I had the sitting picture cut out I didn't like the way it looked.
After I had my pics selected I resized them so they would fill an 8 x 10 sheet of paper and printed them on regular paper on my at home printer.  If you want a bigger canvas you could definitely resize the pic bigger and have it printed at a printer.
Or, have you heard of Block Poster?  I haven't used it but from the looks of it you can upload an image, enlarge it and then print it in blocks so you could maybe tape it together and follow the rest of the steps here.
If you have tried this, or try it now, please let me in on the deets, I'd love to know!
TIP!!!  I rotated my photos to the direction I wanted during editing, but realized after printing that I didn't need to because you could just trace your silhouette with your printed pic upside down.  Duh!  😉  Also, flipping your cut out image upside down to the plain white side of your paper gives a good idea of what the silhouette will look like without any of the other details in the photo.