That's it.  The full name of the master bathroom floor tile in all its glory.  And you guys are crushing on it as much as I am.  I've discussed the tile decision here and little more here.  And it wasn't until I saw this tile that I finally decided to succumb to my marble tile desire.  I had never seen anything like it before and honestly I'm not the biggest fan of the octagon shaped tiles with the black dots that I see around a lot.  So my instant attraction to this shape, the long octagon, with the gray dot instead of the black dot, came as a bit of a surprise.
And you know we've laid the floor tile, right?  So which way did we end up going?  Many of you weighed in on the discussion both here, on Facebook (And did you happen to see all of the Dolphins paraphernalia that was left for us as a prank here?) and on Instagram.  And the winner is …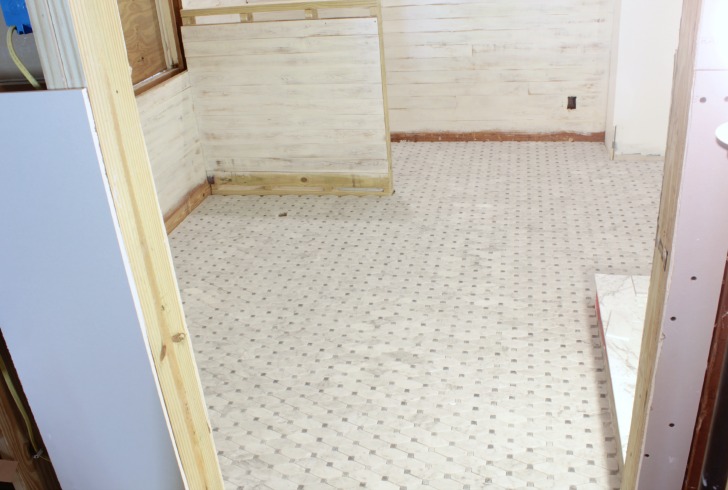 We just couldn't talk ourselves out of it.  I read every opinion and really considered every option … even trying the diagonal.  Ummmm, no.  🙂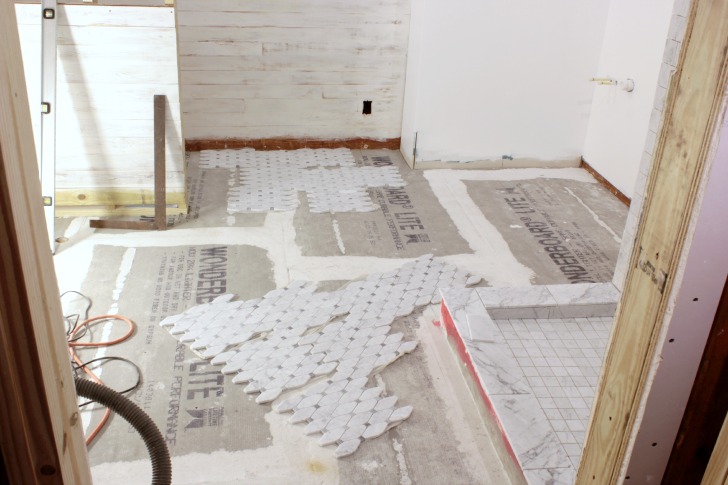 We ended up laying out a lot more tile and tried it in two different areas of the bathroom, not only along the shower curb but also along the back wall.  Because where the tile is laid perpendicular to the shower it runs parallel to the back wall and vice versa.  So here's what we stared at for a while.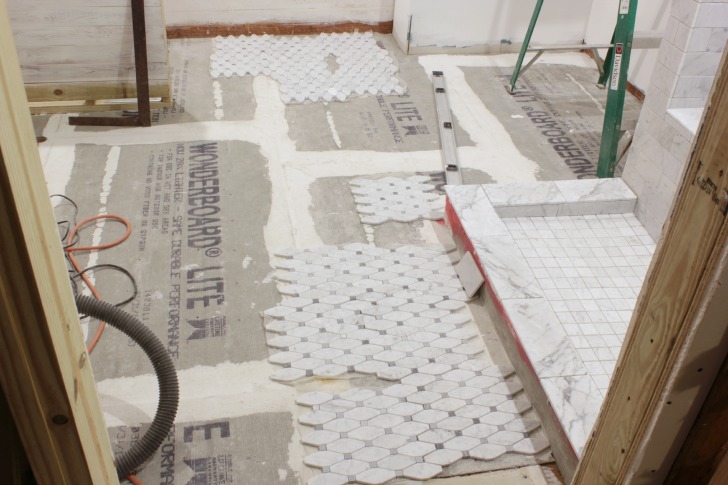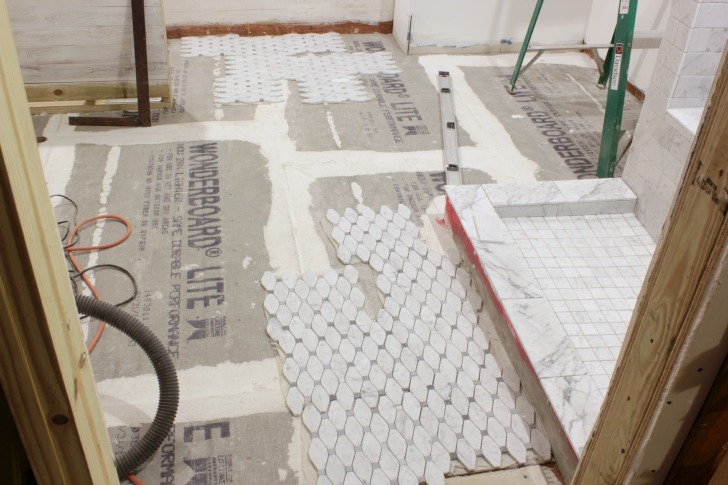 Some of you commented that you had received professional advice that a tile should run so that leads you into a room.  And then there was also the comment that the professionals say that a tile should run right to left as you enter the room.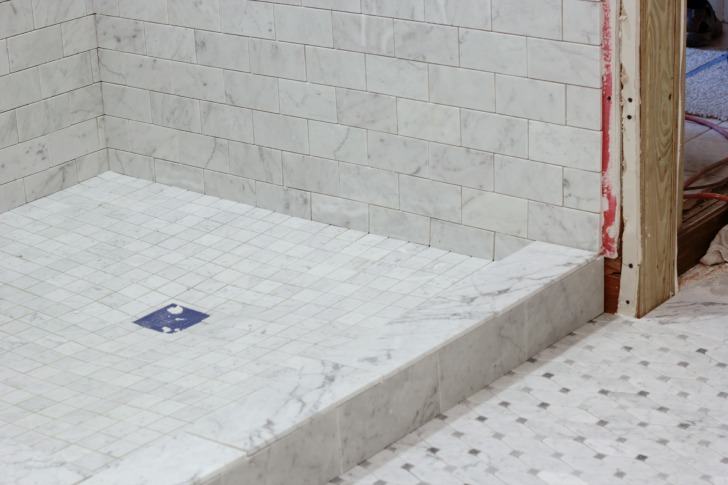 And we considered back and forth until we just decided to go with our gut, which was also suggested by a number of you.  For some reason we feel you can really see the tile better run this way.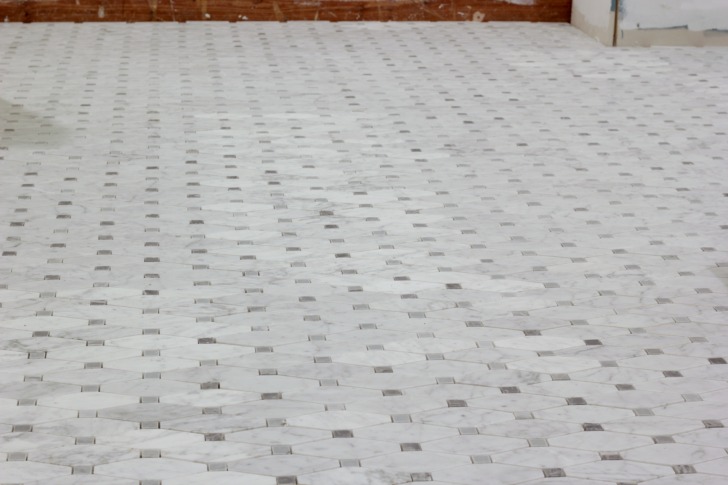 And now that its down, we love it even more!  I love that it's not all white and that the mosaic nature of it really breaks up the white-ness of Carrara marble.  I've been compiling my tiling tips and will get together a post for you of what we've learned along the way, and in the mean time I can be found standing in the bathroom doorway gazing at my new tile and dreaming of the day when it is all grouted and sealed.  I am waiting a few days to seal everything before I grout it and seal it again because, as you can kind of see in the photos, some of the tiles are still gray from the moisture in the mortar.  Since we broke up the tiling of the shower we learned that it takes 3-4 days for the tiles to get back to their original color … all the more time for me to stare and admire.  🙂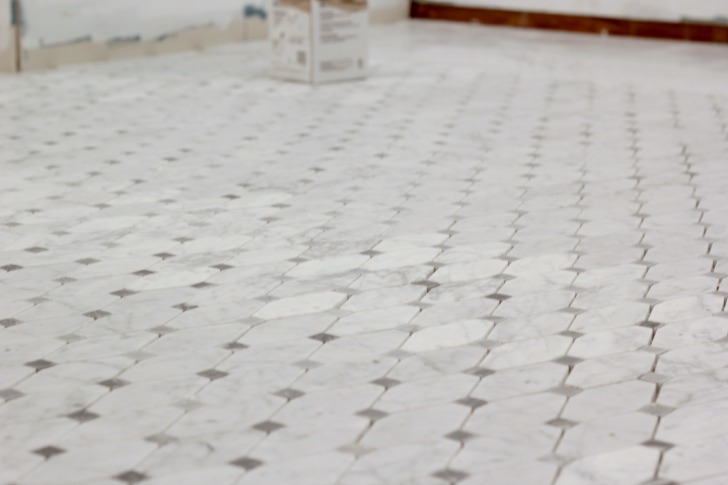 Although, the day after all of the grouting is done will be a glorious one.  And on that note I would like to apologize in advance to my lower back, knees, shoulders and every other body part that is about to explain to me (in both sharp and aching ways) exactly why people get paid big bucks to do this stuff for a living.
And one parting shot of what the bathroom looks like from the entrance to the closet.  Need a reminder of the full floor plan?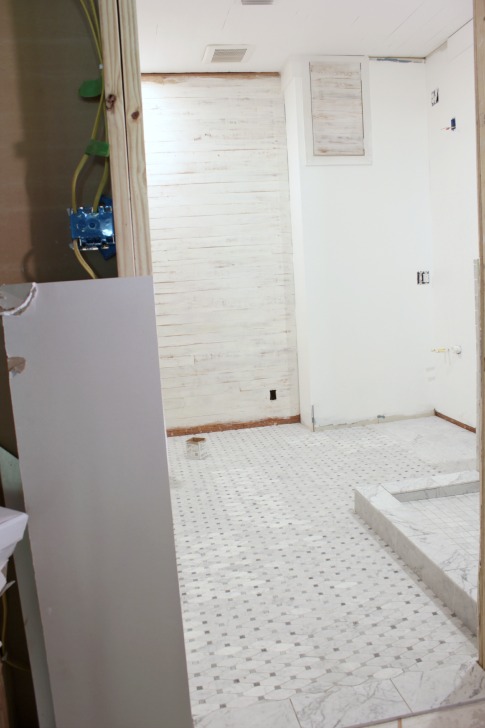 I'm stoked that The Builder Depot provided all of the tile for this master bathroom renovation, and this exact tile can be found here.  Right now it is on sale for $12.75 sq ft.