Hey, thanks for all the great comments on the post about tiling a bathroom, anyone getting ready to tackle their own tile project can give me a shout if you have any other questions.  I definitely have all the answers.  Or something.
I got so wordy about tile I had to separate these cutting, grouting and sealing marble tile tips into their own post.  What you're not going to find are your typical how to lay tile details, well, just to cover those basics:
start with cement board (more on that here)
create a shower pan if you're tiling a shower (more on that here)
use thinset mortar (more on that here)
spread the thinset with a notched trowel (more on that here)
and lay your tile as even as possible (more details on supplies and techniques here)
be sure to admire your work because this can be a daunting task
But it seems like the little details we encounter along the way get skipped right over when people are writing tutorials so that's what I really want to focus on with some affiliate links to the products I used.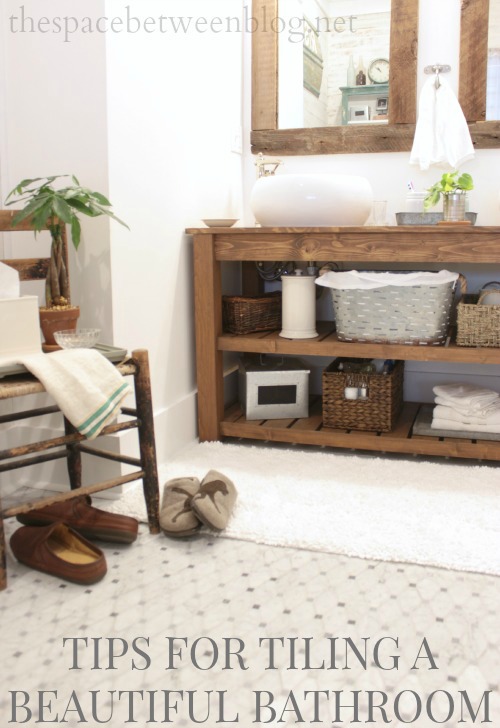 Tile Cutting Tips:
I used the

7″ Ryobi wet saw with a stand

to make every cut and didn't have a need for any nippers. If you're working with larger tiles you may want a larger tile saw.

A regular pencil worked fine to mark the tile.  It didn't get washed off by the wet saw and it rubbed right off after.
Be sure to line up your mark with the correct side of the blade.  This is true for all cutting, the blade takes about 1/8″ out of what you're cutting so be sure it comes out of the scrap side and not the piece you want to use.
Sometimes you can't use the wet saw guide when making irregular cuts (like to make sure the first row of tile is level).  For these cuts mark a full line on the front of your tile and not only line the mark up with the blade but also line up the front of the tile with the front of the wet saw.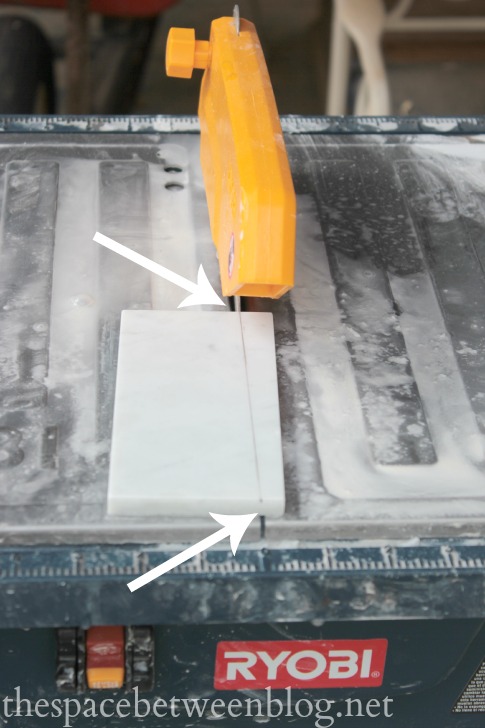 You want to make all of your cuts with the front of your tile facing up, but it is common that a small piece of tile will break off when you get close to the end of your cut.  To prevent your tile from breaking, start by making a short cut with the back side of the tile facing up, then flip the tile over (so the front is facing up) and start the cut from the other end of the mark.  Your tile won't chip or break where your two cuts meet.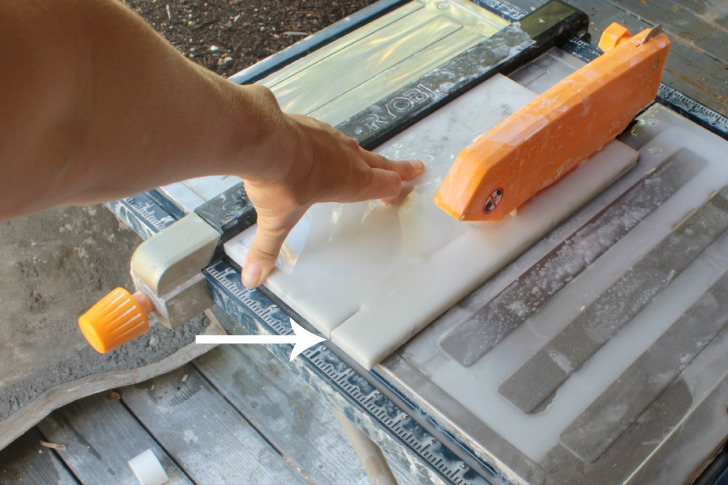 Let's be honest, don't worry about this for any cut that will get hidden under your baseboards, this is only something we did for cuts that would be seen, like where the Gray Dot Long Octagon tile met the 6″ x 12″ tile in the doorway and the tiles along the top of the shower curb.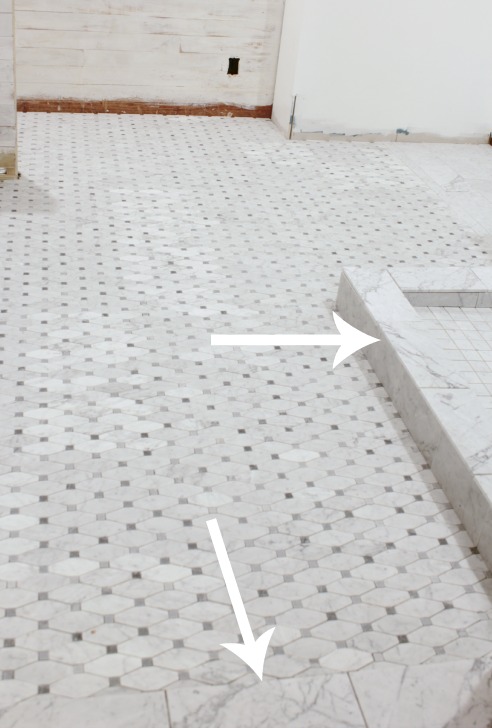 The Gray Dot Long Octagon tile that we used for the floor (and the 2″ x 2″ tile we used in the shower pan) come assembled with a mesh backing in pieces that are about 1 square foot.  They also come with a paper backing on the mesh, it was much easier to cut the mosaic sheets without the paper backing.  Just a little FYI if you're using mosaic tile also.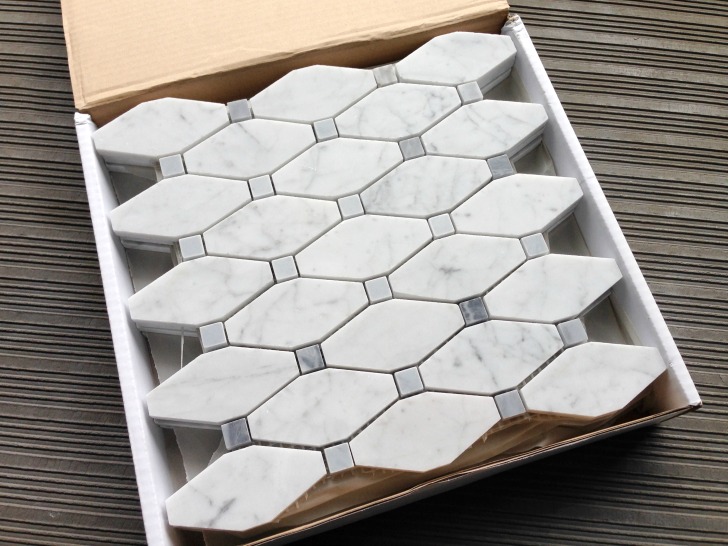 Tiling a Floor: (Check out this post for tips on tiling a shower.)
If you're working with a wonky old house like we are chances are your walls aren't completely square.  Thank you home builder.  But, beyond some additional measuring this isn't really a big deal.  For floor tile specifically, I just picked a highly visible area of the floor I wanted to be sure ended up looking nice and marked a straight line parallel to another visible line in the room.  Which for us was the shower curb.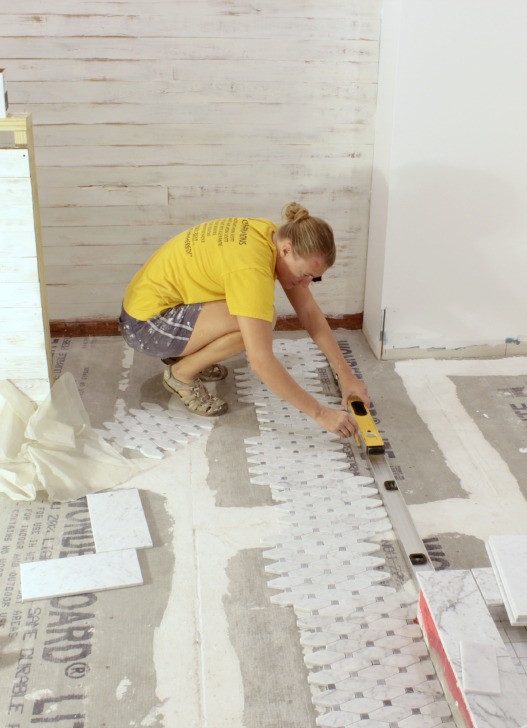 If you're working with a smaller floor with only one real visible wall I would just start tiling along that wall.  The tile will look square to the room since it lines up with the one visible wall.  For our bathroom, the wall to the left is hidden behind the tub, the wall to the right is hidden behind the vanity and the wall in the back is hidden behind the half wall to the toilet area.  The only important "wall" to line up with was the shower.
Start by laying the tiles in a straight line along your mark on the floor.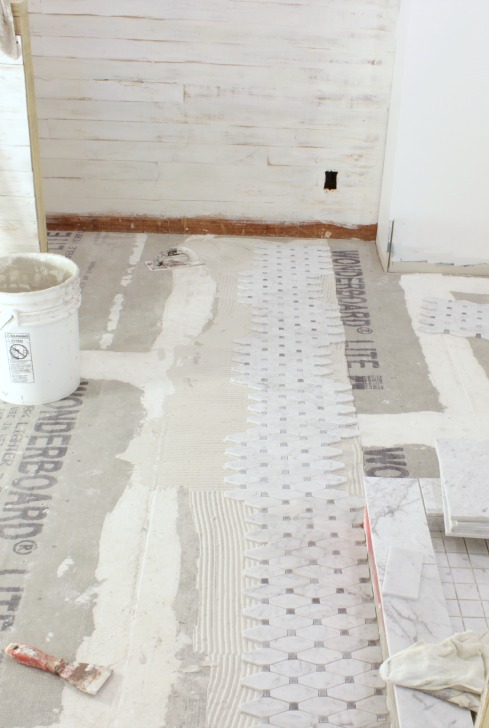 If you're going to tile the whole room in one day, be sure to leave yourself a way of out the room.  I started in the center of the room, then tiled on the right (away from the doorway exit).  We used the 6″ x 12″ Carrara marble tiles under the vanity area because they were going to be hidden anyway and I didn't want to waste the beautiful long octagon tile … those tiles are cheaper too so it's a great way to save a bit of $$.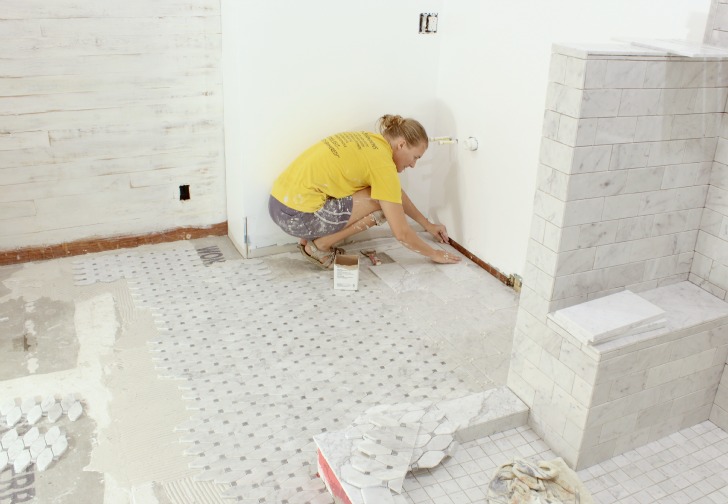 Then I tiled behind the half wall in the toilet area, then along where the tub would be back toward the door and out of the room.
With the mosaic tiles keep a pair of scissors handy.  We had to piece different sections of tile together in spots and sometimes it was just easier to work with individual tiles than the full sheets. It was also easier to cut the tiles for around the drain holes when the tiles weren't attached to the mesh and other tiles.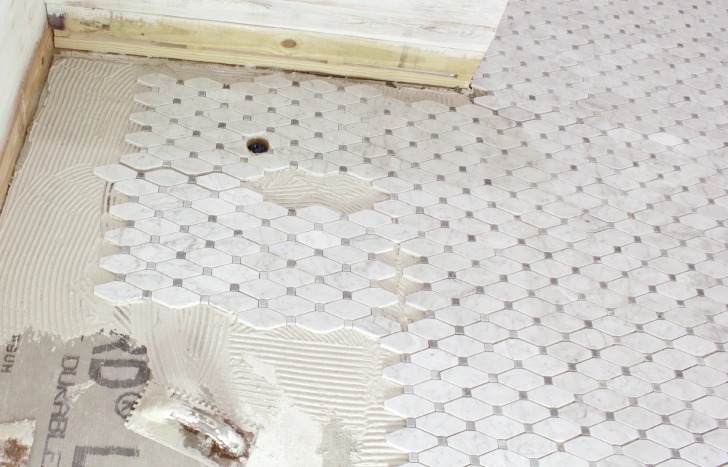 And if you're using a mosaic tile with little pieces of tile mixed in, like a gray dot for instance, be sure to push each piece into the thinset.  You may end up needing to re-secure those little pieces if you don't make sure of this while you're tiling.  I would assume.  😉
Grouting Tips:
Grouting was actually the part I was dreading the most, I just had bad memories of tackling this all on my own in a previous house.  But I have a GAME CHANGING tip and it is so little, but so HUGE for any tile job that is bigger than a few square feet.  For this project I used this grout in the Delorean Gray color. For general grouting tips: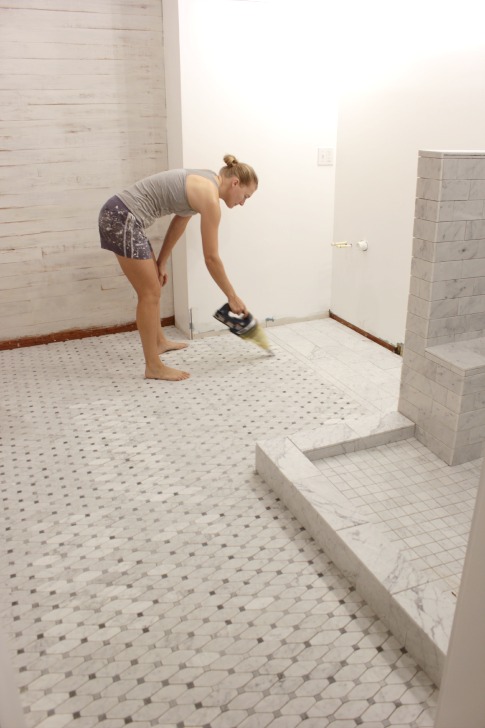 I paid a little extra for a higher quality float and it is still in near perfect condition.  I was worried with all of the tips and edges of the mosaic tile that I would scrape and gouge and ruin the float. The higher quality option held up perfectly.
Be sure to fill the gaps between each tile with as much grout as possible.  Grout will shrink a little when it dries so this helps reduce any little groutless spots.
For corners and edges where tile meets trim or something other than tile (and for any spots that just need another dab of grout) there is a grout caulk that matches the grout colors and is easy spread in those little areas.
Knee pads – I've mentioned it before, but the old pair we had finally bit the dust.  Actually they started pinching on the back of the knees so I begged and pleaded with Duluth Trading company and they sent me this pair with hinged backs and gel and leather knee supports.  They are so awesome!
Have multiple buckets of water, each with their own sponge and someone else to rinse them out and refill with clean water.  (This is THE game changer!)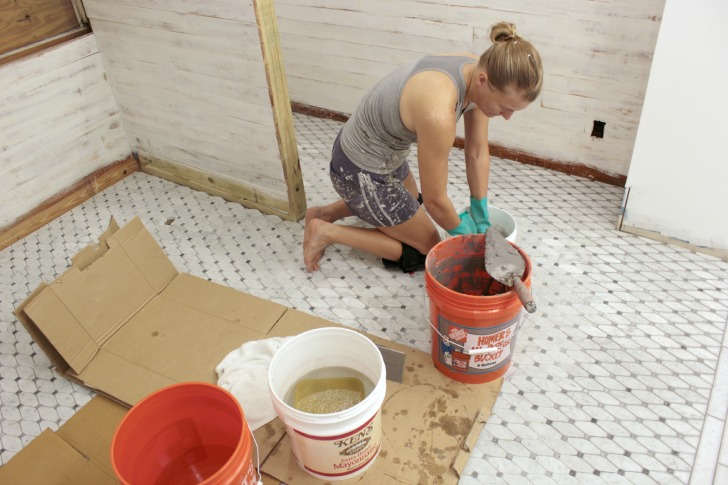 I can't over-emphasize this tip enough.  And I know it seems simple, but having to get up and rinse out your sponge and refill the bucket just takes you out of your rhythm.  When I explained to Joel my plan he declared himself my "Bucket B!tch" for the day.  It was awesome and went by so much quicker.
Now, as for sponging strategy here's what seemed to be quick and efficient:
grout about a 2 x 2 foot area at a time, more if you have less grout lines than the bajillion I had per square foot  🙂
use a sponge and bucket of water to clean up the excess grout from each grouted area about 3 separate times (any more and the grout will become watery and any less and you will be left with a lot of grout haze)
grout another 2 x 2 foot area (while your bucket b!tch cleans your water and sponge)
use the clean sponge and water to first go back over the previous 2 x 2 foot spot to get it more clear and then to start to clean the second grouted area
grout a third 2 x 2 foot area (while your bucket b!tch cleans your water and sponge)
use the clean sponge and bucket for a third time, just one clean swipe, over the first area you grouted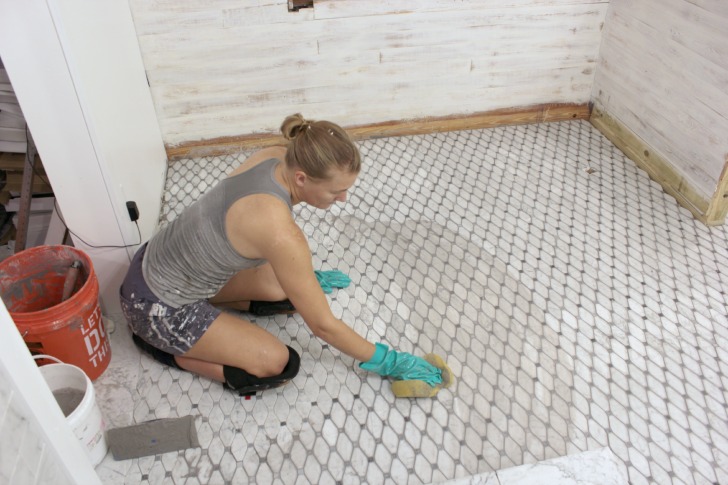 We had three buckets and sponges but we probably could have done it with two most of the day.  But if you're bucket b!tch is going to lose interest in their job and make themselves useful around the house doing things like dishes and feeding the dogs and other various items of distraction stick with three.  🙂
Marble Tile Specifics:
Marble is natural stone so it absorbs moisture and grays when wet, the tiles will take a couple of days to dry out and get back to their original color, wait until the tiles dry out before you seal them so you don't lock in the color variation.  You can kind of see in this picture that even though the shower pan tiles have natural color variation they are lighter than the wall tiles appear because they are dry and the thinset behind the wall tiles is still wet so the tiles appear grayer.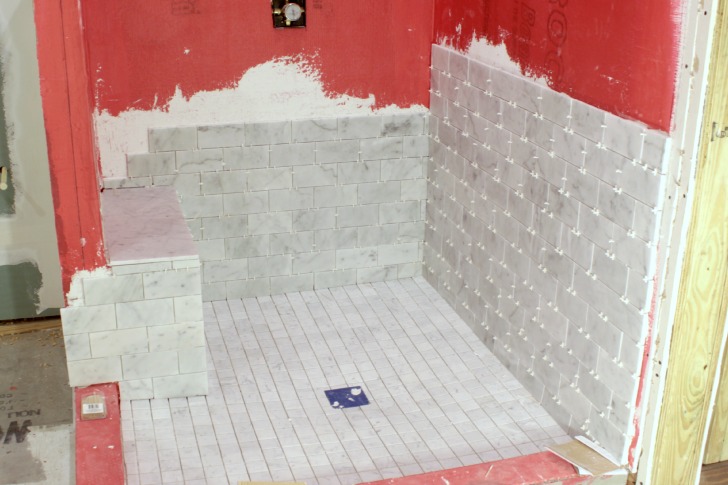 Because marble is a natural stone and will absorb color you need to seal them before you grout to prevent the grout from discoloring the tile.  I used this sealer and just put it in a spray bottle and sprayed three coats on the ungrouted tile.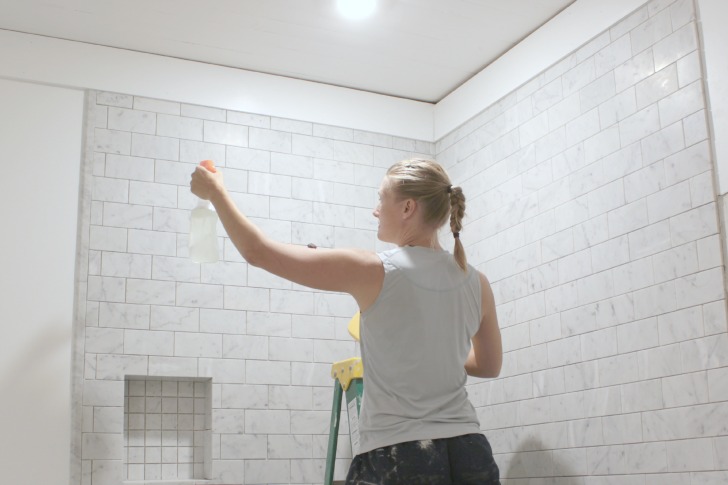 Then I used a grouting sponge to wipe off any excess.  You know when it is completely sealed when the tile stops absorbing the sealer.  After three coats I also dripped some water on the tile to make sure it would bead up and not absorb into the tile.  You can't see the water on the sealed tile because it wasn't absorbed and didn't discolor the tile, but the tile on the curb that I also put water on wasn't sealed so you can see the difference.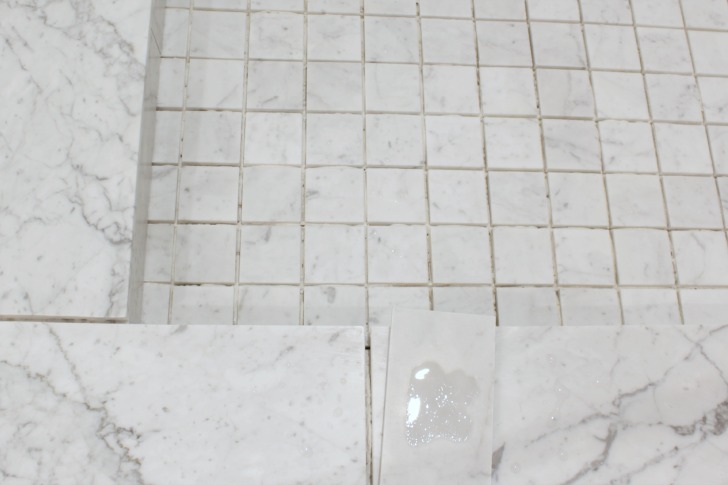 Marble is very brittle so if you're the type to freak out about every little scratch or imperfection this might not be the tile for you.
Any natural stone is also going to have some color variation, if you like complete uniformity, marble might not be the right tile for you.
I think that about covers it.  Once you reach this stage in a room renovation you really do reach a turning point.  Take a deep breath and give yourself a pat on the back because you're in the home stretch!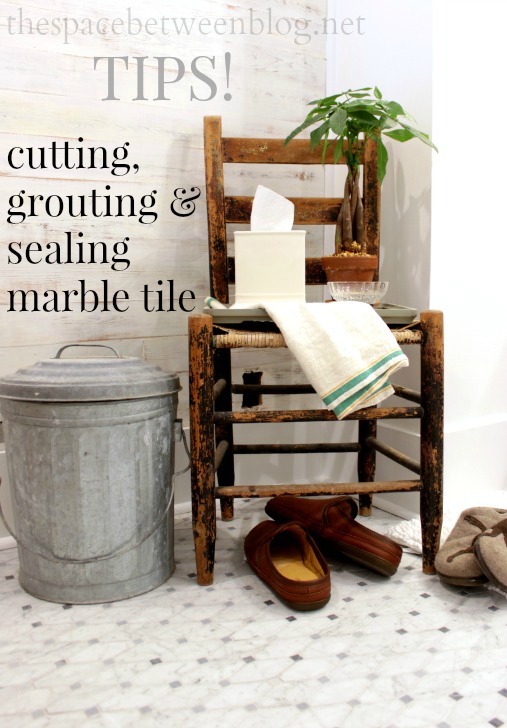 Now tell me what I missed.  I know a bunch of you have done your own tile projects, what are your secret tips?