Pretty much from the outset of this master bathroom project I knew I wanted to make the vanity because the space was tight and the odds of finding a piece that would fit perfectly into it were slim.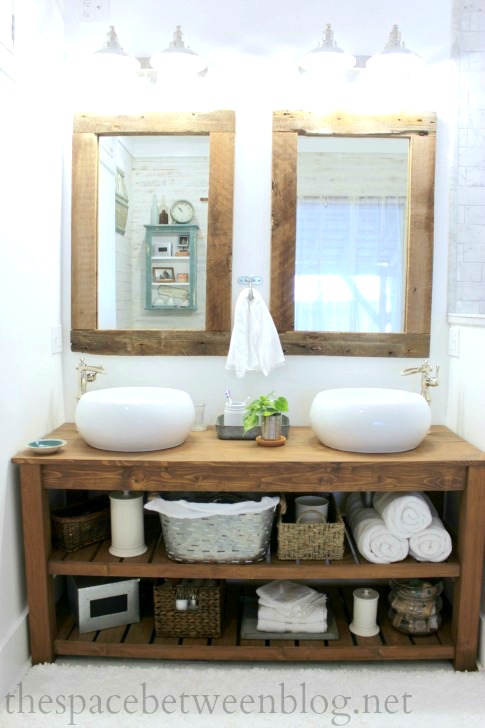 Turns out the odds of me making something that was a perfect fit were slim, too.  But, man, did I try.  And it was looking so perfectly-fit-like for a minute there.  Such a long minute that I went so far as to declare it right here, with photo evidence.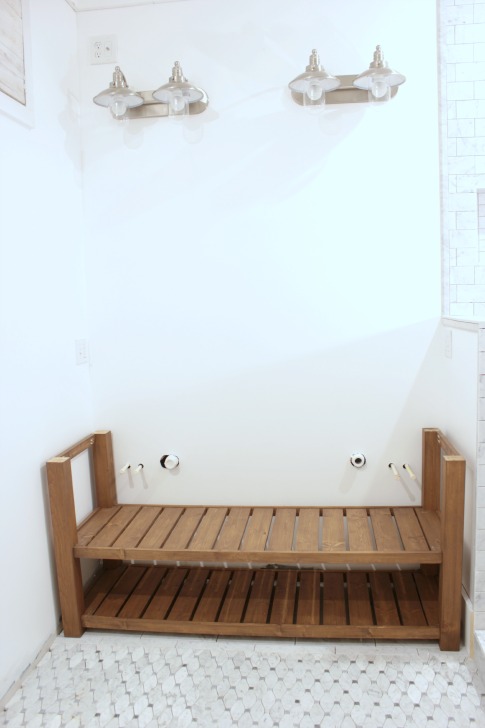 But you may notice there was only baseboard installed on the right side, and even though there is clearly plenty of room for baseboard on the other side, what there really wasn't enough room for was the shoe molding, we use a basic quarter round, so the actual vanity install attempt looked a bit like this.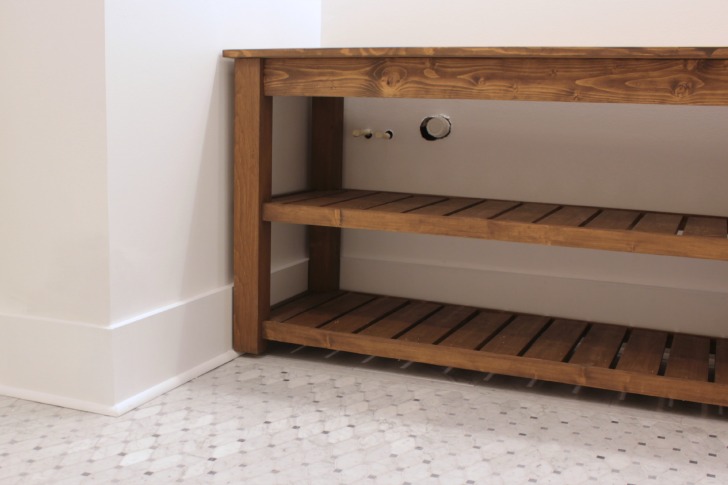 Can I get a womp womp? #BuzzKill
Lucky for us the right side of the vanity is just a half wall to the shower so I removed the quarter round on that side and we ran it through the table saw to slim it down about a 1/4″ and reattached it.  It's mostly hidden behind the vanity so if the touch up paint fairy would just come already no one would ever notice.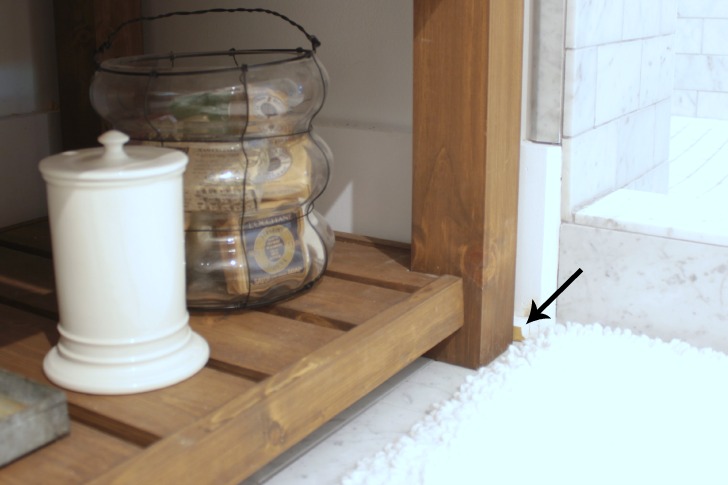 So, true to form, this little DIY wood vanity didn't turn out exactly perfect, but we were able to completely fill this little vanity nook to maximize the space in our bathroom.  And with this little Key West house we can't leave any space free to do its own thing.  It has to serve a purpose for me, or I don't want it around.  🙂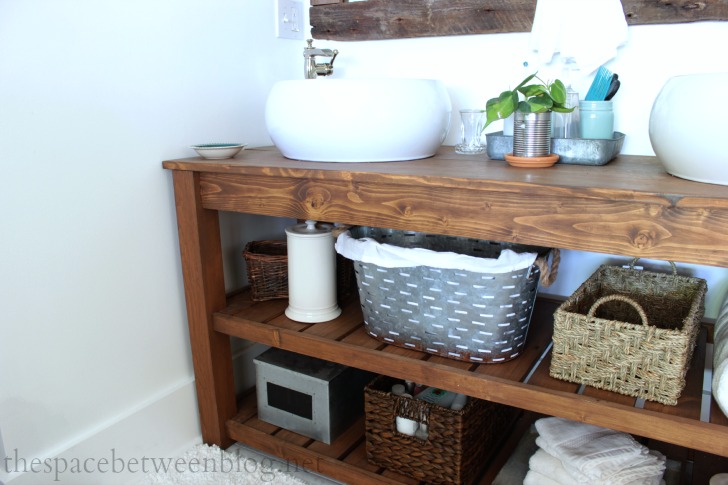 And here's the thing about the design.  I really, really, really wanted open shelves.  That's another thing about small spaces … we need the storage but too many bulky furniture pieces will just start to make the space feel tight and cramped.  And I was kind of worried I was loosing storage space, but with the right mix of containers that can hide all kinds of necessities we have actually gained a lot of super convenient storage.
The galvanized bin on the top, I draped a white dish towel along the front to cover the holes because there's all kinds of ugly crap in there that I need frequent access too.  And it even has a small basket hidden behind it with things I don't need to get at often.  And the basket beside it is basically empty so we have room to grow.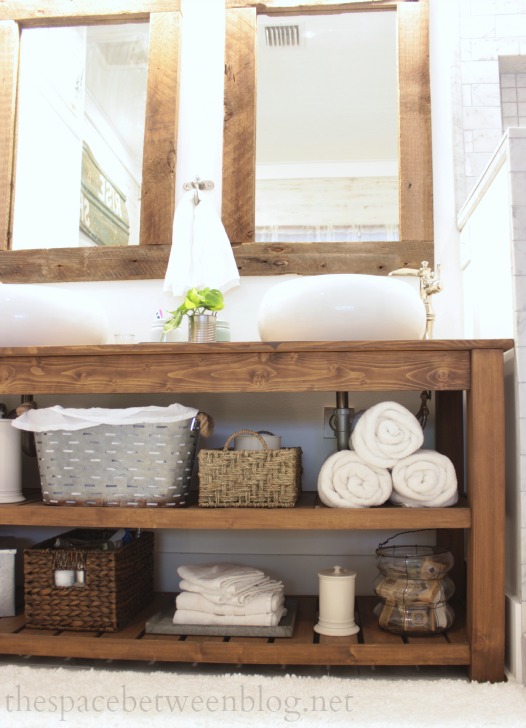 I think it has one of those teak counter feels to it, like it could be in a spa, which is exactly the feel I was hoping for in our master bathroom.  Score one for the good guys!
You may remember this was my inspiration pic from Joss & Main.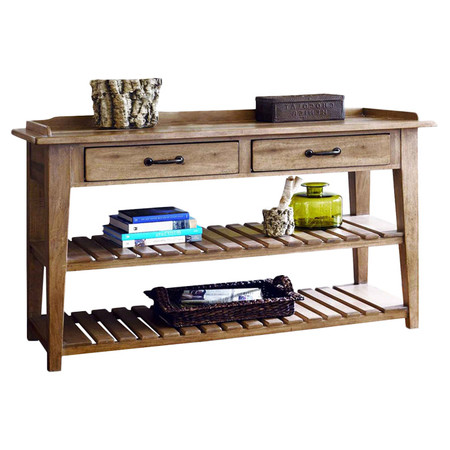 And I made a few key changes for it to work for us:
I really wanted drawers but with the vessel sinks we needed the counter height to be lower so there just wasn't enough room.
You could very easily make each shelf by overlapping the slats like the inspiration pic and just finish nailing them into the stretcher boards, but again with the vessel sinks and lower counter and I wanted the shelves as tall as possible so I used pocket holes instead.
I came thisclose to ordering this leg from Osborne Wood which would have been pretty much an exact match to the inspiration, but in the end decided I liked the clean lines of a straight leg and, I'm not gonna lie, the ease of assembly with no weird tapered angles to try to figure out was a key determining factor as well.  🙂
That weird back and side piece on the counter … really just not necessary.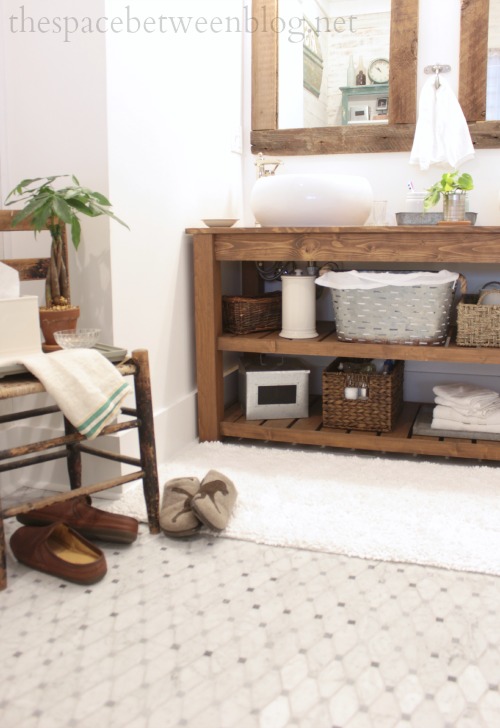 So here's what you'll need to make your own spa-like wooden vanity with wood slat shelves!  The final dimensions of this exact vanity are 29 3/4″ high, 23″ deep and 63″ long.
Supplies:
Four 2 3/4″ posts, 29″ long (Osborne Wood sent me mine for this project)
Seven 1 x 4s, 8′ long (I used all knotty pine for this project)
Two 1 x 4s,10′ long
Two 1 x 12s, 6′ long
One 1 x 4, 6″ long
150 grit sandpaper
1 1/8″ screws (lots and lots of them)
2″ screws (about 25)
Tools with affiliate links to products I use:
tape measure
screwdriver (this cordless impact driver is my new favorite to use for everything!)
hammer or rubber mallet
This is actually the first time I used my Kreg Jig.  I used the Kreg Jig Jr for a lot of projects before.  All of the projects with pocket holes that I made for the book were all made with the Jr … and I even made a whole bed frame with the Jr.  And after Kreg Jig saw the bed they sent me the real thing … and I've stared at it in the case for about a year.  But with 15 slats per shelf needing 4 pocket holes a piece plus a few more for the stretcher and apron boards … carry the one, and that equals a lot of pocket holes.  So I clamped the Kreg Jig to a scrap 2 x 12 we had and clamped that to a sawhorse and got over my hesitation to try something new.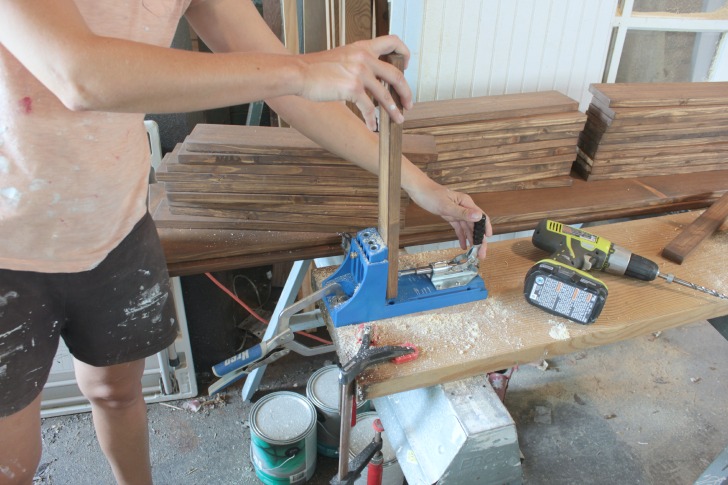 But let's start at the beginning.
Step 1 – Since there are so many separate pieces of wood that make up this vanity I knew I wanted to make all of my cuts first so I could stain each piece individually before assembling anything.  I just think staining is so much easier this way.
So here's your cut list (some basic building terminology is required here … very basic):
use your table saw to rip the two 1 x 4 x 10s and one 1 x 4 x 8 in half lengthwise (these will become your stretchers and aprons)
use your miter saw to cut the remaining 1 x 4 x 8s into 18″ lengths (these are the slats for each shelf, make them 5″ shorter than the finished depth if your legs are also 2 3/4″)
use your miter saw to cut the 1 x 12 x 6s into 63″ lengths (these are the top of the vanity, make them the full length you want your finished vanity)
use your miter saw to cut the 1 x 4 x 6 to 55 1/2″ (this is your front apron, make it 7 1/2″ shorter than the full length if you legs are also 2 3/4″)
use your miter saw to cut the ripped pieces as follows:
5 @ 55 1/2″ long (these are your front and back stretchers and your back apron)
6 @ 15 1/2″ long (these are your side stretchers and aprons)
Step 2 – Give each board a light sanding with the 150 grit sandpaper just to smooth out any rough edges.
Step 3 – Get busy staining. And try not to be jealous of my luxurious work space.  Mico is not quite sure what to think of it either.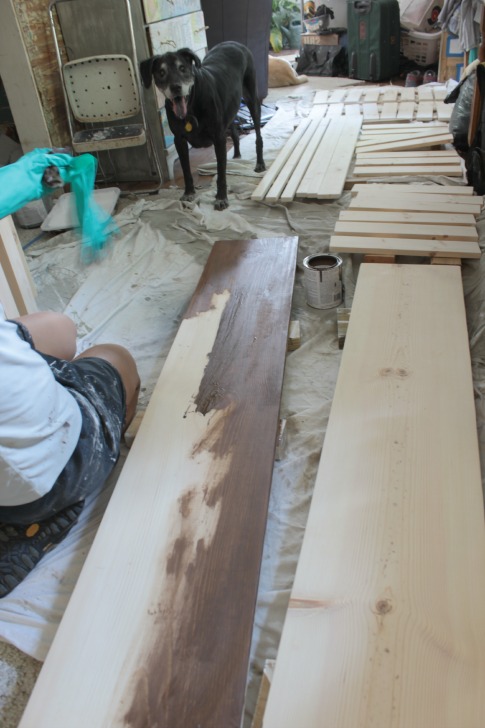 I used the same stain brand and color we used on our floors, ZAR, modern walnut.  I put one coat of stain on all sides of each piece and then applied a coat of clear wax.  You might want to polyurethane or clear coat your vanity but the clear wax has worked well for us so far.
Step 4 – Drill your pocket holes.  Each board, except for the top pieces and the legs, need two pocket holes in each end.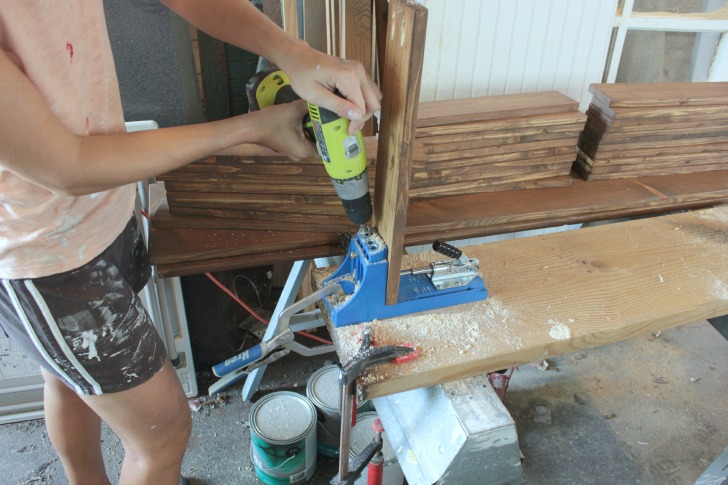 How the Kreg Jig was a huge time saver over the Kreg Jig Jr was that I could clamp a board into place once and drill both of the pocket holes for that end. This step is more time consuming than it is difficult.  Just clamp, drill and repeat again and again and again.  And be sure to drill your pocket holes into the same side of each board.  That's a no-brainer, but something I was pretty sure I would do if I didn't pay close enough attention.  🙂
Step 5 – Assemble the legs.  Measure and mark 1 1/2″ and 15″ from the bottom of each leg.  Attach the side stretches (with the pocket holes facing into the vanity) flush to the outside of the legs above these marks through your pocket holes.  And attach the side aprons flush with the top of each leg (not shown in picture).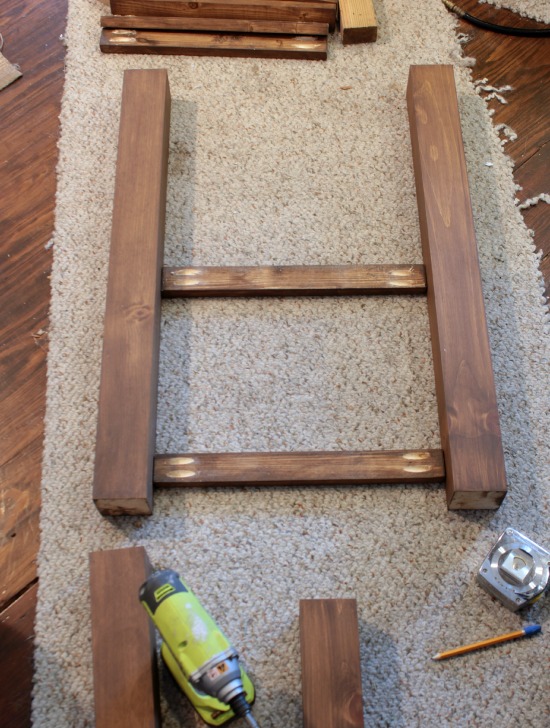 Step 6 – Assemble the shelves.  I used a 1/4″ scrap of lauan so the slats would attach to the stretchers 1/4″ down from the top and a 1/2″ wide scrap piece of wood to space each slat equally apart.  And make sure the pocket holes in both stretcher pieces are facing the same direction, so they will end up facing the back of the vanity when its all said and done.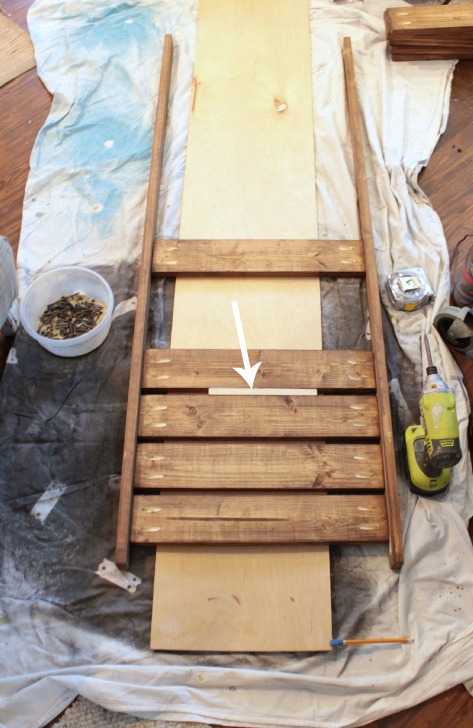 Here's where the measurements get really particular.  Since I decided on the size of my vanity based on the size of the space it is going in I needed to get creative with the spacing of the slats on each shelf.  What worked for my vanity is to space each slat 1/2″ apart, but the space between the two end slats and the slats next to them is only 1/4″ and those end slats will butt right up to the side stretchers that you've already attached to the legs.  You might need to take some time to make your spacing work for your vanity.
And when assembling each shelf, figure out where the two slats at each end of both shelves will go, but don't attach them yet, they need to get attached after you assemble the shelves to the legs so you can access the pocket holes.
Step 7 – Attach both shelves to the legs.  These measurements work so that the shelves will indent the legs about 1″.  I attached the bottom shelf first but if I had it to do again I'd attach the top shelf first.  And I find it easier to lay the legs on the ground and line the shelf up to them so you can drill straight down into your pocket holes.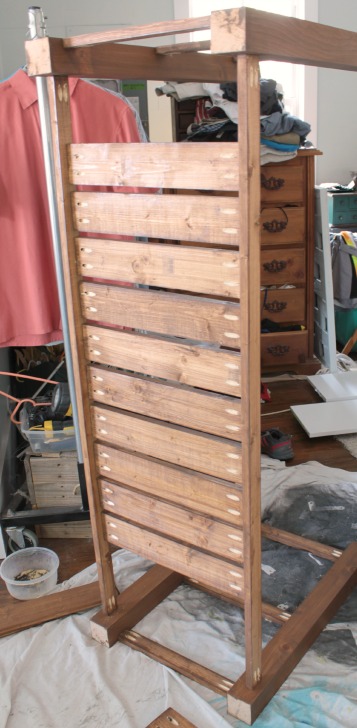 And again, don't worry about how awesome my work space is, I understand not everyone can be so lucky.  😉
Once each shelf is attached flip the entire piece upside down and attach the last slats to each shelf, you may need to use a mallet or hammer to nudge them into place.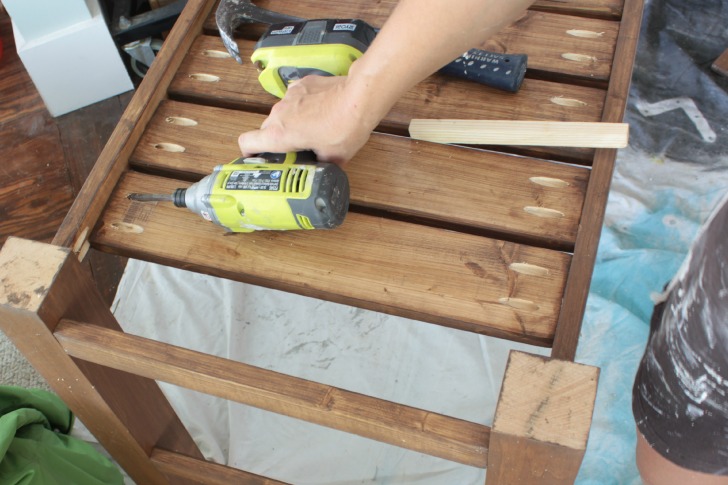 The last slat on each side of both shelves will need to be cut with a jig saw to fit around the legs.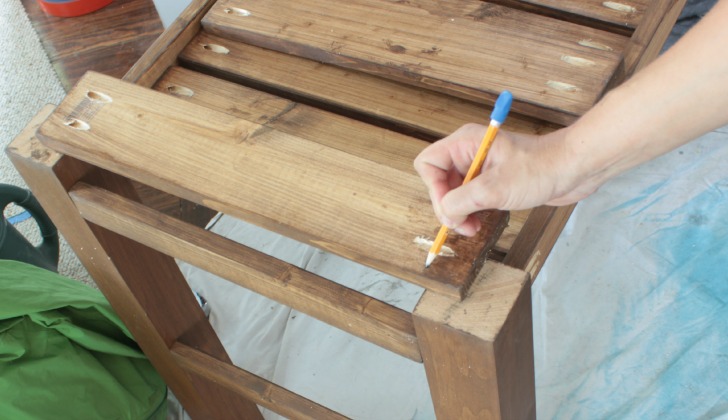 And since cutting the notches out of those slats made one of the pocket holes at each end unusable I drilled two more pocket holes so those slats could also be attached to the side stretcher.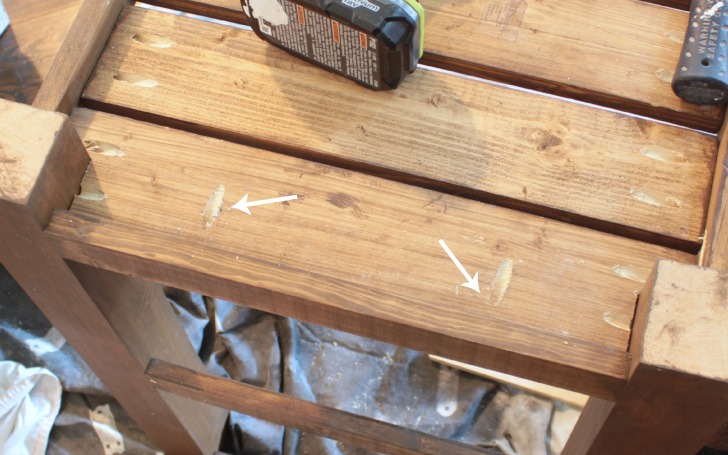 Step 8 – Attach the front and back apron to the legs through the pocket holes making sure the pocket holes face the back of the vanity.
Step 9 – Attach the top.  I know a wood vanity top isn't for everyone.  But this is our master bathroom and Joel and I tend to not have water fights in here so I'm not really concerned about water exposure beyond what the clear wax can handle.  But, long term I would actually love to try my hand at making a concrete counter top for in here.  For now, these two 1 x 12s attached through pocket holes into the apron work for us.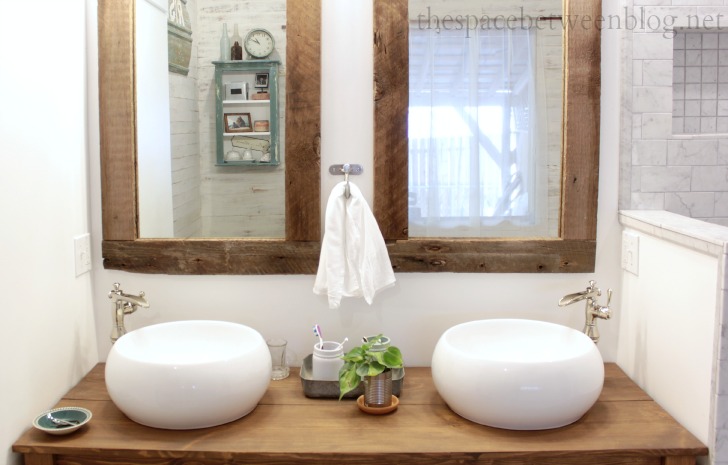 How's that for a little DIY?  Beyond the cutting and staining time the actual time to assemble goes by pretty quick and I did it all with my own two hands, although it would be helpful to have an extra set of hands when it comes to attaching the shelves to the legs.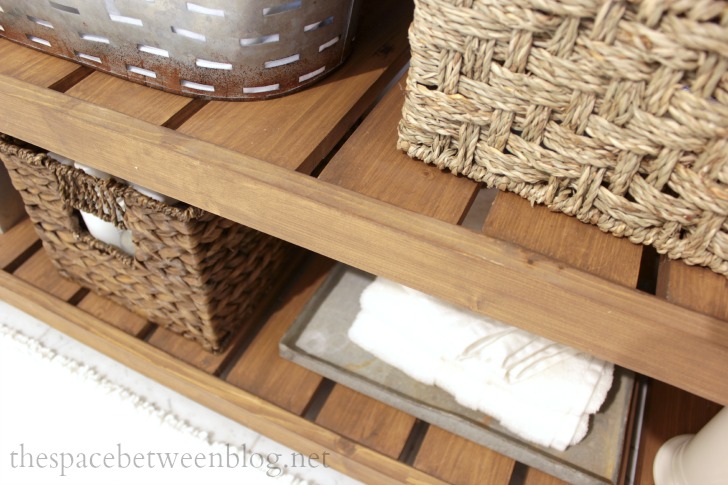 I debated using the Driftwood color stain that I used on our wood bed frame, but I like the contrast the darkness of the Modern Walnut has against all of the light and white elements in the room.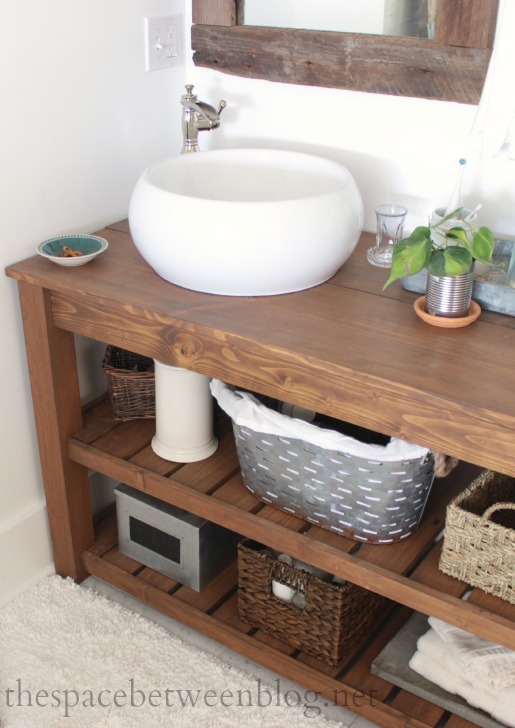 And there were way too many discussions about the final height of the vanity with ridiculous enactments of how high we would have to lift our arms to wash our hands in the vessel sinks.  Seriously, that's the kind of thing we do for fun around here.  Rumor has it that a standard vanity height is 32″ but is raised to a stately 36″ in a master bathroom.  Our vanity measures 29 3/4″ high with the height of the top of our vessel sinks at 37″.  It seems just right to us.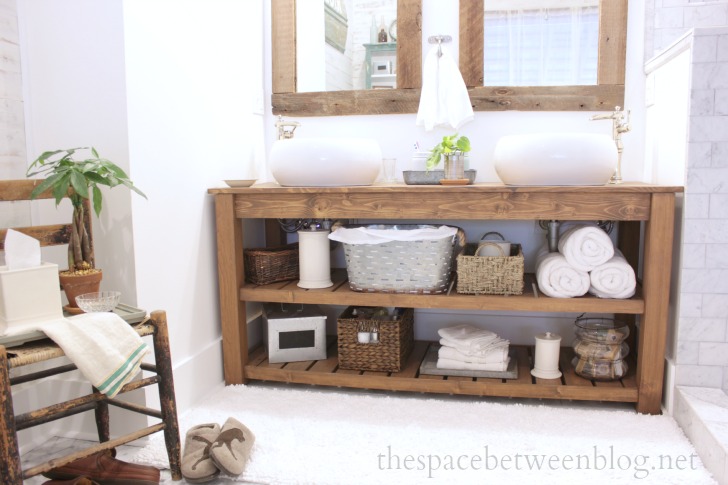 It's hard to remember that this space used to look like this.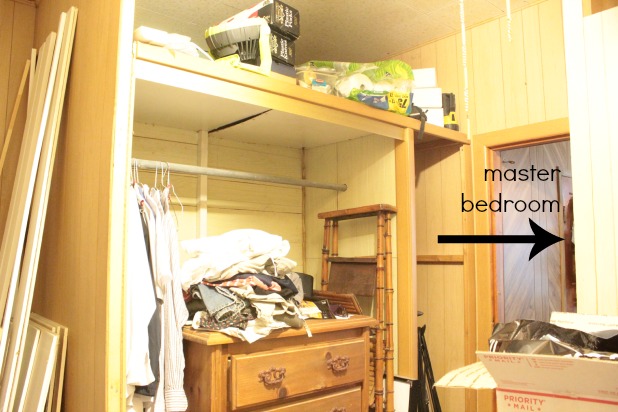 Say whaaaaaat?