There were many aspects of this master bathroom renovation that were really up in the air until they actually happened.  I'm not really the type to create a mood board and search for things that fit the design.  I tend to roll with the punches and make decisions as it all unfolds.
But I just knew from the get go that we wanted a rain shower head and "fancy" vessel sink faucets.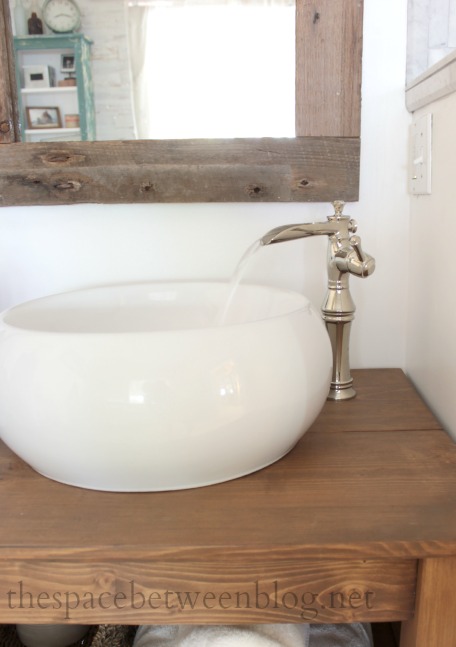 We installed a rain shower in a previous bathroom and loved it.  Many people like double shower heads or all kinds of fancy controls and water spray options but for some reason we don't.  I'll be over here chillin' in my tub with a glass of wine and lots of bubbles while you're messing around with your fancy showers.  🙂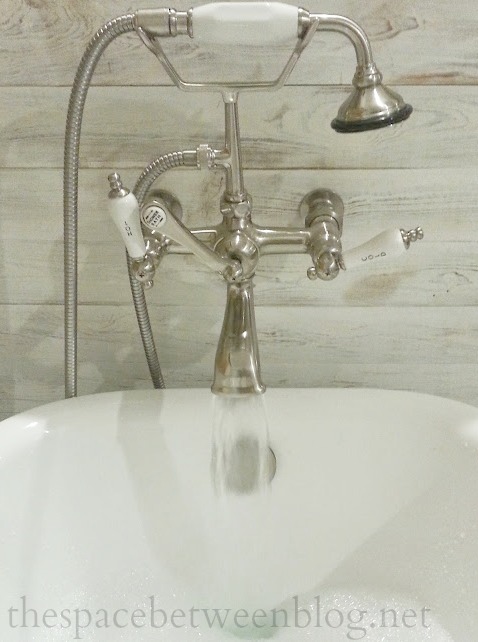 More on the tub soon, it's all installed y'all and it is awesome.
And one thing that I can't stress enough is that a faucet install is seriously one of the easiest DIY upgrades you can make.  We had to install all of our new plumbing, so that doesn't really count, but if you're working with an outdated bathroom and just want to bring in a little spark of new, a faucet is a great way to do it.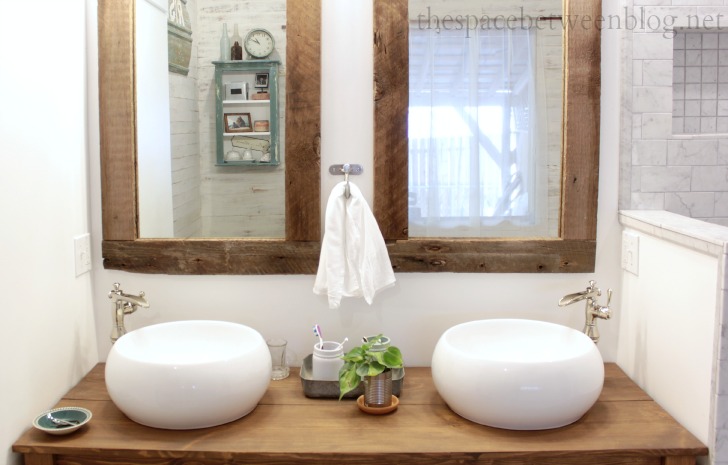 Like all of the other aspects of this bathroom, I did all kinds of research locally and online (Remember how I decided to narrow down all of the choices in 3 simple steps?).  Knowing the styles we were looking for helped narrow things down pretty quickly and I soon found and feel in love with a specific trough style faucet that had a matching cousin in the rain shower head on National Builder Supply.
So, I did what I do and reached out to them and said "Hey, hey, I totally have a crush on your faucets and I'm wondering if you'll let me take them home with me?"
National Builder Supply is a great online resource for, wait for it, all kinds of great supplies you'll need for a variety of building projects.
What I really loved about getting a matching set of sink and shower faucets is that the finish matches perfectly.  Even though many items will have a "polished nickel" or "brushed nickel" finish they do vary slightly from brand to brand and although I didn't think it was a big deal when it came to our lights or the tub (which is on the other side of the room) I really wanted these fixtures to match perfectly.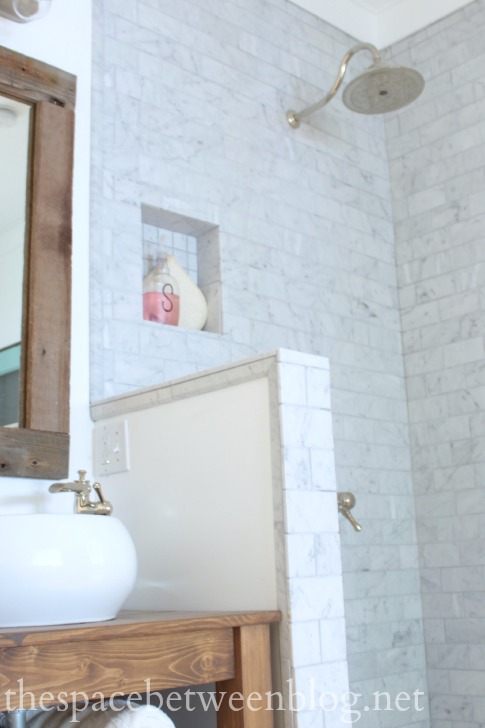 The faucet installation was a simple matter of doing what the easy to follow instructions told us to do.  The hardest part was deciding exactly where I wanted it so I could do the nerve-racking task of drilling a hole in the top of our new vanity.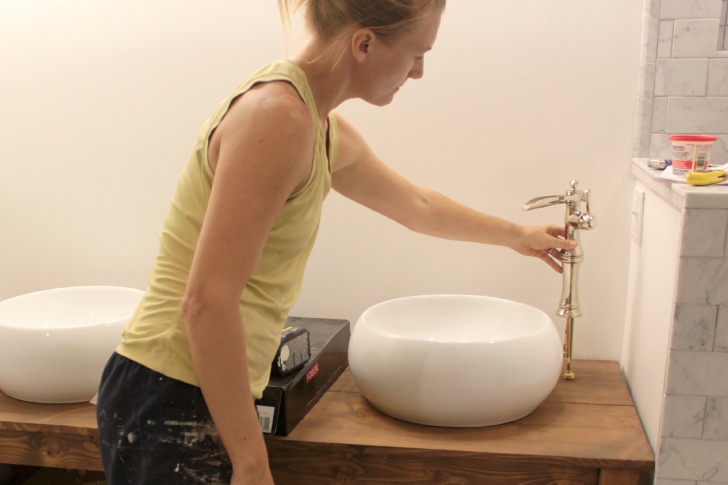 The water lines and a threaded rod poke through the hole under your vanity and with a wrench you just attach the plate that secures the faucet to your counter and attach your water supply lines to your new faucet.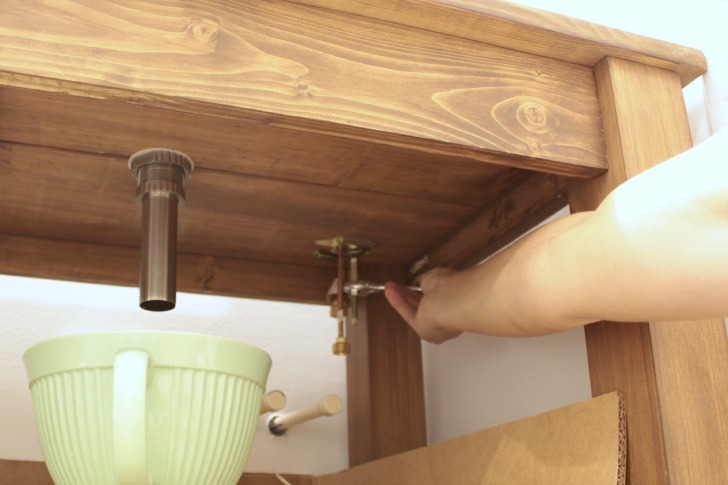 It really is as simple as that.  One big tip we learned along the way, especially since we had installed all new water lines, is to run water into a bucket through your new water lines for at least a minute before hooking them up to your new faucet.  This gets rid of any sediment that may have settled in the lines and prevents that sediment from getting lodged into your new faucet.
The rain shower head and valve seemed a little bit more daunting to us because I chose a valve that could separately control the water pressure and the temperature.  #WeBeFancy
Which basically just meant there were a lot more parts to work with.  In other words, there just seemed like a lot more opportunity for error.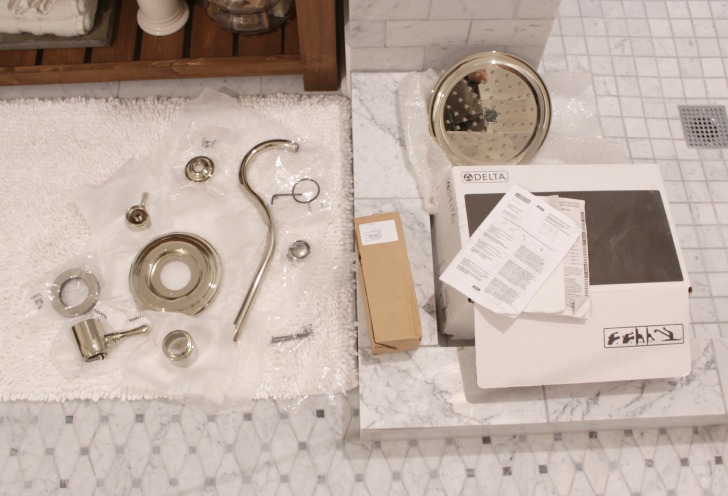 Joel and I did this install together, for these kinds of tasks that seem a little over our heads at first I guess we just like to have the moral support of a partner in crime.  Or it might be someone to blame if things go wrong.  I'm not entirely sure.
And luckily the instructions given were clear and thorough and got us through each little step without fail.
One other big plumbing tip we've learned along the way is to use pipe thread sealant for any threaded plumbing connection.  We always just used to use teflon tape, over-tightened the connections and crossed our fingers.  Sometimes it worked, and then other times, well, you know.
Then we met this guy in the plumbing aisle.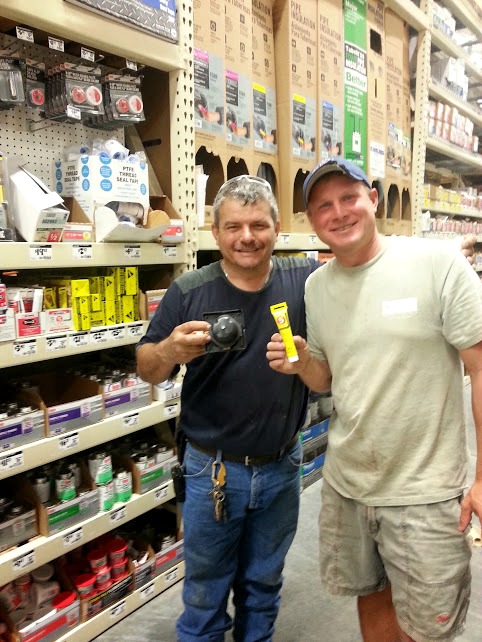 Apparently if you stand in the plumbing aisle looking confused at all of the options while holding a shower valve long enough a nice plumber will decide to solve all of your problems.  Seriously, this guy was great. More than great.  And we didn't even get his name.  But our exchange lasted long enough that I thought, I totally need photo evidence or this little experience is just going to die in my memory.
So far this year the plumbing aisle has proven useful for working out and making friends.  🙂
And his insistence that we use this pipe thread sealant hasn't failed us as.  I just dab a bit of it on right over the teflon tape for any threaded connections like the ones we had on the new shower valve.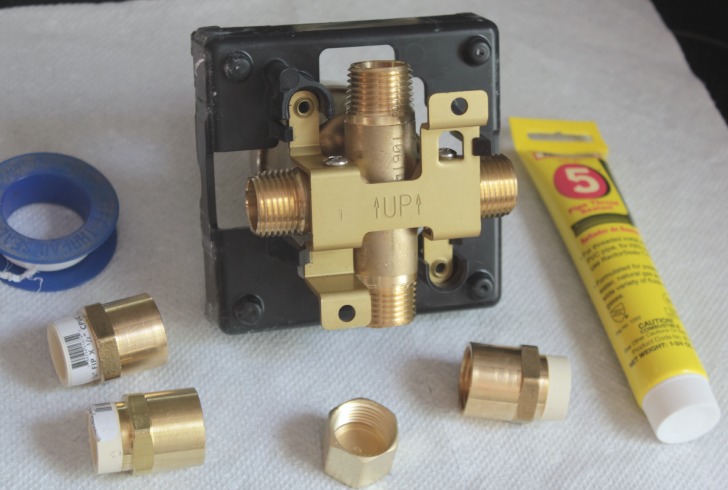 Wrap the teflon tape as tight as possible around the threads in the same direction that you will then thread on the connection.  Righty tighty, lefty loosy.  🙂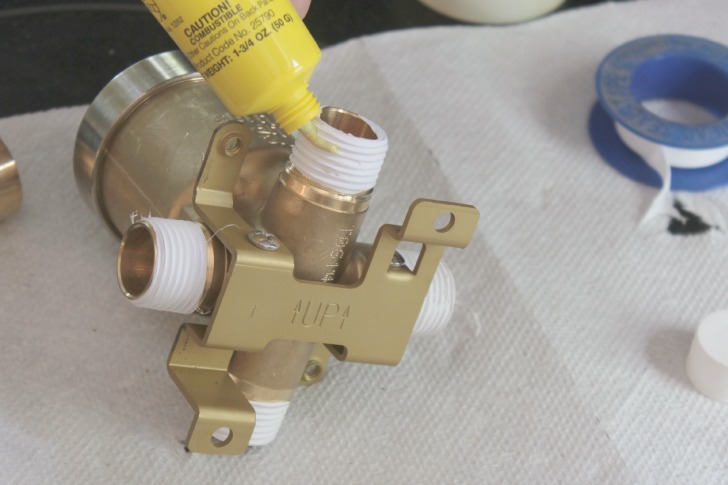 And I just use my finger to spread the sealant evenly.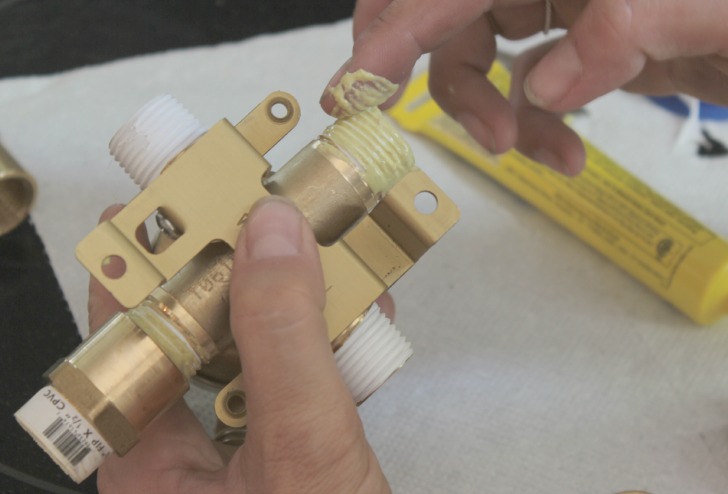 One half turn with a wrench after you've hand-tightened the threads as much as possible should do it.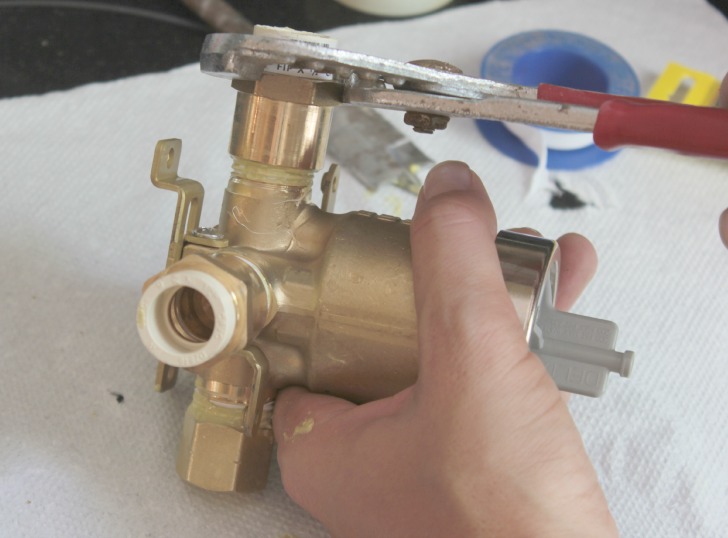 With the new valve hooked up to our water supply lines we followed the instruction to let the water run for a minute to get any sediment out of the lines before installing the new valve controls.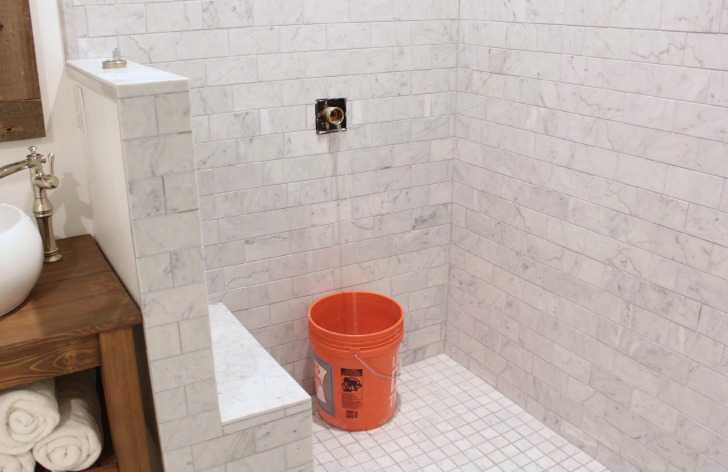 And then it was just a matter of closely following the easy to follow instructions.  Slowly.  And one at a time.  🙂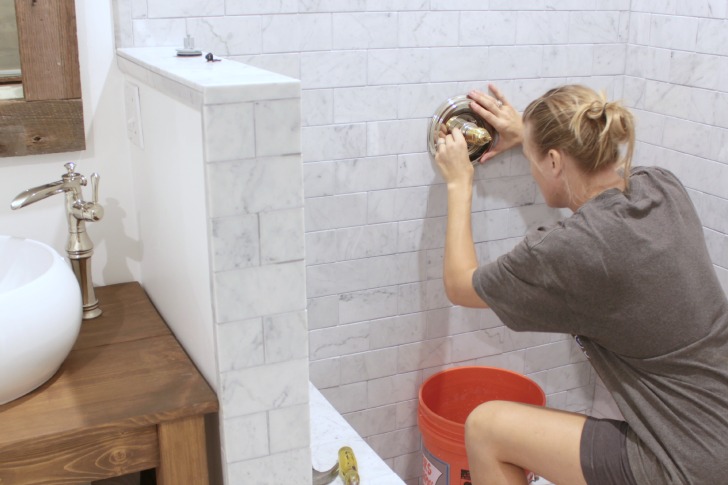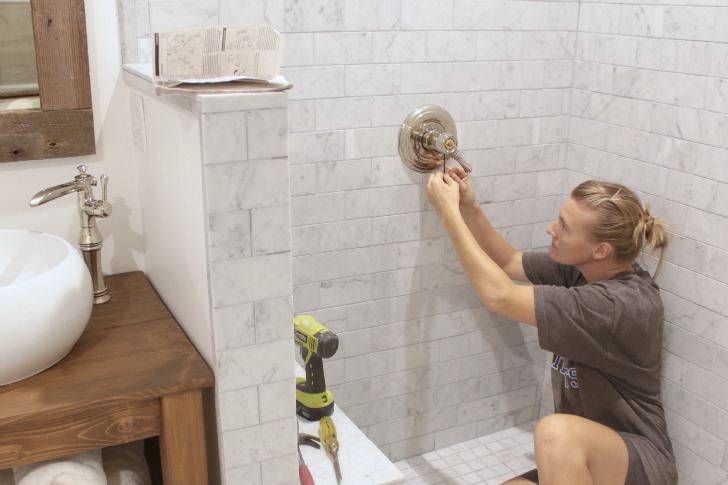 At this point I was so excited for that first shower I pretty much fell off the taking picture bandwagon.  But we used the same teflon tape then sealant technique to attach the shower head arm to our water supply and the rain shower head to the arm.  Don't forget to slip on the flange before you screw everything together.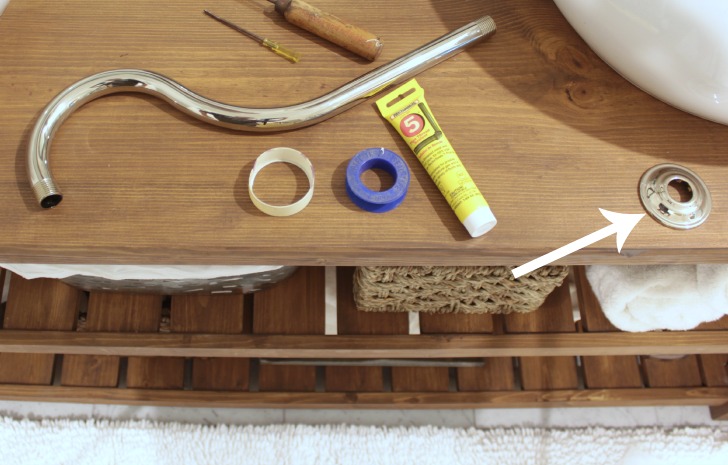 And if you need me, I have not left the new bathroom since this little project has been completed.  Even though the shower glass hasn't arrived, there apparently is a little missing glass incident so if you live in the Miami area and see any 1/2″ pieces of glass that look lost please send them my way.  🙂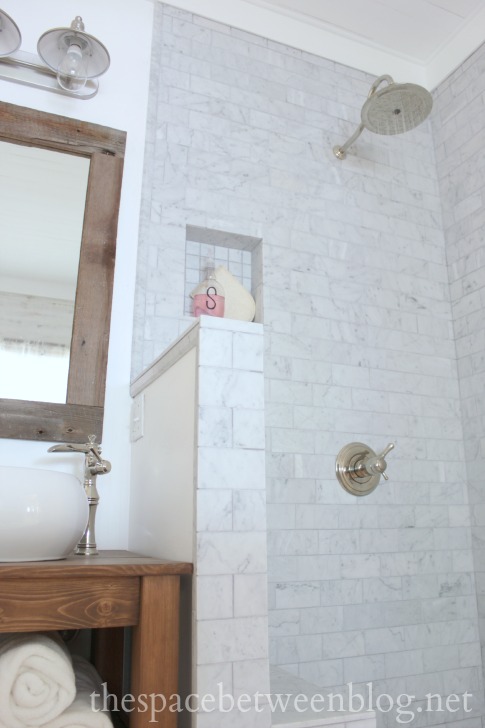 The fact that the shape of the rain shower head mimics the shape of the vanity lights I chose and that we installed it at about the exact same height as the lights is the kind of thing I would like to tell you I planned.  So I am going to tell you that.  Just know that is a lie.  🙂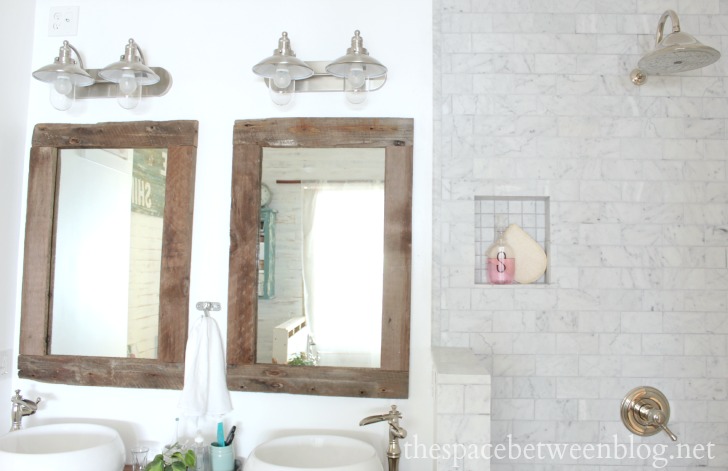 The exact fixtures that National Builder Supply sent me for the renovation (Huge thanks NBS!) are the Delta Cassidy Single Hole Bathroom Faucet and the Delta Cassidy Shower Faucet and valve.  I think they are the frosting to the cake, or the peanut butter to the jelly or whatever food related combo you like best.  The perfect amount of bling to compliment the more rustic elements in the room.
Now tell me, are you a rain shower head person or the fancy-multi-control-body-spraying-shower type?
And, just because its funny and I'm from Maine, you should check out the Flannel City Faceoff that Duluth has put together.  Are you from an area famous for flannel, I am I think you should all vote for Portland, ME to win it all here!
And today I'm sharing 20+ Fall Decorating Ideas over at Remodelaholic.com, I found some great ideas to get us in the spirit of the season!