Joel's birthday was Saturday.
To be honest I have to think way too hard to realize exactly how old he is.
My bff actually asked me.  She'd think it would be a good idea to make a big deal if it was one of those milestone birthdays.  You know the ones.
The ones that end in 0 or 5.
Lucky for me it turns out it's only one that ends in a 4.
Phew.  😉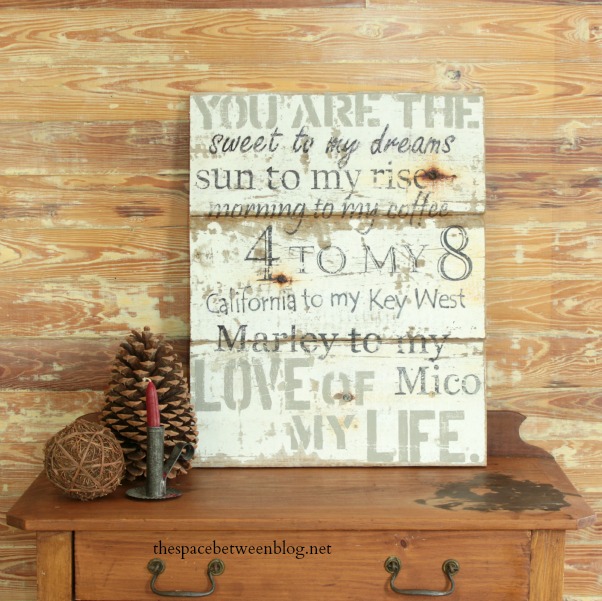 We're not really birthday people.
We like to make the most of the everyday.  Turns out we made this commitment to each other a few years back … after 10 years of making the most of everyday completely of our own accord … we thought it would be a good idea to proclaim this commitment to everyone we know.
Turns out that wasn't really a good idea.
It was the best idea ever.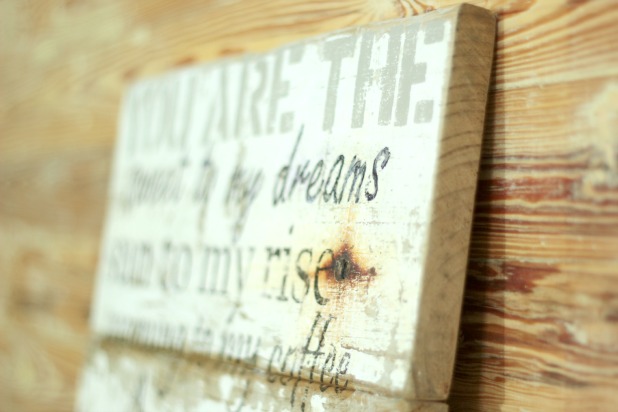 And just because birthday gifts are inconsistent and holiday cards are more (or is it less) than infrequent, doesn't mean there isn't an abundance of love in these parts.
Somehow, it turns out that I really did marry the man who can pick me up every time I'm down and take my breath away when I least expect it …
… and push my buttons like nobody's business.  😉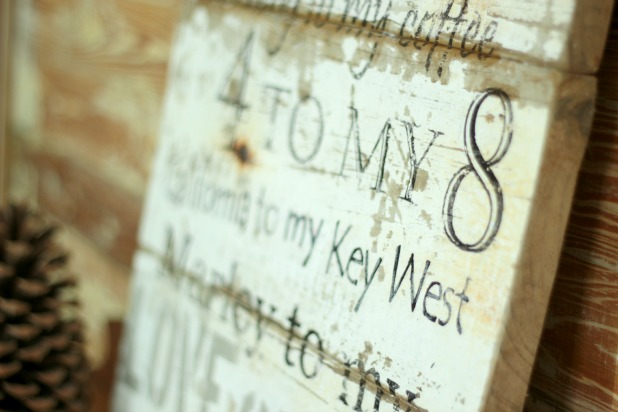 To quote Ben Affleck "[Marriage] is work, but it is the best kind of work.  And there's no one I'd rather work with."
So when Joel was away for a few days last week for work (the kind of work he probably thinks is the best kind, hahaha) I got a little idea to make him birthday gift.
I actually saw a wedding gift that @mytimesdesigns posted on Instagram.  It started with 'you are the' and was followed by a bunch of fun stuff, the first one was 'peanut butter to my jelly' and ended with 'love of my life'.
So I thought it would be fun to put a more personal spin on it and make some things up and use the little play on words to make something that really means something to us.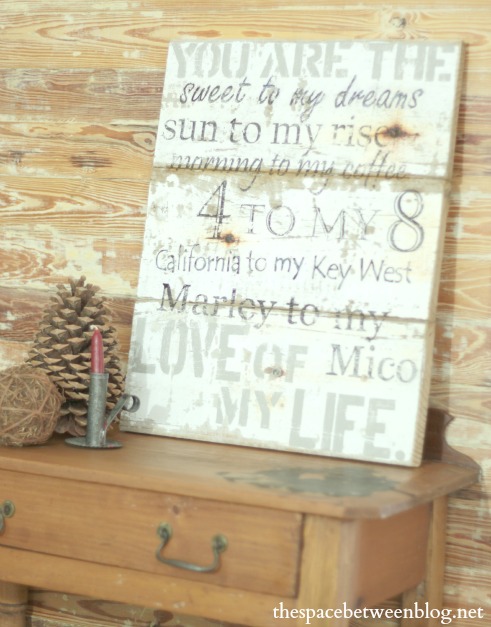 From the little innuendo of calling each other 'my sweet' to indulging in one of our favorite past times, coffee at sunrise when we're on vacation.  Celebrating our favorite sports team, the 48, in addition to where we met (California) and where we are now (Key West).
And most importantly putting down in writing that Marley is his dog and Mico is mine.*
*that is not at all true
But one of the oldest jokes in our repertoire.
From the first time our younger sister of a dog showed her feisty side, and our quiet soul of an older sister dog showed her steadfastness in dealing with all situations of Mico's crazy … it was meant to be.
And it seriously is the best work I will ever do.  The marriage thing, that is.
This word art is pretty cool too, with its built-in imperfections.  I used the same tutorial I wrote out for you here.  And here are a few things I learned this time around.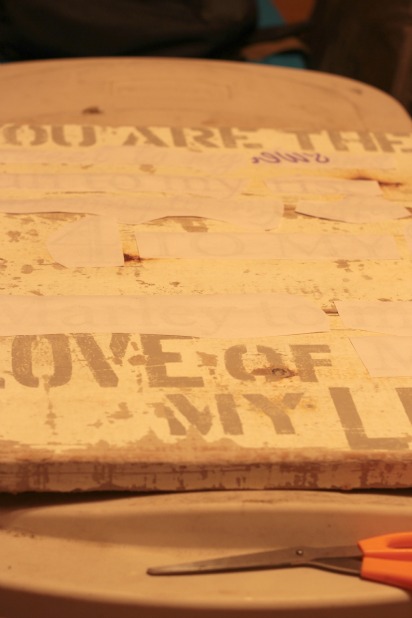 Cutting out the print-outs as close to the wording as possible and then dry laying it out and then taking a picture of it proved to be a good idea.  I had a lot of rows I was trying to coordinate into a finite space and once I had a layout I liked I just snapped a shot so when I got to the adhering step I just referred to the picture and replicated the set up.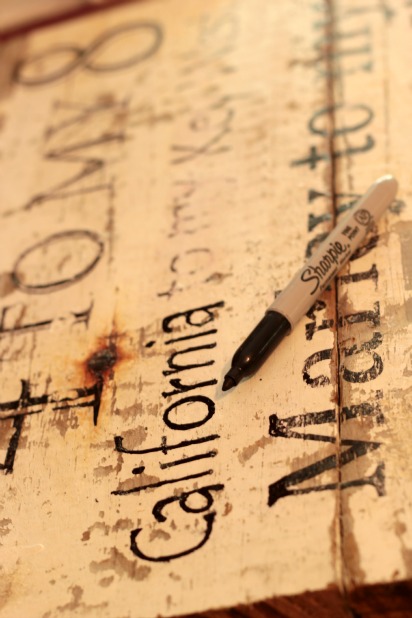 This technique is going to give you a distressed, imperfect finish … which I really wanted.  But for some reason the line that started with "California to my" just didn't really transfer. I don't know if it was that font or what, but it was easy to fix with a sharpie and then I brushed over a little gray paint so it wasn't so stark black.
If you want a distressed background, do that before you transfer your image or text, this technique wouldn't hold up well to sanding I wouldn't think.
I used my favorite brass stencils for the "you are the" and "love of my life" parts and sanded them a bit with 220 grit sandpaper before I did the image transfer.
Oh, and I got super fancy, and went all out with the wrapping and the card.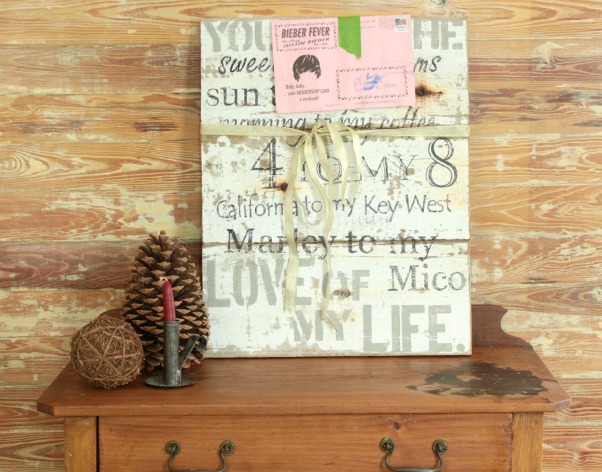 That card says that Joel is now officially a member of the Justin Bieber fan club.  It's from his sister-in-law and it's awesome.
So I reused it.
And even signed the card inside.  LOL
I wrote "because we love a free card".
If you missed the part about us not usually making a bid deal about birthdays please scroll up.  😉
And one last look.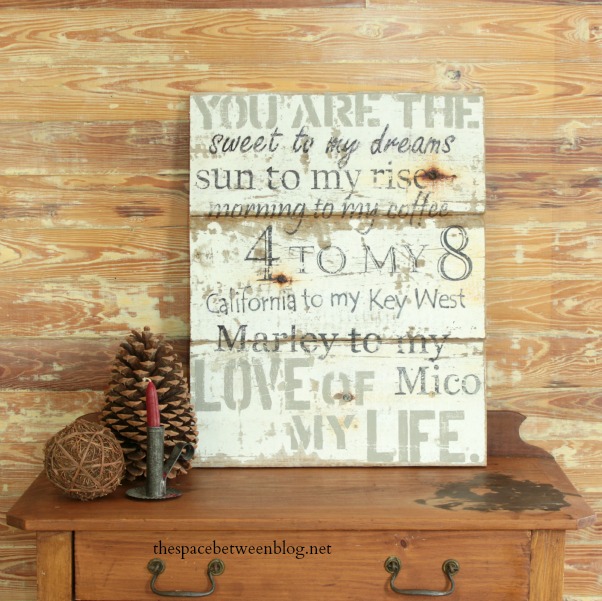 Update: Here are the fonts I used (line 1 is 'sweet to my dreams').  Line 1 – Freestyle Script, line 2 – Californian FB, line 3 – Pristina, line 4 – Castellar, line 5 – Tempus Sans ITC, line 6 – Georgia.
And, the wood I used for the backdrop started as a 16 foot long board I found at the beach in Curacao. Then it became an old wood desk.  Then a backdrop for our easy DIY driftwood fish.  And these are scraps I cut off to make that backdrop the right size.  Now I only have one more piece to work with … more on why I have a rogue piece here.
Happy birthday my sweet (not that he reads the blog).  To many, many more … however old that makes you.