Who's planning to spend some time at the beach this summer?
Would you believe it if I told you that we moved to Key West in January and I haven't been to the beach once?  True story.
That could have something to do with the fact that we moved here from a Caribbean island with the most beautiful water on earth.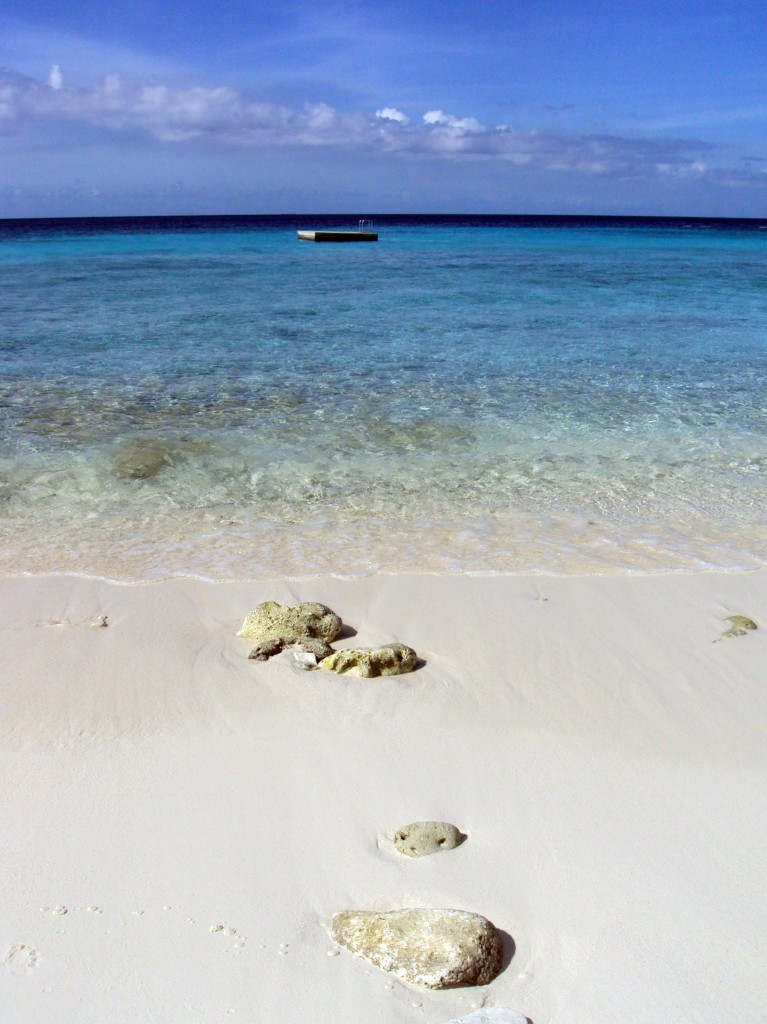 Or, more accurately, that I'm not really the lay on the beach type … I'm more of a scour-the-beach-for-seaglass-and-driftwood girl so I can whip them into easy craft ideas.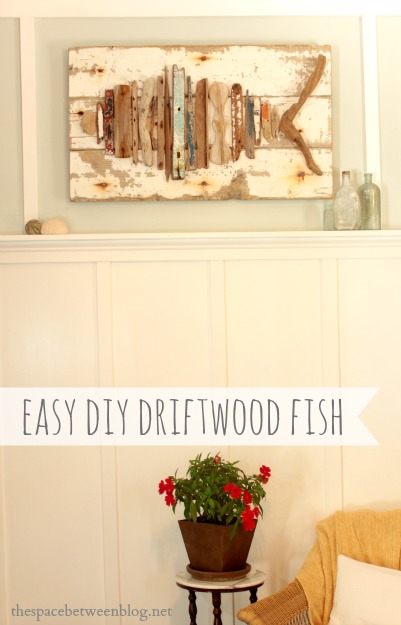 And this easy craft project is proof that there are projects that can take less than 15 minutes and have a huge presence in a room.
I'm super excited to be participating in a series called Craft Lightning, where a group of bloggers is putting together a great resource of beautiful craft projects that can be completed in 15 minutes or less.
Now, if you count the time I spent meandering the beaches of Curacao, this project doesn't qualify.  But if you are a driftwood collector and have a backdrop and a glue gun and a spare 15 minutes, this is the project for you.  🙂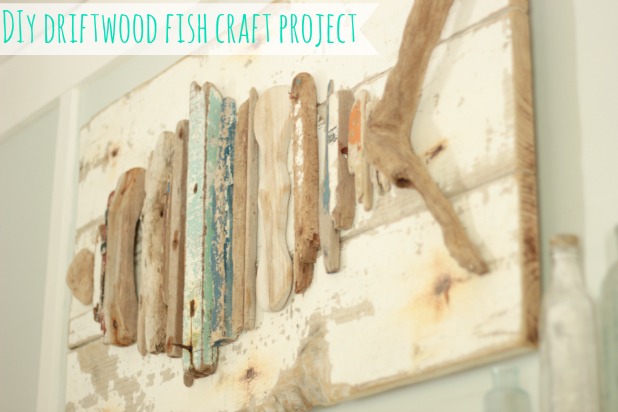 The first step is picking a backdrop for your craft.  It could be a frame with craft paper in the back or a painted piece of wood or anything, really, that fits with your style and is flat.
I had just the perfect thing for us … another piece of driftwood.  🙂  It started as a 16 foot long board I found at the beach in Curacao and last year made into a desktop.  After a quick chop down to size I had the perfect backdrop for my easy little craft project.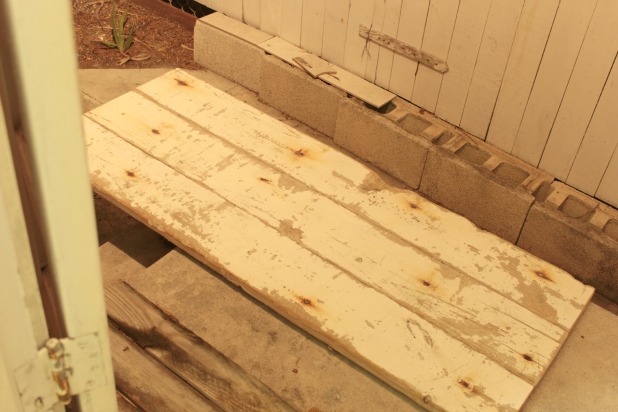 Please just ignore everything else in that picture, this side of the house hasn't gotten much attention since we moved in.  🙂
And I'll take this opportunity to apologize to our neighbors who have no idea I have a blog for whipping out the circular saw after 9pm.  My bad.  🙂
Once you have your backdrop, plug-in your hot glue gun and layout your pieces of driftwood in the shape you desire.
I knew I wanted a fish shape, but how about a tree shape for Christmas or a heart for a child's bedroom or even a monogram would be fun!  You're really only limited by the sizes and shapes of your driftwood.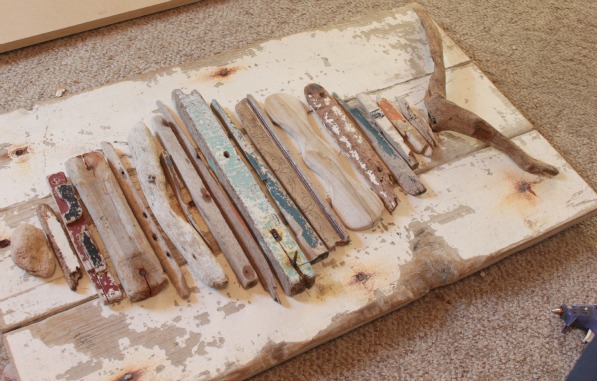 Then just glue each piece one at a time.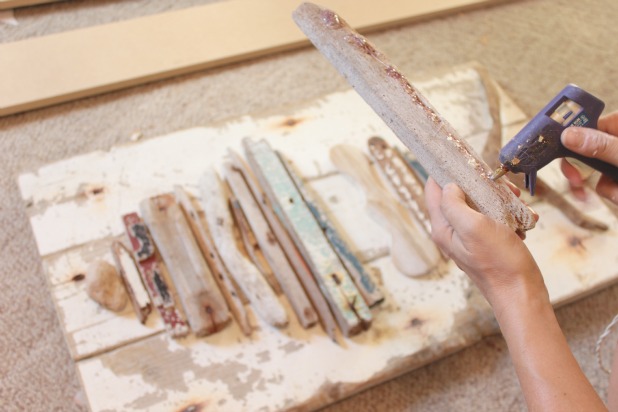 And hang.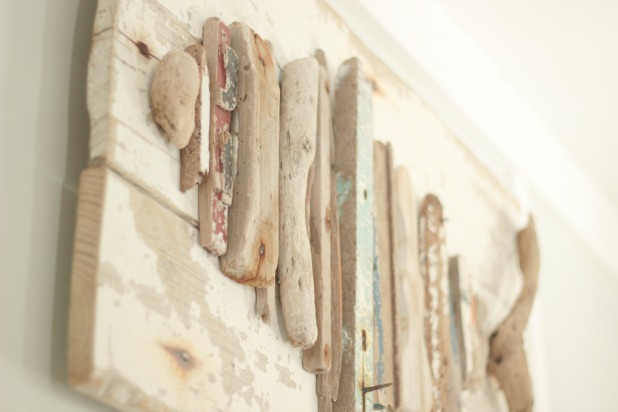 We just screwed eye hooks into the back of the wood and secured a heavy gauge hanging wire, then screwed a heavy-duty hook into the wall … we have wood slat walls, but depending on the weight of your project you should probably look for studs.  🙂
Super easy, right?!?!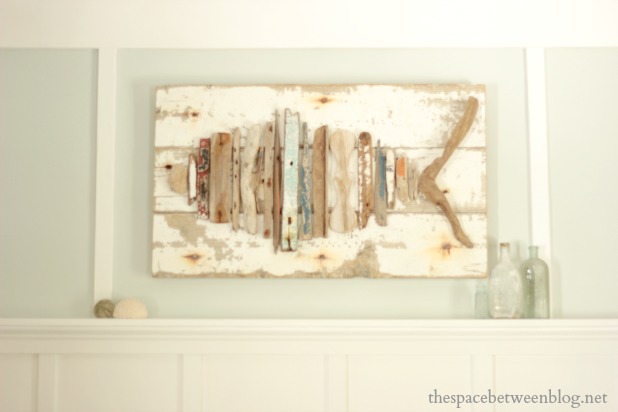 And this piece is 37 inches wide and 25 inches high, not only is it the perfect statement piece for our new board and batten wall, but I love that we can create something so unique and meaningful to us in less than 15 minutes and for nothing more than the cost of the hot glue.
And if you're wondering exactly what 'statement' this piece is making I think it's "I love driftwood, and fishes and chippy wood and pizza" … or something like that.  😉
Update:  I finally discovered the art of whitebalance.  Sorry for all of the yellow-ey pics above.  Geesh!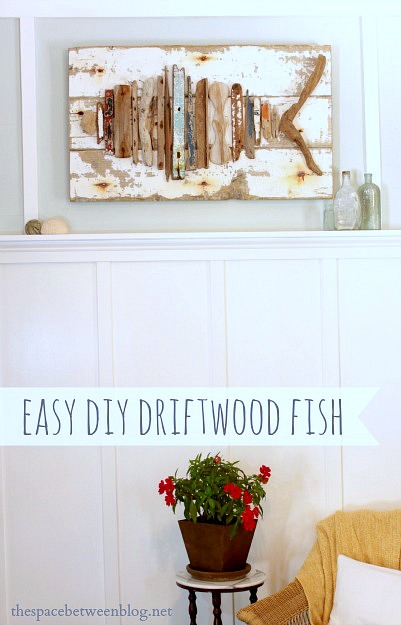 If you, too, love driftwood check out how you can make your own driftwood Christmas tree, driftwood and seaglass Christmas craft or other random driftwood craft ideas.
And be sure to check in with Angie of Country Chic Cottage and Carolina of 30 Minute Crafts to find so many more easy craft ideas that you can do in 15 minutes or less.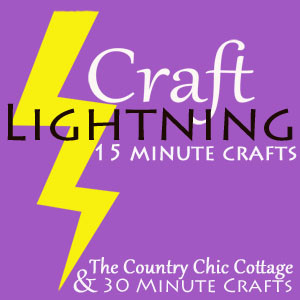 Do you craft with beach finds?  Or would you rather just lay on a comfy beach chair soaking up the sun?