… yes we do.  We have furniture, how about you?
Sooooo, ummmmm, yeahhhhhh.
I know I said here that Joel and I were going to be staining and finishing up the floors in the living room and dining room over the weekend.  And I totally meant it at the time.  🙂
But something completely unexpected happened and we just got verbal approval for a permit we thought was going to take forever months to pass.  Holla!!!
This is a biggie for us.  What we want to do involves getting rid of this weird little ceiling lip thingy in the front of the living room that was the house's original porch.  And is now the … vestibule!!!  See the name debate here, you guys are some informed people, that is for sure.  🙂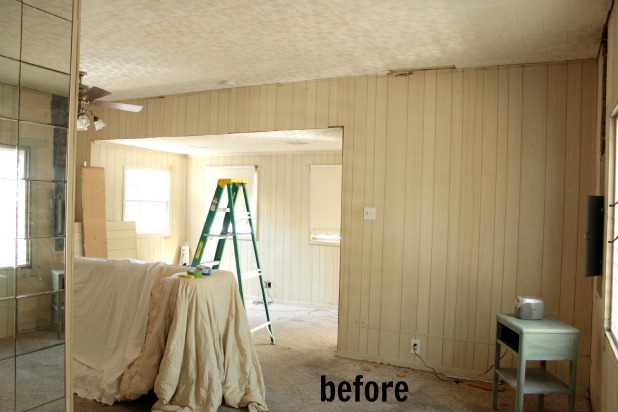 There are a bunch of other things we're planning to sneak add onto the permit … but this all means that part of the roof needs to come off.  Say whaaaaaa?
And tarp is going to be used.
And it's rainy season here in Key West … and potential for bad things to happen to our newly finished hardwood floors.
So, I actually gave you a sneak peek of the furniture we now have in the living room and dining room on Friday.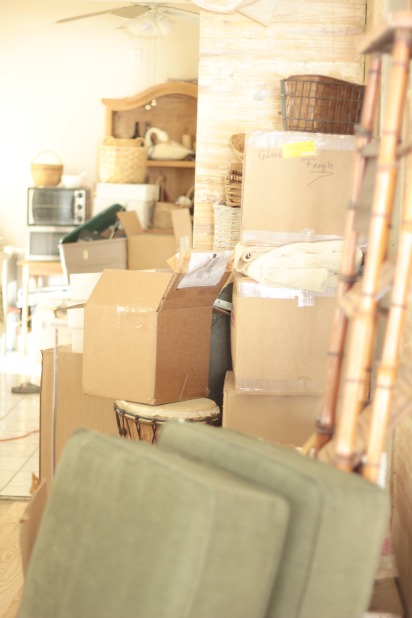 Because sofa cushions totally count as furniture, right?!?!  🙂  Oh, but they're not alone … there's a dresser in there, too. #andtwodustychairs #we'reclassyandweknowit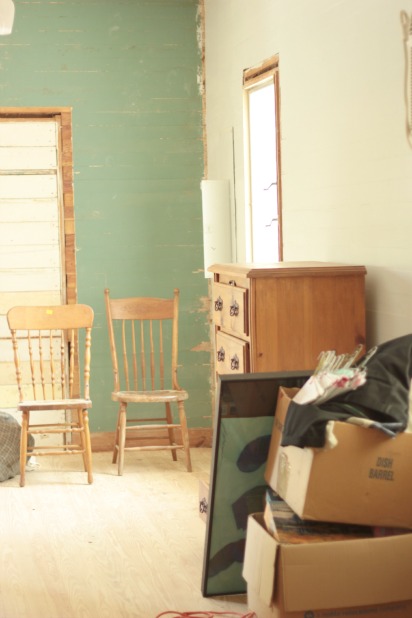 It's actually quite comical, when it's not totally depressing.  :/
Upon Mr. Floor Guy's suggestion, we're leaving the floors in the unfinished state throughout the roof rebuilding process (which hasn't started yet) and then he offered to come back in and give them one final sanding when we're ready to stain.  Big hug to him for that!
But the reason we have a dresser in our dining room is because we had been using our guest room as a storage room and our closet and now that we're delayed in finishing the main living areas the paneling in the guest bedroom Is. Going. Down.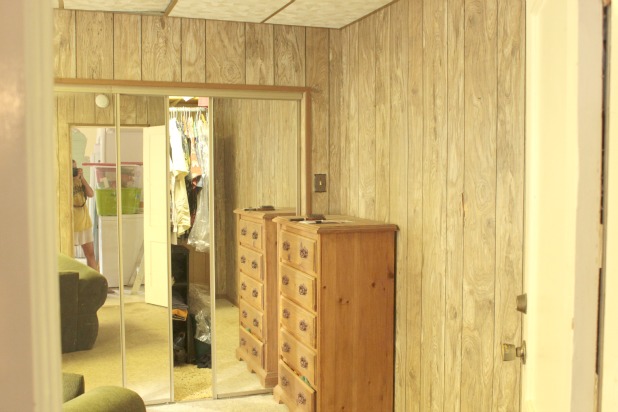 Literally.
A few hours of rearranging boxes and pictures and random accessories that almost seem silly at this point (when all one does is move things around and pile them up it definitely makes 'things' seem pretty insignificant) out of the guest room I find myself with a brand new clean slate.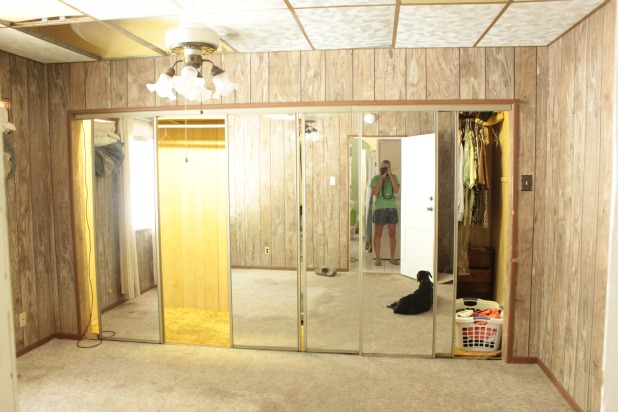 Do you not just love that black dog for how much she loves to be near me, no matter what I'm up to?!?!
I'd say it was about two-thirds of the way through the room-clearing-out process that I stopped focusing on the things that needed moving and I started focusing on the excitement of having a new bare space to work with.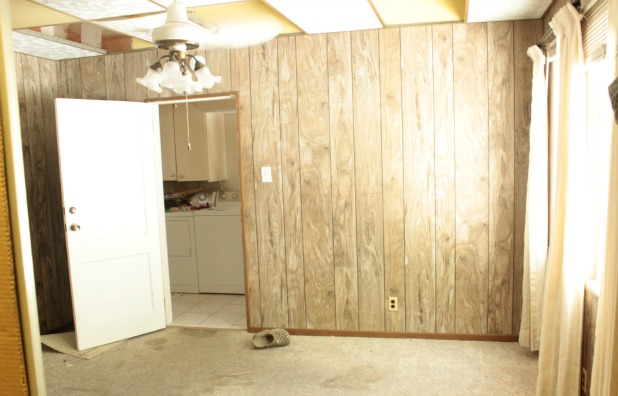 Like every room in this house, every singe surface needs fixing.  A few of the large drop ceiling tiles already found their way into the garbage since we didn't want the HVAC vents installed down to that level.
And I had entertained for a hot minute trying to spackle over the grooves in the paneling and just painting right over it … but then there's this.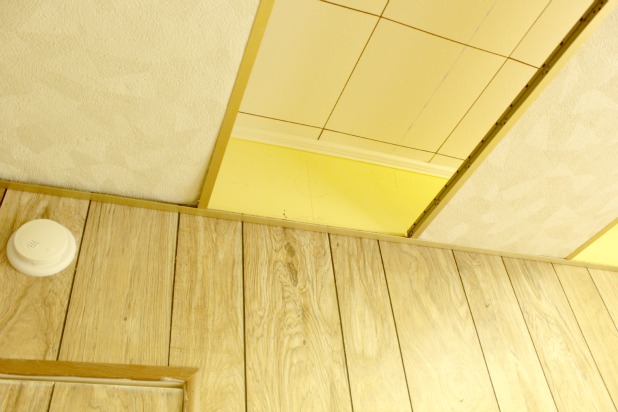 The paneling doesn't go all the way up to the ceiling.  Womp womp.  But once that drop ceiling is out of there we have another nice high ceiling on our hands.  Albeit more drop ceiling tiles, but I have to admit I am in love with all of our high ceilings.  The vertical space somehow counteracts the lack of square footage.  Literally everyone who comes in the house (yes, we actually let people see this mess in person) says "you have so much space in here!".
She is a hidden treasure.  We pinch ourselves everyday that we have the opportunity to turn her into something awesome. #giddydiyersweare
And then there's this.  hahahaha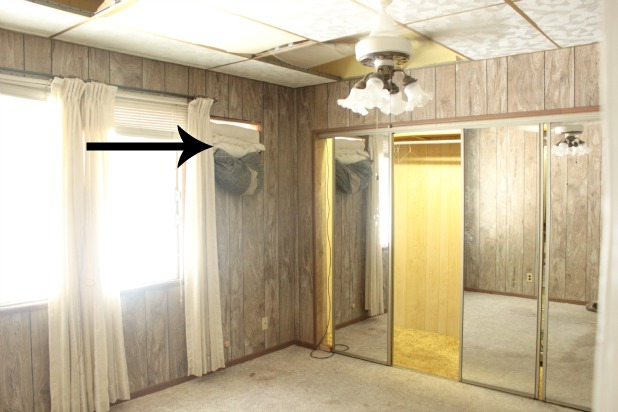 There was a window AC unit installed right into the wall.  Thank you again previous owners.  But with a few tools and a lot of will and determination Joel manhandled the beast out of there a few nights ago.
Yes, the dog bed filler is just temporary.  😉
Clearly there is a lot to do in here.  There are some big plans like moving the current-mirrored-wall-of-closet, refinishing the hardwoods that are under the carpet and installing french doors that lead out into the backyard.  Exciting!
And a lot of smaller scale plans involving headboard ideas, potentially an accent wall and all the fun details and accessories that will hopefully turn this place into a great spot for our guests.  Equally exciting if you ask me!
I can't get away from seeing this space with a light, bright rustic-nautical spin.  I'm thinking grass cloth and rope and a boat on the ceiling.  Ok, maybe not the boat.
Now I'd be remiss if I didn't add a quick apology here to our friend Jen who actually visited us last week.
In preparation for her arrival I whipped the room into shape fit for only a true friend. (aka – we moved the sofa out of the living room to clear the floors for the 'floor guy' and into the guest room to give her somewhere to sleep)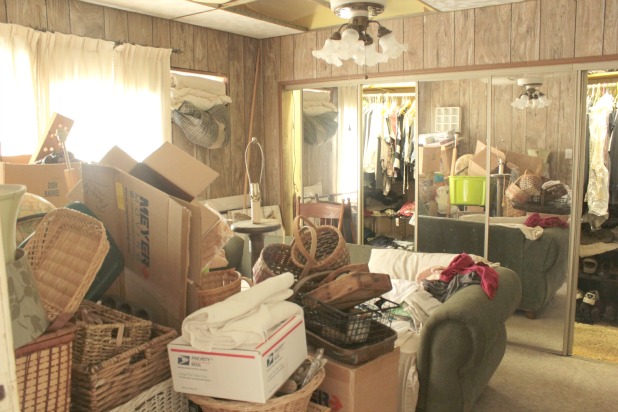 This might help you understand how I feel that just having the space empty is an accomplishment.  😉  I mean, if the foreground of that picture isn't enough, check out that pile-o-stuff in the mirror reflection.  Yowzas!
So, that's what I'm getting my hands into this week.  What about you … do you find the small details as exciting as the grand plans?  Do you see this room going rustic-nautical?  Do you get giddy about an empty room to make your very own?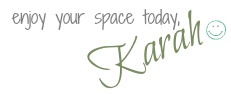 Oh, and I updated the budget breakdown page, it is amazing how quickly it can add up.