Hey guys!  Tiling is going strong around here.  And by that I mean Joel and I knocked out the floor in about 7 hours on Saturday before we drove to Miami. (Might not be my recommended strategy for everyone … just ask my lower back, and knees and every other aching body part.)  Thank you so much for the input on laying the floor tile.  There are just a few trim pieces that need to find a home around the shower curb and it'll be time for some grout.
I don't know if I really emphasized here enough how much I actually hemmed and hawed about marble.  I love the look and just wasn't sure it was what I wanted for the bathroom, I was worried it would feel uppity or too ritzy and you know I like me some rustic, reclaimed, used up goodness.  But geesh, if I could take these gray dot long octagon floor tiles to dinner and a movie I totally would.  I am in love.
But since that whole deal isn't done, and the longer it takes the more I am dreading all of the grouting, and just pretending in my mind that it is going to be one of those surprising quick and easy tasks (don't ruin it for me!) I wanted to show you some fun progress around here that was quick and easy.  Ta Da!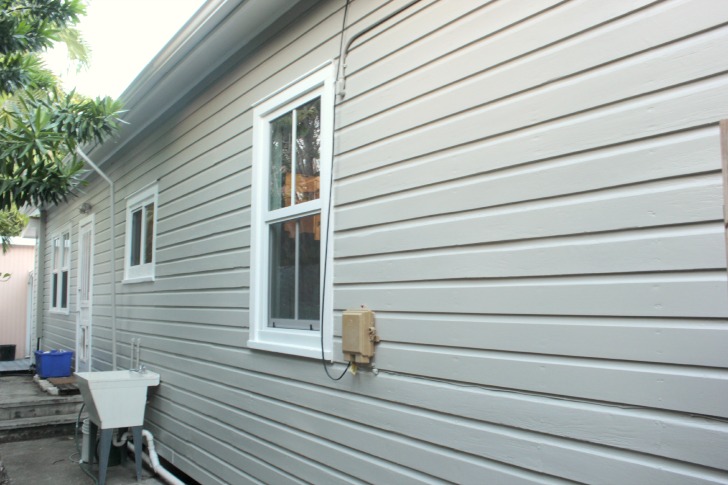 Not exactly the most glamorous of shots, I know, an it's still not the whole house … but over the course of two days a crew of 4-5 guys came and scraped, caulked, primed and painted about 1/3 of the exterior of the house, leaving only about 1/3 left to do.  It was great to continue making progress on the bathroom and have a crew working on something I really didn't want to do myself.  It always amazes me to see the progress of 4-5 people working together versus my lonesome self.  It seems miraculous.
Joel and I had taken a day and thoroughly cleaned the side of the house they were going to paint.  It was amazing how much chipping paint came right off.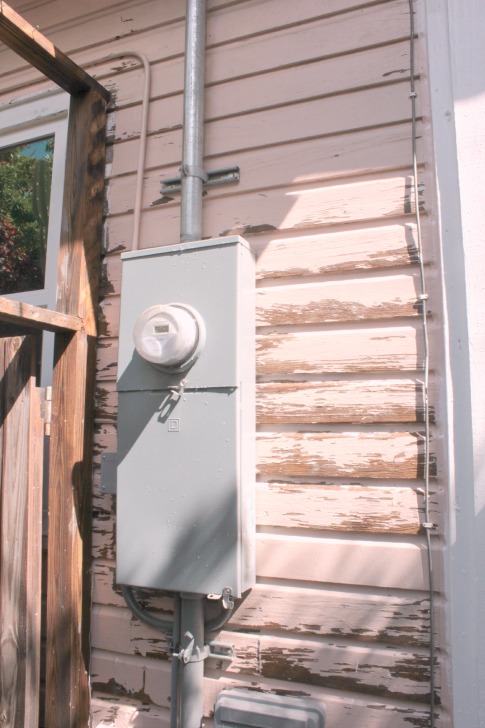 We also removed all kinds of random unnecessary wires that were run along the exterior.  Here is Joel contemplating what to keep and what to yank.  And the plan is to paint that shelf unit the same color as the siding and hang it out there and create some sort of weather resistant cover (out of canvas or maybe boat upholstery material or something) to store paint and other supplies.  I know it sounds weird, but storing things outside is pretty typical around here, and that side of the house is somewhat sheltered from the normal direction of rain, and there's a nice, wide overhang from the roof.  But you can still judge, it seems hillbilly, I know.  #EmbracingOurRedneck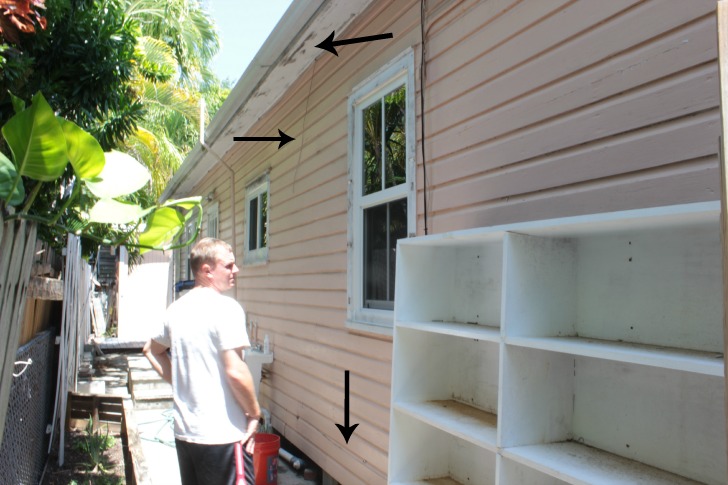 And here was our arsenal of tools … it was amazing how many random screws and brackets we were able to remove along with all of the old wire.  We kept the telephone box and the cord coming in from the street but we removed pretty much everything else.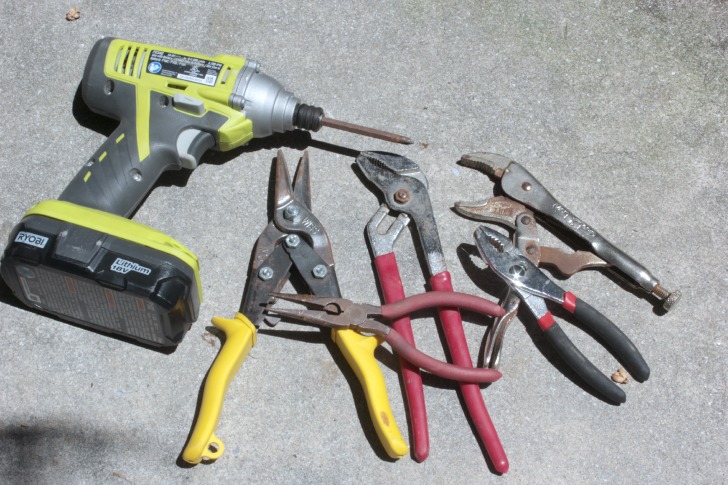 And after a through cleaning and removal of the chipping paint we were anxious to have someone else get the new color on.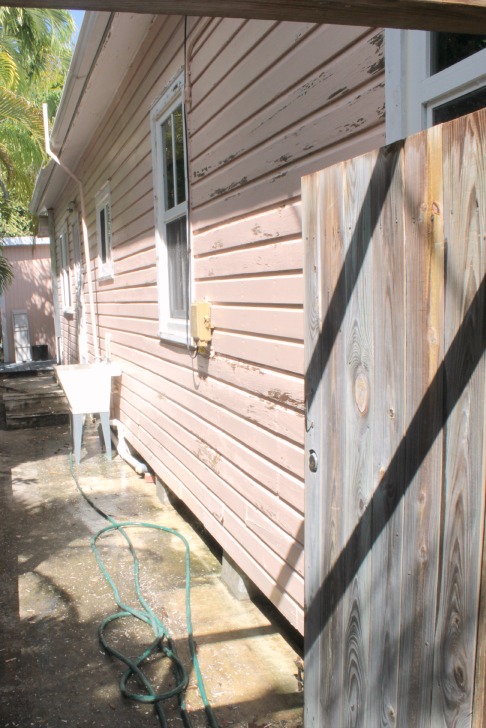 The first day they were here they scraped more, sanded and caulked.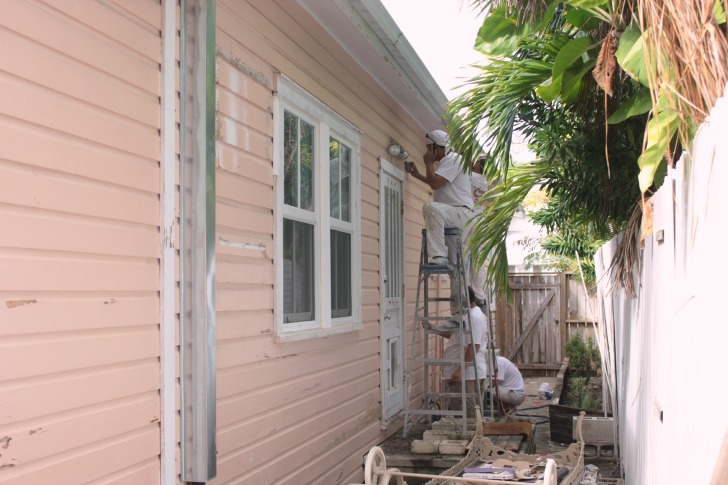 The morning of the second day they covered up anything that we didn't want to paint, like the pipes that hook up to our AC unit, and spot primed any bare wood.  Mico what quite intrigued by the whole deal.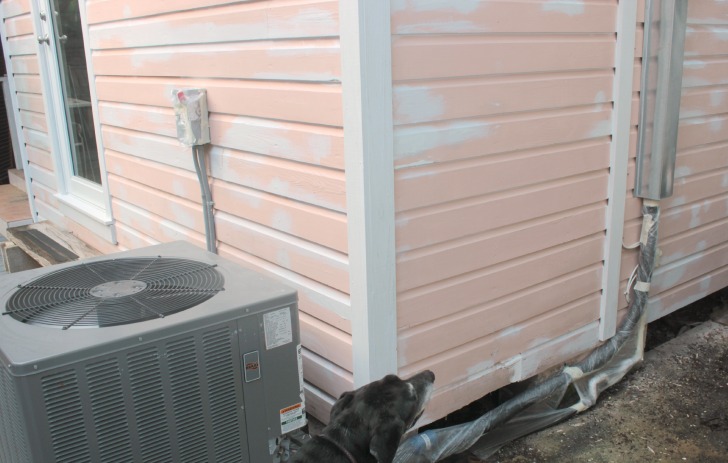 Any by the end of day two they had a few new coats of white trim paint on everything, including our gutter (which we were convinced we needed to change out, but they salvaged), and the new color still catches me off guard and makes me smile uncontrollably.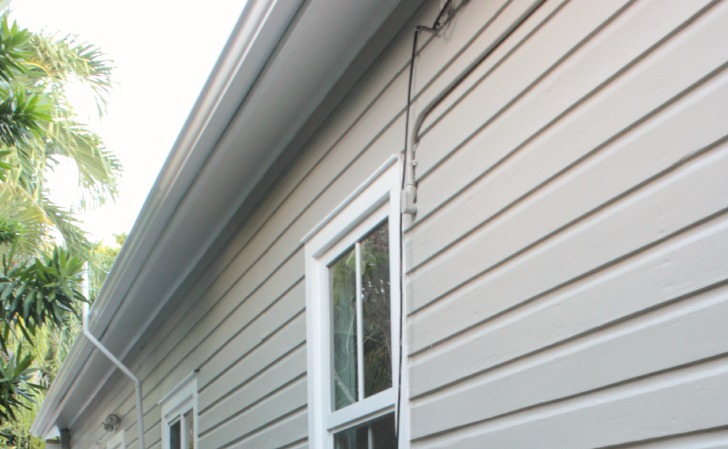 For some reason they didn't paint the telephone box, so I'll have to tackle that at some point (add it to the list) but they did paint the electric panel, that was already almost the same gray color.  Go figure.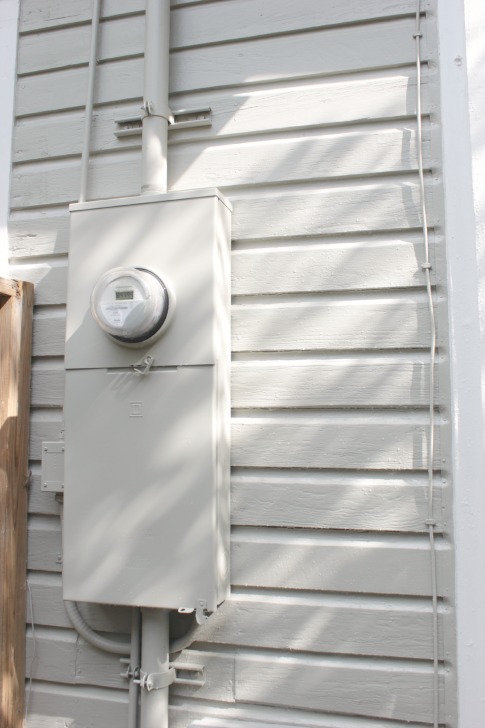 They actually used a paint sprayer that was very similar to the Homeright sprayer we used on the parts of the exterior we did tackle ourselves.  And here are a few points of interest from our experience with the exterior painting project.
prime the trim (if necessary) first – if you spray the siding first then you have to cut in on the trim twice, once with the primer and again with the paint, if you prime before you spray the siding you don't have to be as neat about it and only have to cut in when you do the paint on the trim after you spray, I learned that one the hard way when we sprayed above our front porch before I primed the trim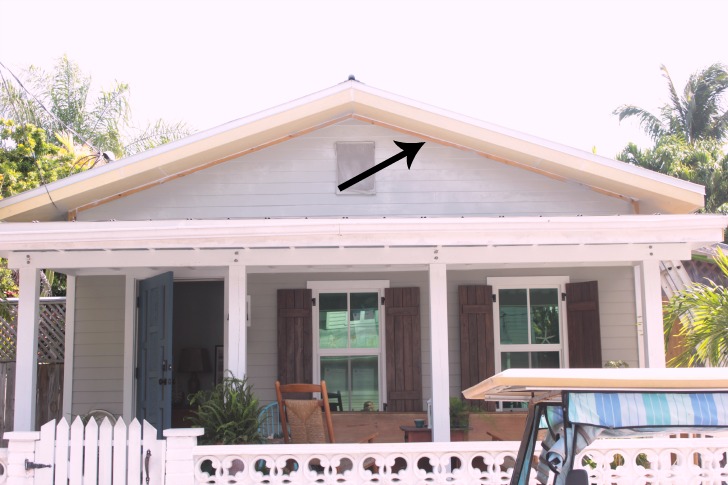 we left the inside corner trim pieces gray because they got a solid coverage of the gray paint when we sprayed … but they aren't primed so we'll see how long we can go before I need to go back and prime and repaint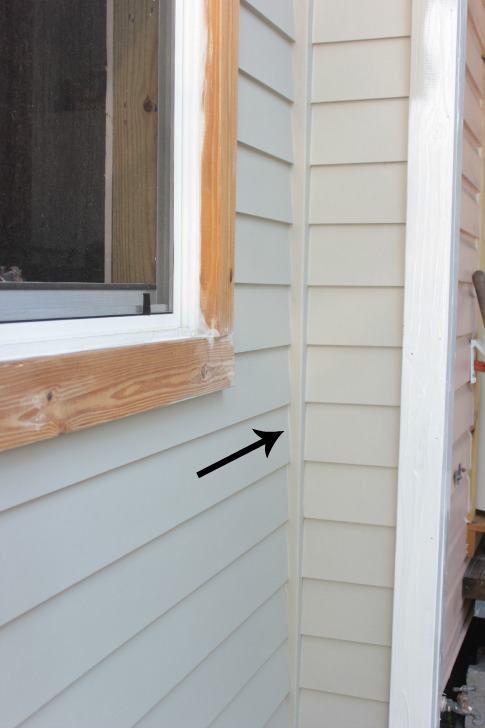 it seems less noticeable if some gray paint creeps up on the white trim than if some white trim creeps out onto the gray paint, when cutting in the trim I didn't quite bring the white paint all the way to the siding for that reason
one super cool thing about the sprayer we have is that clean up is a breeze, you just run water through it until it runs clear, that takes about 5 minutes and then place the sprayer nozzle in water in between uses, no cleaning required … and definitely hold onto the manual if you do get a sprayer, I've referred to it every time we've used it so far to  troubleshoot … it was a quick reference to remind us to thin down the paint just a tad when we had trouble getting it run properly the second time around.
One more step in beautifying our curb appeal.  We're far from done, but any reduction in the peach paint makes us happy.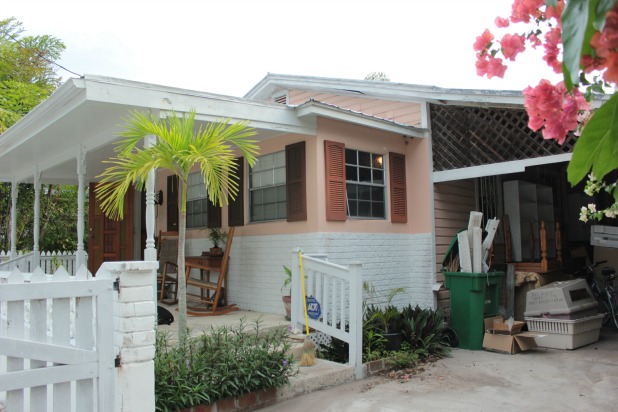 You can read all about our curb appeal ideas, how we removed the faux brick and even how we raised the roof.  She's coming around.  🙂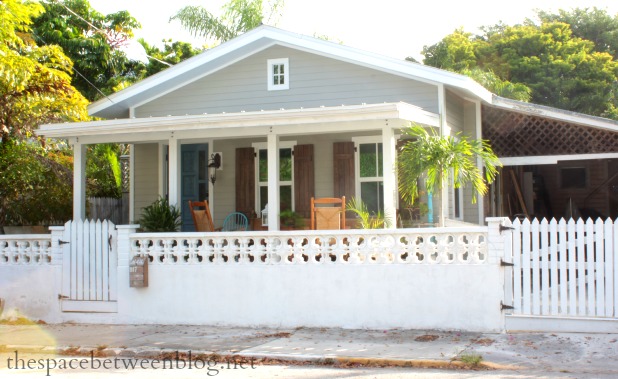 Now, back to the bathroom.