I saw this funny e-card the other day that said something like "Now remember ladies, chevron is the new floral wallpaper".
Funny, right?!?!
And it makes me wonder, what would be the e-card for drop ceilings?
I'm not nearly witty enough to think of any right now, but I know you guys are.  🙂
I don't even know what era it was that they were invented or how they became so popular, but isn't it interesting to look at your house from the perspective of the people who last updated it?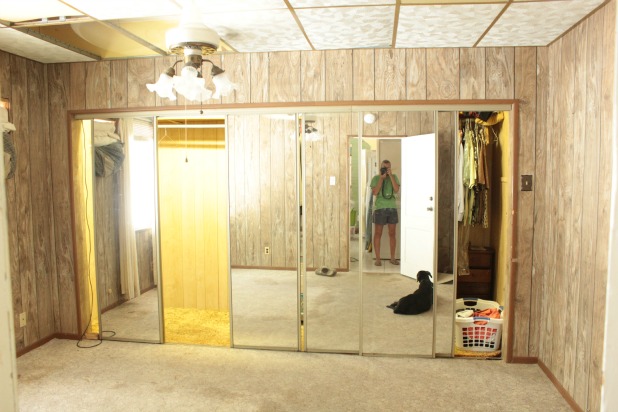 Gold rimmed drop ceiling, driftwood color paneling, orange shag carpet in a closet addition well placed behind a wall of rolling mirrors.
She was stylin' in her hay day.
She had bling, she had glam, I bet some would even say that she had style.
But we definitely thought it was time for a change so it took me about .03 seconds to get to working on removing our multiple layers of drop ceiling.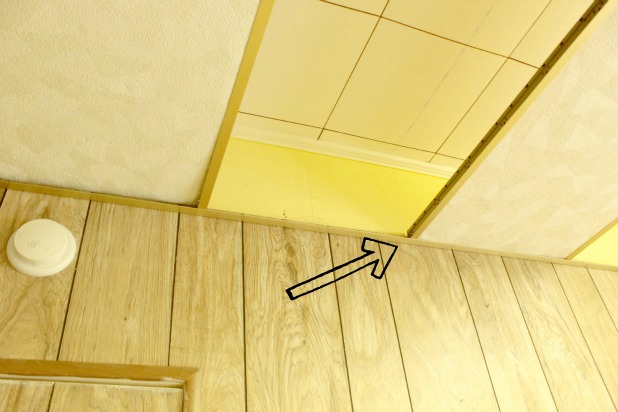 The drop ceiling tiles themselves are made out of insulation and are super light and easy to remove.
But any part of the metal track that has been cut for installation will be super sharp.  They sure do look harmless, but they can be lethal, leather gloves could come in handy here.
And don't forget to shut your breaker off if you need to work around any lights or a ceiling fan.

Don't worry mom, this scene was much less hazardous than it looks.  🙂
All of those wires hanging down are what were attached at random to the drop ceiling track going through the center of the room, keeping it level.
I found it easiest to just un twist them with my fingers.  But you could easily use needle nose pliers, or if you had a good pair of wire snips that would work, too.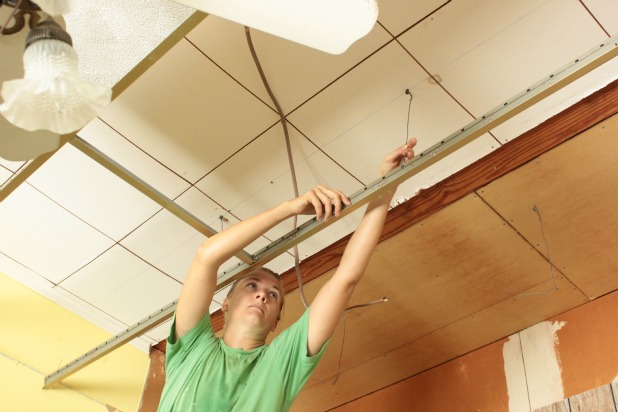 The old nails in our solid wood ceiling joists are what proved to be the testiest step of the process.
Have you ever noticed how lightweight new wood is compared to the good old stuff? Amazing.
Anyway, I didn't have to deal with those nails until we had the upper layer of drop ceiling removed. Because one drop ceiling per room is clearly not enough.  😉
Even though the ceiling tiles were 24 x 12 inches, twice the size as the ones we had in our living room and dining room, I used this exact same method of removal.  And made myself a big ol' mess.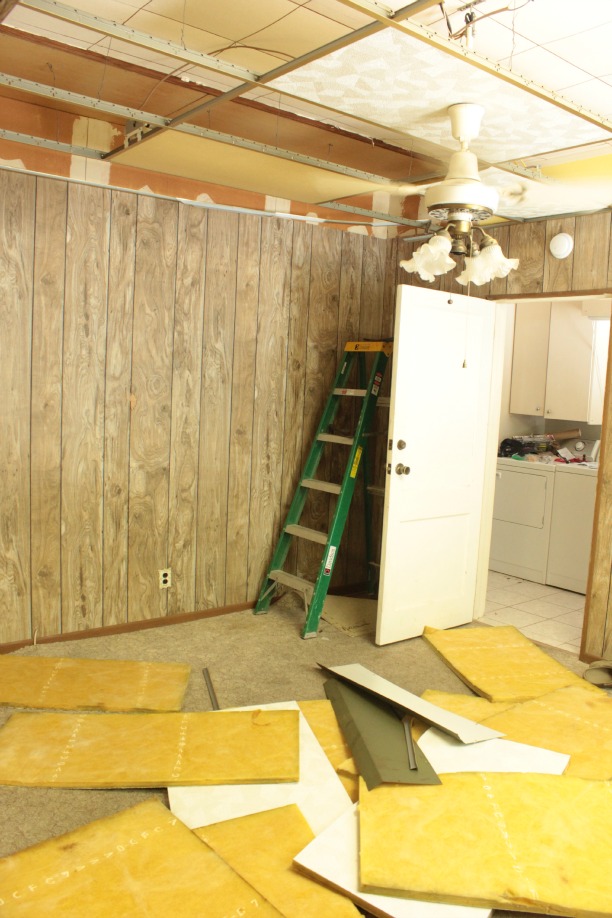 And the metal track nailed around the perimeter of the room came out pretty easy with our pry bar and hammer.  More info on using that great tool right here.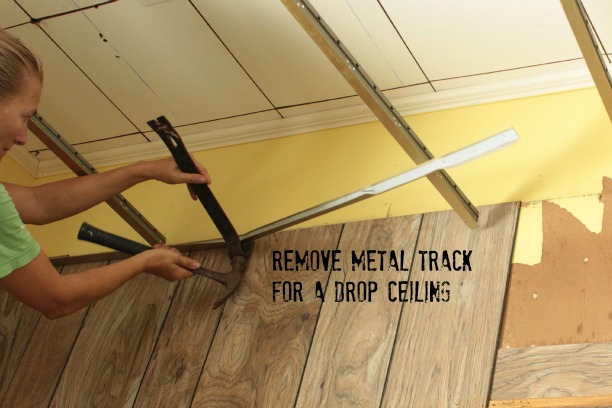 As for those pesky nails and wires, luckily we have a few odd layers of wood everywhere in this house in the ceiling so the ones I couldn't muscle out, using a hammer, I just bent the nails, with the wires still attached, so they wouldn't interfere with our eventual drywall installation.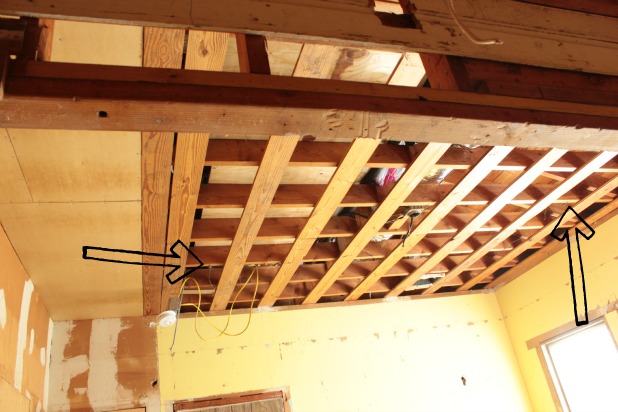 Overall, this is not a difficult project but it can be time-consuming and tiring as you're constantly going up and down your ladder and working over your head.
I find good music to be the perfect distraction during those necessary, yet monotonous types of jobs. You know, like filing, data entry and drop ceiling removal.  🙂
One more step in the journey to a new guest bedroom.  There are only so many "tearing down" steps … the build back up is when I think it gets exciting!  Spackling and priming and painting here we come!