It was either when Joel was replacing the wood floor in our vestibule or when I was staining the floors in the living / dining room that I posed the question "should we paint or stain our front door threshold"?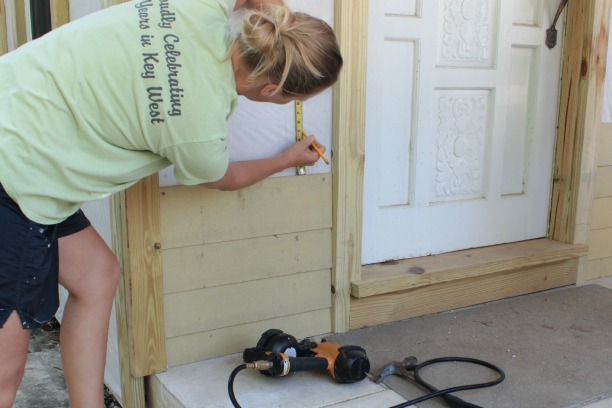 The threshold is new pressure treated 2 by something that we installed when we updated all of our new exterior trim.  It's extra wide (2 x 10 or maybe even a 2 x 12, read: too lazy to get up and measure it right now) because of the whole process that we went through to build out the exterior over some old faux brick and then install siding over that.  And has just been a big hunk of unfinished wood for months.
And call me crazy but I didn't know people did anything other than paint the threshold.  I thought we were all living together in a painted threshold world.  But Joel wanted to stain it the same color as the floors so I immediately posed the question on social media, ready to bombard him with the responses in support of paint.
And I was schooled in the world of not-painted thresholds.  So this happened.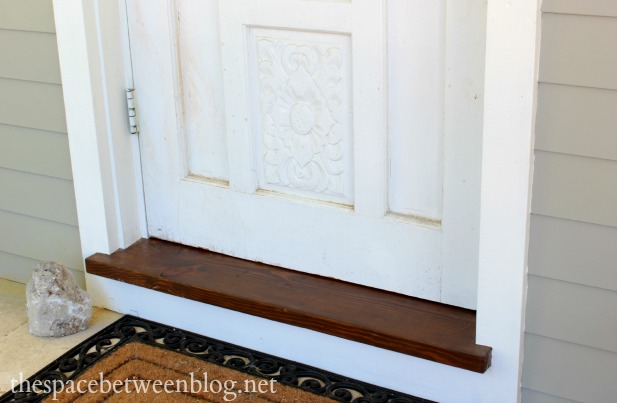 You'll have to look past the dusty mess of the door, but beneath that what do you think? I immediately fell in love. It just felt so rich and grounded, whatever that means.  I am seriously in love with wood tones these days and have to give my husband some props for the suggestion.  A stained threshold, who knew?!?!  Apparently everyone but me.
That picture gives a much better representation of our exterior house paint color as well, Dewey House Grey.  The grey and white and brown.  I love!  And that door is jonesin' for an upgrade so hopefully she'll fit better in this new color arrangement.
As for the how-tos, it's pretty straight forward, but I'll spread the word on a few things I should and shouldn't have done along the way.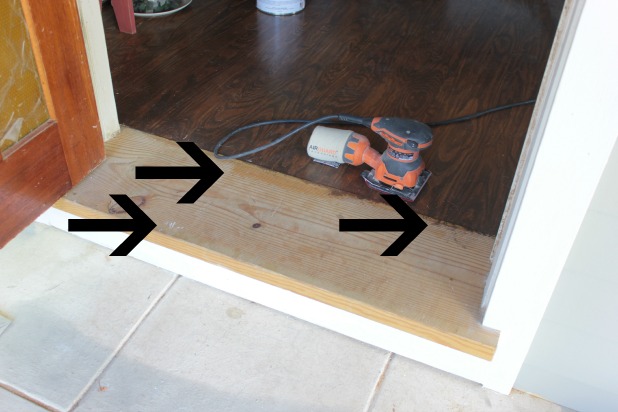 I had a bit of a mess on my hands to get started because I had lived in the "all thresholds are painted" world with blinders to any alternatives for far too long.  When I stained the vestibule floor I splattered on the threshold, when I polyurethaned the floor I drug some of that onto the threshold and as I've been making small bursts of progress priming and painting the exterior trim I've gotten a little haphazard at times.
So I started with a thorough sanding first with a course grit sand paper then medium and finishing it off with a fine, 150 grit sandpaper.  When I was done you could still see some spots of rouge stain leftover from the floor staining process.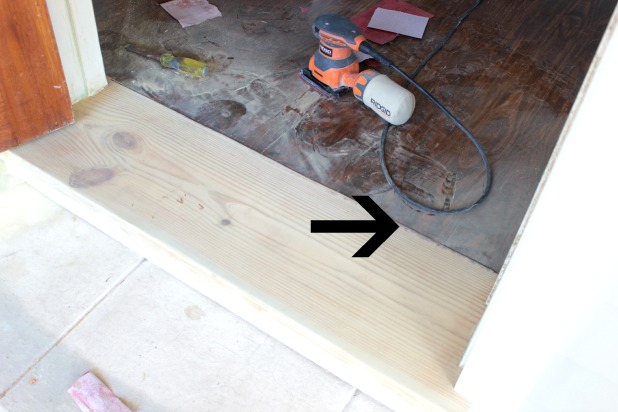 I taped around the trim and used a folded piece of sandpaper to sand right up to each side of the door trim.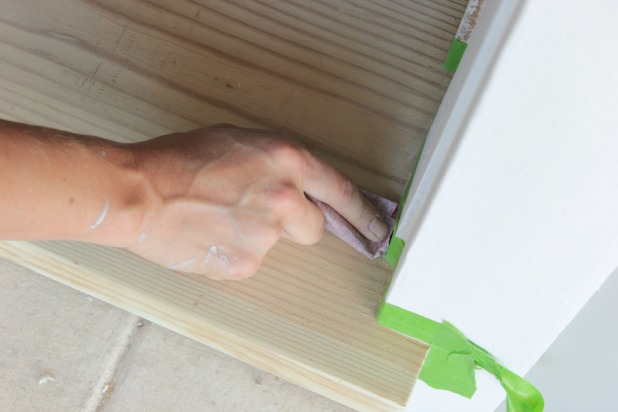 One of my main concerns was whether pressure treated wood would accept the stain the same way as the pine flooring did in the interior.  Just to give it a little extra boost I grabbed some deglosser I had on hand leftover from a kitchen cabinet upgrade we tackled at the Taj Mahal and wiped down the threshold.  Like what happened with our exterior trim while caulking I think it worked to our advantage that this wood had about 5 months to cure.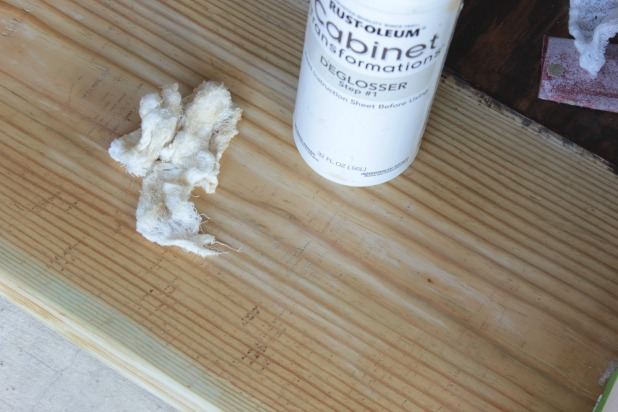 The curing process gave the chemicals used to pressure treat the wood time to dry up, but it also gave us time to use and abuse this heavy traffic area.  The deglosser really brought out all of the scratches an imperfections, but I forged on.  I figured worst case scenario was that we'd end up painting her to cover up all of the imperfections.
After one coat of stain we were in pretty good shape.  The biggest imperfection that you could still see are the stain splatters I had created while I had stained the living room floor.  Lesson learned – take the time to sand those out thoroughly.  I went back for another coat to try to blend everything in just a little bit better after this picture.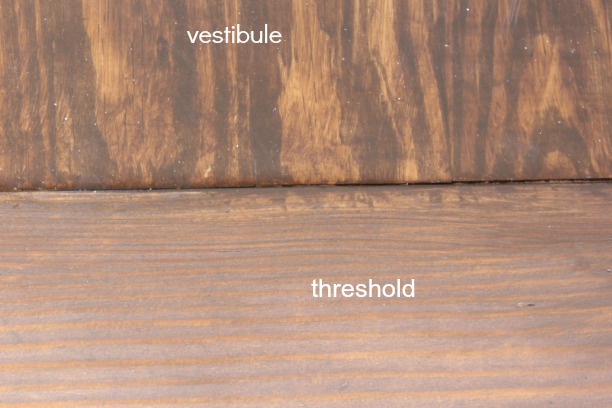 You could also see some of the old scratches and marks from our use of the threshold through the months, but call me crazy, it didn't really bother me.  This guy is going to get stepped on so many times while we're here and it is going to acquire it's fair share of dings and bruises, I'm just not worried about perfection here I guess.  If you are, then definitely spend more time on the sanding phase, get all of the little scratches and dents sanded smooth before proceeding.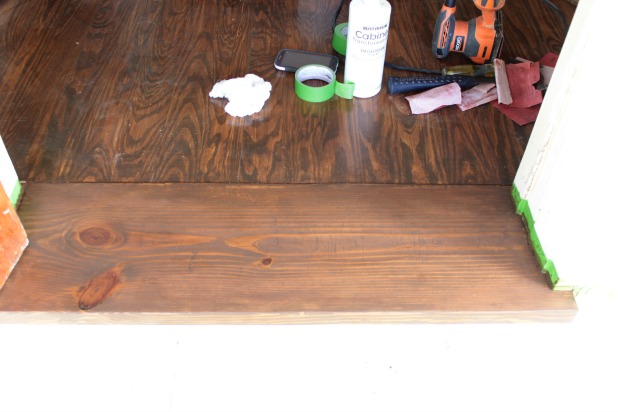 Our door actually does not drag on the threshold, which would be a concern in extreme temperature locations, or at a door that is exposed to the elements.  But since we're in a mild climate and the door is nestled under our extra-large front porch roof it's not an issue.  And it helped because I didn't have to remove the door for this project.  During both the staining and polyurethane steps I just swung the door open or closed depending on where I needed to work.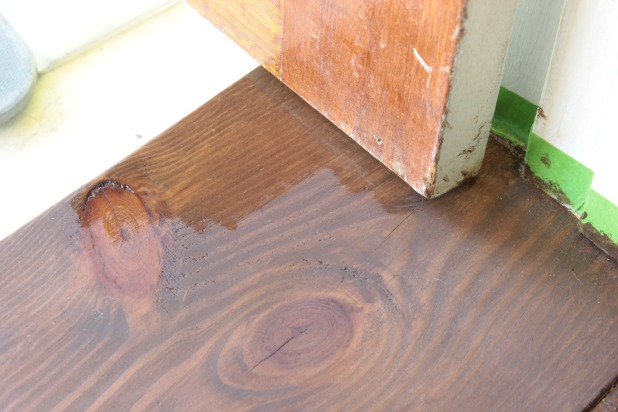 I used the same stain we used on our interior floors and the same satin finish polyurethane that we're using all our interior wood flooring, its ZAR brand fast drying formula and a paint brush from the Dollar Store to apply is so I could just through it out when I was done.
And after one minor puppy mishap, let's just say there might have been a paw print wiping up experience, we ended up enjoying this view for a day or so just to give everything a chance to really dry.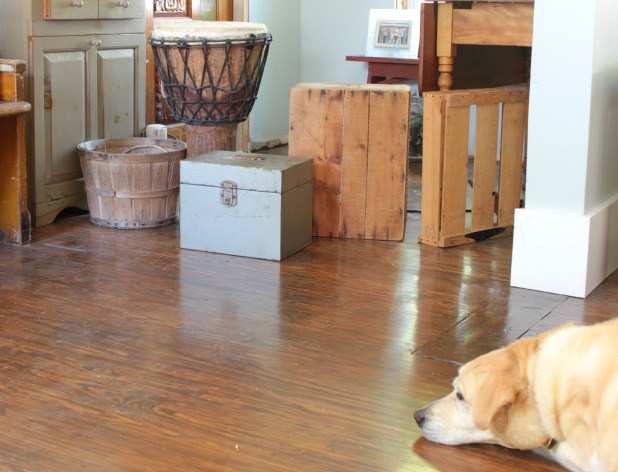 When it was dry I taped around the bottom of all of the door trim to touch up the paint, creating that contrast I love so much between the rich wood tone and the clean, white trim.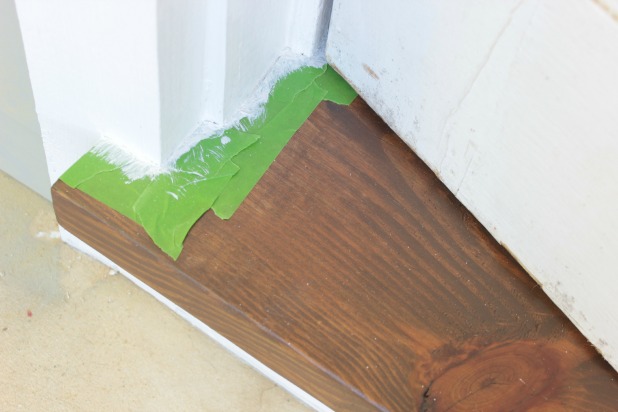 And now I can add this to the list of projects that were completed the way Joel wanted, just ammunition for when someone tries to claim that their opinion doesn't really matter when it comes to this little house project of ours.  🙂
And if you take a gander up you'll see we're in the process of tackling the underside of the porch ceiling as well. The project that is taking forever, and making every shoulder and neck muscle I have cry in pain on a daily basis. But she sure is starting to look pretty.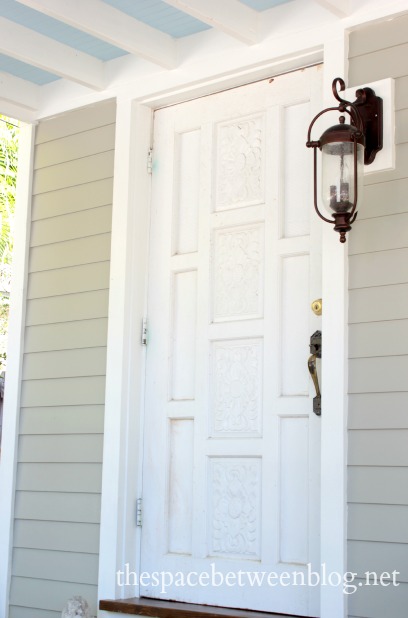 And front door, you just wait, you are on the short list, that's for sure.
Tell me, are you in camp "painted threshold" or "stained threshold" or a different camp entirely?  Are you swooning over all things wood tone, too?  Does the blue ceiling have you dreaming of this little front porch's potential?  Let's take a second to remember where we started shall we.