Five reasons you, too, will love a keyless entry at your house.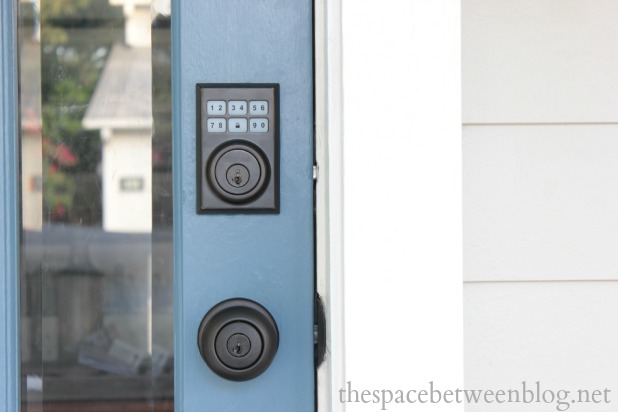 5 – This accessory instantly makes you feel cool.  For those of us who have never really been cool in life, it's kind of a cool feeling.  You cool people have had it made.
4 – The autolocking feature is my favorite thing of all time.  That might be an exaggeration, but it is 100% awesome for so many reasons.
3 – Like when I walk the dogs in the evening, no more key to hold with my phone and poop bags and dog leashes, the door locks when we go and a simple keypad entry lets us back in.
2 – You can program up to 8 different codes.  Dog sitter needs a code?  No prob.  Workers coming to the house, they can have their own code, and then when they're done you can reprogram that code and not have to give your dog sitter a new code because they have their very own.
1 – It is pretty dang stylish for a technological thing.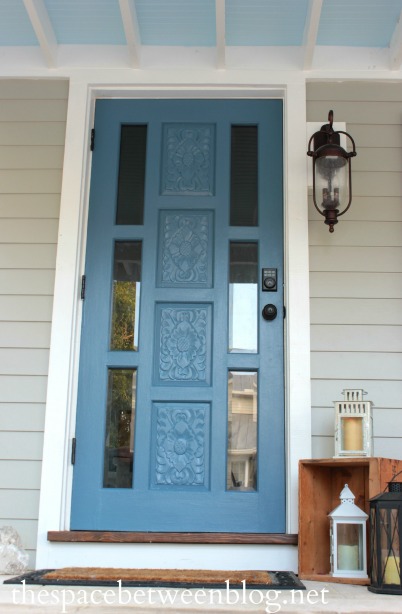 I'm not sure why these things make me so happy, maybe it's because we live so close to the street.  Or in such a 'transient' community where there's always a decent amount of neighborhood foot traffic walking about.  And using our key to consistently lock and unlock the door when we are home is entirely too much to take on.
I seriously just love it.  That I can walk up to pilates in the morning and not rush around trying to find my key to lock the door when I am already running a few minutes late.
Or maybe it's because we're in Key West, and oft heading out wearing shorts and t-shirts and who wants to carry a house key if they don't have to.  So maybe it wouldn't have the same life changing appeal to you.  But it was a neat feature I thought would be fun to have, and I am now madly in love.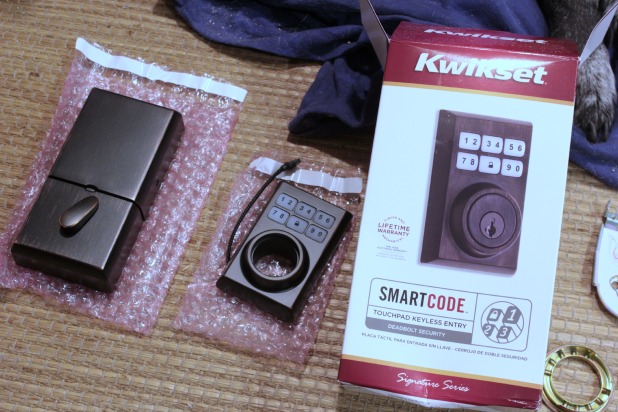 Sorry for the late night shot, I had to proceed with the install the same day we repainted the front door and installed glass door panels so we didn't have a hole in the door that night.
But if you're interested here are a few specifics.  You know, just so you can feel what the cool people have been feeling all along.
This is the exact keyless entry system I bought here. (affiliate link, and a few more to come)  And the basic knob I bought to go with it is here.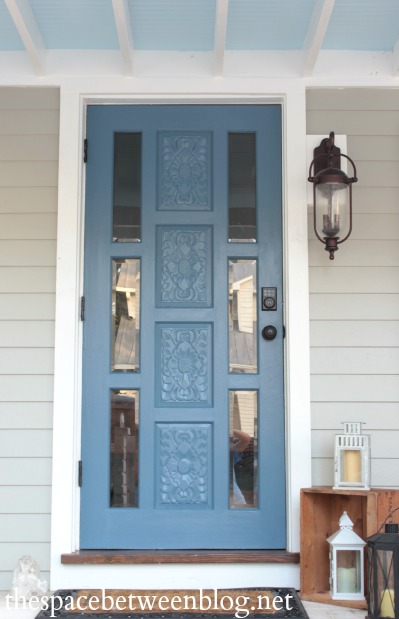 I was kind of hung up about only having a plain knob on the front door, and not something like this, like we're used to.  But I don't really know what I was worried about. Would it not look substantial enough?  I don't know who put it in my brain that front door hardware needed to be substantial.
I was wrong, again.
The plain knob doesn't bother me one bit.  Maybe because I hardly ever look past the keyless entry.  I appreciate the simplicity of it and like that they had a square option. Much more our style than some of the other curvy options like this or the handle and deadbolt in one like this.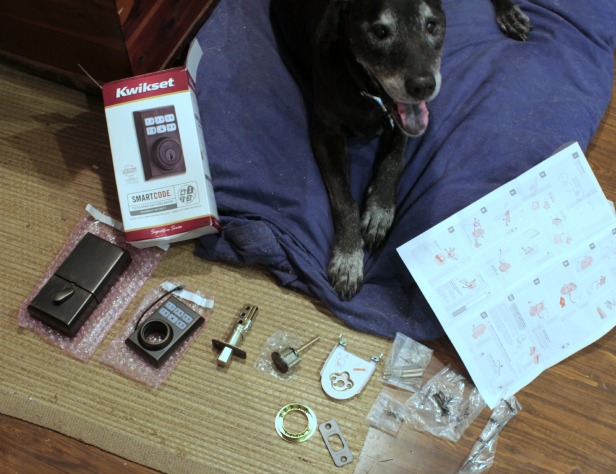 The installation was pretty well-instructed in the manual and it all worked out the first time around.  The hardest part was attaching some stubby little screws which connect the inside panel to the part of the outside portion that comes through the door.  You have to hold pressure on the screw inside the hole so it doesn't fall out while trying to line up the inside panel with the outer part and keep the connectivity wire (that makes the whole thing function) out-of-the-way so it will screw in properly.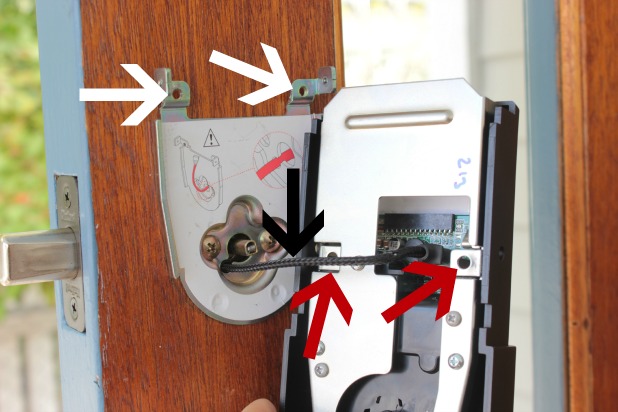 black arrow – wire connecting the keypad to the back panel
red arrows – the little holes for the stubby screws
white arrows – where the stubby arrows needed to screw in
It would be nice if the holes where those little screws go were designed so you can't lose the screws out of the them, but they are not and I actually lost one screw and the first time I connected it all it looked like this from the inside.  I just could not get the whole thing to sit flush with the door.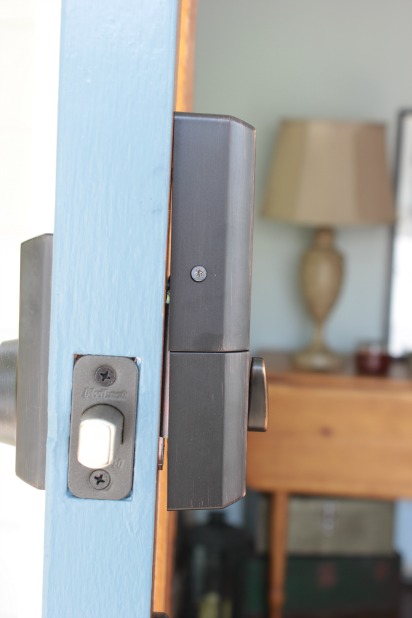 But, at random a few days later I found the screw and gave it another go.  And I say that it all worked out well the first time because that kind of little gap is not the kind of thing that we worry about around here.  It's irritating at first and when we're just completing a project we're all like "man that totally stinks".  And then 3 days later we're like "gap … what gap?".
It's not like these awesome new commercials from Lowe's.
[youtube=https://www.youtube.com/watch?v=UV-5eH2uono]
(There is a hilarious 30 second video here that unfortunately won't play in email or a reader, you'll need to click on the post to see it, they make me laugh out loud … maybe because we've all been there.)
But, back to the keyless entry and with the second screw in place we were looking much better.  I actually believe it had more to do with the wire I showed you above, it really had to be wedged into just the right spot so it didn't block the components from screwing in completely.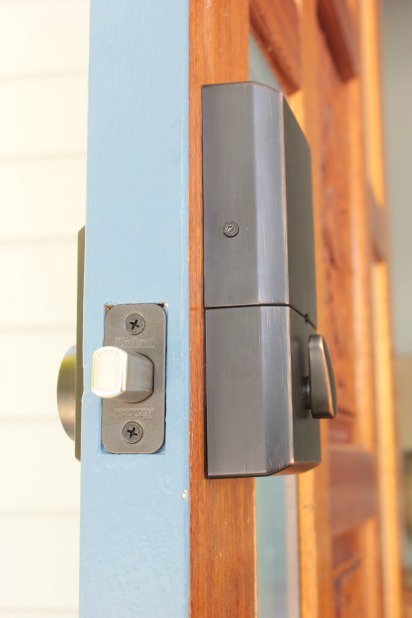 And my only other "oh, you're asking for my advice on how to make this keyless entry system easier to install?" would be to make the screws that attach the cover to the panel on the inside of the door a little larger so the allen wrench they supply to attach those screws can also be a little larger.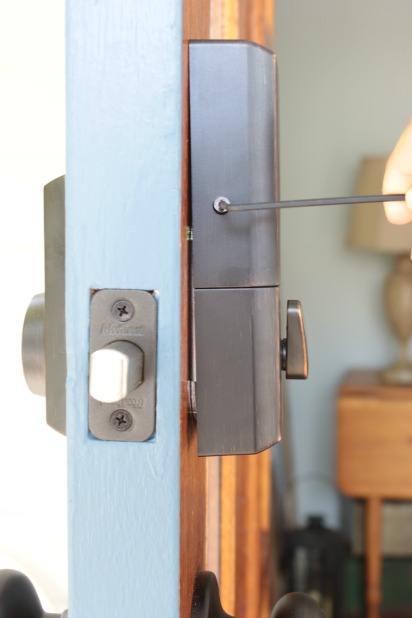 Between this little allen wrench and my new pry bar I am acquiring quite an arsenal of tools to remodel my very own doll house.  😉
One other finicky little thing that I still need to do is chisel out our door frame so the plate fits in the right spot where the deadbolt locks when the door is closed.  See how they are out of alignment here, the plate for the deadbolt and the plate for the door knob, which is in the right spot.  I'll get to that, at some point.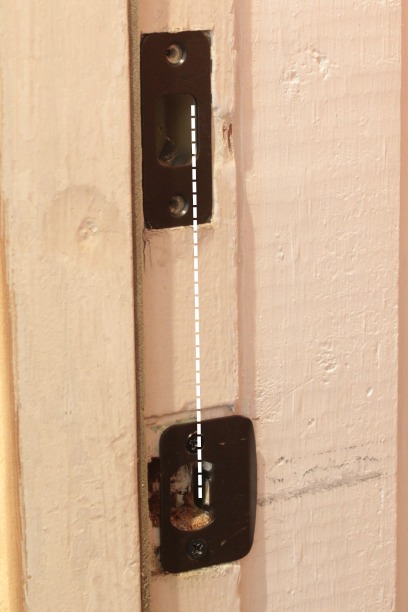 But the coding instructions were clear and we were pointing and high fiving at our auto locking door (which you can activate or deactivate at anytime which is nice, say, if you're having a party or something and want to keep the door unlocked) as soon as it was installed.  And I was brainstorming how many people I wanted to make codes for. Seriously, who has 8 different sets of people you would want to have unlimited access to your abode?  I hardly even like that many people in real life.  🙂
But the keyless entry system.  I love.
And I'll keep you posted on how long the batteries last.  It runs on 4 AA batteries and I'm curious myself how quickly they'll wear out.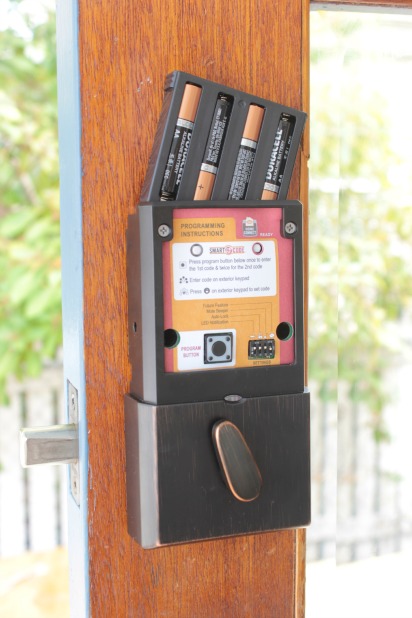 Anyone else out there have a keyless entry?  Love it as much as we do?  Any insight into how long the batteries last?
Update:  I should have included this originally, this post isn't sponsored, Kwikset doesn't know who I am, I am just seriously finding new reasons why I love this thing everyday. That moment you get to your front door with your arms filled with grocery bags only to realize you haven't dug your key out of your bag yet.  Yeah, there will be no more of that around here.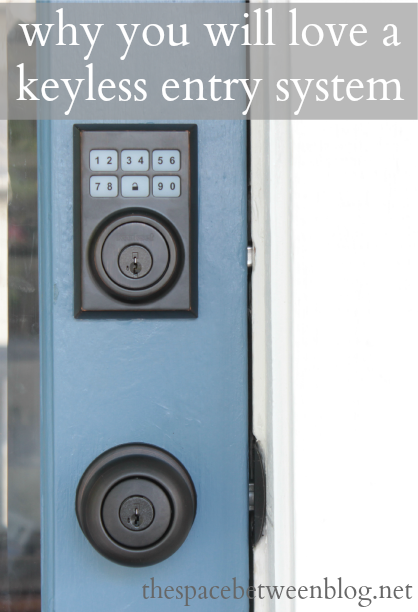 And …