And photographing a little window opening proved to be equally challenging.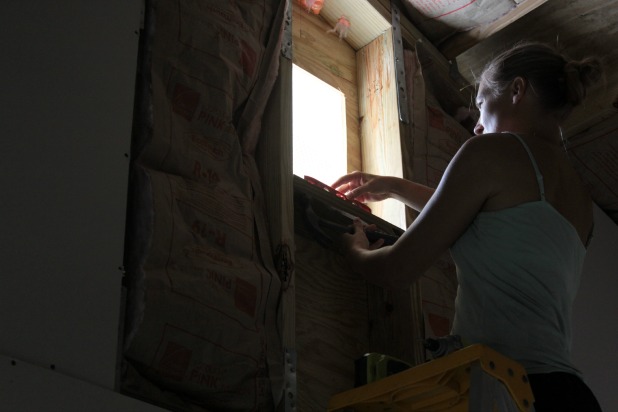 Hahaha!  Something about bright light in front of my face and no really great spot to take a picture from 10 feet below.  🙂
I did manage a few better ones, but the window being 10 feet off the ground didn't really help my cause.
The plan was for me to install this little guy while Joel was at work so we could finally get the rest of the drywall up when he got home.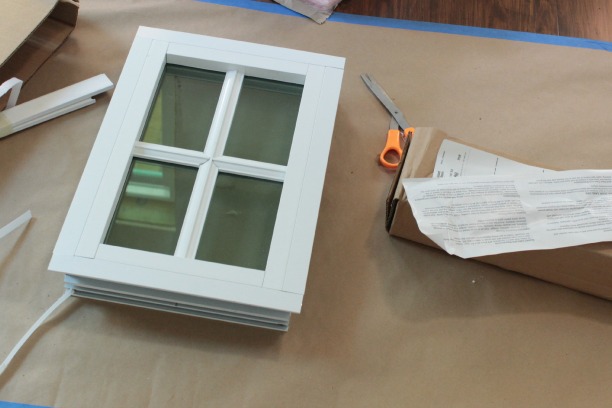 She only measures 12 x 18 inches so at least the size and weight was easy enough to handle.  It was more the fact that window measurements will never cease to baffle me.
Our opening had been cut 12 x 18 during the best weekend ever.
And the original plan was to just install a louvered attic vent, similar to this affiliate link here.
But once we decided to keep the ceiling vaulted we needed to order an actual window. We went with a fixed style, which means it doesn't open.  It just has 4 cute little panes and lets in some great light and reminds me every time I see it that I LOVE the new vaulted ceiling.  🙂
And since here would be a good spot for a picture I'll take this opportunity to remind you that the little sucker is nearly impossible to photograph well since we don't have any other lights in that area installed yet and there is always light coming in.
So take a look at this …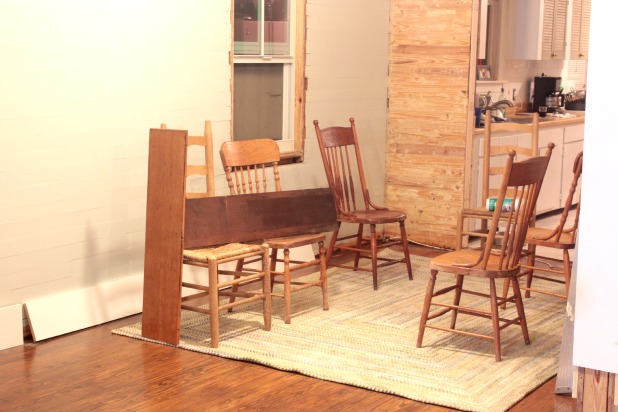 BAM!!  Bet you didn't see that bad late night picture of dining room randomness coming your way.  🙂
It's true!  We've started moving in some furniture.  And I might have said for the first few pieces "THIS IS SO EXCITING".  Followed by "I'm not even going to say this is so exciting this time because you already know that" during the moving process of every other piece.  🙂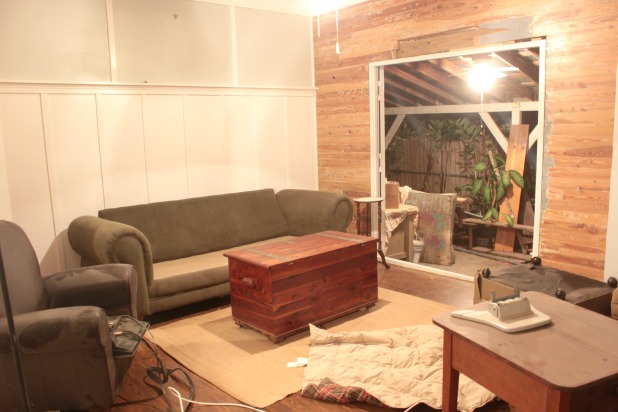 We're not even close to settled, but it's furniture in our living room.  And it's not fancy furniture, it's our same old hand-me-down things that have been in storage for over 4 years, with a too-small rug I just put there so the wheels on our cedar trunk don't scratch our newly finished floors and more dust that I really know how to manage.
But I'm in love.  And I made Joel help me late Friday night even though I found myself hip to hip with Jimmie Johnson in Homestead on Saturday morning.  Getting his autograph for the bajillionth time.  Because he's awesome.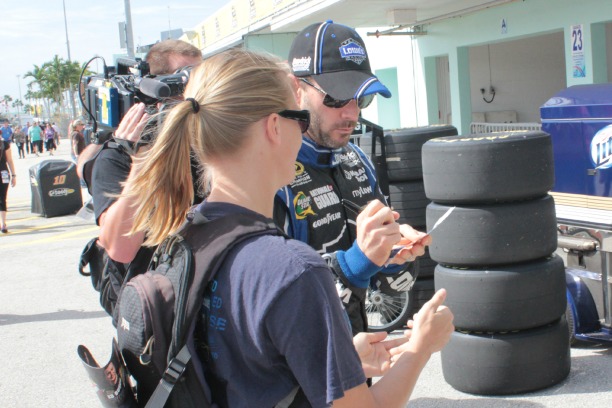 And then there was a Dierks Bentley concert.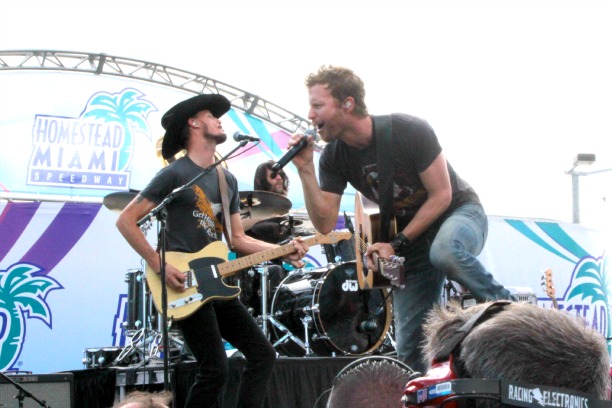 And then there was a race.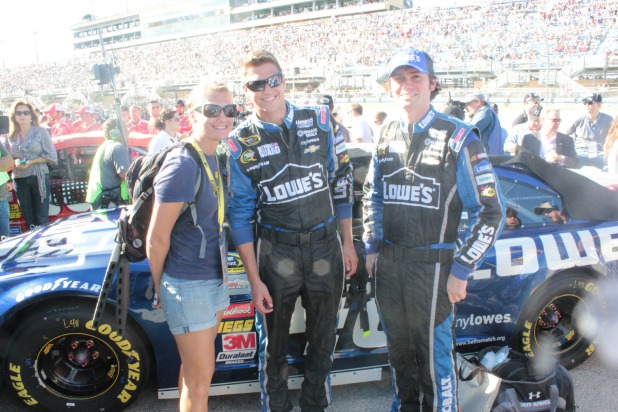 And Jimmie won the 2013 Championship.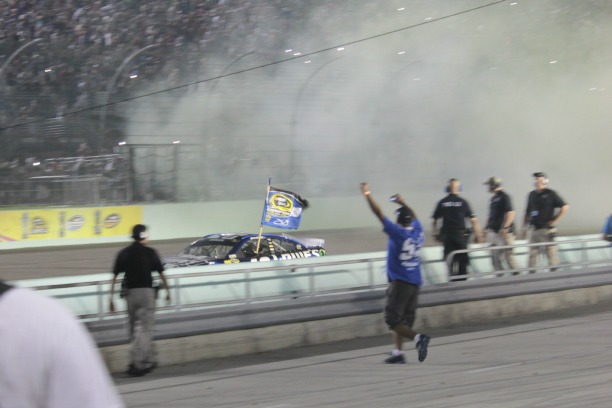 And they celebrated with big rings on their head to commemorate his 6th Championship win.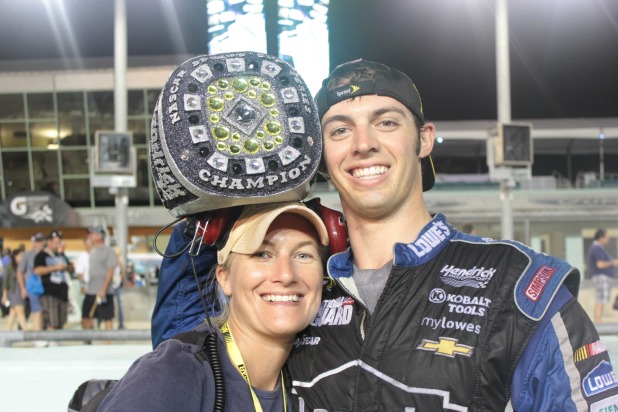 And there was a random run-in with the adorable Jason Sehorn and Angie Harmon.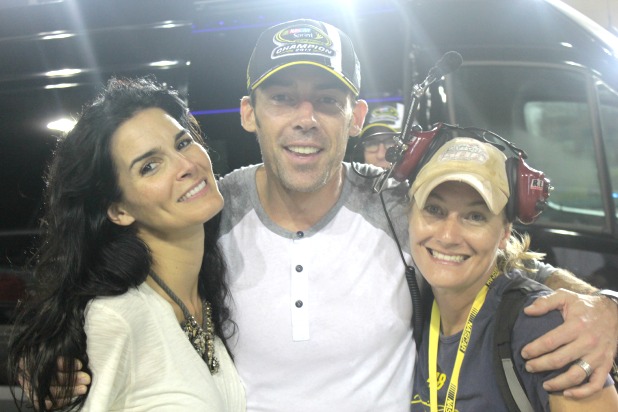 So pretty much the only possible scenario that could have pulled me away from my new ability to actually put together my living room happened the exact weekend I could have put together my living room.
But wait … we were talking about installing replacement windows.  And how I took one for the team to just get our little window installed by myself so we were ready for the vaulted ceiling drywall install … which is definitely not a one person job.
Honestly, since it was such a small window the work is easy for one person.  But needing to climb up and down the tall ladder and go in and outside to gauge if the window looked centered made me mutter to myself that it would have handy to have a second set of hands/feet around.  Oh well.
(I actually just had to scroll up to remember where we were in the window story.)  🙂
During the best weekend ever they cut the opening center with the front wall at 12 x 18 inches.  So we ordered a replacement window 12 x 18 inches.  That really was the only thing that caused me some extra brain work.
Turns out the replacement window size was really 11 x 17 with the extra inch on each side coming from the flange that sits flush with the outside.  So basically our little window easily fell in and out of our hole.  🙁
New window frame to the rescue.  I just measured the distance between our wall studs and cut two pieces of 2 x 6 (the width of our walls to cover up our old porch) that length.
Using a level and 3 inch screws and my new impact screw driver that I am in love with, I screwed in each piece about 17 1/4 inches apart, leaving plenty of room for the window to slide in and let the flange grab it from the outside.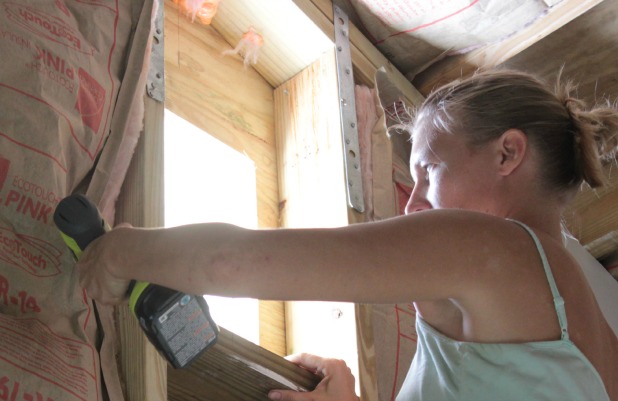 I would screw one end in and then use a little level before securing the other end.  That's what I'm doing in this dark shot.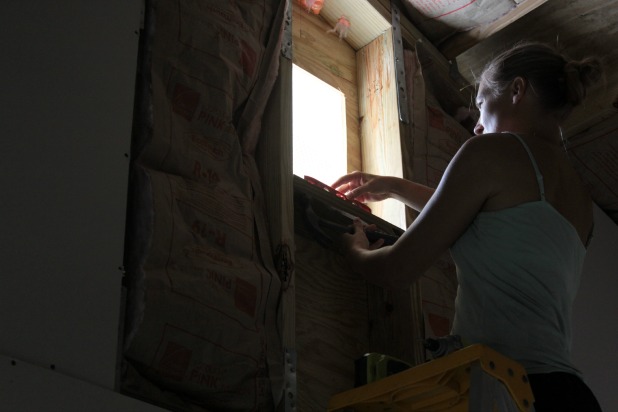 And since our hole had been cut center I needed to shim out a 1/2 inch so the new smaller size would still be center.  I just used scrap pieces of plywood.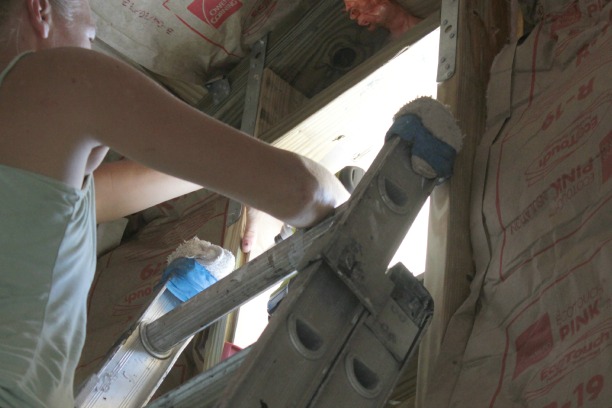 That first time I went to check it out it still looked a little off-center.  I don't know, the math really should have worked, but in my opinion it's more important how it looks that if the math is right, you know.  See how it doesn't really look center?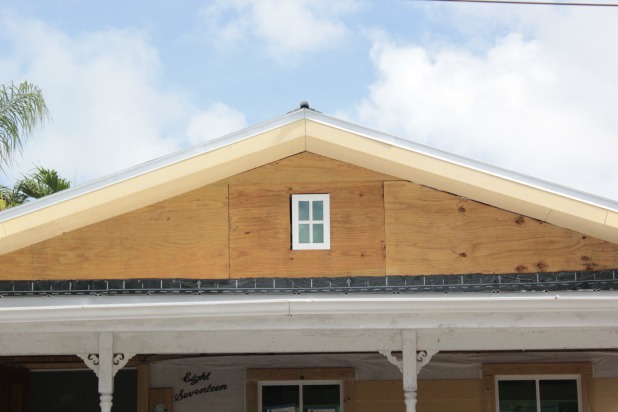 So I added one more piece of 1/4 luaun to my shim and then cut a piece of 2 x 6 to go up along the other side of the window for the frame.  Screwed it all in with 4 inch screws, which is our code down here … and that's about as far as we went with that.
For every little step of progress and moment of excitement I have a million more things I see that need to be done.
But I'm not going to worry about it.
It will all happen in good time.
And in my opinion there's no sense missing out on a Championship weekend, no matter how bad the timing.
How about you, do anything fun?  Make any last-minute plans?  I might still be in a little bit of a celebratory daze.  I found confetti in my pockets when I put our clothes in the washing machine.  🙂