Did you hear the one about the DIYers who rented the wrong floor sander?
Yeah, that totally happened.
But, what is it they say, all's well that ends well and albeit a weekend later than expected we managed our own hardwood floor restoration in the guest bedroom. Holla!!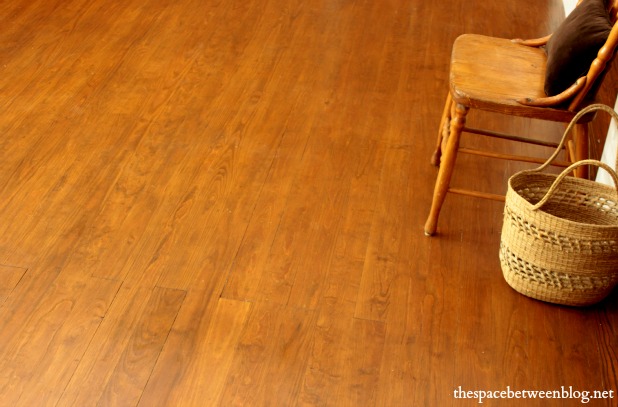 I don't know about you, but these things are the kinds of experiences that get us all fist pumpin' and happy dancin' around here. Technically there is no official DIY bucket list, but if I were to pull one together, this little project would have been at the top of the list.
Every home we've owned has had hardwood floors that could have used a little extra love and we just kept putting it off never got around it.
And when we uncovered the whole glued carpet pad and old vinyl tile adhesive situation in the living room / dining room combo we got a little skerred and called in a professional to make sure we didn't completely ruin the floors in our main living spaces.
But this is the guest bedroom, and who really cares what our friends and family have for flooring while they're here? 😉
Actually, we uncovered what we thought were previously unfinished floors and thought 'heck yeah' the perfect trial run for our virgin-floor-refinishing-selves.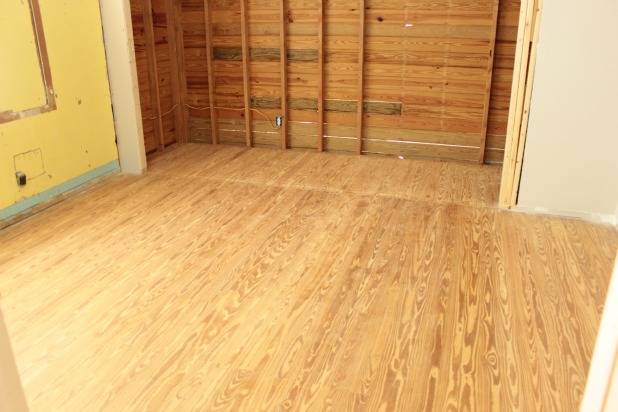 We took a little reconnaissance mission to Home Depot to scout out their rental options. And after much discussion, a call to our he-wishes-I'd-lose-his-phone-number-floor-professional and an afternoon with my new favorite hobby, scouting out you tube video tutorials, we were stoked to get this project going with the, supposedly easier to use, Square Buff Sander.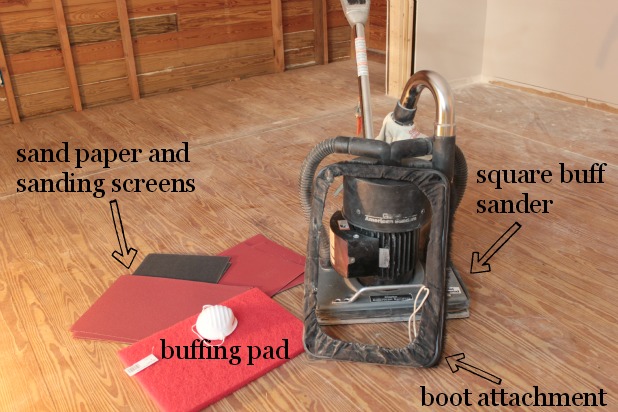 And because we like to make bad decisions in pairs, we thought we were being so smart when we took the rental guy's advice and rented it just after 6pm for a 4 hour rental. The theory here, only pay for a 4 hour rental but get to keep the sander from 6pm to 9am.
Are you tallying up all of that free-to-me time.
I know!
I did too. I got all giddy about it. Almost hugged the rental guy for letting us in on the money saving tip.
So, with our square buff rented and the necessary sanding squares purchased, we thought … why stick with only 2 bad decisions when we can go right ahead and toss a third bad decision right on top for a bad decision threesome.
Would that be an oxymoron? A bad decision threesome.
Or a redundancy?
I'll let you decide.
Aaaaand how quickly I get off topic.
That third bad decision … buying 60 grit, 100 grit and 120 grit sand paper.
It's pretty well documented that you start with a 36 grit paper when restoring hardwoods.
But I was positive, like 100% certain, that these floors were completely unfinished. I swear, someone just laid them and then covered them up with a mighty fine orange shag carpet.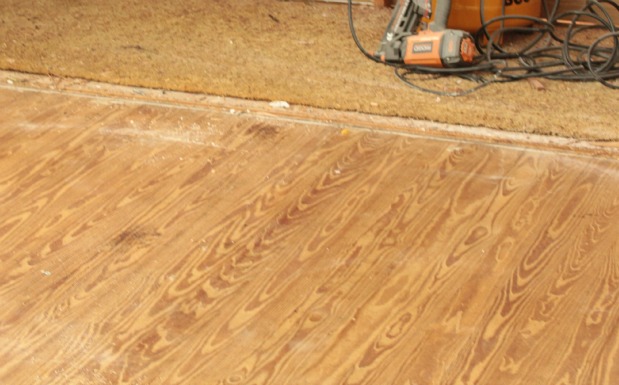 I swear!
As the story goes, in one of my discussions with the he's-so-sick-of-my-calls-but-too-nice-of-a-guy-to-tell-me-floor-professional, I was proclaiming my expertise on all things unfinished floors. Eliciting the expert opinion that we could forego our individual rooms and share the fantasy suite the super duper course 36 grit and start with the 60 grit.
We're just going to cut to the chase here and go with one quick "I was wrong".
On so many levels.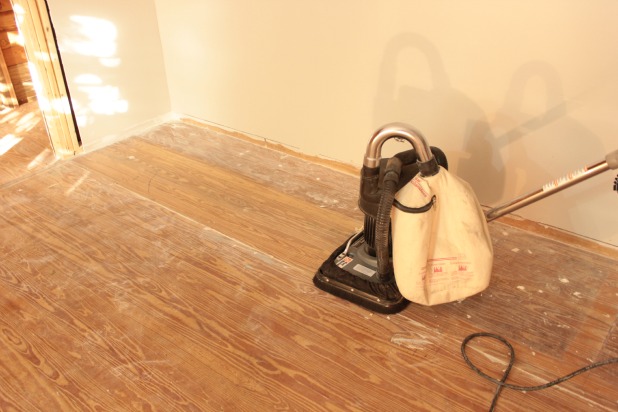 Bad decision #3 – We did actually have some sort of clear varnish or something and as soon as we got started with the 60 grit we knew we needed the 36 grit. So at 7:15pm on Friday evening Joel headed back to HD to buy the sheets of 36 grit for the square buff. Which leads right in nicely to …
Bad decision #2 – Ummmm, we live in Key West. Like IN Key West. We're not on a farm. With acreage. And space. So at 11pm on said Friday night when one of our neighbors came over to nicely let us know that construction hours ended at 7pm daily we knew he meant "shut that darn thing off already!".
That's right. We kept at it until 11pm.
A couple full passes over the floor with the 36 grit … and then with the 60 grit … and then with the 100 grit.
All the while, holding out hope we were on the right track. Which brings us to …
Bad decision #1 – Renting the square buff instead of the traditional drum sander.
If you're working on floors that are actually completely unfinished … the square buff should do. Or if you're just looking to 'buff' up your existing finish a bit to maybe paint your floors, the square buff would be perfect.
If you're looking to remove any sort of varnish and sand your hardwood floors down to a stain quality state, bite the bullet and rent the drum sander.
And if you live within a few feet of your neighbors, do them a favor and just go with the midday rental.
Here's a little video I shot after we had gone over our floors with 36 grit, 60 grit and 100 grit sandpaper with the square buff. It shows exactly what we were seeing that made us decide we needed to rent the drum sander instead.
[youtube=http://youtu.be/WHWXaxCfPaU]
Now, even though the square buff didn't end up being the right choice for us, after about 3 hours with her we did learn a few things that will be good to keep in the memory bank for next time.
We thought it was easier to maneauver side to side as opposed to front and back.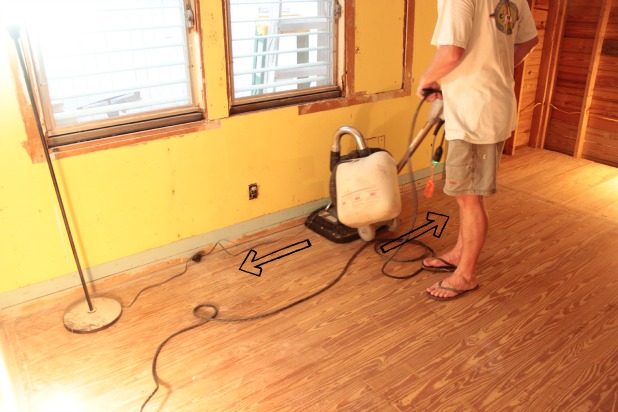 She does get good and close to the edges, but not close enough to eliminate the need to do some hand sanding.
The 100 grit sanding screen, which was the only option available at our home improvement store, did not stay on the sander well. The sand paper (36 and 60 grit) had an adhesive backing and worked great, the sanding screen seemed to flop around a bit. I would avoid a sanding screen next time.
We started in what will be the closet in the room. It was a good place to get acquainted with the machine and test it out before doing any high visibility part of the room. Also, the he-wishes-I'd-just-pay-him-to-do-it-instead-of-asking-so-many-gosh-darn-questions-floor-professional had a great tip to put on a finer grit sandpaper when you first start to use the machine and get a feel for it. The really course grit sandpapers are the ones that can really do damage to the floor so best to test your skilz out with a finer grit.
Not a total waste of time in our opinion as we learned a few valuable lessons about a new-to-us-tool, and for a few DIY dorks that's always a success. No matter what our neighbor says. 😉
Update: We've completed the refinishing of our living and dining room floors in addition to this guest bedroom, find my latest tips and tricks for sanding, staining and polyurethane here.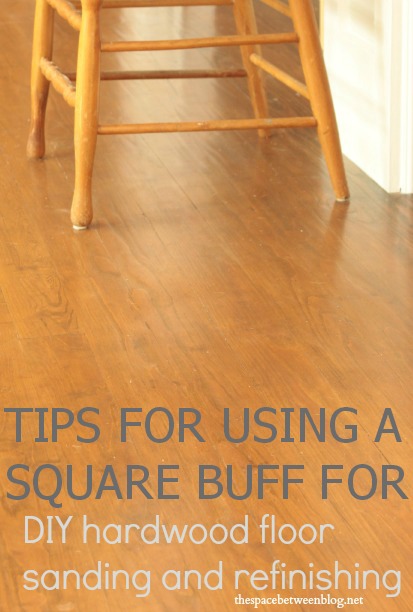 So, we waited until the next weekend for round two with the good ol' drum sander … but that couldn't stop us from going ahead and building a wall-to-wall closet even though the floors weren't done.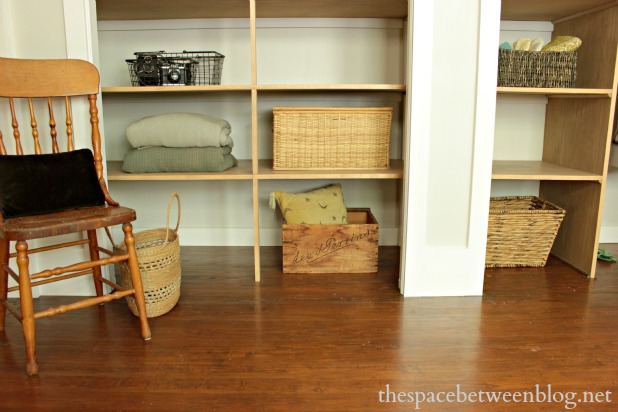 You can't stop us, you can only hope to contain us. 😉