So I mentioned to my mom that I want to go gray in the guest bedroom.
So then I got an email from my mom saying,
"Alysan gave me a swatch on a new Sherwin Williams paint color…Silver mist…very nice…bluish, grayish greenish…"
Alysan is my aunt, who happens to be upgrading her own place and used the Sherwin Williams Rainwashed color that I used on our board and batten wall.
So, I googled Sherwin Williams Silvermist and found this amazingly fun post by HGTV's first Design Star, Emily Henderson.
Best Gray Paint Colors According to Ryan Gosling
All I'm going to say is that our guest bedroom is one of those shades of gray.
And my mom's right, that Silvermist is a very pretty bluish grayish greenish.
And if you like to oogle over gorgeous pictures of Ryan Gosling see paint colors compared to a cute boy learn about paint, I highly recommend clicking over to Emily's post.
Oh, and if you want to see how we picked our paint colors in our two previous homes and some great resources I've found helpful this time around check them out here.
And one last thing, next Thursday, August 1st, I am co-hosting the 7th week of the 6th Annual Before and After DIY contest that benefits Habitat for Humanity and was thought up by my wonderful friends who blog at One Project Closer and their finer side, The Better Half.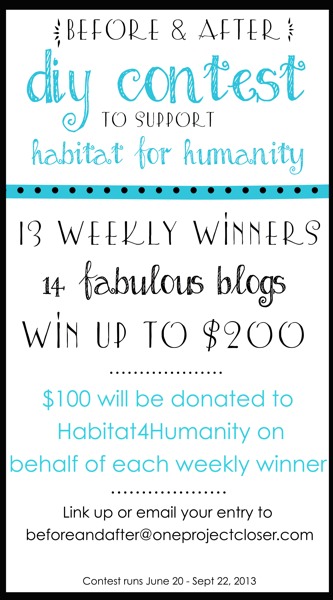 Skip over there to find out all of the deets and then come back here on August 1st to link up your before and afters.  One weekly winner will walk away with a $5o gift card and a $100 donation to Habitat for Humanity in your name.  Pretty cool, I say.
And you can link up every week, so if you don't want to wait until next week get on over to Tatertots and Jello to get linked up for a chance to win this week!
Mmmmm, when was the last time you ate tatertots?