Hey there!  We're chugging along in the master bedroom and we're thisclose to moving back into that room for good.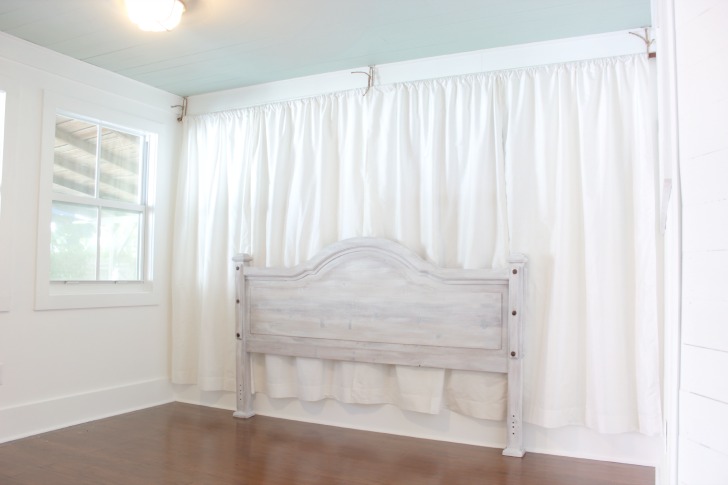 Don't worry that the curtains are too short and there isn't even a bed to go along with the headboard. The fact that it even resembles a room, where people might actually find solace at the end of the day, is a feat in itself.  🙂
I realized the other day that this will be the first time since we've lived here, almost 20 months, that we'll be living in every room of the house at the same time. They won't all be finished, but they will all be functional, and for a 1300 square foot house that feels like a bit of a luxury.
Getting to this point in our master bedroom is actually a month in the making.  Right as we were finishing things up in the master bathroom we were also prepping for a load of family visitors and needed the use of both bedrooms.  And the master was looking like this.  #NotSoCozy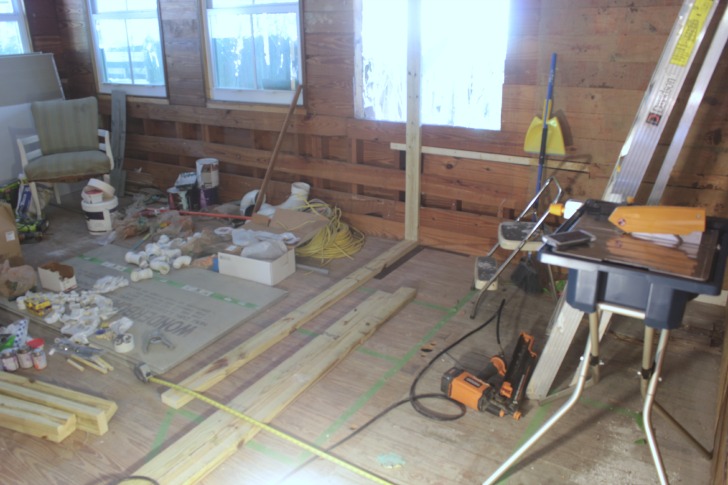 And even though we just finished refinishing the floors (we used the exact same process that we did here), as we do with most rooms, we started with the ceiling and worked our way down.  And, for the first time, I painted the ceiling a color and all of the walls white.  #ImGettingDaring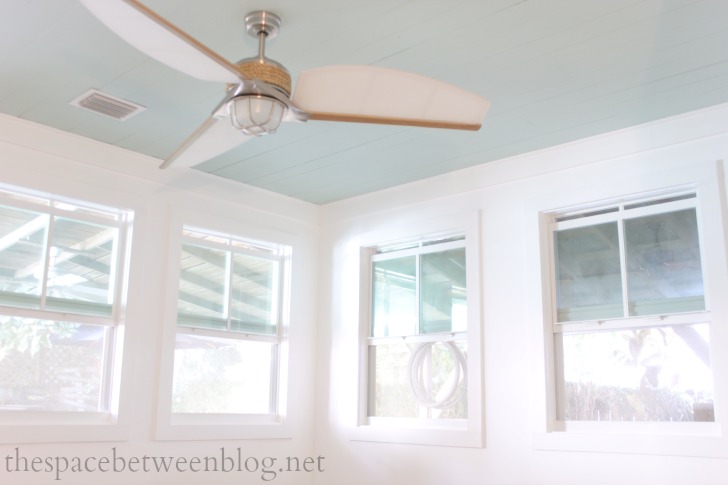 The ceiling color is actually a custom color.  I first got Behr Marquee paint mixed in Misty Isle and then I decided it was just a bit too bright for what I wanted and what I really wanted was closer to their Breezeway color.  So I headed on in to my local HD and batted my paint splattered eye lashes at the nice man behind the paint counter who then proceeded to spend the better part of an hour tinting and mixing and getting the color to my liking.  I really can't thank him enough.
But this isn't really about my indecisive paint decisions, it's about this awesome ceiling fan and light.  And how cool I think it looks with the colored ceiling backdrop.
I can't really express how much I adore it.  It was a splurge at about $250 but I was having a really hard time finding something I really liked.  And I really liked this one.  So I bought it.  Here's an affiliate link to the same fan.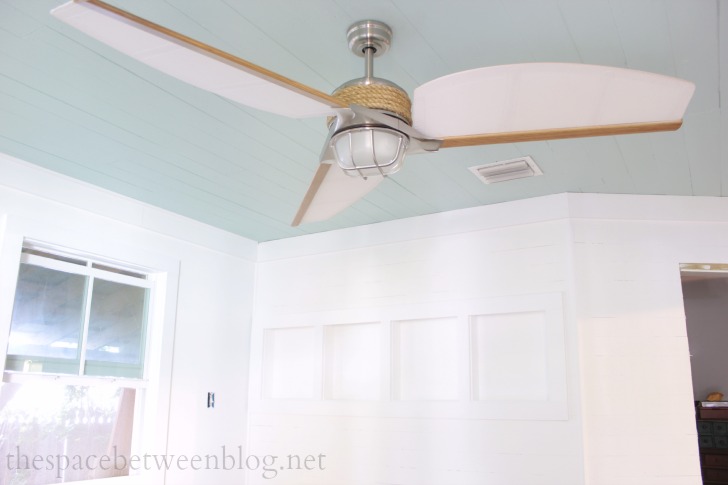 The paddles are made of canvas with light wood accents and the base is wrapped in rope.  I mean perfect, right, for a coastal/nautical/beachy vibe. The light housing looks like something you would find on a boat or dock and it takes a regular, medium base, bulb … which I love.  So I used one of my new Cree bulbs.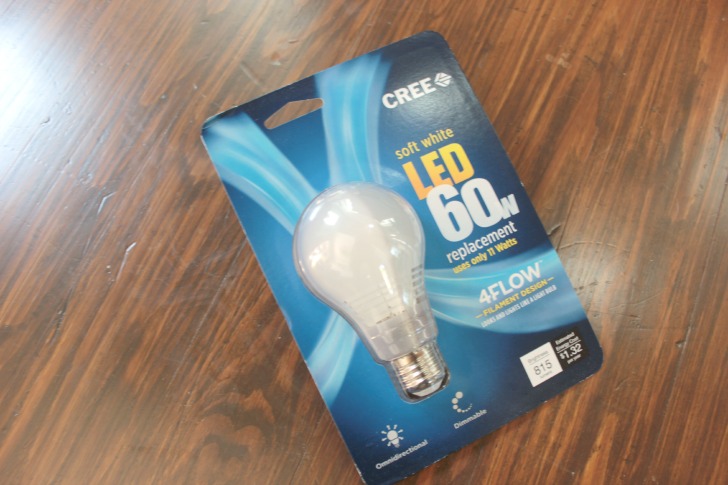 I used Cree bulbs in our bathroom, too, and love that they are LED, mercury free and shine bright instantly!  And since they actually look like bulbs they are perfect for those glass globe fixtures.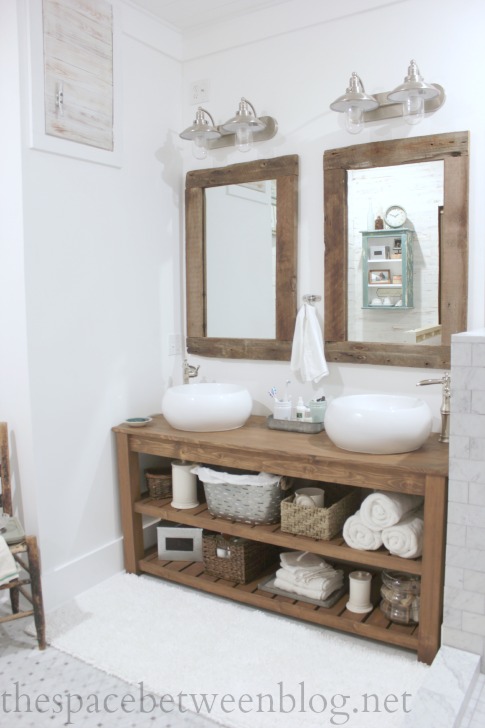 But here's the thing about the fan that had me wondering if it was going to be totally wrong for our room … it is 68″.  Which is huge!  It says right in the specs that it is meant for a "great room" at least 20′ x 20′ big … and our bedroom is basically 13′ x 13′ … so pretty tiny.  I worried the fan was just going to look really out of scale, but for some reason it doesn't.
Maybe because we love the look of it so much that the size of it just works.  I don't know, and maybe it seems big to some of you, and we're just in denial because we love it.  But it just feels like it works.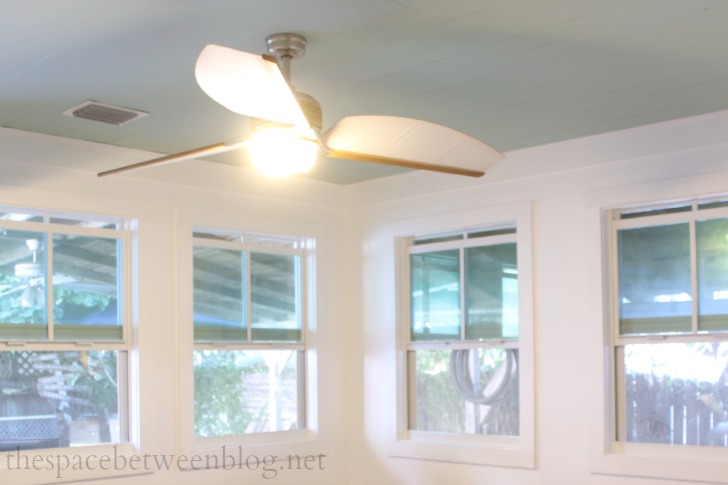 It may seem like just one small step but the lighting can really make or break the look and feel of a room. Since we're in the Florida Keys we aren't willing to give up our beloved ceiling fans, but I'm glad we didn't have to sacrifice a little style in the process.
And no more sacrificing perfect light when you transition to LED.  The Cree bulbs light up instantly and they now come in a plastic version to avoid breakage, perfect for the bulb that can last up to 20 years. You can find out more here and they are available at The Home Depot.
We should be ready to settle into this room next week, there's just a few more finishing touches … and a mattress would be nice.  🙂
And today I'm at my friend Julia's sharing a bit of our story about Living Pretty With Pets, check it out here.
But check this out, Cree is hosting a Bulb Swap, here are the details so you can start your transition to LED, too.
THE CREE "GREAT AMERICAN BULB SWAP" VISITS MANHATTAN, BOSTON, AND D.C.
TRADE UP AND SAVE MONEY & ENERGY WITH THE NEW CREE LED BULB
THOUSAND OF BULBS BEING DISTRIBUTED IN EXCHANGE FOR MERCURY-LADEN CFLs AND ENERGY GUZZLING INCANDESCENT LIGHT BULBS
WHAT:
Haven't switched to LED bulbs? Now's the perfect time as days are shorter and getting darker earlier. Americans can participate in the Cree Great American Bulb Swap. Just bring in any CFL or incandescent bulb and trade it for a New Cree® LED Bulb for free. The New Cree LED Bulb is up to 85 percent more energy efficient compared to energy-hogging incandescent bulbs – and it pays for itself in a year or less!
Forget the frustration and inconvenience of constantly changing burnt out bulbs– Cree LED Bulbs last up to 22 years (that's potentially 5 presidents from now!). Just imagine all the money you'll save on energy bills and fewer replacement bulbs. Cree LED Bulbs are also mercury-free and provide superior light quality, unlike those squiggly compact fluorescent (CFL) bulbs.
When/WHERE:
South Street Seaport Pier | New York, NY
11:00 AM- 2:00 PM, Friday, November 14th
10:00 AM- 4:00 PM, Saturday-Sunday, November 15-16th
Readers Park in Downtown Crossing | Boston, MA
11:00 AM- 2:00 PM, Friday, November 21st
10:00 AM- 4:00 PM, Saturday-Sunday, November 22nd and 23rd
Eastern Market | Washington DC
11:00 AM- 2:00 PM, Friday, December 5th
10:00 AM- 4:00 PM, Saturday-Sunday, December 6th-7th
**I first contacted Cree after hearing about their revolutionary bulbs, I am now a paid Cree Ambassador and happy to help spread the good word about their great products, all opinions are 100% my own.  You can read my full disclosure here.**