Hey hey!  Hope you're doing great.  Anything new with you?  We have a new-to-us table.  And it's pretty great.  When we first arrived I thought I might try my hand at making a farmhouse style dining room table.  Long, rectangular, awesome.  You know the type.  Maybe with chairs on the side by the wall and a bench on the side between the dining room and the living room.
But the more we lived in the space I couldn't shake the idea of a round table being the right fit.  It would be easy to maneuver around and just seem to aid the flow of traffic from all sides, since the dining room basically connects the kitchen to the living room and the balcony. And the truth is we really only use the table when we have company so we really don't need the huge table I was imagining (Although I still think a long, wood, farmhouse style table is my dream table!).  But then one day Joel and I were looking through an old warehouse and found this beauty laying on her side all dusty and a little banged up.  And we knew she'd be perfect.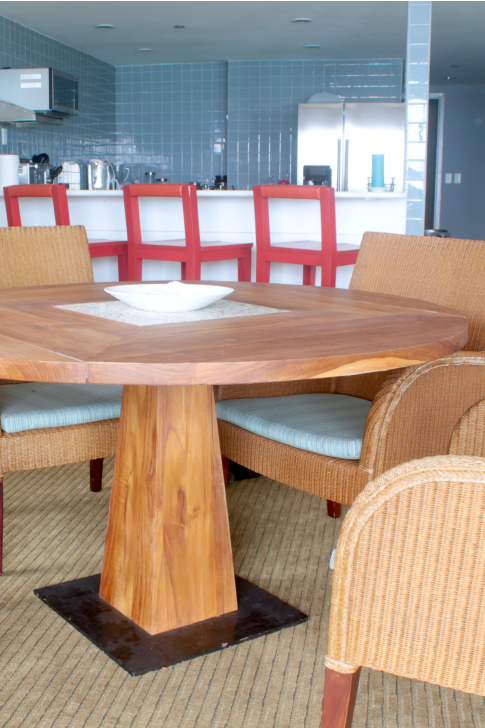 She's not too big.  She's wooden.  She has a center tile that has broken shells and sea glass in it.  And she has a few dents and scratches.  She's perfect.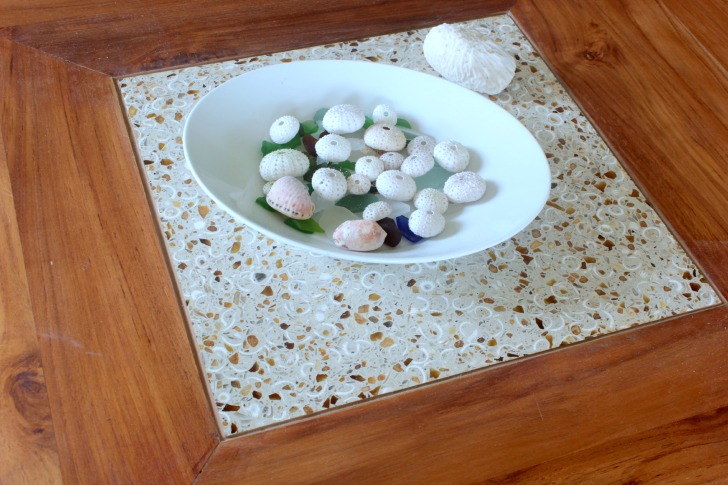 We also found the wicker chairs we're using around the table and the 4 red bar stools which I love … just not in red, so those will probably get a makeover after the kitchen project.  Which, so far, has gone as far as us getting a new fridge.  🙂
We're still negotiating bids with contractors and working through the details of the scope of work.  Island time, you know?!?!
But, ever since we brought in this great table I haven't been able to shake the idea that a fun DIY chandelier would the perfect pairing.
The table …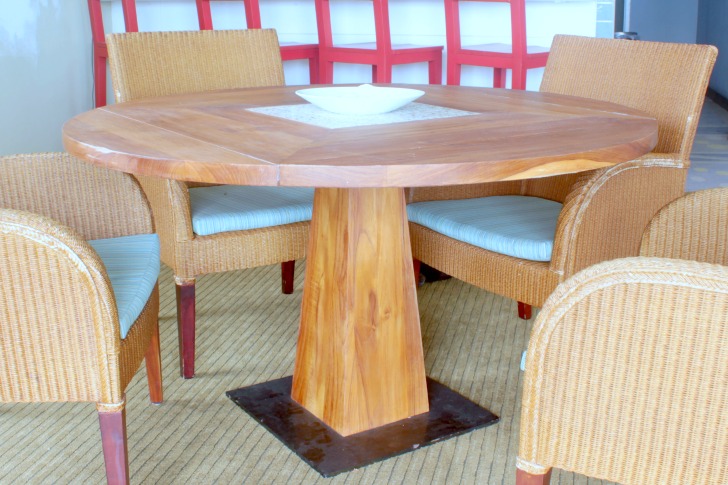 … and the current light situation.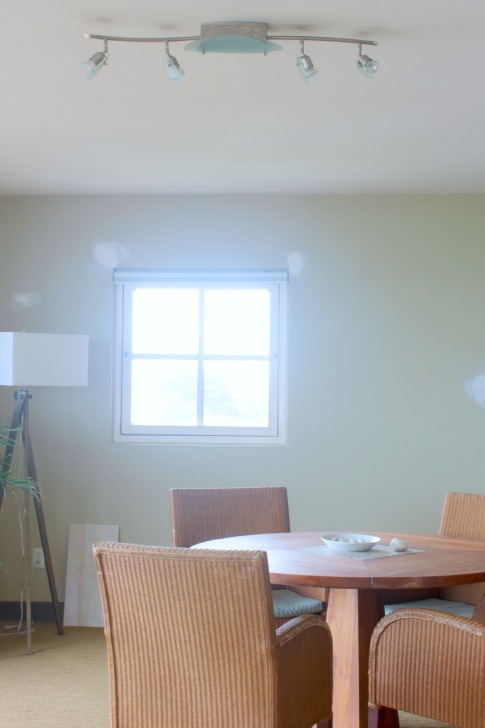 Looking past the fact that it's installed in a weird spot in the room, it is just not our style.  So I started scouring the web for inspiration to find just the right thing. What I'd love is something that doesn't block a lot of the line of sight from the kitchen out the to the balcony.  Maybe something that I can retrofit from an old chandelier that hopefully I just find somewhere (Of course!).  And we'd love to make it dimmable so I can use my favorite Cree dimmable LED bulbs to set the brightness at just the right level.
So, here are a few DIY chandeliers that have caught my eye.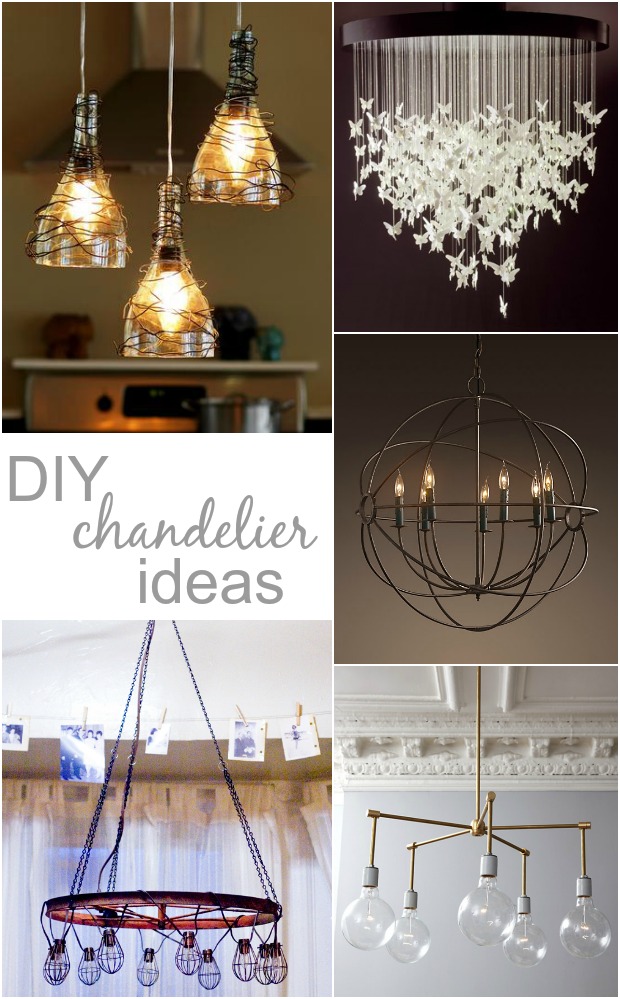 Wine Bottle Pendants from DIY Network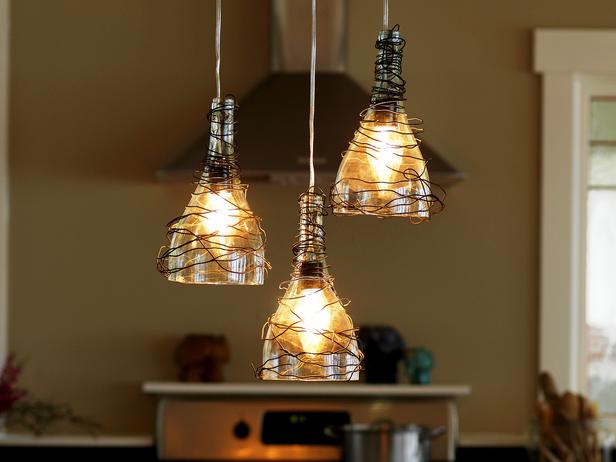 Brass Chandelier from One King's Lane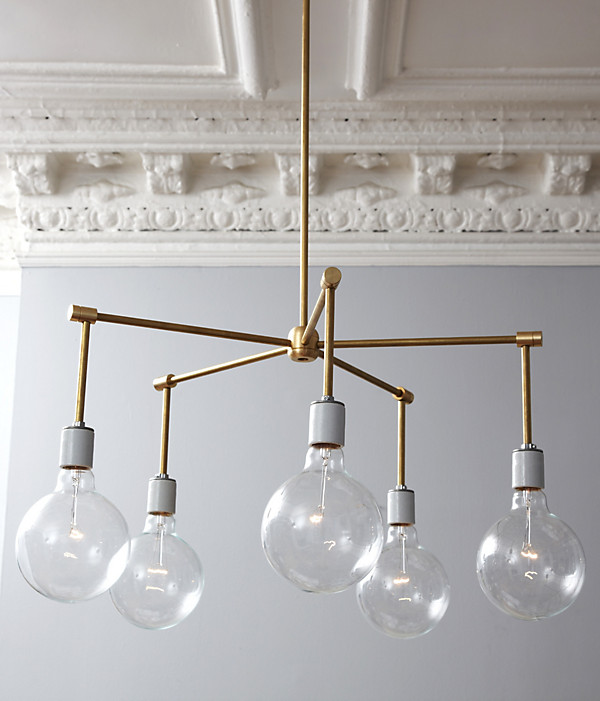 I've seen a lot of variations of a knock off of this Restoration Hardware chandelier.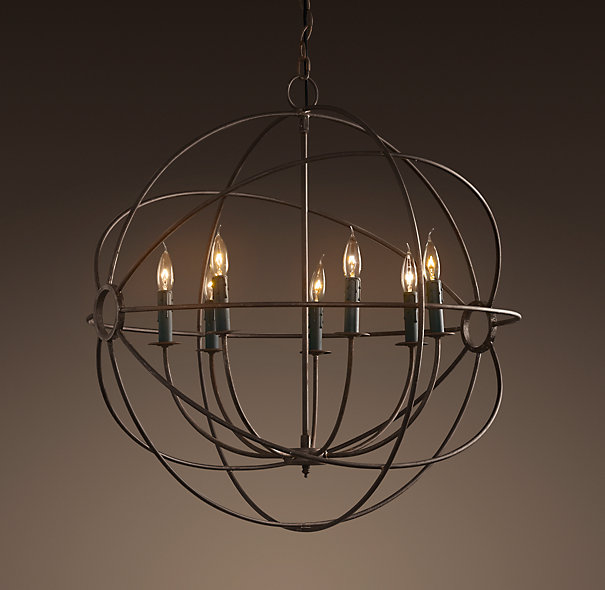 This Old Wheel Chandelier from Black Oak Vintage is pretty sweet.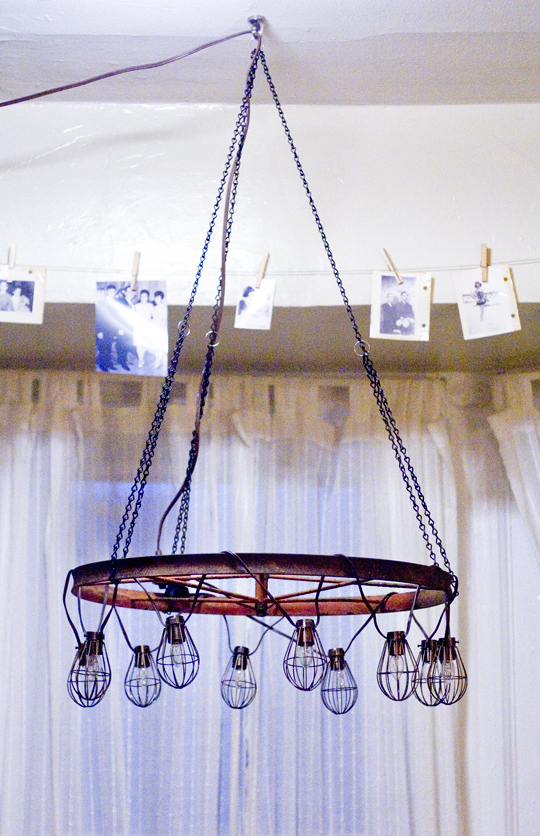 In an ideal world I will happen upon the perfect thing, be it a rusty old wheel or cool old bottles or a dated old fixture I can transform into something we love.  But we'll just have to wait and see what happens.
Either way, it will turn into the perfect thing with the help of Cree LED bulbs.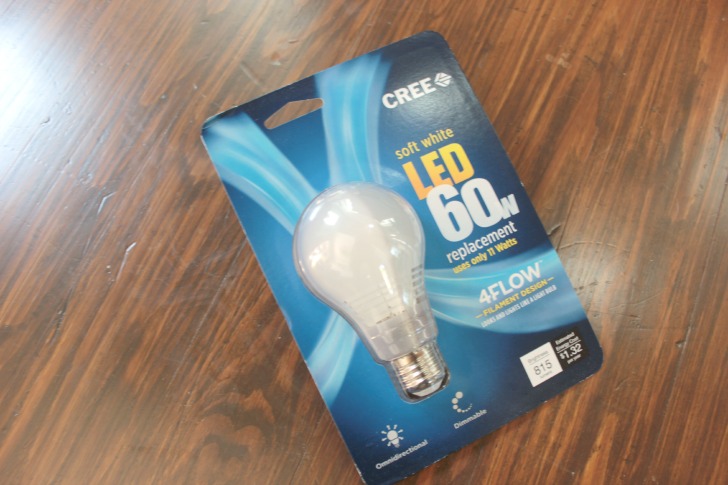 I partnered with Cree for one main reason, they are the best bulb out there.  I know LED bulbs cost more than the traditional incandescent bulbs, but there are so many added benefits to making the switch.  They are available at Home Depot and here's a short video (less than 1 minute long) that explains the benefits in more detail.  Like up to 85% less energy consumption! (If you're reading this in email or a reader you will need to click over to the blog to watch.)
So, that's what's been on my mind lately.  If you see anything that I can make into a chandelier lying around please give me a shout.  Although I haven't found anything like that yet, I did rescue this little crate from a dumpster.  I kept the exposure a little dark so you could take in a little peek of the view.  This is where I drink my morning coffee and evening wine.  🙂