Well, we did it! We made through the 31 day series! It has been so fun for me to share some simple yet sometimes overlooked tips and tricks we've picked up along the way. And a few things that didn't really work out, like that garbage can trick, and I'm still not sure about the bottle cutting thing.
I am oddly rejuvenated to get back on the home renovation wagon and forge full steam ahead toward some serious progress. We're on the cusp of some BIG changes around here. Joel and I keep saying "we'll be living like normal people before we know it". And yes, that involves moving our furniture out of our side yard and into our house! #Can'tWaitForThatDay
But, let's get this series wrapped up pretty with a bow before we shift gears.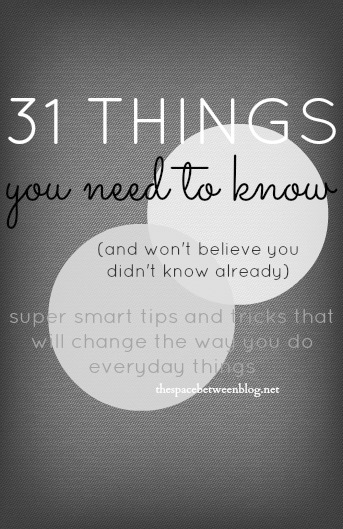 I have to tell you, the whole conversation that has been started from this little article has my mind spinning.
My first reaction was "woah, who knew people would be so passionate about how I have chosen to live … even though it doesn't affect (or is it effect?) them in any way whatsoever".
And then I thought "why can't we all just be supportive of each other and thankful we have the freedom of choice".
And then I thought "maybe we all just need to start by being supportive of ourselves first".
My humble opinion is that it's only when we are dissatisfied with our own situation that we even bother to take the time to make judgments on anyone else's.
Maybe if we focus on filling ourselves up with that which we love and adore there won't be any empty space to criticize someone else's choices.
Maybe if we felt so overwhelmingly happy with our own personal life experience we can't help but hope that everyone around us is feeling that exact same joy.
That kind of made me think of the old saying, "live like you were dying". You know, not in a reckless manner, but what would you be doing different with your every day if you knew your time was coming to an end soon.
And it reminded me of Randy Pausch's last lecture. See, he really was dying. And he said things like:
About life – "We can't change the cards we are dealt, just how we play the hand."
About dreams – "As you get older you may find that the enabling the dreams of others thing is even more fun."
About experience – "Experience is what you get when you didn't get what you wanted."
About obstacles – "The brick walls are there to give us a chance to show how badly we want something."
About people – "Wait long enough and people will surprise and impress you."
About the head fake – "If you lead your life the right way the karma will take care of itself. The dreams will come to you."
I first saw the 10 minute reprised version of the speech on Oprah.
(The videos don't show up for the email subscribers unfortunately, you have to click to the post)
[youtube=http://www.youtube.com/watch?v=ncoSRKoU6GQ]
All of the quotes are taken from the original speech given at Carnegie Mellon University on September 18, 2007.
[youtube=http://www.youtube.com/watch?v=ji5_MqicxSo]
I think the perspective of someone who is actually dying is something we can always learn from.
And I want to mention, it is the messages (many of them private) of support and encouragement from people who don't know me from a hill of beans that really touched my heart. It is those responses that I will choose to remember. And let me know if you ever need it in return, I got your back. 🙂
Update: The article was shared on Yahoo's newsfeed this morning and has been the most viewed/shared article of the day … you can only imagine the array of comments. Yowza!
Have a great day everyone!! And start at the beginning of this 31 day series here.