My official answer is … I think so. 🙂
Update: My official-official answer … not well enough to be a fun craft project. 🙁
Decisive, I know.
But here's the deal, my BFF Sue tried it over the summer and totally couldn't get it to work. And when my very Proud younger cousin who enjoyed her recent visit said she had also tried and couldn't get it to work I knew I had to give it a go.
So I gathered my supplies.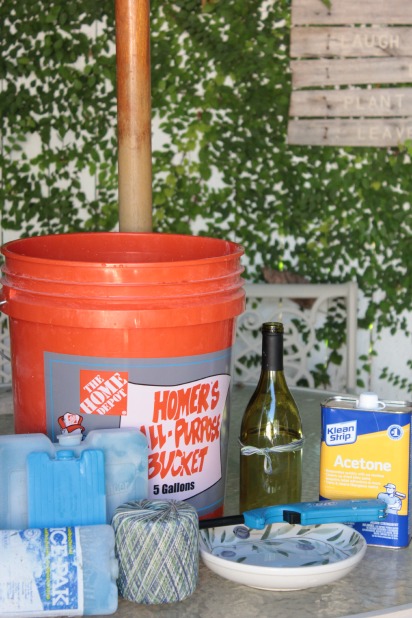 bottle to cut
5 gallon bucket with ice-cold water, or a sink
cotton string to tie around bottle – I used the same string I used for this project
acetone (or nail polish with acetone in it) to soak the string
lighter to set string on fire
scissors (not pictured) to cut your string
In preparation I had to take one for the team and suffer through a bottle of wine.*
*I'm not recommending you drink a bottle of wine immediately prior to doing this. That would actually not be very bright. There's fire involved. So do the drinking the night before like I did.
I followed the instructions in this video tutorial.
[youtube=http://www.youtube.com/watch?v=_vILNflmwFw]
And I ended up with this.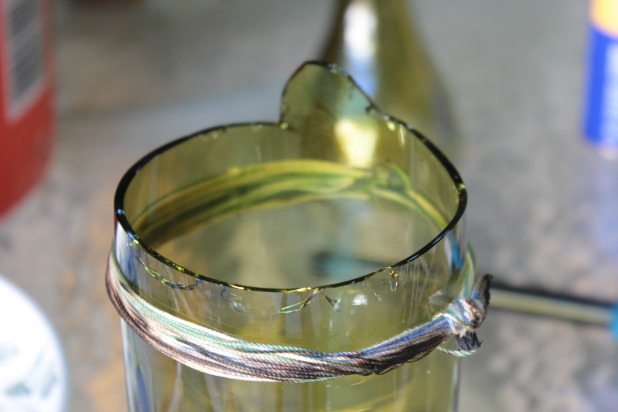 Ummm, not exactly what I was going for.
A few words to wise.
Ice cold water is necessary to "shock" the hot glass into breaking.
The glass actually breaks about a 1/2 inch above where your string is so take that into consideration when you wrap your bottle.
Beveled glass doesn't seem to cut cleanly.
There is no way the glass is clean-cut enough to use these as drinking glasses as I saw around the interwebz. Fun candle holders with some sand in the bottom I think would be cool around a patio. Or cut much shorter for tea lights, that's Sue's plan. But I think not on the drinking glasses.
Update – the slower you spin the bottle the longer the string stays lit … not that that helped my results. 🙂
Here's how it all went down for me and why I still haven't actually cut a bottle with a string that I will keep. 🙂
My first attempt shown above was hindered by my ice strategy. Our ice maker doesn't work and I was too cheap lazy to go out and buy a bag of ice so I used those blue ice things we put in coolers. And they float, so when I went to put the wine bottle in the bucket it was welcomed by this.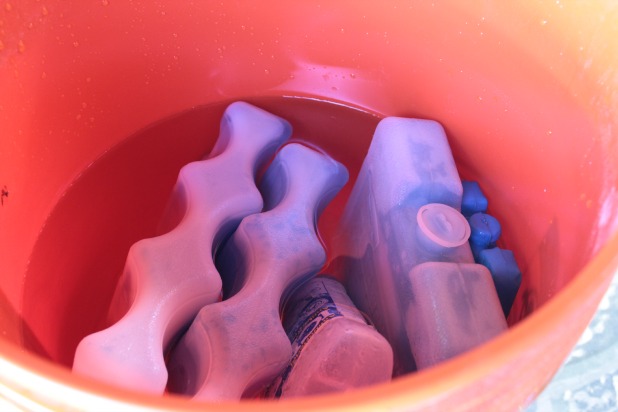 I think hitting the ice blocks caused it to break unevenly.
I resolved that issue with a stone from our yard to hold down a couple of the ice blocks and then I just wedged the others in place leaving enough free space to submerge my next bottle.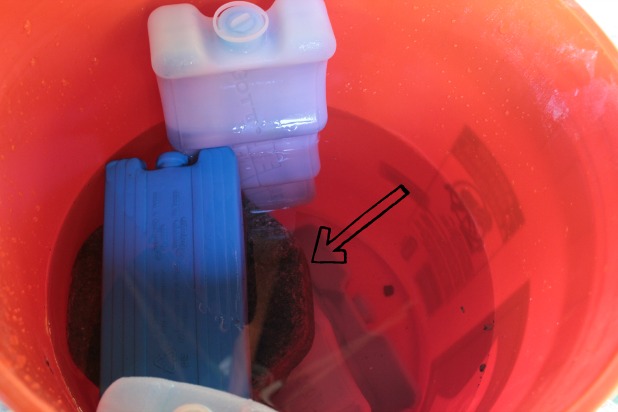 But I didn't have any other bottles. Lucky for me I remembered seeing some on the street on my walk home from pilates this morning. 🙂 #classykeywest #fantasyfestremnants
The issues I think I had with these bottles were two-fold. The first try I had the string right at the point where the bottle starts to go straight down. But since the glass actually breaks above the string I think it was messed up trying to cut on the angle, so it just cracked in a really odd way.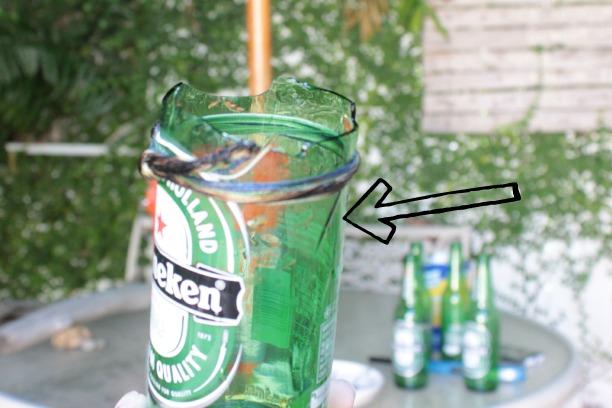 And the other issue is that these bottles have a bevel in them. See the dark line where that arrow is pointing in that picture above. Well, when I moved my string down the bottle quite a bit, there was no way to avoid trying to cut it on a beveled spot, and the third bottle didn't even break apart, it just cracked.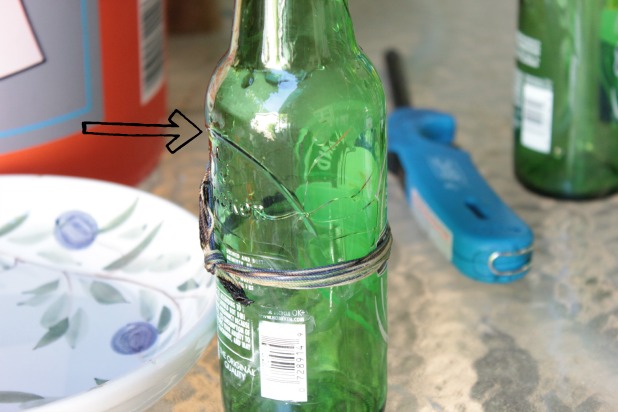 I'm going to have to give it another go with a plain wine bottle and report back. My instinct says that it will work, with all of the right conditions, and the right bottle and maybe I'll grab a four-leaf clover just for good measure. 😉
But we're going out on a boat tonight for a friend's birthday (Happy 40th Cal!) and then it's game 6 of the World Series. Go Red Sox!! #longlivethebeards
So I'm thinking I'll drink a bottle or two of wine tomorrow night and try this little trick again on Friday.
I'll definitely keep you posted.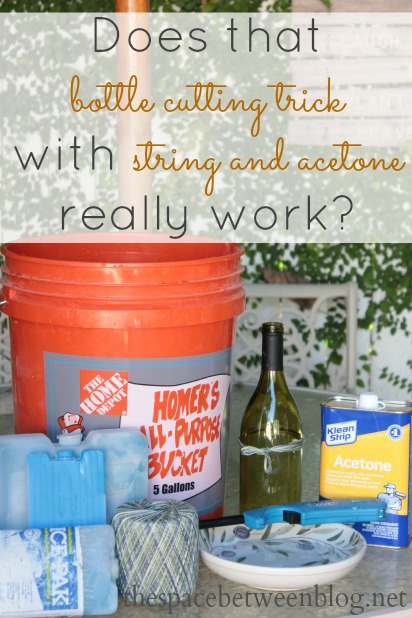 Update: I gathered 4 more bottles of wine and tried a number of additional times and didn't have much better luck. The cleanest cut I got was this.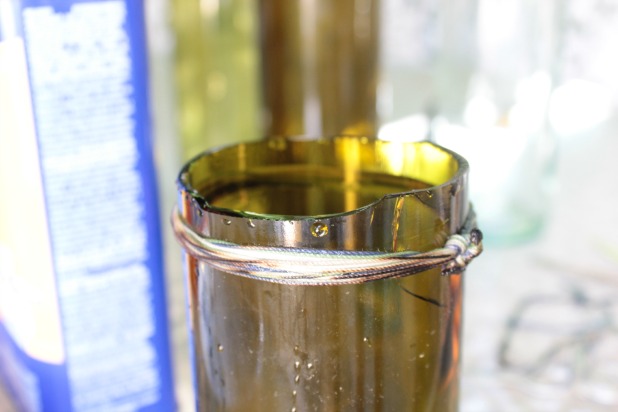 Not even worthy of a tea light in my opinion.
There was a comment that it might be my string. So I wrapped it tighter to get a more even "cut" line and cut off the string by the knot.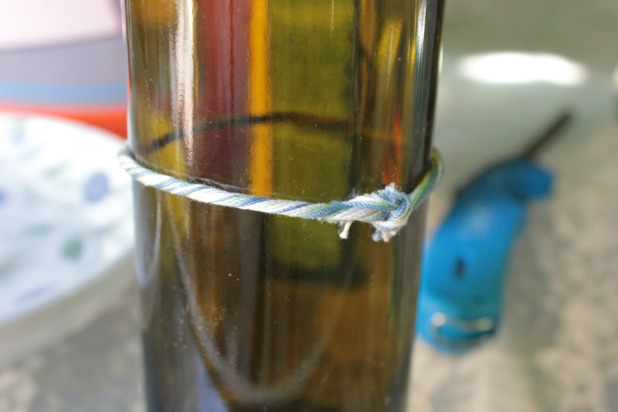 And the dang bottle didn't even crack. 🙁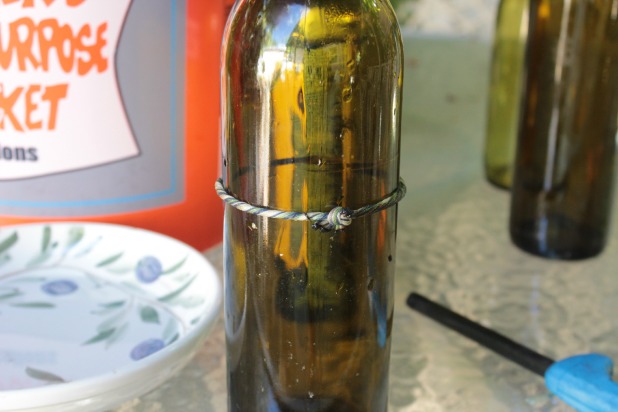 So I figured I would make one last attempt with a clear bottle … maybe it was something with the colored glass???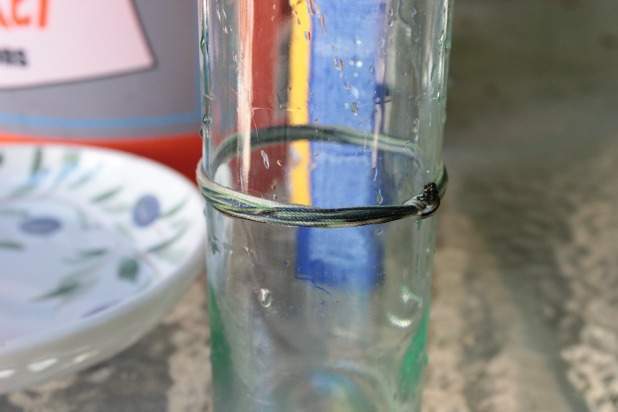 Nope.
For me this project is a bust. If anyone has done it successfully and would like to share their secrets I'm all ears. Someone did comment that you might be able to use a heavy duty sanding tool, like a Dremel, to sand down the edge smooth. I say, have fun with that. I'm out. 🙂