This was a post I never wanted to write.  And I almost didn't.  For many reasons I can't really put my finger on I have been feeling increasingly private of late, hence the lack of posting, but I know that many of you have tuned in over the years as much to see pictures of our girls as you ever did to see the DIY.  And I can't say as I blame you.  You are clearly very smart people.  🙂
Mico was always excellent at making it easy for me to combine the two into one shot.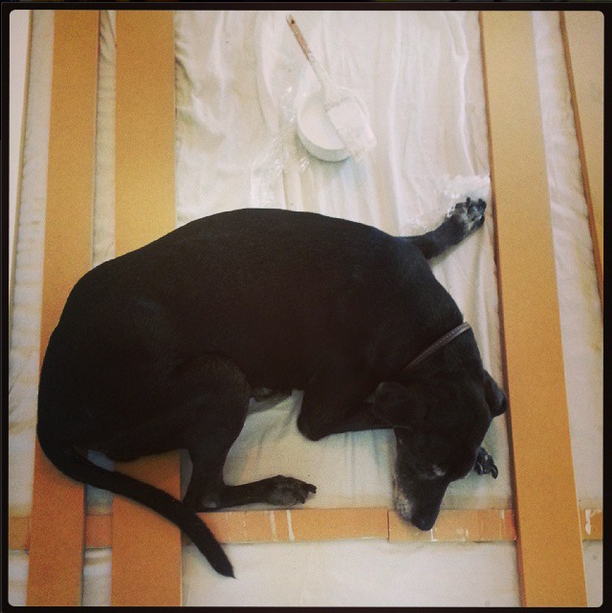 Sadly, one week ago our sweet Mico passed away.  We are very thankful that it was quick and as peaceful as possible.  Throughout the night on Tuesday she was panting, more so than normal.  This girl was always so happy and bounding with energy that panting was a pretty constant state of being for her.  We always joked that she was never going to sneak up on anyone, her excitement and enthusiasm always lead her way.  But something was just a little off that night so we decided I would bring her with me to a vet appointment we already had scheduled for Marley first thing Wednesday morning.
Joel helped me load the girls into the car before heading off to work and our sweet baby was gone by the time we arrived.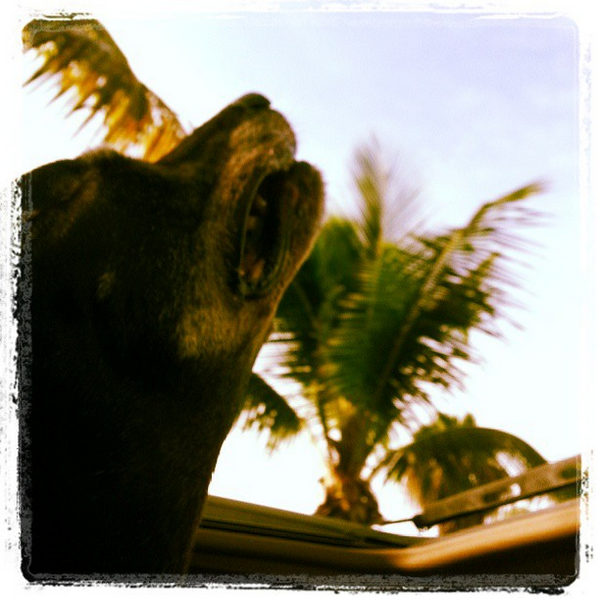 She truly had a smile on her face until the very end.  She didn't need a doctor to take any more blood or do any more tests and she took away the need for us to make any heartbreaking decisions about her life. She knew it was her time.
She was a wonderful dog and the best companion to us for over 13 years.  We picked her out when she was just a month old, the only short-hair, all black female in the litter.  She spent some time in the pound before we could bring her home and we always said that gave her a little edge.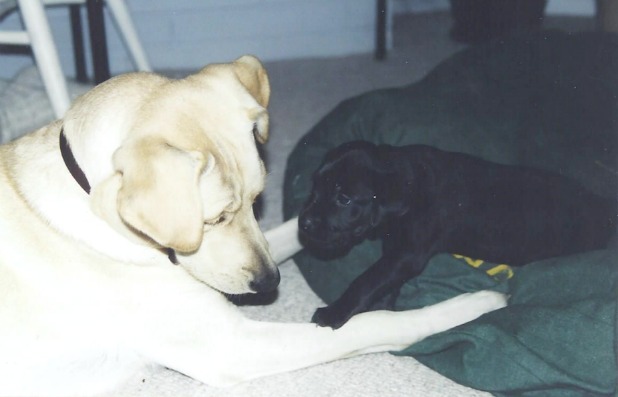 She was fiercely loyal to both Joel and I, never wanted to be anywhere but right there with us and anything in the world we wanted to do with her she thought was the Best. Idea. Ever.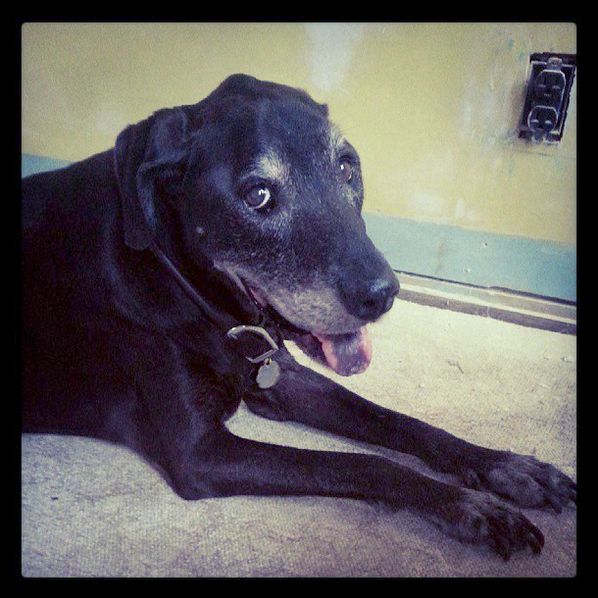 Over the years she survived a tumor removal, splenectomy and arthritis, her medication routine had become a process in and of itself.  She was born in Indianapolis, and from the very first night we brought her home, about one year after Marley, she slept in bed with us. Most nights on the pillow above my head (we had an abnormally long mattress), unless it was too cold then she was nestled under the covers.  She could never be too close.  And that was just fine with me.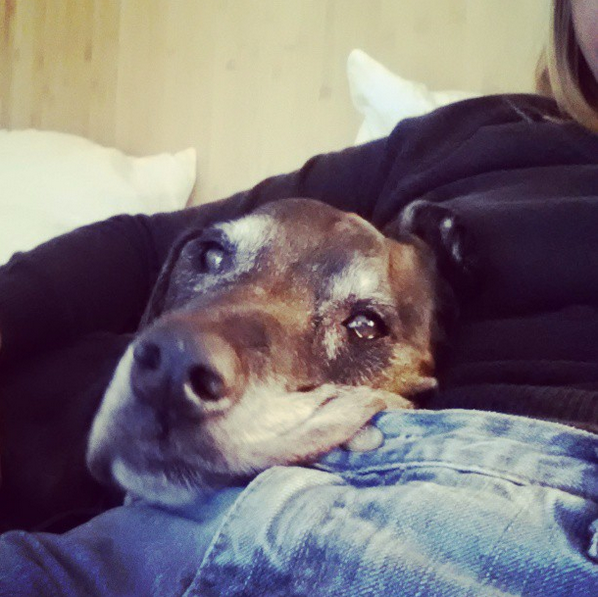 You completed our pack when you joined our family my sweet Mico.  You instantly gave us spunk and street cred.  I think you loved me more than anything in the whole wide world, yet somehow I know you had a way of making Joel feel the exact same way.  Your love was unconditional and your smile contageous.  You gave us more than we could have ever imagined.  We were lucky to be your humans. Rest peacefully my sweets.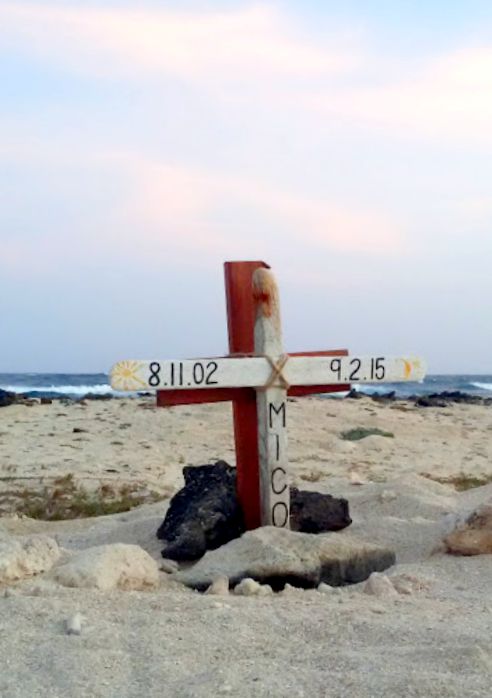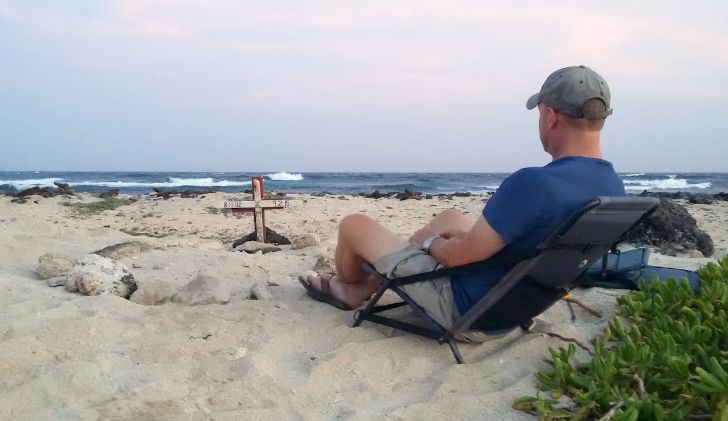 ps.  I've posted more than is probably normal about our sweet girls over the years.  To see some of the projects and adorable dog pictures you may have missed check out these early posts.  Here, here, here and here.  And so many more here.  And a scroll through my Instagram feed might just be cute old lady dog overload.
pps.  Marley is doing just fine.  She is 14 and definitely has old lady moments, and I'm pretty sure she's sick of all of the extra attention, but she continues to nap through the day and enjoy a slow, short stroll in the evening.