Happy Fourth of July everyone!  It has been a crazy week around here, to say the least.
Warning:  This is not at all about a project, decor idea, tip, tutorial or other DIY relevant topic.  This is about when real life happens and the desire for a space to be beautiful doesn't even remotely exist.  When a room's one and only purpose is to function in real life.
When it doesn't bother you in the least when your 'master bedroom' looks like this.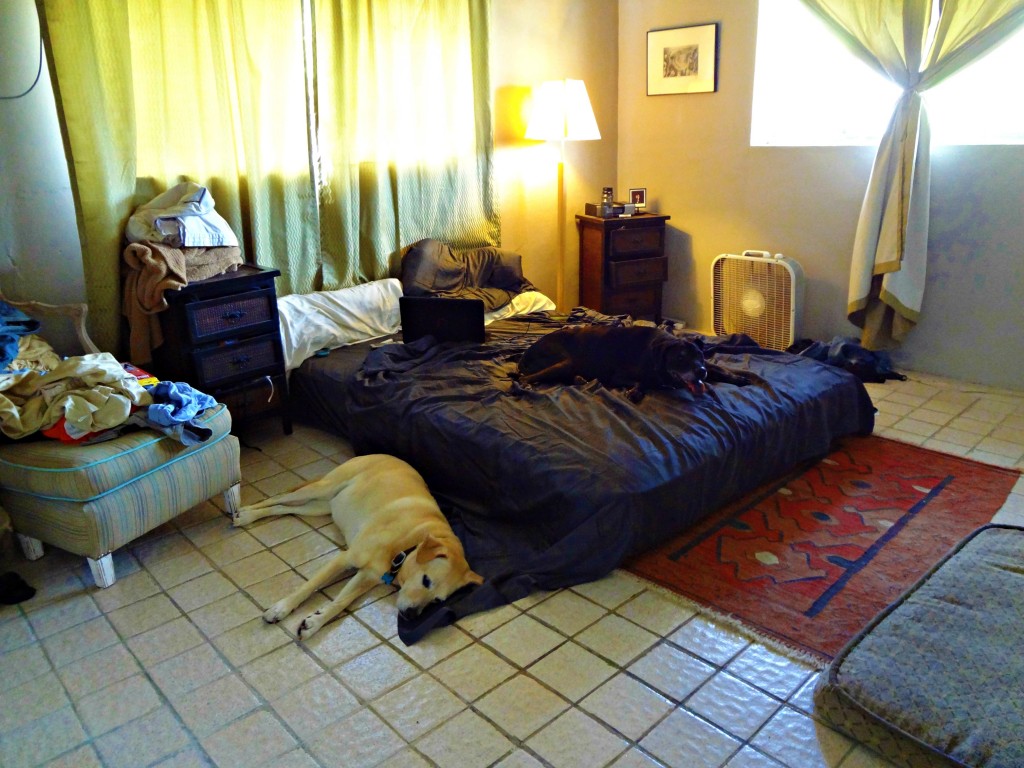 When you get some very tough news and one of your first thoughts is 'we should put the bed on the floor'.
Even though you live in a breadbox, and use the space under the bed as storage and that decision means the items 'in storage', and even your box spring, end up here.

And it doesn't even occur to you that a weeks worth of clothes are piled up on a chair, and sheets and a blanket are strewn on the nightstand who's drawers aren't even pretending to be closed, until you take pictures with an entirely different focus in mind.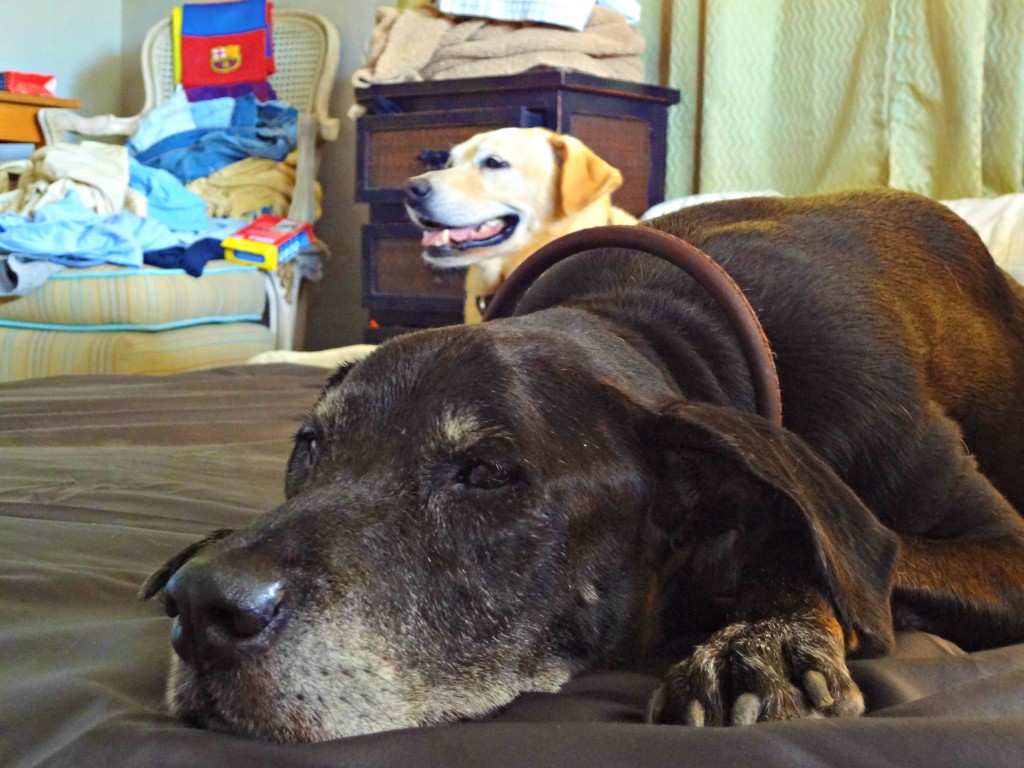 When you can't help but think of the days when your 90 pound puppy slept above your head on your pillow every. single. night.
Well, other than the nights she cuddled under the covers at our feet.  And growled whenever we crowded her.  🙂
That sweet puppy of ours is now 9 years and 327 days old, and not as nimble, or agile and cannot leap onto the bed tall buildings in a single bound.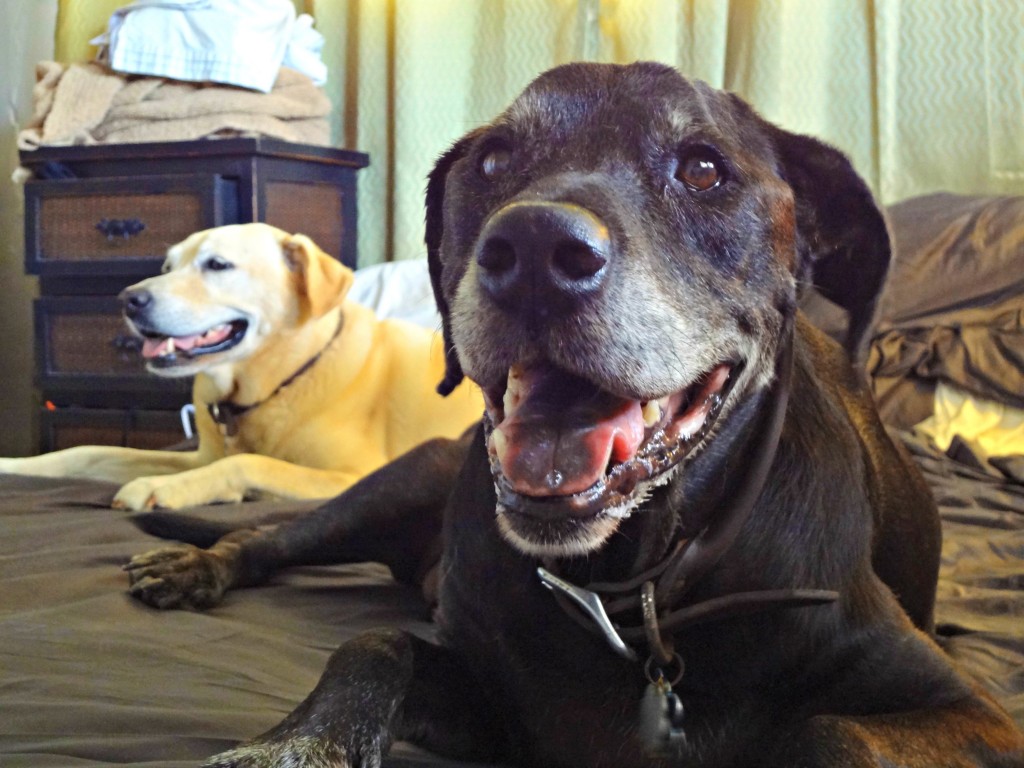 And we found out last week that she had a tumor on her spleen the size of a small melon.  🙁
So, we spent most of the weekend doing stuff like this and this.
And this.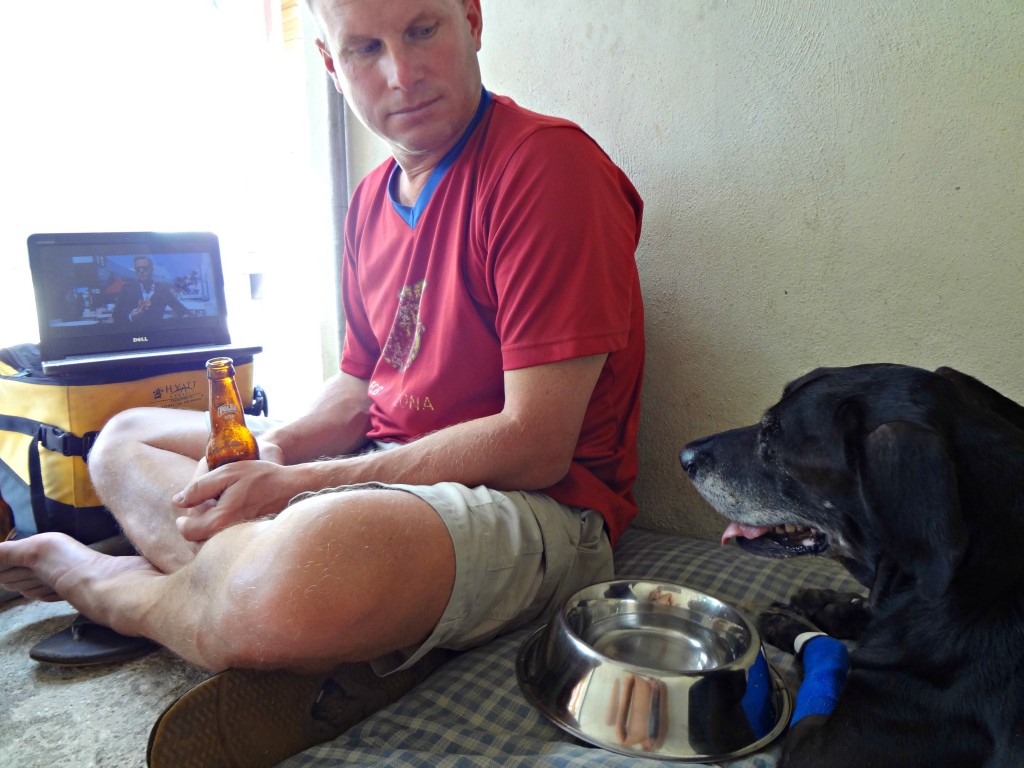 That's Mico still hooked up to her iv post surgery, a daddy looking lovingly on with our cooler of beverages propping up our laptop playing the movie "Crazy Stupid Love".
If I'm gonna spend the day in a 3 x 4 foot concrete kennel, there's no one else I'd rather do it with, that is for sure.
And I am so incredibly thankful that we take too many bad pictures, go to the beach in the rain and let her eat steak and eggs every once in a while.
She has always been the life of the party, in the "Oh no, look who's causing trouble again" kind of way.
She doesn't make dog friends easy, but she never met a person with food she didn't like.
She could not love us more if she tried. And the feeling is absolutely mutual.
I do apologize to all of you who have left unanswered comments, and whose emails I have not replied and whose blogs I have not visited.  I appreciate it all and apologize for not reciprocating right now.  Real life is happening, and I'm slumber partying on a mattress on the floor soaking it all in.  🙂
For those of you who are interested to see the one DIY project in the bedroom that does still look awesome, even though it is surrounded by the madness about please click here.
And, if you haven't seen the DIY canvas silhouettes I made with our beautiful girls as models check them out here.  No vinyl cutting machine or fancy tools required.
And, if you didn't hear about Blogging without Borders and my plea for inspiration help, pretty please click here.
Here's to everyone letting a little real life get in the way every once in a while.  🙂