Happy Tuesday!!  We did it!  We actually closed on the house!  Friday felt like an entirely surreal day because even though we were going through the final motions (reviewing the final HUD statement with the bank, wiring money to the closing company, signing stacks and stacks of paperwork) we were still skeptical the closing was actually going to happen that day.
I can't even begin to explain the trials and tribulations the bank had us go through to finally close 8 days after our original close date.  And the best part is that I had another frantic call from them at 8pm Friday night saying that we needed to sign this one additional document ASAP so they could close our mortgage.
Ummmmm, hello … we just got back from closing.  Yeah, thanks!  😉
Anywho, that is all behind us … and we have already started action plan "make someone else's house our very own home".
We spent Saturday and Sunday (the days I forgot my camera, sorry) cleaning the house and clearing out the yard.  Pulling up old, broken pavers and layers and layers of turf. #don'taskbecauseIdon'tknow  And ridding the yard of weeds the size of trees.
Given the spaces we've had in the past and the spacious yards for our rambunctious pups, Joel and I got a good chuckle out of the fact that we looked at this newly cleared out space and thought … nice yard.  🙂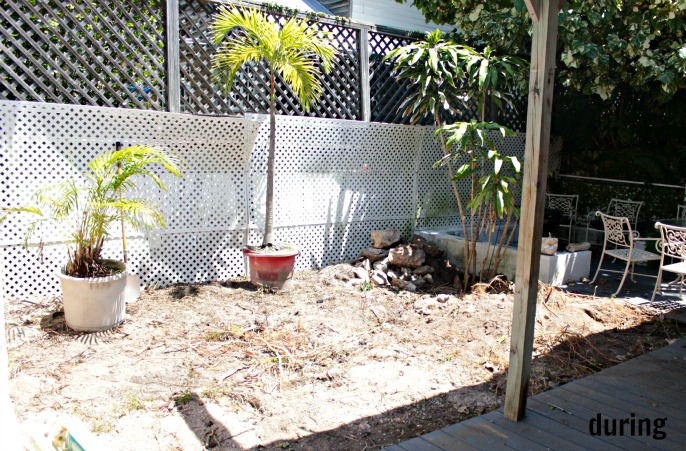 Oh yeah, and see those patio chairs … our stuff from Curacao came today.  Holla!!!
One of the side effects of not being able to close until the end of the day on Good Friday is that our things didn't actually get delivered until today.
But that has also given us a few days to get the few remaining remnants of the previous owners things in order and out of our way.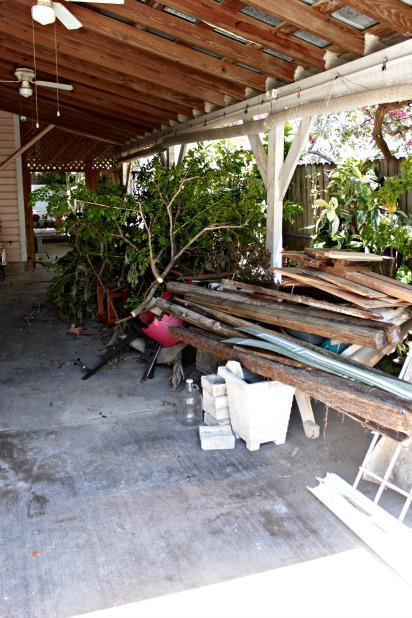 Which is a good thing because these things called packing boxes are beginning to take over.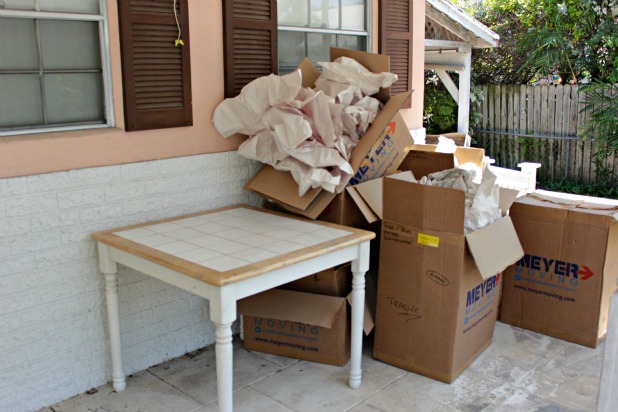 And our living room is looking a bit like this.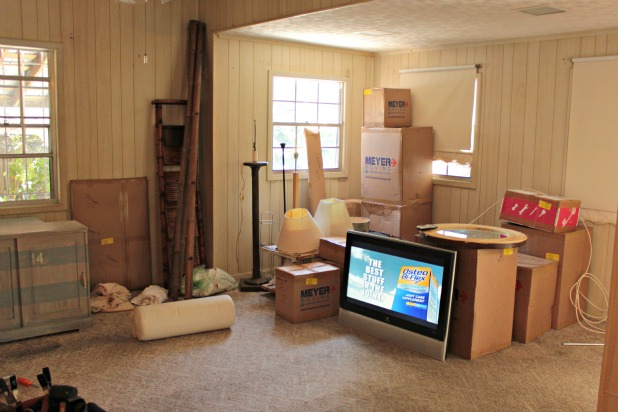 See that there?!?!  That's a tv and it's on!  That means we've just had cable and internet hooked up, and yep, the first thing I'm doing with my brand spankin' new internet is get you guys all up to speed on what we've been up to.
This blogging thing is hard without internet.  😉  I told Joel that I felt all third world with no internet … and then he was quick to remind me that I had internet on my phone.  So I conceded to second world.  😉
(Totally kidding of course, we practically bathe in an overabundance of spendor around here … but how am I supposed to write a blog post on my phone?!?!)  😉
And oh yeah, don't worry about arrant hanging wires in the patio pic, we have those all around and are already working with some professionals to get those wires in order.
So what's the game plan from here?  Good question.  Here's where we stand with that as of today.
Finalize the contract with the electrician.  They will be upgrading the service from the street to the house and getting the house electrically ready for central air and heat.  They will also be fixing any glaring issues including the hanging wires.
Mold remediation on the outside.  You may remember this picture.
Get all of our things unpacked and put away.
Enlarge the opening to our attic so we can actually use the space for storage.
Research types of fencing that is approved with the historic district of Key West.  We currently have a plethora of types going on from chain link, to white lattice to unstained wooden pickets.  We think a unified look will really enhance the feel of the yard.
Decide on a game plan for the yard.  We'd like to add a few more palm trees, and are lucky to have inherited a couple in pots from the previous owner that we're going to incorporate right into the landscape.
Figure out how to win this battle with ants.  I hear it's impossible here in Key West … but I'm determined … if not just naive.
Prepare for Round #2 of movers to come next week in the form of all of our things that have been in storage for the last 3 years.
That's about as far as we've looked ahead so far.  Everything we do structurally will need to be permitted and approved by the Historic Oversight Committee here in Key West so we are trying to be very strategic about how we tackle each project.  We don't want our progress, also known as momentum, getting held up for long periods of time by decision makers … so we're hoping to start with a few things that are no brainers and tackle any more say, extreme ideas, down the road.
Let's just hope we're all in agreement in these so called no brainers.  🙂
And I know I've said this before, but being as I'm only second world I do share a plethora of in the minute details and pictures from my phone on Instagram and Facebook.  You might like to follow along.
So tell me, what have you been up to?  Have any experience with ants?  Other than Freecycle and the free section of Craigslist, any idea for getting rid of all of these darn boxes?