Yesterday I showed you a little trick we use every so often around here when good drywall intentions go bad and today I'm going to share a little story with you from the days before we knew about unbreakable wall plate covers.  Happy Saturday btw. 🙂
About 12 years ago, right after we bought our first house … look at her, isn't she a cutie?!?!

Anyway, one of the first DIY projects we tackled, with the help of my dad of course, was to change out all of the outlets and switches to white.
I took the day off from work and did most of the switch-overs with my dad and then when Joel was done for the day he came home eager to help.
My dad gave him a screwdriver and said "You can start putting the cover plates on, just don't screw them in too tight or they will break."
Joel, feeling confident, grabbed the switch plate cover (one for three switches in a row, not the cheapest option of course) and went right to the switches just inside our front door and proceeded to "help".
Not 5 seconds later did we hear a crack, a few choice words and then Joel turned around and said,
"What do you guys want for dinner, I think I'll just cook."
It makes me laugh out loud to this day.
I tell that story to more people than Joel would like … but it's only funny because it's true and that he has now turned into our resident electrician says something about how far he has come.
He'll be the first to tell you DIY wasn't his thing.  Heck, he still calls it DYI sometimes. #men
Anywho … have you seen these guys?  The one on the right.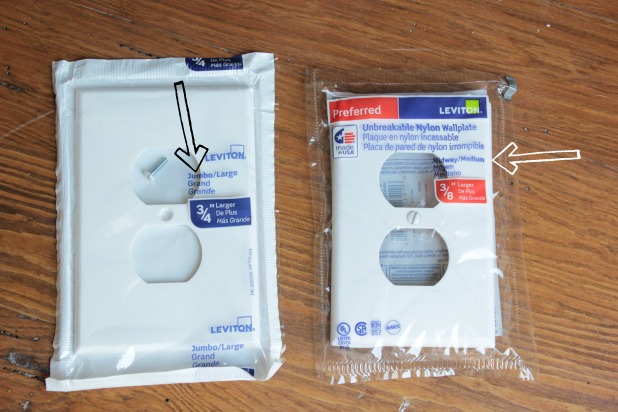 Unbreakable Wall Plate Covers!!!
The first time we saw one I grabbed it and said to Joel "Would you like to test this theory?"
See … funny every time.  🙂
For anyone who's heavy-handed with the drill Joel, not that I'm going to mention any names Joel, but that unbreakable option on the right is a great option for you Joel.
It's got a little flex in it so when you find yourself incapable of stopping the drill at the right point, it will bend and not break.
Got it Joel!  🙂
Sometimes it's the littlest things that make such a big difference.This is part of a 31 day series of tips, find them all here.