Here it is.  My little memory board of life.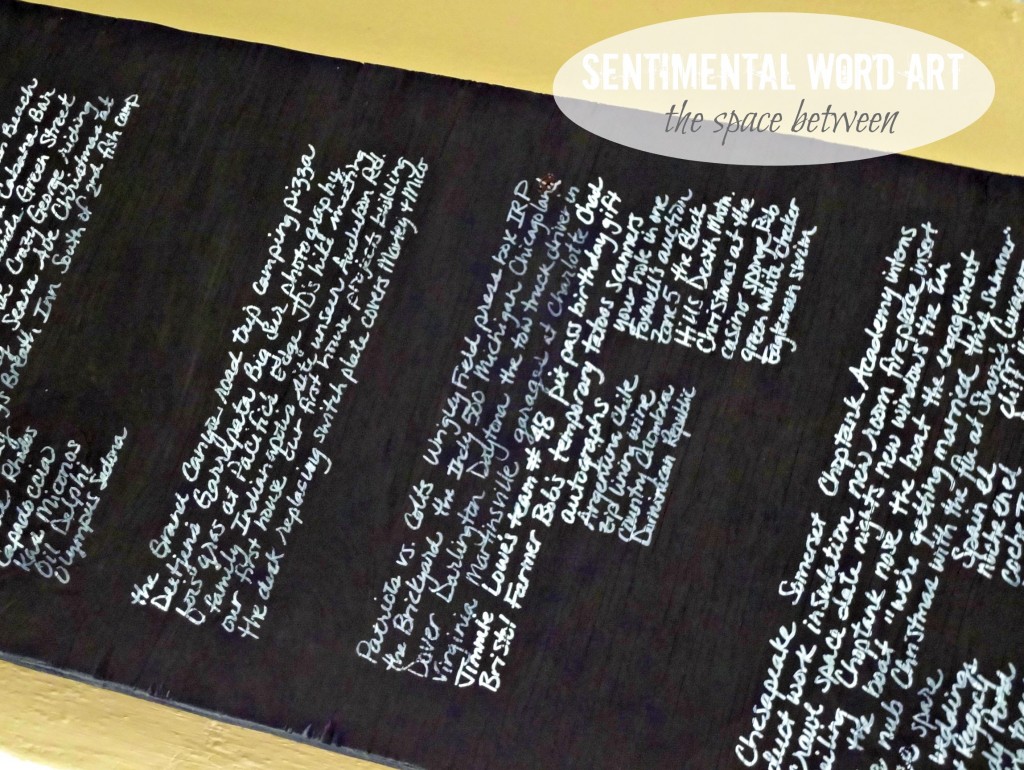 You first saw this bare plywood board way back in December when I had it hung above our tv trying to find some inspiration in the piece.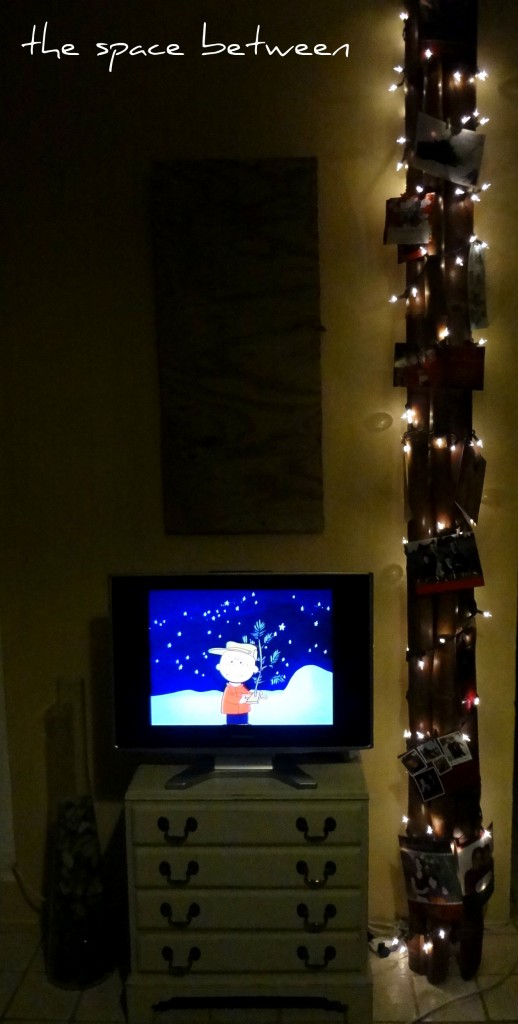 What, you don't hang dirty, unimproved plywood above your tv and live with it there for months?!?  And take pictures with all kinds of cords lying around?  Sigh.
It's literally a piece I saw in our wood pile one day and thought "that's a nice size, it would make a good piece of wall art of some kind".  I had obviously imagined it going vertically above the tv.  It already had a little piece of wood screwed into it that worked perfectly as a hanger on an already existing screw in the wall.  Easy peasy.
But, then I decided to switch up our tvs and that plan no longer worked.  Bummer.
Then I had another idea.  I've actually had the idea for a few months.  I needed to get a few paint pens to make it work.  I found them at Michael's when we were in Florida in March.
So, why I didn't do anything with it until this past weekend I have no idea. #happytoprocrastinateonadailybasis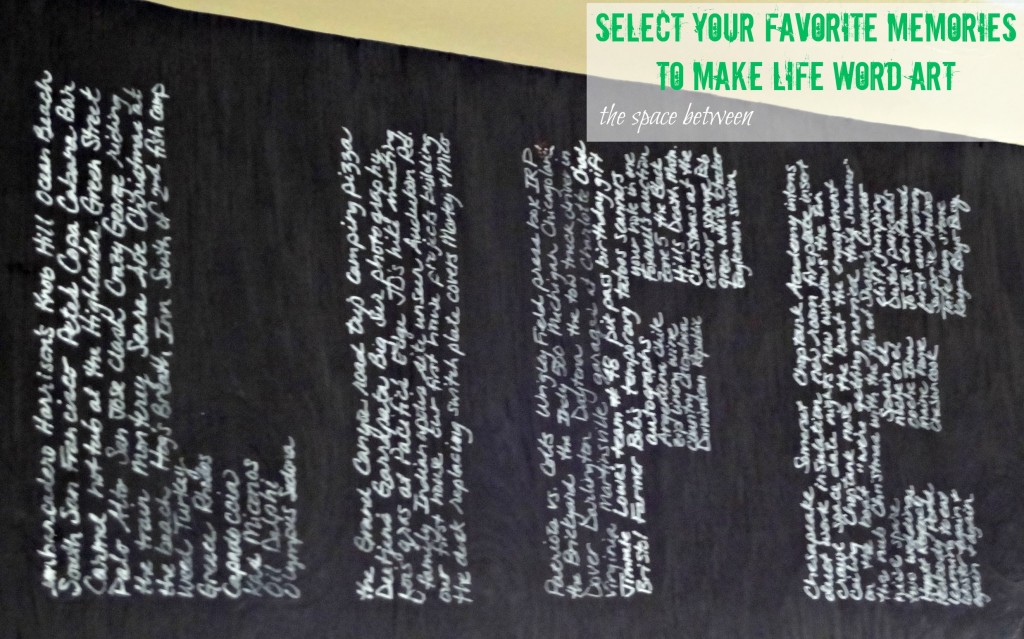 I made a list of a bunch of things that reminded me of my life with my husband.  Where we met, things we did, places we've lived, favorite vacation spots, sayings that make us chuckle, just all around randomness that is only meaningful to us.  Smile.
I took a regular ol' sheet of 8.5 x 11 lined paper, measured 3 inches wide and made block style letters to spell the word LIFE.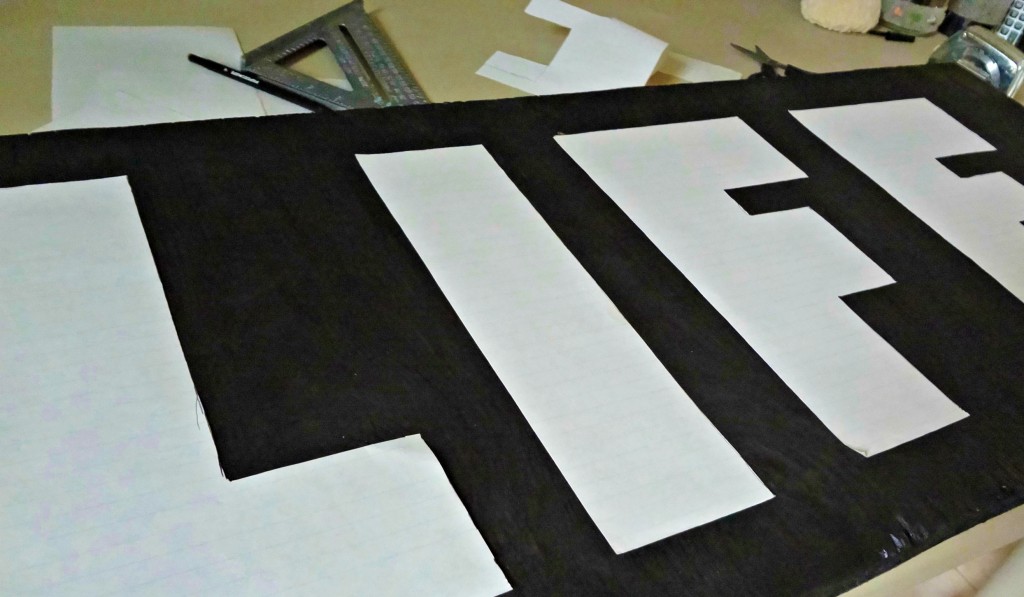 I used a black pen to outline the letters on my plywood, that has been painted black for a few months now.  Sigh.  #notsurewhyI'msuchaprocrastinatorsometimes
This is the same "tracing" technique I used here.
Then, using the paint pen, I just wrote all of my words in the lines.
I was actually really worried that the paint pen would wear down and fray (can a paint pen fray?) really quick because of the roughness of the wood.  But it didn't at all. I had never used a paint pen before but I was really impressed.  I do have a little ombre effect going on in the F.  I thought the pen was running out, but I just need to refill the tip with paint by pressing it onto a scrap piece of paper a few times.  (I only ended up needing one pen for this project.)
Yep, TOTALLY coincidental that the first super bright white word is Chad.  Coincidental yet serendipitous I say.  🙂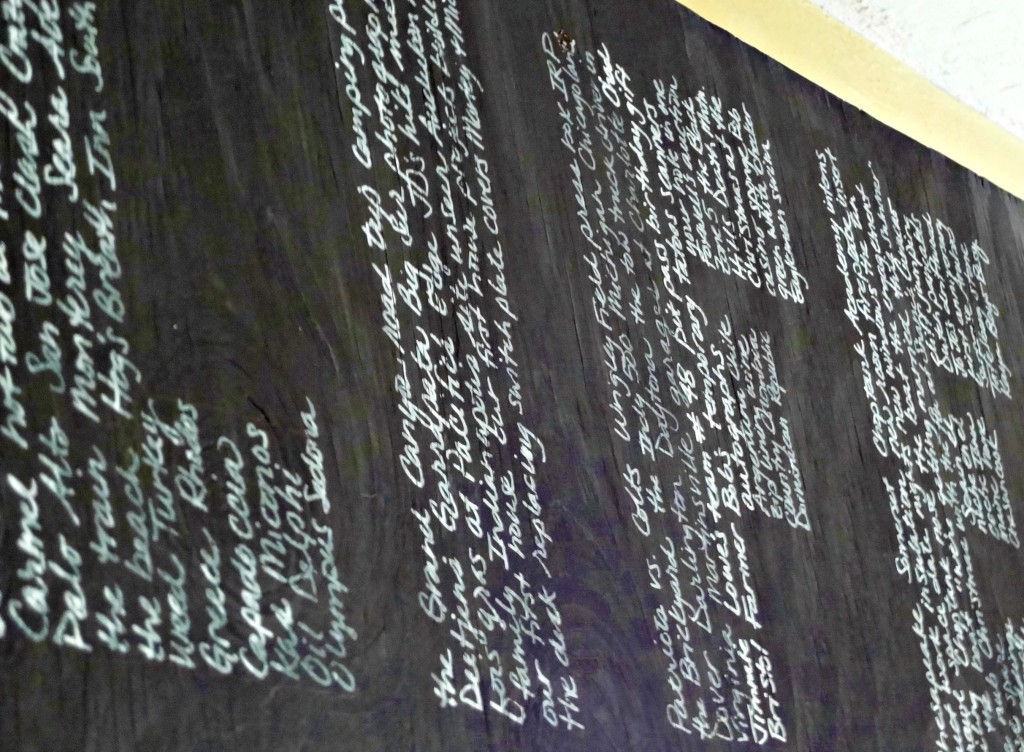 I think she could use a frame, but I don't have any spare molding lying around so she'll go frame less for now.
And the lettering isn't perfect.
And my penmanship is hideous in some spots.  As per usual.
And where I meant to write Ois – one of our favorite towns in the Greek Islands – I put Oil instead.  Oh oil…what a fond memory.  😉
And the plywood is a bit chippy and doesn't even really have straight edges.  But I love her.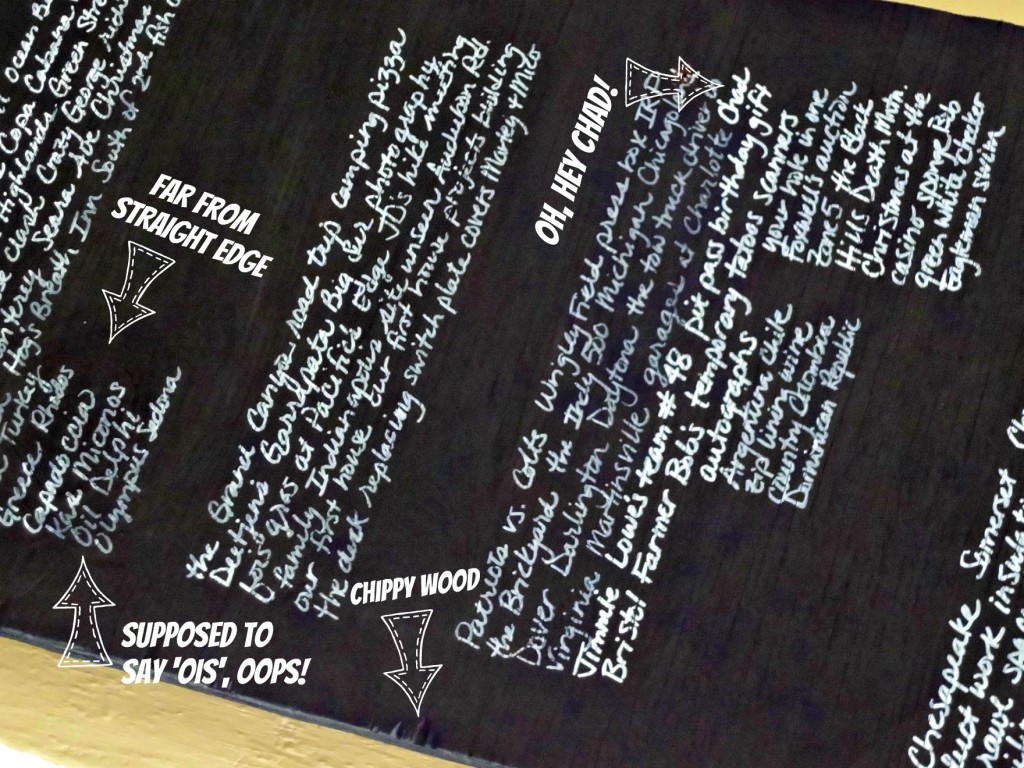 Rough around the edges, imperfect, a little messy, a bit misinterpreted in spots yet entirely meaningful.
Sounds about right.  🙂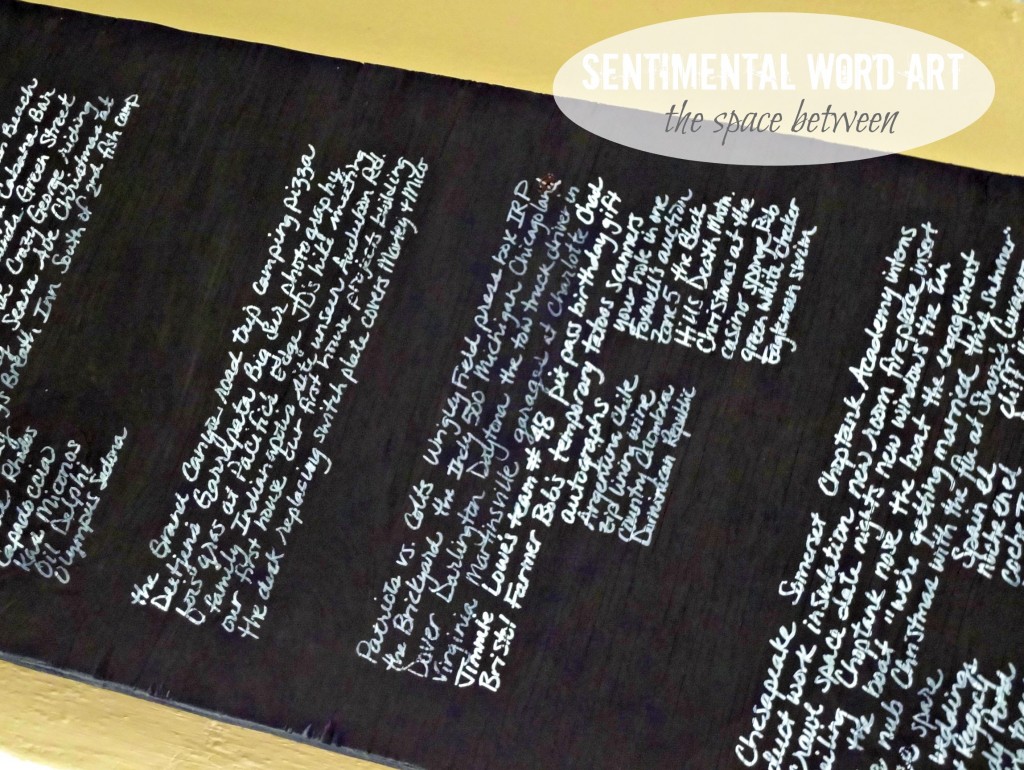 And I have a fun idea for updating it a few years down the road when we've accumulated new words, thoughts and memories to add.  And when I say "we", I totally mean ME.  When asked, the husband's only contribution was to say that he's sure I've thought of everything.  Thanks bunches for your help, honey.  😉
I was also thinking of writing somewhere on it "the first 12 years" … but once I hung her I didn't want to take her down. #hiimlazynicetomeetyou
So, tell me.  Have you taken any random pieces of wood from your scrap pile and made anything you love?  Made any similar kind of meaningful word art of your own?  (I just typed "owl" instead of "own" … apparently it's the words starting with "o" that give me trouble.)
And…just a friendly reminder that the next party in our little every other month series is this month.  The last Tuesday of this month to be exact.  May 29th at 7am eastern time to be specifically exact. MISSION: Possible … The Great Outdoors.  So, get out there (literally!) and do something awesome!  We can't wait to see it.  And by we I, of course, mean Kelly, Kari, Andrea and Linda.  🙂
I am sharing this here and at: BNOTP, DIY Show Off, Addicted 2 Decorating, Home Stories A to Z, Savvy Southern Style, Remodelaholic, Today's Creative and Sugar Bee Crafts and My Uncommon Slice of Suburbia.