Because it's never enough to have dad help with just one project, we also tackled a little preparation for the new lighting in the vaulted entry!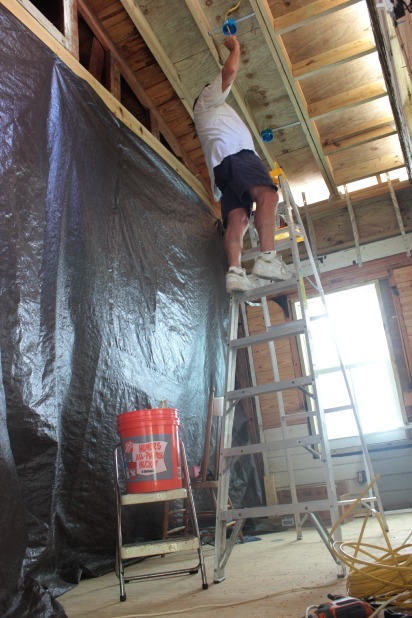 I am convinced that I will hear a gospel choir singing every time I open the front door when this little space is done.  Like those musical cards.  Open equals music, closed equals silence. Picture me standing just outside our front door opening and closing it … and definitely hearing music.  That's just how much I love her.
So when it came down to it, deciding on the right lighting was a little bit of a challenge for Joel and I at first.
But then The Home Depot reached out to me and said "Hey we see you've been installing insulation and upgrading your windows to an energy-efficient style.  We'd love to have you check out our Efficiency Audit online."
And I was all "No thanks.  I'm not interested in learning new ways to make our home more energy-efficient and I hate saving money and being kind to mother Earth."
…
Yeah, right!
I spent the better part of an afternoon playing around with this energy efficiency audit. It's just my kind of fun to see a little money-saving ticker tally my potential money savings as I learn new ways we can improve the energy efficiency in our house.
Tankless water heater anyone?!?!?  I knew it would save me space and wouldn't heat water we aren't using, but now it's going to save me money, too!?!?!  I totally want one now!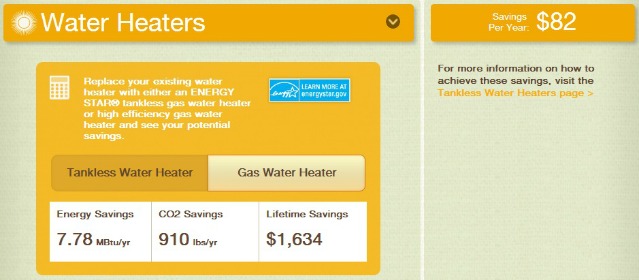 And when I was reminded by this handy-dandy (and I warn you totally addicting if you're into calculating savings and learning new ways to be kind to the planet) Efficiency Audit that LED lights not only save energy but they save me money, the decision on what to do for lighting in the vaulted ceiling was made right then and there.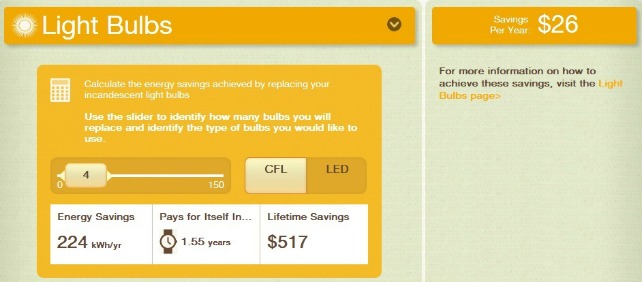 This is only for 4 lights, imagine the difference if you start switching out each light bulb in your house.
And combined with dimmer switches … a no-brainer really.  Because, let's be honest, I was considering dimmer switches for ambiance reasons anyway.  Who wants the lights glaring at full blast all the time when just a little mood lighting will do?
And they're better for my energy bill?
"Sprinkle the infield" as my husband would say when ordering another round.
We'll take one of each.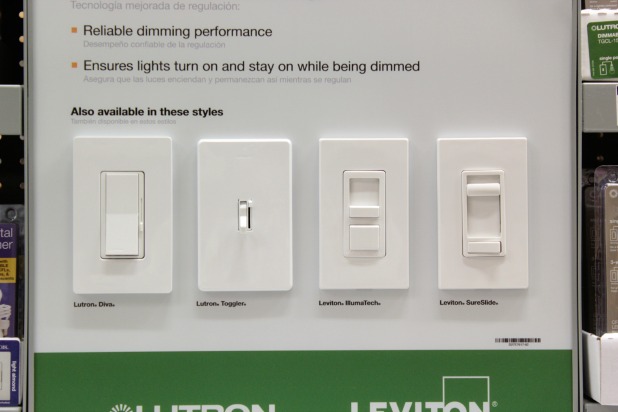 That's a lie.  We opted for the second one from the left in the picture above because our switches are going in a box with two other switches so we needed the switch to be compatible with our switch plate covers.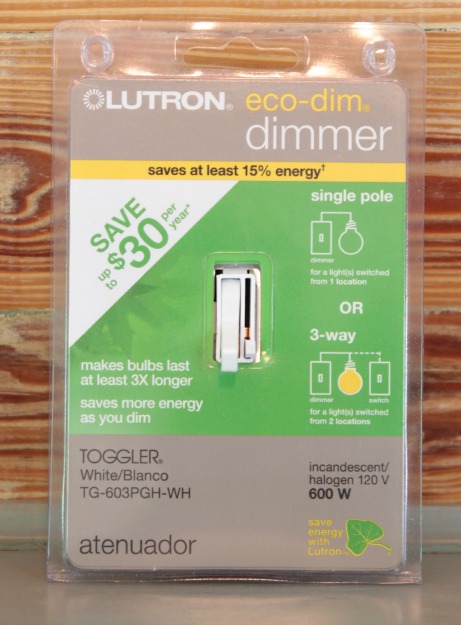 But I'm kinda diggin' the second one from the right in that picture above.
And even though we had decided on LED recessed lights, once we saw the selection at the Home Depot we were really happy to have the input of the knowledgeable staff.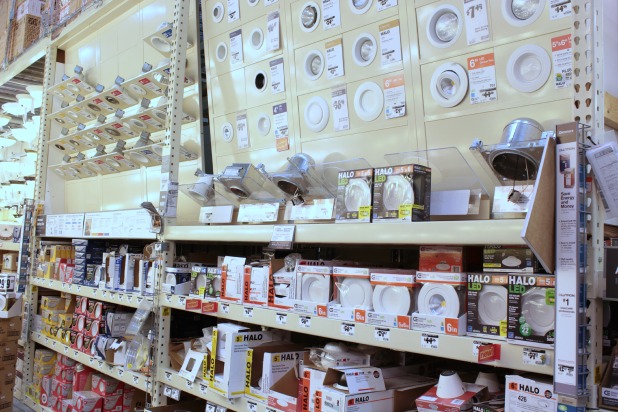 There are so many great options to retrofit lights you already have.  But since we're working straight from the framing stage in this space we were looking for "new construction" options and were sold on this option based on the look and their ease of install.  An employee who had just installed the same set in his own house walked us through it in the store.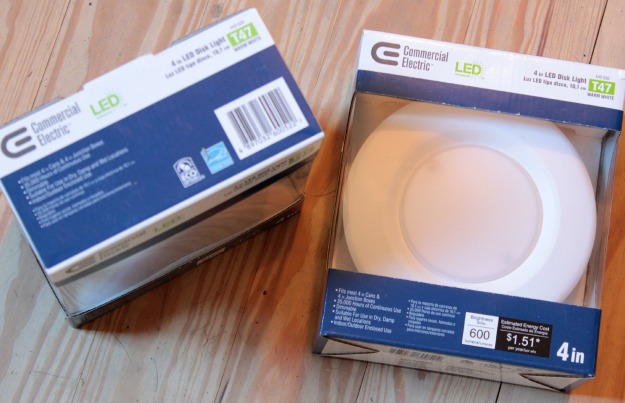 And, for anyone looking for something similar, this style happens to have a retrofit kit included so you could easily convert your recessed lights to this more energy-efficient LED option.  Seriously, let's do this!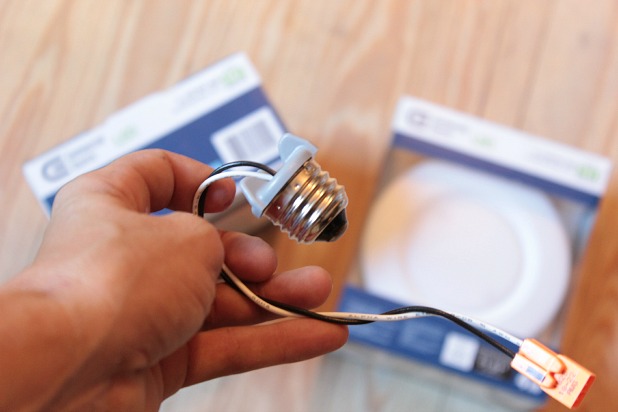 And we've heard from friends and family with recessed lights how quickly regular recessed lights burn out. We figure the few extra dollars spent on LED lights minus the savings on our energy bill multiplied by the fact that I won't need to be hauling out the tall ladder every other month to switch them out equals happy dogs shopping at The Home Depot.*
*That math might not make sense to you but when the facts all come together in your brain at the same time you turn around to realize your dogs are doing circus tricks (I mean sitting and shaking) for Home Depot employees in exchange for treats it totally makes sense.
I don't know about you, but I don't consider hauling out the tall ladder to get up into the vaulted ceiling to switch out lights a good time.
Saving money and the planet = Good Time for all!!
Unfortunately, since we haven't had our framing inspection yet we can't install the wood slats on our vaulted ceiling which means we're not quite ready to install the lighting, but we went ahead with the running of the new electric lines and placement of the light switches.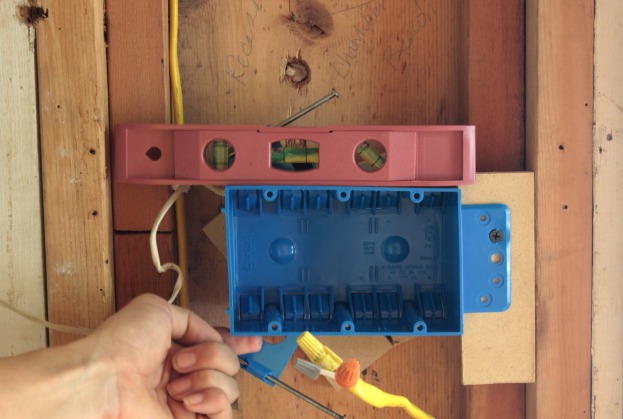 We cut a few strips of MDF to shim out inside the wall so the light switch box would be screwed in at the right depth.  (You want it to sit flush with your wall so since we don't have the drywall installed yet we need the box to sit outside the studs by 1/2 inch.)  We only screwed one screw in and then got her level before screwing her in securely.
But I did check out the switches and there are great instructions and installation looks like it won't be anything out of the ordinary for anyone comfortable changing out regular outlets and switches.  Color coded screws to tell you where to attach your power and neutral lines and everything.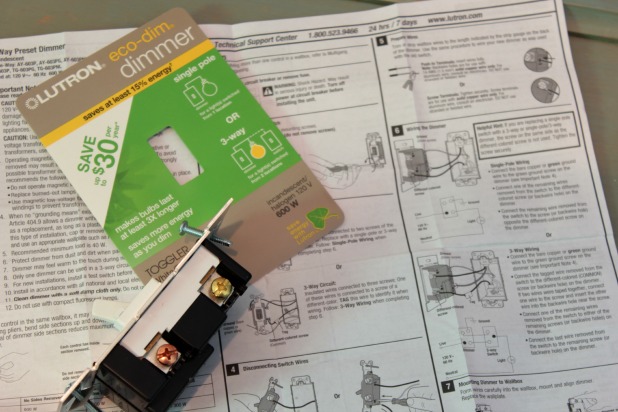 We also installed four new light boxes for our recessed lights and ran the wiring from the switch to each light box.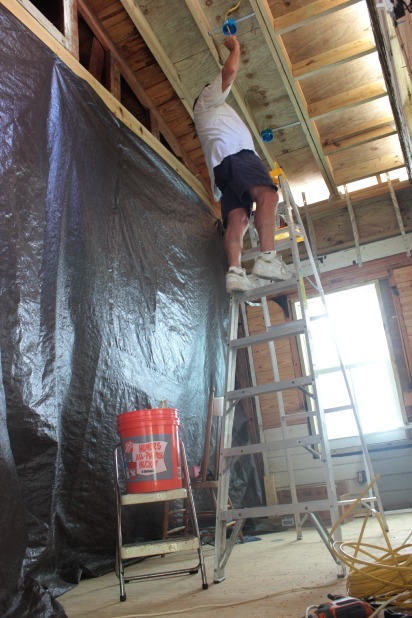 And like any good project, running electrical wire can get messy with all of the wire scraps, especially if you're weeding out old wire and boxes as you go.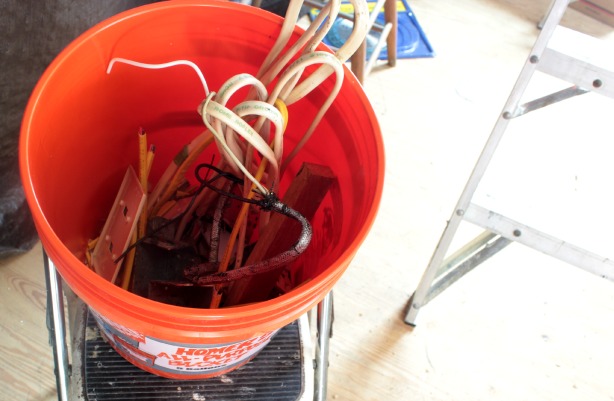 I would like to personally thank the homer bucket for preventing me from tossing all of these little bits of extra wire and romex covering all over the floor which would have inevitably ended up with me twerking myself around the house picking them all up. (Now that I mention it, please try not to picture it.  Awkward.)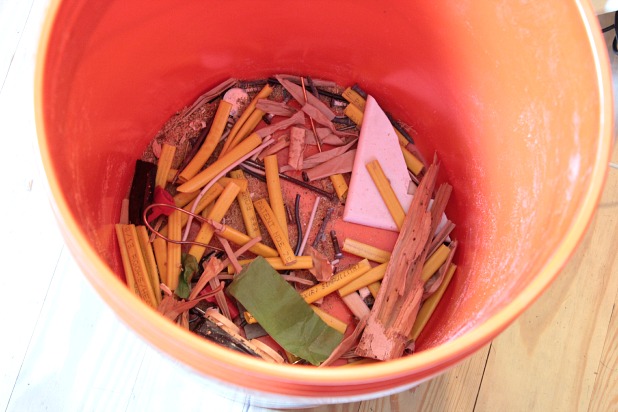 I won't be invited to join MENSA any time soon, but I felt pretty darn smart when I finally decided to take a little bungee cord and hang the Homer bucket from the ladder while we were measuring and installing our recessed light boxes and running the lengths of wire.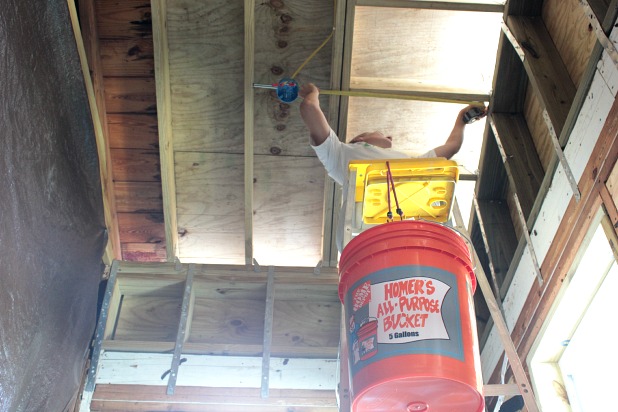 My "that is brilliant" meter might be a little off kilter, but it's those easy little solutions that can make a tedious project seem to breeze by.
Just call me the Rachel Ray of electrical.
(You know how she's always saying you need a bowl on your counter for your food scraps so you're not running to the trash can while you really just want to be cooking?  Does anyone get that?)
Anyway … here's an interesting shot for many reasons.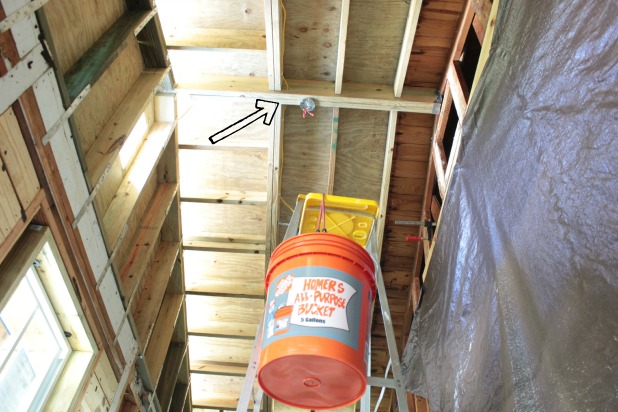 1) The arrow is pointing to where we just drilled through the center beam at the peak of the vaulted ceiling to run the wire to connect all four LED recessed lights so they will all work on one switch.
2) You might notice right by that arrow is also a little box with wires that is not one of the recessed light boxes … Yup.  We're wiring for a chandelier, too!  I'm not going to stress myself out about finding one right away or overpaying for something just to get something, but I want to keep our options open in case the perfect fit just happens to fall in my lap.
3) Why yes, that is a tarp hanging up in our living room.  We wanted to start using our central air for my dad's visit but do you see all of that natural light coming in through those open roof rafters in the top left of the picture?  I wasn't prepared to just offer up cool air to the neighborhood so I created a little barrier with the tarp and everyone was surprised at how well it did actually trap in the cool air.
That is, of course a short-term solution.
As part of the energy efficiency audit we also invested in our next batch of this fun stuff.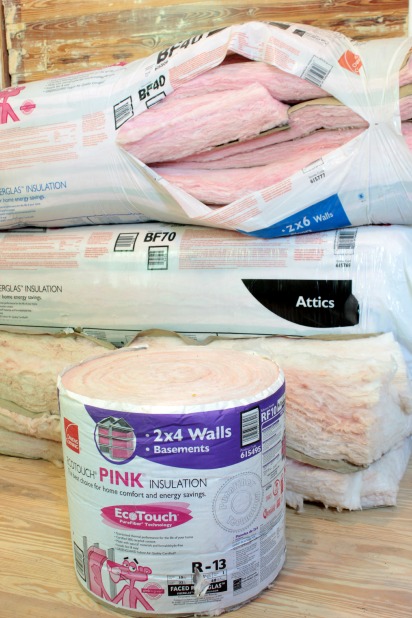 And we're steadily working toward securing the house from the outside in.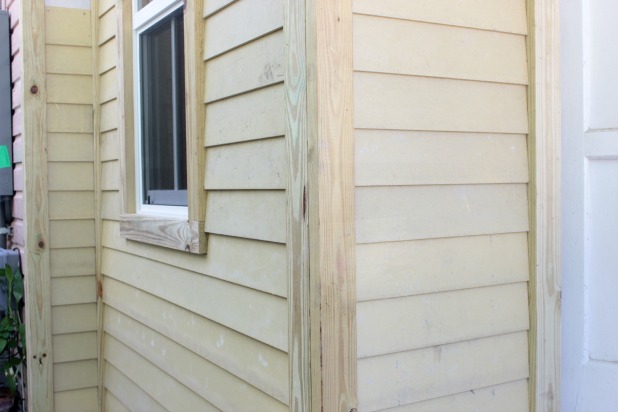 That's new siding people!!!  It is a cement board product and it comes primed, which is this tan color.  I will be busy sealing all of the seams under every single board and where each siding board meets the trim.
Basically I've asked the Dynaflex Indoor/Outdoor Sealant to go steady and we plan on spending the next few days weeks? months? spending a lot of time together listening to music and just getting to know each other.
He's paintable and waterproof and great for use indoors or out.  That's a lot of the qualities I look for in a good date caulk sealant.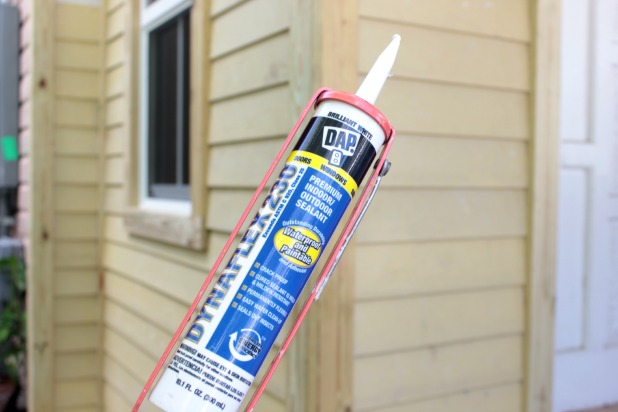 So, clearly I am on a going green kick lately.  Between our early morning insulation adventure and our new energy-efficient windows and the full energy efficiency audit … I will tell you … it feels good.
I feel like we're making smart decisions and it's not only going to pay off in our wallets but I especially like knowing that I'm trying to do the right thing for this round blob in the universe we all call home.  Really, where would we be without her?
Get started by learning about The Home Depot's Eco Options program here, and take the Efficiency Audit here.  Let's do this!
I acknowledge that The Home Depot is partnering with me to participate in this energy efficiency audit.  As part of the energy efficiency audit, I am receiving compensation in the form of cash and gift cards, for the purpose of promoting the energy efficiency audit and The Home Depot.  All expressed opinions and experiences are my own words.  My post complies with the Word Of Mouth Marketing Association (WOMMA) Ethics Code and applicable Federal Trade Commission guidelines.