After the tv show The Bachelorette finale was filmed in Curacao a few years ago I was lucky enough to be friends with the owners of the houses that were used during filming and even luckier that they let me do a little walk through to photograph and share some behind-the-scenes looks with you guys.  Thank you so much Marilyn and Susie!! xo
This is the pool where Emily's daughter, Rikki, met the bachelor that won the show, Jef. Totally shocking, but they have since broken up.  Crazy, I know. 😉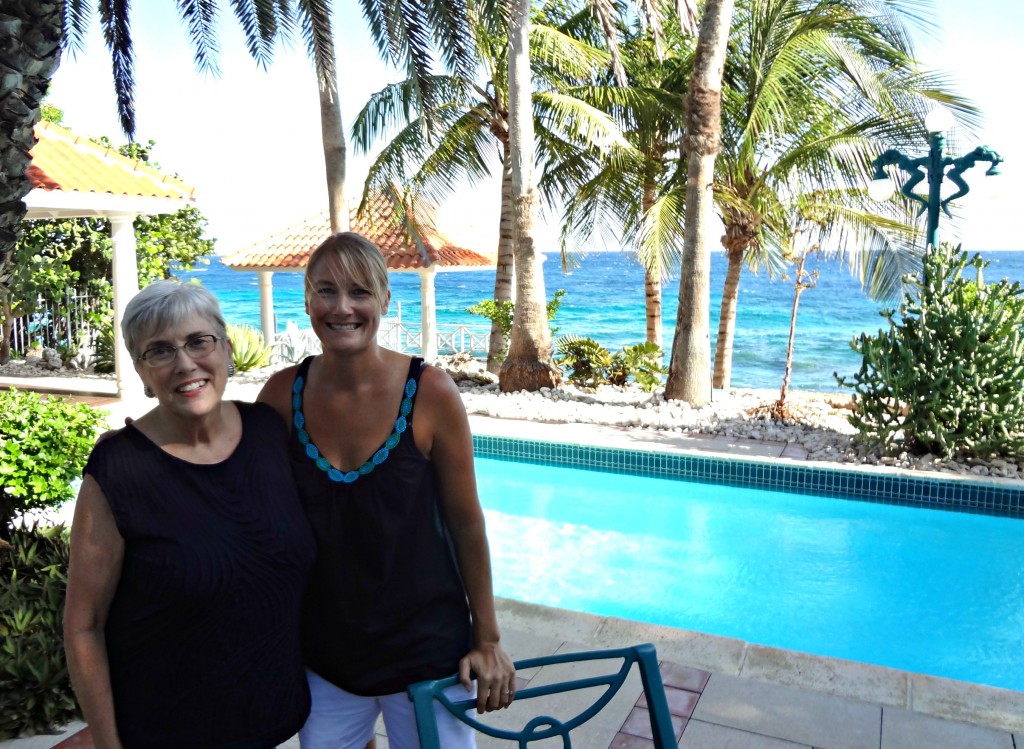 Now that we're in Key West I pretty much walk or drive or bicycle by a house everyday that I wish I could just take a quick little peek inside.  If we've learned anything from our open house adventures it is that you just never really know what you're going to find here in quirky Key West.
So, when our friends decided to put their house on the market I knew I had to get in there and photograph it for you and take you on your own Key West house tour.  For starters, they actually painted their house Key Lime. Fun, right?!?!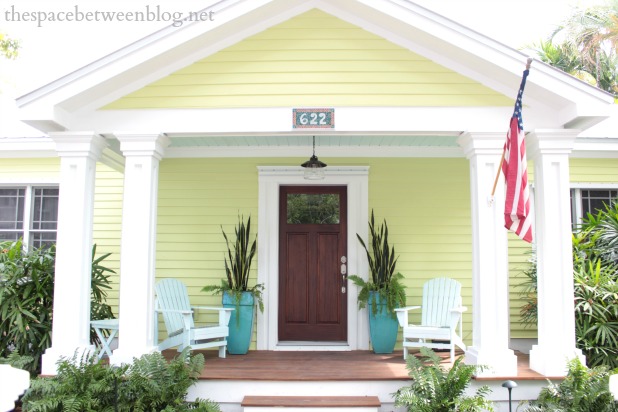 They have their own shade of blue on the underside of their porch ceiling, and my crafty friend, Eryn, made that mosaic house number.
More often than not we would use a door that enters on the side of the house, which is pretty cool, because you walk in and BAM.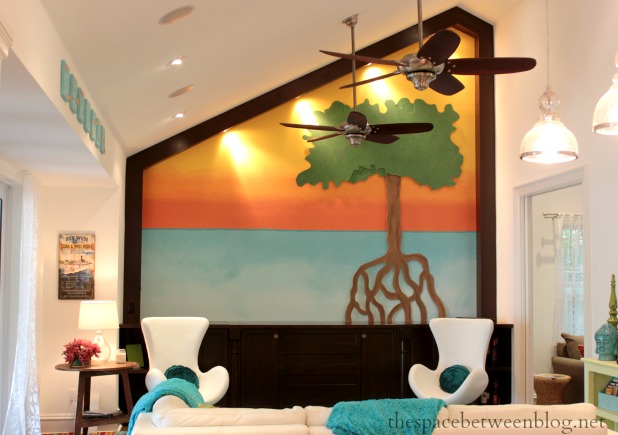 That is a colorful accent wall that Eryn designed and our friend, Mike, made.  The dark wood box around the wall serves not only as a frame but a place to hide the wiring for the recessed lights.  And the console piece that runs along that wall also houses the tv that can be raised only when they're looking to watch.  I would love something like that.
And then if you glance to the right …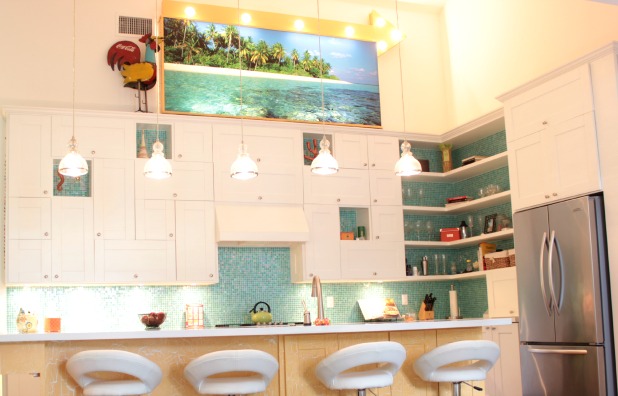 The vaulted ceiling extends across the entire width of the house and those five panel cabinet doors were all handmade by Mike.  Eryn designed the layout with a few openings that I think are so cool with the backsplash tile carried up to the back of them.
And the old lighted arrow sign with a salvaged (acrylic, I think) beach scene.  LOVE!  The house is selling fully furnished, too, so those could be yours.  🙂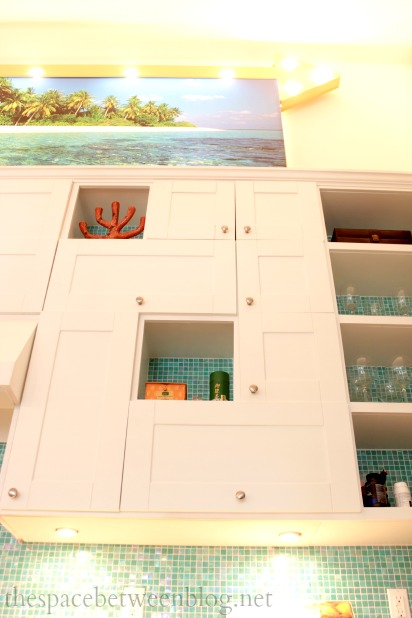 Behind the kitchen is the beautifully light and colorful dining room.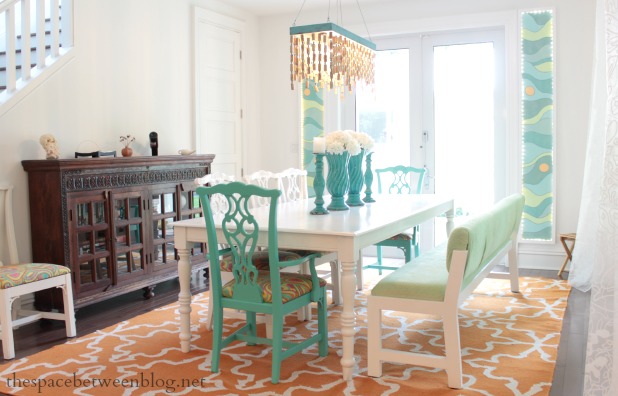 Eryn made those fabric panels flanking the French door with rope lights, and she also made the chandelier with corks and beads.  And painted and reupholstered those chairs that she found at the Habitat Restore.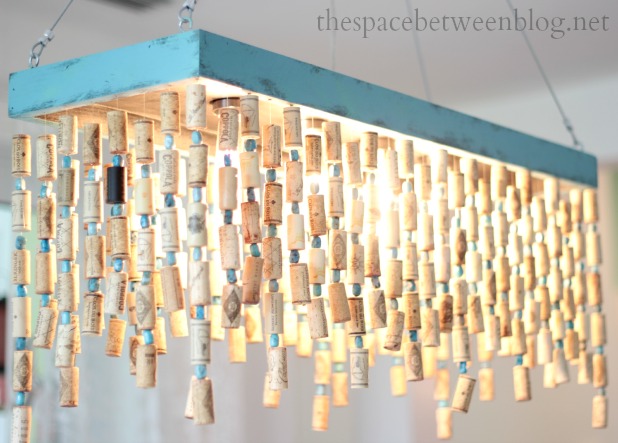 Also on the first floor are two guest bedrooms and bathrooms.  Eryn turned a folding screen on its side and Mike framed it in to make this awesome headboard.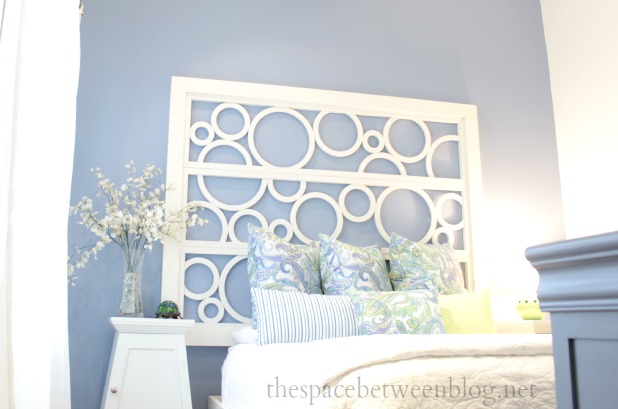 And here's a unique idea to add some character to a bathroom, run one line of accent tile along the floor and straight up a wall.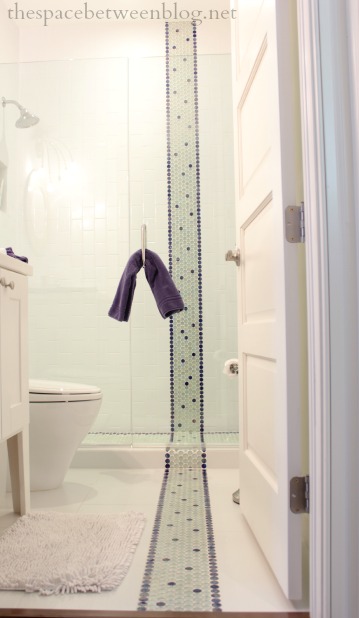 They have the other guest room set up as a sitting room with this great office designed in the closet.  I love that it could easily work as a closet still if need be.  And I think that powerful color on the back wall is perfection with the fun white shelf design.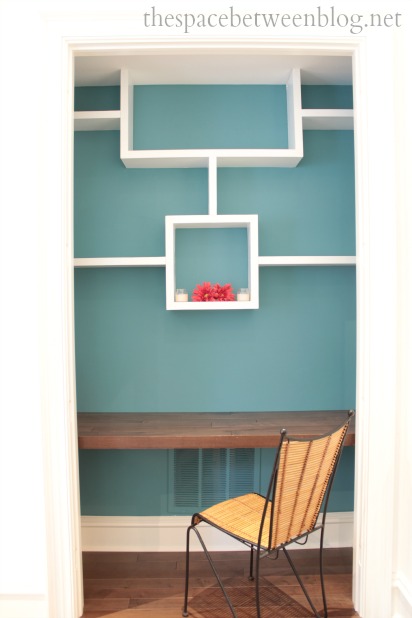 Head upstairs to the master suite and you will find another unique and colorful headboard design. The angled wall adds a fun element to it.  🙂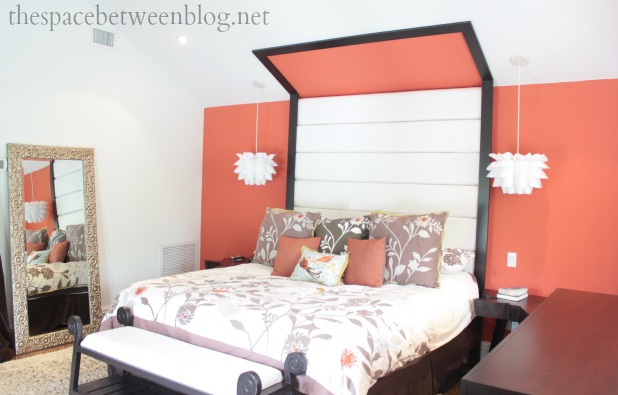 I wasn't too successful photographing the master bathroom which also has an accent tile feature that runs horizontally in a wave pattern across one whole wall.  You can see part of it in the mirror reflection, I love that the mirrors go all the way up to the high ceiling.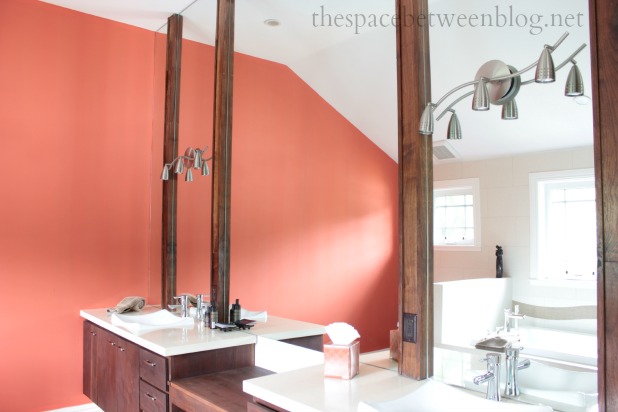 The master also has a back porch that overlooks the backyard and pool area and underneath is this great covered outdoor dining area.  Yes, that is door as a table and I can't stop admiring the three chandeliers.  I just love them.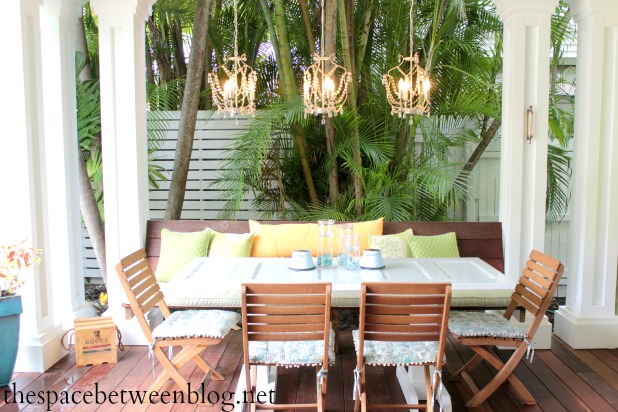 And if you're lucky enough to come visit you could end up in the guest house by the pool in the backyard with the wood plank wall and the awesome orange oar hooks from Home Goods.  Yep, Eryn is #homegoodshappy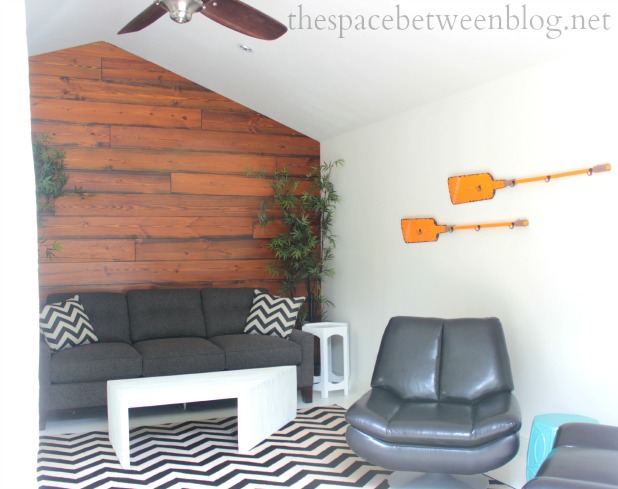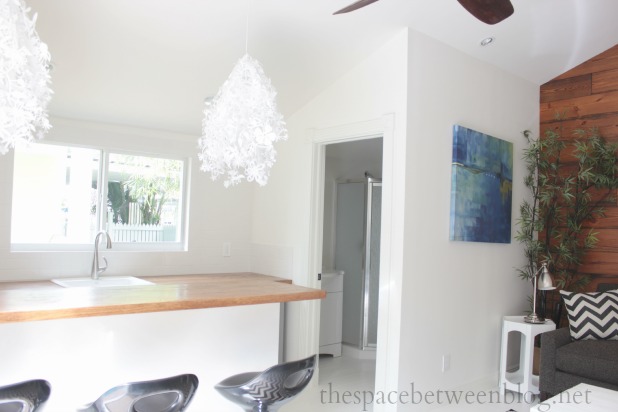 This house really is nothing but a ton of fun, with exceptional handmade details that set it apart from any other.
Eryn has a great eye for stunning design and Mike can make anything anyone would dream up.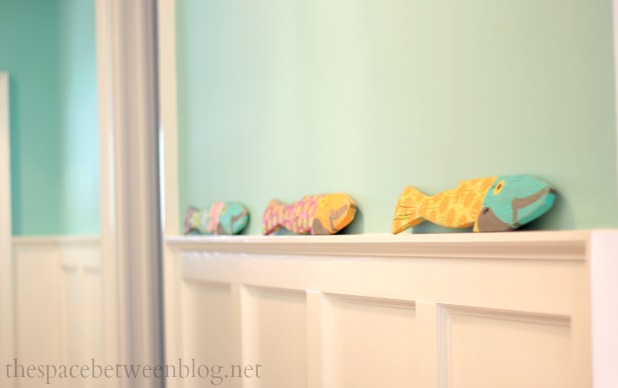 I love the combinations of color and rustic and modern elements.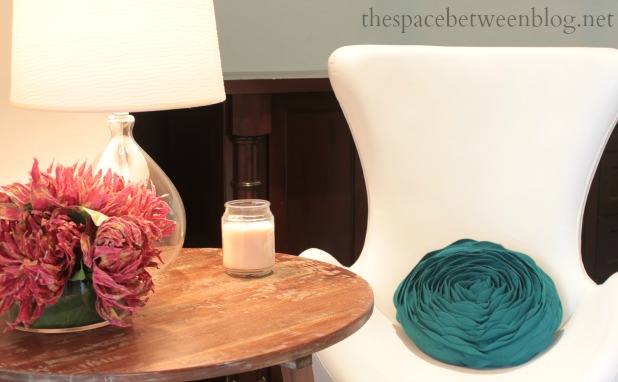 I love how unapologetically colorful it is.  Perfectly Key West.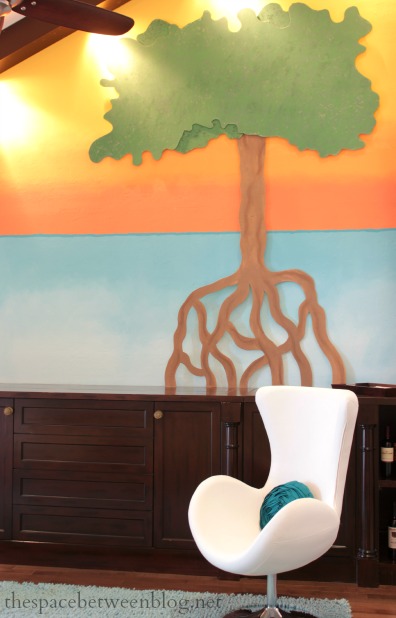 And once again I find myself just thinking how incredibly awesome it is that no matter where we live in the world I somehow find friends with amazing sense of style and beautiful spaces who are willing to let me share them with you.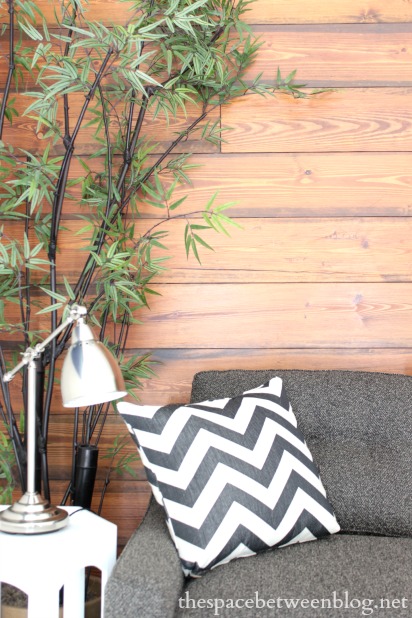 You can view the full MLS for this house and if you missed the Curacao house tours you can tour the house where Emily stayed while filming the Bachelorette finale, the house where Emily's family met the Bachelors and the tree house fantasy suite where Emily and Jef stayed.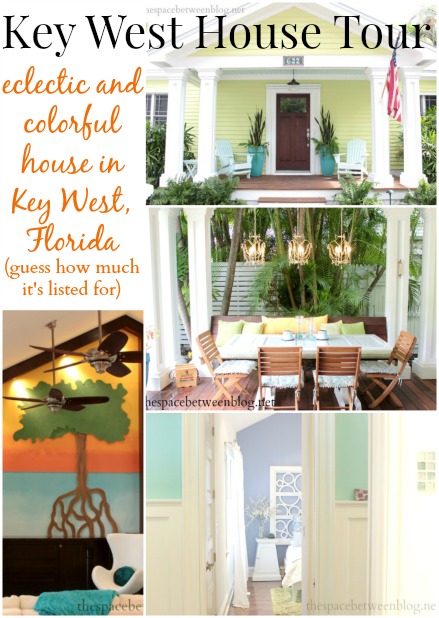 And, for anyone one on an intentional life journey, you may want to check out Eryn's blog The Critical Path.  She moved all of her belongings into storage, bought a one way ticket to India and is traveling the world with no agenda other than to figure out exactly who she is and who she wants to be in this life.