We are far from finished with everything we want to do around this house but the transformation of the front is officially terminado!  And a few of you have been asking for a full picture of the front of the house now to compare it to the before so here is the front of our house before and after.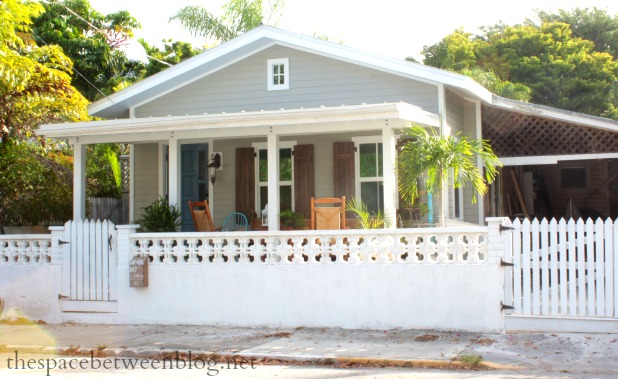 Well, finished for now, until we fill the cracks and paint the chunky patio posts, they're just primed right now, and finish up a few other things we'd like to tackle over time like painting the front wall and possibly replacing the gutter.
Here's what the house looked like from straight on shortly after we moved in.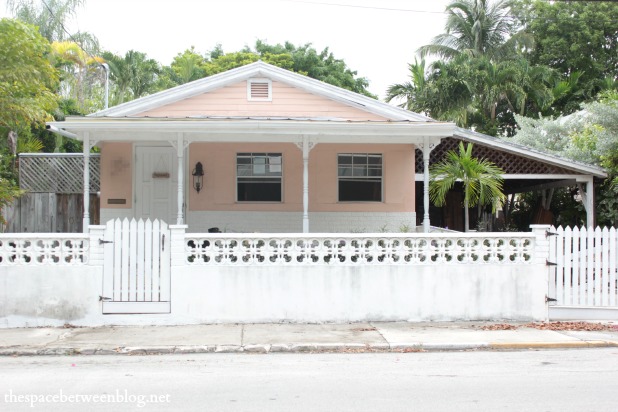 And here's what she looks like now from the front of the side of the house by what was a carport but what is going to be a side yard.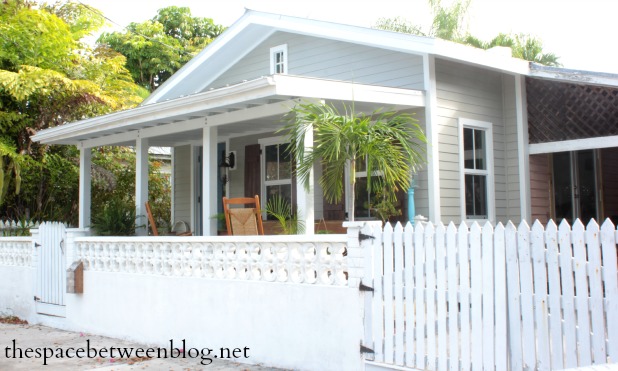 And here is the before, before we raised that front 6′ of the gable roof from where it used to be at an awkwardly low height, and creating an unnecessary 3-tier-roof.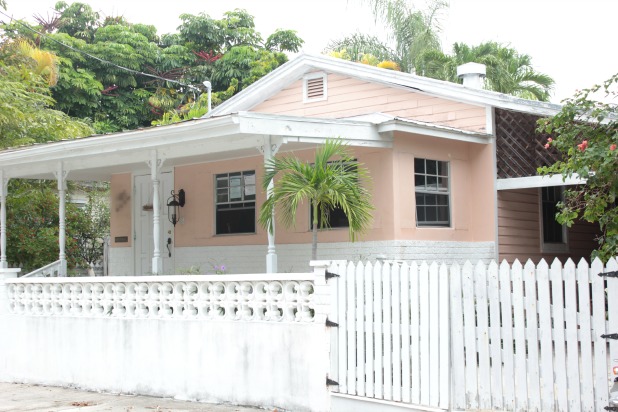 There is still plenty to do … like build a fence with a gate from the house to the side of the yard then probably remove that double gate at the street?  And then do something with the unpainted lattice that runs from the house out along the roofline.  We're debating between painting, replacing or removing that lattice altogether.  I think we need to see the fence installed before we can really decide.  Because one large house project like a complete repaint just isn't enough fun for us, we have submitted our permit application to build the fence which I think will be a good first step in creating a little extra outdoor living space.
But in the meantime we're making our way around the exterior of the house in our attempt to de-peachify our little abode.  What's turned into our pattern of painting one side/area of the house at a time seems to be working for us.  After finishing up the front we borrowed the power washer again and got to work on the side of the house that is opposite the carport/sideyard area.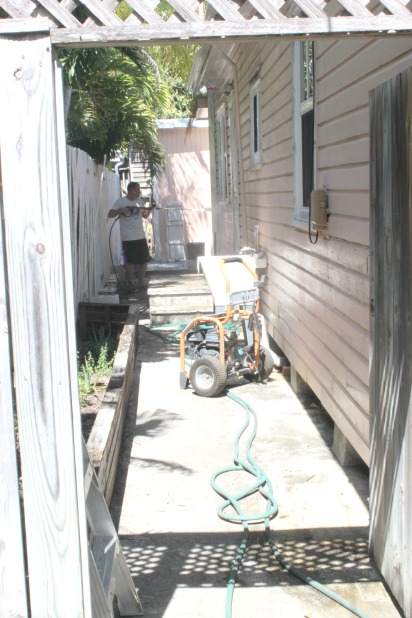 There's still a bunch of loose, chipping paint that needs scraping, holes and cracks that need caulking, bare wood that needs priming and trim that needs painting to get to before we're ready to whip out the paint sprayer again, but we've used it twice now and there is no way I would take on this project without it.  The super-easy clean up is by far my favorite feature.
Read all about learning how to use a paint sprayer, about all of the little details we had to tackle while preparing to repaint the house and see how many of the 14 curb appeal ideas I shared about a year ago we have managed to tackle so far.
Have a great day!!