So this happened.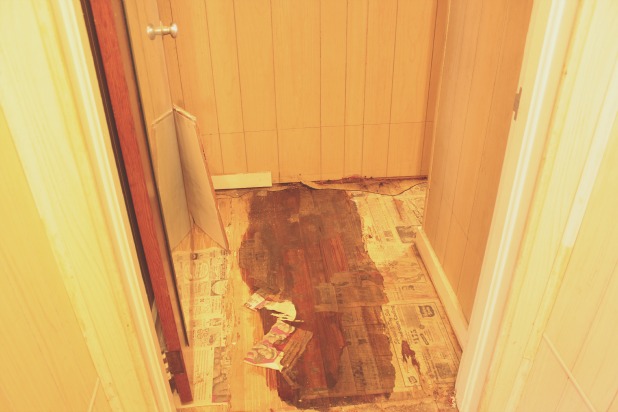 Sorry for the bad, I can't believe this was hiding under the carpet, picture.
And then this happened.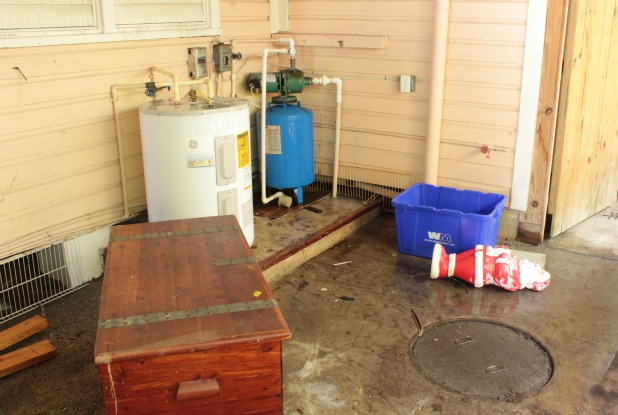 Seriously?
And that picture doesn't really look that bad … other than the awesome peach color of the house.  Oh, and the plastic Santa.  He came with the house … I've got plans for him.  🙂
But, when we discovered the well pump was leaking, and shutting off the breaker didn't immediately stop the fire hose effect we had going on, we snapped into action to move our furniture that is currently stored rightbeside the well pump.  And ended up with this.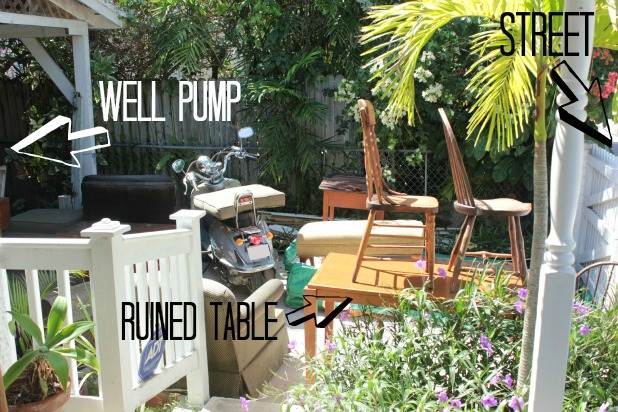 Seriously?
To our neighbors who don't even know I have a blog I say … "you're welcome".  🙂
I have to say, this little incident tested my sensibilities a bit.  I immediately barked at Joel to find a plumber.  Well, that was after I had barked to "Help me move the furniture already!".
We were perplexed as to why shutting the breaker off didn't seem to help.
No power should equal to water pressure, right?!?!?
Due to Joel's clear thinking and irritatingly consistent calm under pressure, the recycling bin in the picture above was there because he thought to put the bin over the well pump while it was still spewing water.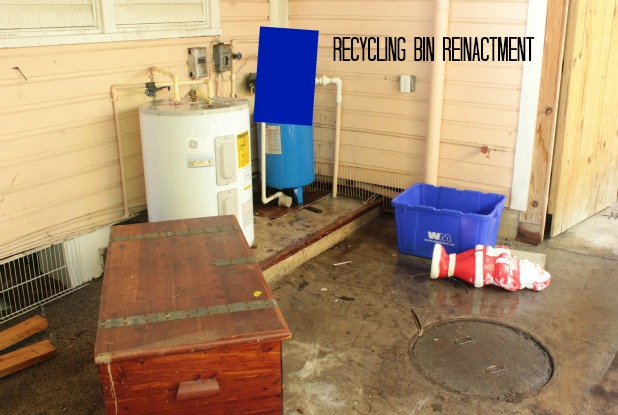 The bin was heavy enough to stay in place and, although it didn't stop the water flow, it essentially stopped the sprinkler effect so we could take a breath and strategize a bit.  While the water was still coming down under the recycling bin and around the well pump, and there was relief in having all of our furniture moved out of the line of fire, we still couldn't understand why the water was still flowing.
And then it stopped.
Just like that.
Turns out there is so much water pressure built up in a well pump that it does take a few minutes that feel like days for the pressure to die down enough to stop the flow of water.
Joel had made a few calls to get local plumber recommendations and would have been totally willing to call in professional help … even though it was Sunday … which means double time.
And one mention to me about double time and I'm a little quicker to acquiesce to the idea of trying to figure this out on our own.
That husband sure knows my hot buttons.  🙂
And I'm just going to say "Thank GOODNESS", because I never would have lived this one down.
This little well pump repair couldn't have easier and cost less than $3.  Yes … THREE DOLLARS!!
Like I said, I would have never lived "double time"down.  🙂
Now that the water had stopped we could take a closer look and we found this little tube had separated.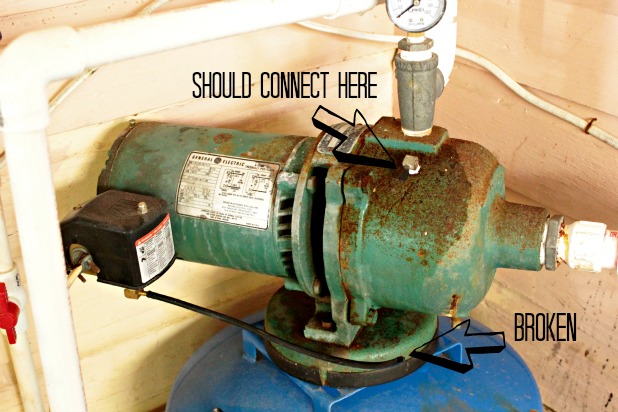 So we skipped* out to our local home improvement store and found this. (That is an affiliate link, Joel was so eager to fix this problem I was sure needed professional help I didn't get to snap a pic of the full product.)  🙂
*I would say that technically Joel was skipping with a "this is going to be a super easy fix and I'm going to be right and Karah's going to feel stupid for panicking" and I was pretty much just begrudgingly along for the ride. 
The product is 1/4 inch diameter polyethylene tubing.  And with one snip of the tube and a simple placement over the valves where we removed the old tube that had busted and I was eating crow our well pump was good as new.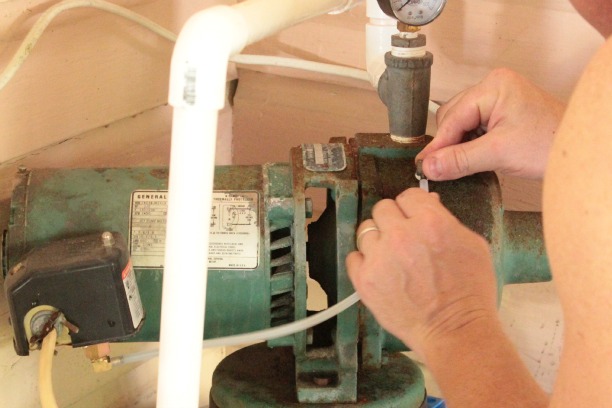 It was $2.88 for 25 feet of tube, of which we needed about one foot, so we actually only spent ELEVEN and a half CENTS for this fix.
Ay yay yay … just the thought of paying a plumber double time to do that makes me a little weak in the knees.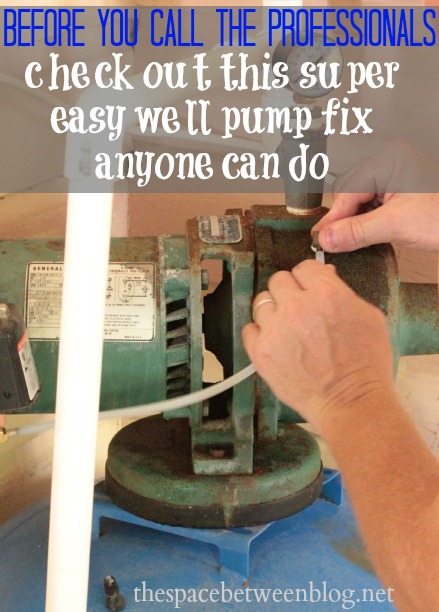 So I consider this little tale one part ***word of caution***, one part ***take a second to think rationally about every dramatic situation*** and one small iota of a part ***man, my husband is the bomb-diggety***.
Luckily only the one nothing-special table/desk in the picture above was ruined by the water, everything else dried out immediately in the hot, Key West summer sun.
Phew!
And that other water problem …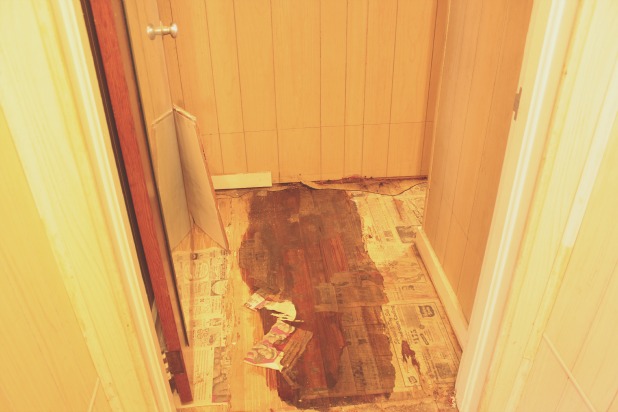 … on a whim I was pulling up the carpet in what will be our master closet to find a damp floor, which lead us to the fact that the tube for the water/ice maker in our fridge was leaking.  So we just shut it off … luckily it's not the water supply line that is leaking, it is the actual line in the fridge.
Non-functioning water/ice maker in fridge = first world problem = not a problem we're bothering to fix.
We'll be in the market for new appliances once we get to the kitchen renovation anyway …
… but wouldn't it be funny if that same polyethylene tube would fix that problem.  It is the same product that is used in ice maker kits … and we happen to have 24 feet at our disposal.
I'd love to hear about any little fixes you've managed to make when at first you thought a professional was needed?  Or is that just me?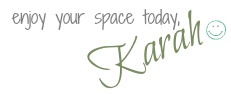 If you'd like, you can keep up with our full Key West conch house renovation right here.