Hey y'all!!  Happy Monday to you!!
I hope you had a great weekend.  We were finally able to dive head first into living room demolition around here, and man did it feel good.


Well, not the stepping on staples after taking down the drop ceiling because I was walking around with bare feet, or getting debris in my eyes as I was trying to tear down drywall because I wasn't wearing safety glasses.
Those things really didn't feel good.
And as I was taking a few 'action shots' of some of the steps of our demo … a thought occurred to me.
I am a dumba$$.  🙂
It just is what it is.  And believe you me, I am totally OK with it.
I only mention it here to protect you.


I really hope to inspire those who read this here blog to think that you, too, can create awesome out of nothing, and you can find a rotten old pallet and make something inspiring with it, and you can take a dated old house and create a home.  All using your own two hands … and the right tools … and a little help from your friends.
But I am really not here to be your primary voice of safety and precaution.
That's just not how I roll.
And this is my official disclaimer to let you know that I am not always going to be wearing safety glasses when I should be, and I know we're dealing with lead paint around here and there is this thing called a respirator that would probably be a good investment, and half the time I'm working with power tools I have one eye on the sporting event we're choosing to watch on tv.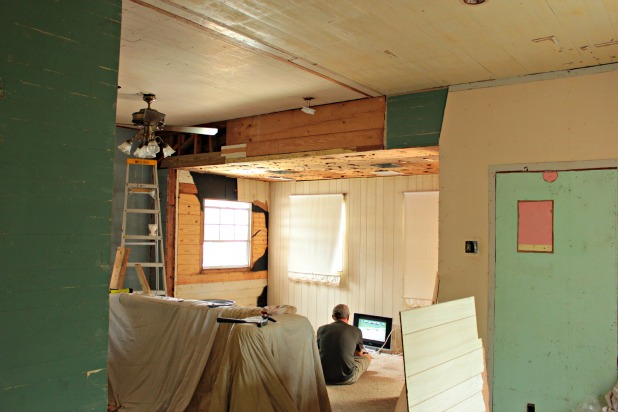 But that's just me and Joel.  I fully expect all of you to be a little more responsible and cautious.
I expect that you understand that we are not pouring soup on our old door coffee table and licking it up, lead paint and all.  I expect that you will take whatever precautions you feel necessary if you are going to get rid of mold around your house.
Heck, I'm the one who cut my own finger off with a wood splitter … your expectations should be appropriately set by now.  😉
And for those of you who think I could have gone down this dumba$$ path all on my own … oh how wrong you are.
My father shot himself in the knee with a nail gun while helping my brother build a deck.  One swift pull of the nail out and back to work it was for him.
See … I had no hope, really.  😉


But seriously, I read and see and hear all of the comments about pallets being chemically treated and protection this and safety that.
I totally get it.  And think you should get it to.
And as we start to delve down this demolition and rebuilding road on this old house in Key West I just ask that you not rely on me to put all the appropriate 'wear safety glasses' and 'turn off the electric' and 'don't point the nail gun at yourself or anyone else' in every single post.
We're going to be venturing into some serious home improvement, and I'm pretty gosh darn excited about it all.
Just know, there is some common sense required around here.  🙂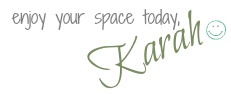 PS. Thanks to my friend Emily and her brilliant idea, I walked around the house and made a little BEFORE video for you.  I only tripped once and no, I didn't bother to shower before … sorry.  I just need to figure out how to embed it in a post …
PPS. If you want to hear how I determine if our old projects are worthy of licking soup off or not, I gave my top tips to iVillage.