This isn't going to be the first, or the last post about a spontaneous project that just took over me and happened on a random evening in a random week.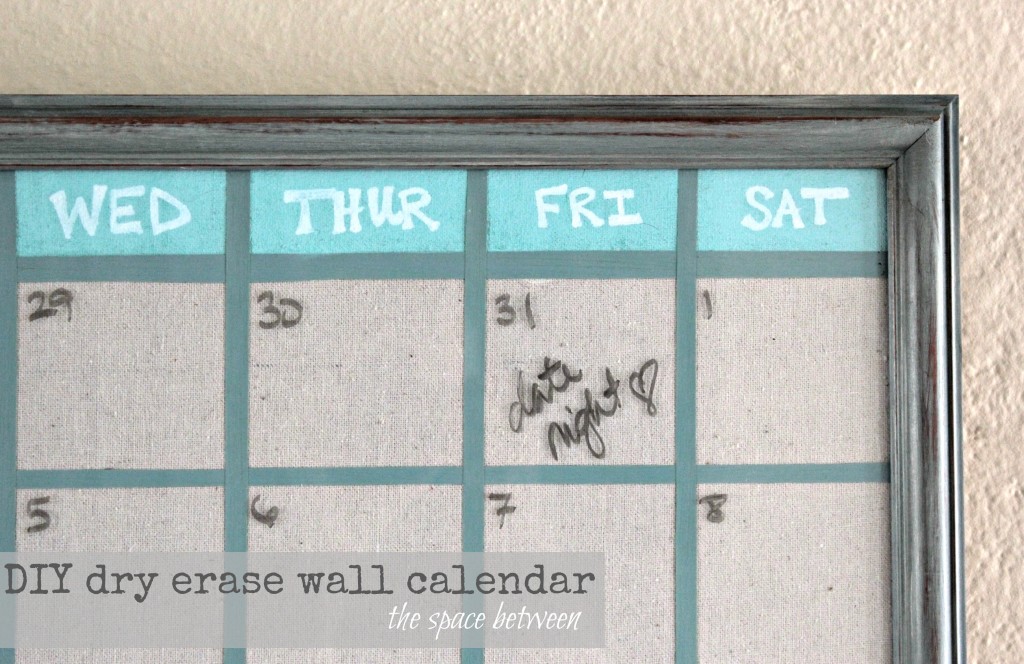 Remember the striped rug?  That happened.
Well, in my quest for a functional blog room and with all of the focus on organization these days (you'll be prompted to head over to Allison's blog House of Hepworths to get your fill of Day 3 of Organizing 101 at the end of this post … you won't want to miss it!), I had an idea for a diy wall calendar one night and ran with it.
I used an old frame we had gotten a few years ago at the same auction where we bought our couches.
I layered Annie Sloan Chalk Paint in French Linen, Duck Egg Blue and Provence.  I sanded, added just a hint of Old White and finished her off with the light wax and just a touch of dark wax.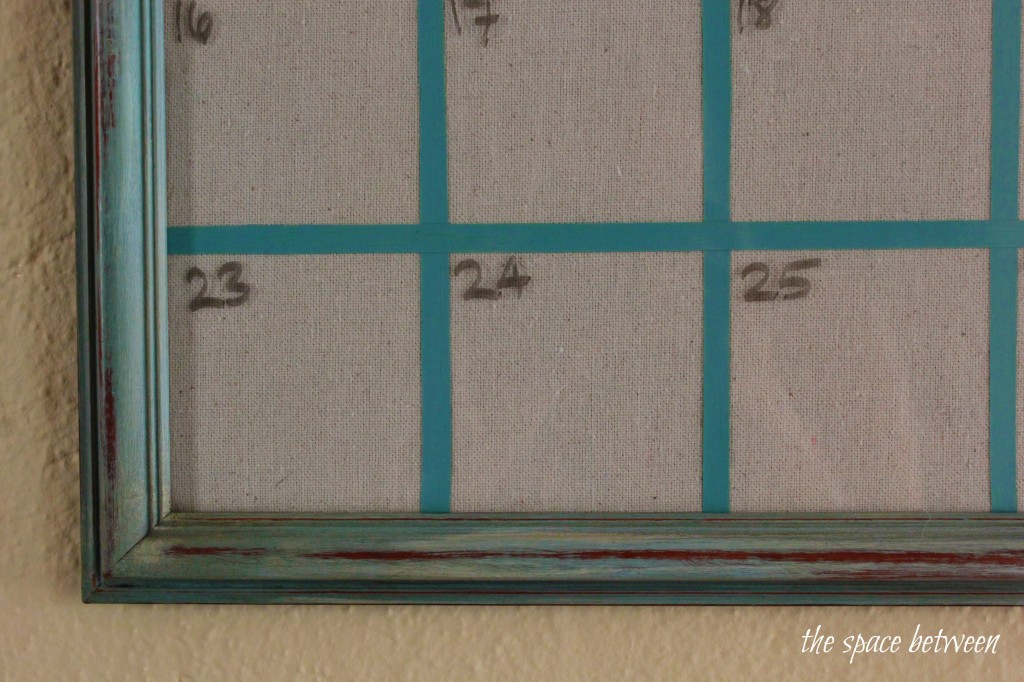 I covered the cardboard frame insert in canvas drop cloth secured with frog tape.
And here's where I get to thinkin' I can be pretty darn crafty sometimes.
I painted strips of Frog Tape! (I know, not rocket science, but got me excited about this little project for sure.)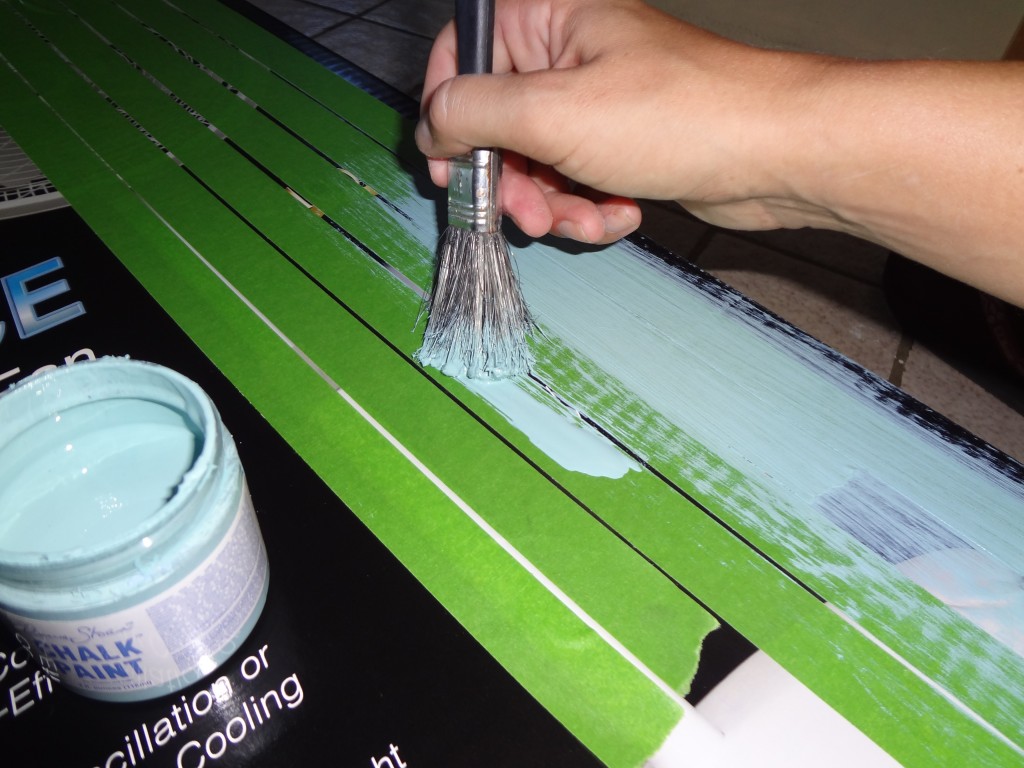 I taped enough strips of tape (measured to the right height and width) onto the box of a fan we just bought that day.
While the paint was drying I marked off a few inches at the top of the canvas.  The plan was to use my little $1 Walmart stickers that I used on the Eat. Drink. Be Married. tray and white spray paint … so when I removed the stickers I'd be left with cute lettering for the days of the week.
But I wasn't.  I think the canvas just absorbed more paint and it seeped under the stickers. Plan B was to hand paint in a different color around the stickers … and that didn't work out either.  🙁 Sorry for the bad night shot.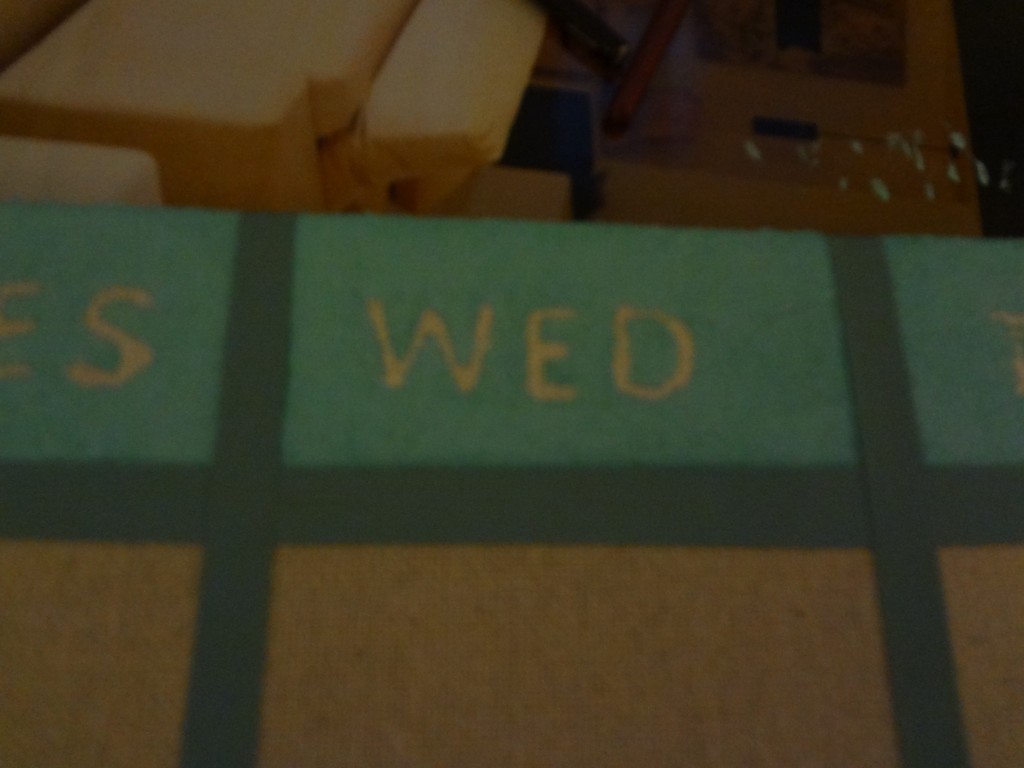 By now I was sick of trying to figure out the lettering so I went ahead with my painted tape lines. Using a straight edge and exacto knife, I cut the width of the tape into thirds.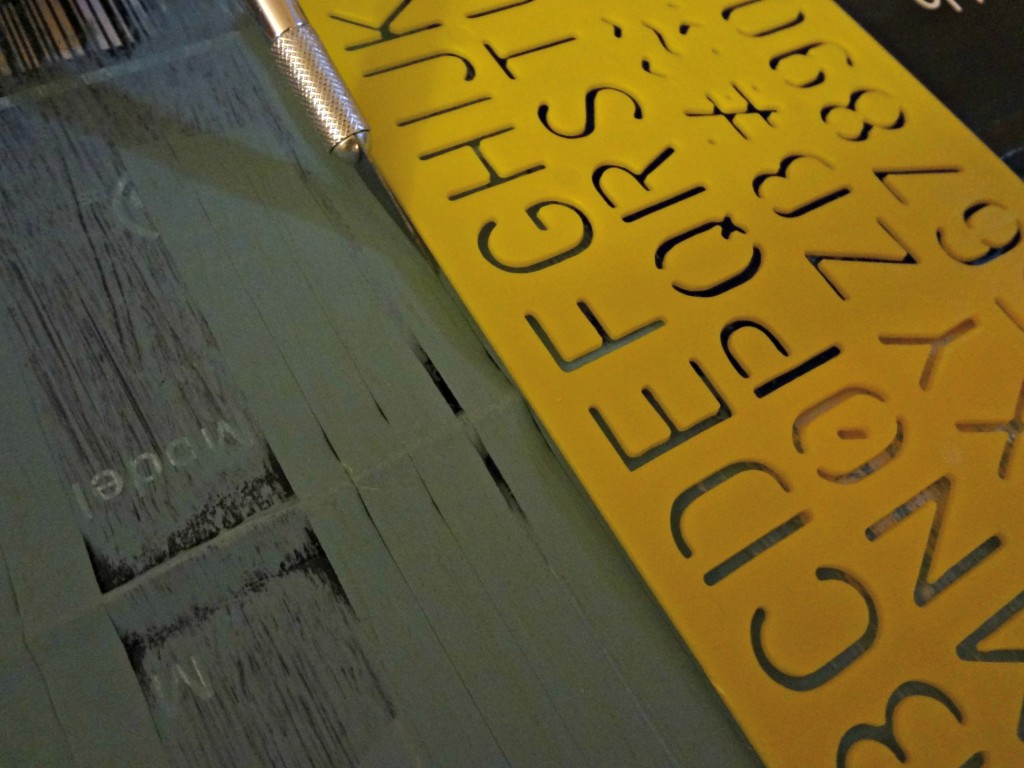 I even drew up a little set of 'plans' for my new wall calendar because I am a dork.
Measured and marked my lines on the canvas accordingly, and then just connected the marks with tape.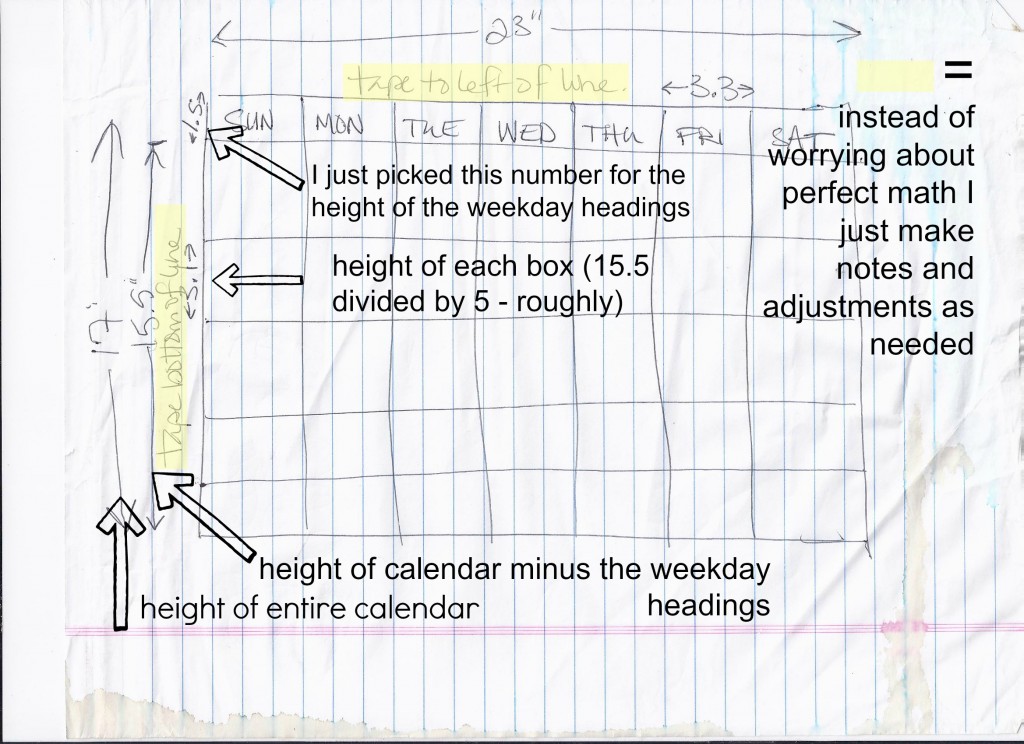 For the weekday lettering I ended up just painting the sections and then free handing the weekdays in with my white paint pen I used for our L.I.F.E. wall art.
TIP!!! If you have a frame that doesn't have glass in it, you can have a piece of plexi-glass cut to fit.
Then just reassemble your taped, painted, canvas covered, cardboard insert back into your frame.
Use a dry erase marker to mark out each day.

And put your plan into action!  More details on how to go about doing that are here.
I am using my new calendar as a way to schedule my one optional blog task a day … what I call the 'back of the house' stuff. These priorities are constantly shifting, so it's nice to have the dry erase board where I can switch it around every day if I need to.
Like when I pretend my schedule looks like this.  🙂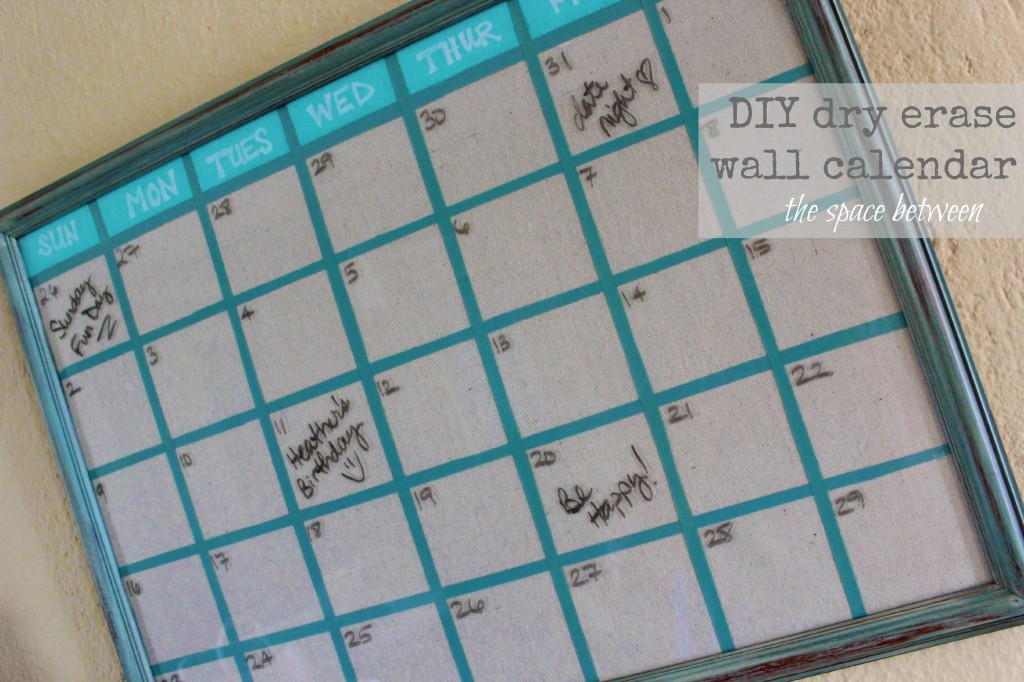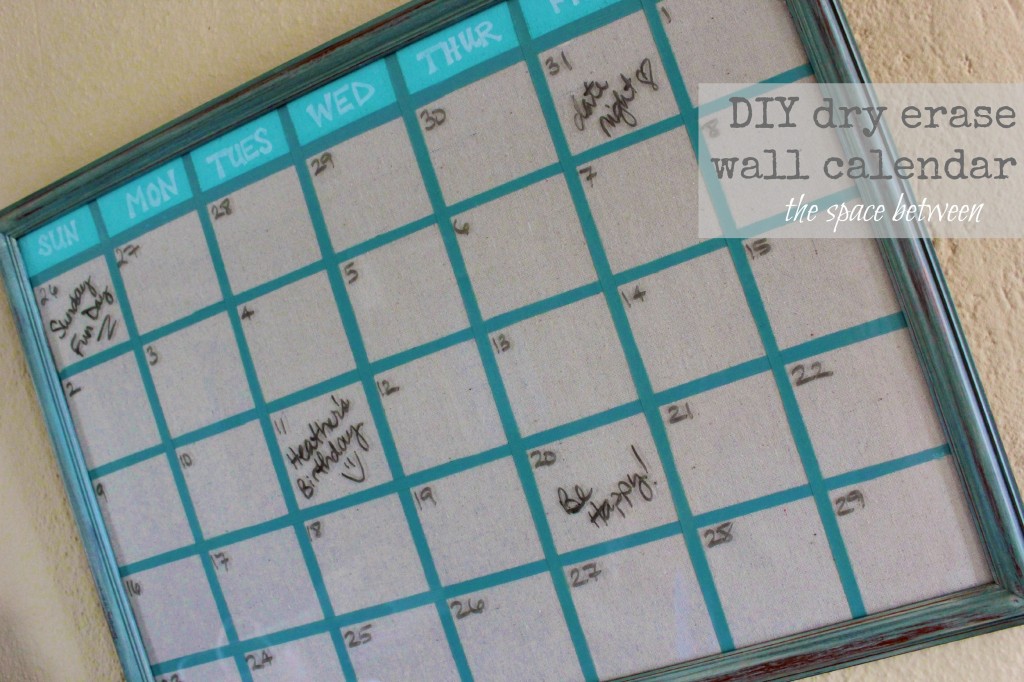 NOW, it's time to see how Allison keeps organized with school lunches at House of Hepworths! Hopefully you're enjoying the Organizing 101: Back to Basics series … it has totally inspired me, that's for sure.  🙂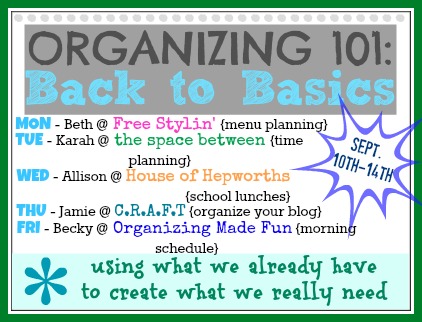 But before you go, tell me, how do you keep track of your daily plan?  Planner?  Wall calendar? In your uber organized brain?