I'm going to start right out and say that I was more than skeptical when Kilz sent along some of their Kilz Klear for me to try on my newly drywalled walls.*
*Side note – spell checker does not like the use of the word drywall as a verb.  But since I often find myself in the act of drywalling I will insist on continuing to use it in such a manner.  It's like funner and bestest and those other non-words that really are words.  I apologize to all of the grammar fanatics out there.  🙂
I gave you a sneak peek when my cousin was here.  And it really wasn't my strategy, but I ended up tasking her with the priming and am now realizing that if it hadn't worked out I would've been totally justified in blaming her for her poor application skillz.  🙂
But, to our amazement, really, there were periods of just standing and staring, and getting up close, and scrutinizing because really … can clear primer really work?  YES!  Yes it can.
Because I was totally a non-believer we just started with this one little wall.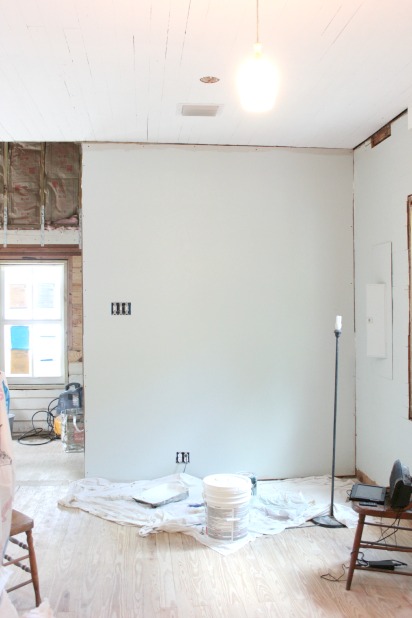 You'd never guess there was clear primer under that paint.  I thought for sure the spackle would bleed through and we'd be able to see spots where I had smoothed over the screws.
Crazy, right?!?!
This wall was freshly drywalled and all taped and spackled and sanded and ready for a coat of the Sherwin Williams Rainwashed mixed 50% lighter just like this wall.
Once we realized it really was going to work we forged ahead into the guest bedroom.
Update: I should have mentioned this in the post, It's cheaper than KILZ 2 because there is no pigment to it. You would use KILZ KLEAR over KILZ 2 if you have projects that you don't want the color changed when priming. KILZ 2 will go on white whereas KLEAR is well clear lol. KLEAR is great for such projects as same color repaint, popcorn ceiling, damaged drywall, adhesive residue and sealing wallpaper patterns.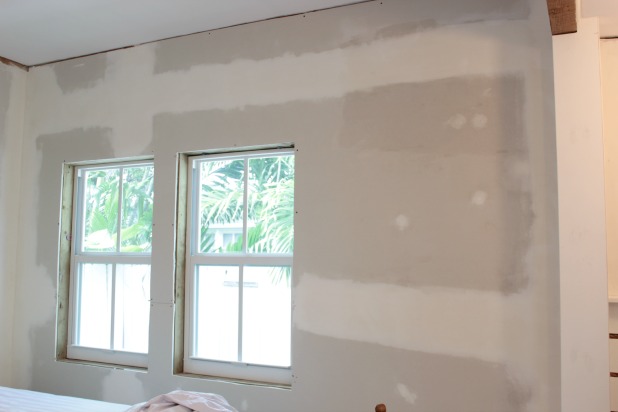 This wall is completely primed.  You can see in the top right corner where it still wet.  But it dries crystal clear.
Basically, Kilz Klear is the same formula as Kilz 2 but without the pigment. 
Update #2:   It's a great binder for chalky surfaces and a great sealer specifically for bleeding stains (it's not a one-size fits all stain blocker).  It's target uses are primarily outside for non-problematic surfaces that just require binding & sealing, but it's proven to be effective for sealing wallcovering adhesive, damaged drywall (to prevent bubbling of joint compound) and tying down popcorn ceilings.  
By using a clear primer for the exterior, you avoid 'fighting' a white primer and frequently can get by with one coat of exterior paint.  It also is less disruptive for Multi-Family painting prep as the color remains the same throughout the process.  It also makes a nice, low-sheen clear coat on high traffic areas where someone made the mistake of using flat paint…stairwells, hallways, etc.
It's perfect for areas where you'll be painting a light color or a similar color but need primer over spackled or caulked areas.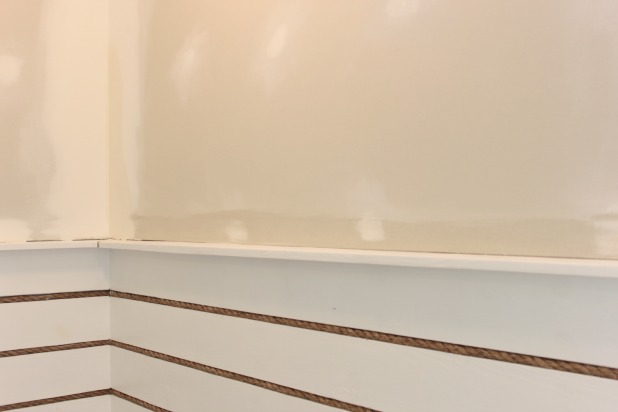 It has a bit of a milky color when it's wet, and it applies like all other water based primers that you're used to.
I don't know why this surprises me.
My internal dialogue goes something like "Hey, this looks different from what I am used to, it must not be right.  It's probably hard to use and impossible to apply".
But you can even use it outside!!  Guess who will be using it to prime over all of my freshly caulked areas on our siding?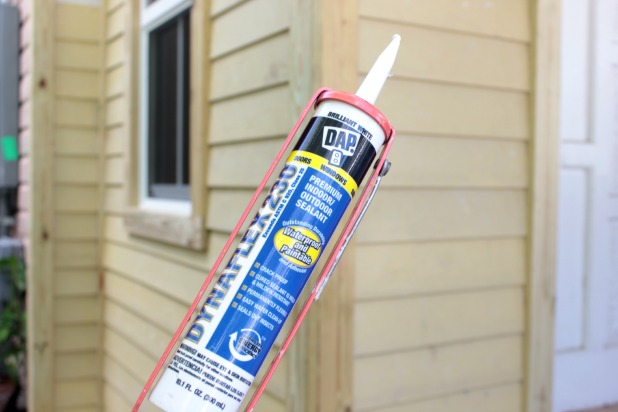 And you know what this means … progress!!  It means we are making progress.
We had a really productive weekend with more drywalling up to our newly vaulted ceiling.  Before which we had quite an adventure blowing insulation into our attic.  Some things are just never as easy as they're supposed to be.  Can you say machine malfunction?!?!
So after a few days with my mom, where of course I put her right to work we ticked some pretty major items off our to-do list in preparation for more company this week.  Yes, we have become very popular since our move back to the Americas yet still on a tropical island!  🙂
Can you say living room and dining room floors stained and polyurethaned … check.
Last little window installed above the front porch roof … check.
Drywall up to the vaulted ceiling … check.
Which leaves us looking like this today as you walk in our front door.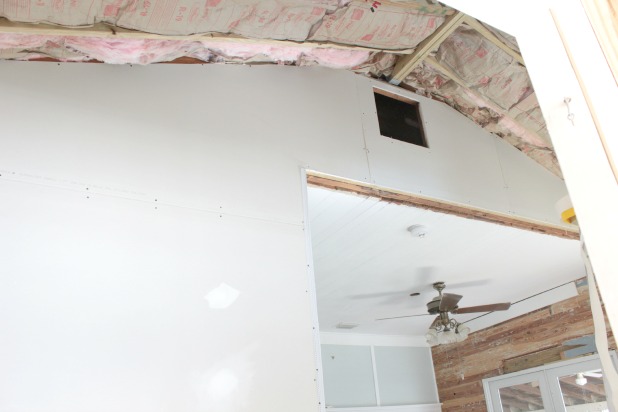 We're leaving another opening up there for attic access since the new HVAC system blocks the ability to get from the back of the attic to the front.  But after the weekend of blowing in insulation Joel is voting for never needing to get up there again.  🙂
And the front wall of our house with the last little window installed and fresh drywall just awaiting some tape and spackle.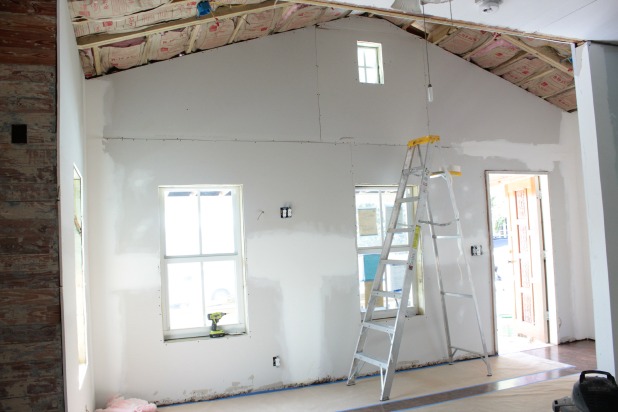 And after sanding her smooth I'll be prepping for paint with more of my new favorite miracle primer.  🙂
Here are a few simple tips we picked up along the way:
a little goes a long way, don't over-saturate any one area
work quickly in small sections, it dries fast and since it dries clear it's hard to tell if you missed a spot if you're attempting a whole wall
the easiest way to tell if you got complete coverage is by feel, you can tell the difference to the touch of the drywalled wall before the clear primer and after (I don't know if this is true if you use the clear primer over paint since I haven't tried it)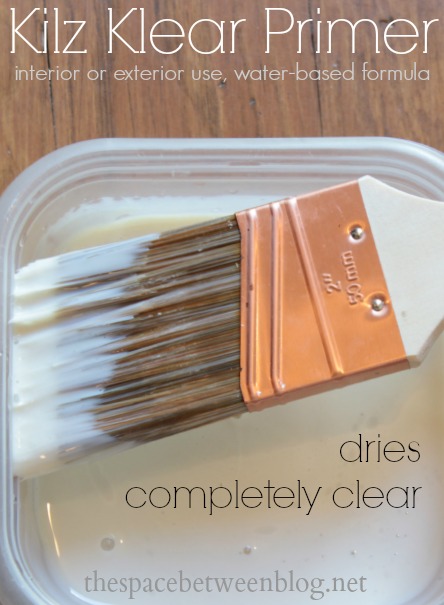 I'm not letting myself put one little bit of furniture in this room until all of the drywall is spackled and sanded.
But all I really want to do is start decorating and fluffing and scooching things around.  🙂 What I will be doing is following these tips here and smoothing out my butt joints.
Tell me, have you ever heard of this awesome clear primer?  Have you tried it?  Or have you been thinking what I was thinking "there's no way that could work"?